Last updated on February 15th, 2022
Our site is reader supported, this means we may earn a small commission from Amazon and other affiliates when you buy through links on our site.
Spring and summer bring about the return of rattan furniture into the garden scene. Rattan furniture offers contemporary but attractive designs that are timeless. If you are looking to revamp your patio, balcony, or garden with a rattan bistro set, this is the review for you! You are not limited to the traditional dark brown colour; some sets are available in bright colours and have interesting designs.
If you are looking for the best rattan bistro set, I have highlighted a few suggestions below. Some of the sets are foldable for storage, something not often seen with rattan furniture, while others are compact but comfortable. Further below is a buying guide that informs you of the features to consider like the quality of materials, and the bistro set size.
You will also find the top picks and the reasons and the reasons I decided to include them. For example, the Dawsons Living Faux Rattan Bistro Set is attractive, offers good value for money, and is easy to store as it folds almost flat which is an amazing design. Before spilling all the information here, let me start with my best pick.
BEST PICK
Dawsons Living Faux Rattan Bistro Set
The Dawsons Living Faux Rattan Bistro Set takes my top spot because the set is comfortable, and it has won over customers worldwide but the design is amazing, it looks amazing too. The well-made set features quality synthetic rattan and strong metal legs to support up to 110kgs so they're well made. This set comes with comfortable seats and a sizeable table that can be folded for storage. Overall, the set is robust with an attractive design that would tie in with different décor themes. Overall I think this will be a great choice for most people.
Runner-up
Kingfisher Rattan Effect Bistro Set
The Kingfisher Rattan Effect Bistro Set is a chunky, but comfortable set for those who enjoy spacious seating with adequate back support. The synthetic rattan set is easy to keep clean and can be stacked so it's easy to store too. Pricewise, the set is costlier than our best pick but I still wouldn't say it's expensive, but in terms of comfort and design, it is worth it. This attractive model has also received many positive reviews; therefore, indicating its reliable quality which only confirms my own thoughts on this stunning set. Nearly forgot, it also comes already build ready to use.
---
Recommended Rattan Bistro Set Reviews
1. Dawsons Living Faux Rattan Bistro Set
BEST PICK
The Dawsons Living Rattan Bistro Set is probably my favourite, it looks amazing, is good quality and is super easy to store with that fold flat design. The low-profile set features synthetic rattan that is rust-resistant and protected from harmful UV rays to avoid fading so it should last for many years. You can sit comfortably in these chairs, as they are wide and they have plenty of space too which is nice as many bistro sets are somewhat narrow.
The bistro set comes with a tempered glass table that is sizeable and also foldable for storage. The table measures 41cm (H) by 50cm (W) and the chairs 85cm (H) and 75cm (W) each. For those of you who like a little colour in your garden, you can get this set in seven attractive colours.
Pros
Made from durable weatherproof synthetic rattan that is both waterproof and UV protected.
Attractive modern design and available in multiple colours.
The whole set folds flat for easy storage.
Features a sizeable tempered glass table.
Offers good value for money.
Cons
I really couldn't find anything negative about this set.
Our recommendation
The Dawsons Living Rattan Bistro set features large comfortable seats and that is what endeared me to this set along with the foldable design. It also has an attractive design which would do well for those who want something decorative. Although the set is not cheap, it's not expensive either with some sets costing well over double for similar sets. Overall, I feel it offers value for money because it is durable and will last for many years. You can collapse both the chairs and the table and carry them for outdoor activities like camping or picnics too or simply to make storage easier. Overall I feel this is a great set worth considering if you like the design.
Read next: Best rattan sun loungers for relaxing
---
2. Kingfisher Rattan Effect 3pc Bistro Set
Runner-up
Coming in second is the Kingfisher Rattan Effect Bistro Set that offers a stackable design for easy storage and there no building involved which I'm sure many people will appreciate.
The three-piece bistro set is created from synthetic rattan for durability so its both waterproof, UV protected and easy to clean either with a cloth or on low pressure with a pressure washer.
This set can be left outdoors although I recommend getting a good quality cover for the winter but it is fully weatherproof. You will find it easy to clean both the seats and the table because of the synthetic rattan used; all you need is warm soapy water and a piece of cloth to get the job done as briefly mentioned.
This bistro set also features seat cushions for added comfort. The cushion covers provided are removable and therefore, easy to clean using a washing machine which is also a bonus. This set comes already assembled with chairs measuring around 68 tall by about 75cm by 75cm. The table is not too big, but it is adequately sized measuring 38cm tall by 45cm by 45cm.
Pros
Comfortable to sit in.
Made from durable synthetic rattan that is waterproof and UV protected.
Can be stacked for easy storage and don't take up much space.
Weatherproof and easy to clean, simply wipe down with a cloth.
No assembly is required, ready to use out the box.
Available in two colours.
Offers removable and washable cushion covers.
Cons
Would benefit from back cushions for proper back support.
Our recommendations
The Kingfisher Rattan Effect 3pc Bistro Set is a bit pricier than my best pick, but it offers comfort and durability and looks amazing. I feel the set has a simple design that would fit into most decors too. It is an attractive-looking set and it is easy to store making it a user-friendly product. If you want a durable and compact but roomy bistro set, this model is a suitable choice and well worth considering.
Read next: 10 Best Garden Rattan Furniture Sets and Where to Buy
---
3. Outsunny Garden 3 PCs Rattan Bistro Set
The Outsunny Garden Rattan Bistro Set presents a beautiful design available in two colours; brown or black colour to suit your theme. This set, like the rest, features high-density polypropylene rattan, which can withstand different temperatures, is UV protected and waterproof.
The powder-coated steel frame is painted to make it rust-resistant too. What really stood out about this set is that it can support a maximum weight of 160kgs, compare this to my best pick that can support 120kgs and you will see what I mean.
The bistro set is designed with deep, comfortable seats measuring about 60cm wide, 58.5cm deep and 89.5cm in height. I feel they also offer adequate back support to ensure the user sits comfortably too. The 60cm tall and 48cm wide table as you would expect also uses a tempered glass top that only takes a few wipes to keep clean.
The rattan set is equipped with padded cushions with UV-resistant polyester covers that are machine-washable which is something I do look for, much more convenient than hand washing. This model comes flat packed ready for assembly with clear instructions, and with some help, you can get it done quickly. Not quite as handy as our previous picks but it shouldn't take too long or be too difficult.
Pros
Durable high-density polypropylene rattan set.
Comes with machine-washable 180g polyester cushion covers.
Comfortable with deep chairs.
Features a 5mm tempered glass table.
Possesses powder-coated steel to prevent rust.
Seats support a maximum of 160kgs.
Offers good value for money.
Cons
Our recommendation
For those looking for an elegant bistro set, this model measures up in terms of appearance. It has comfortable seats supported by beautiful pointed leg-steel frames. This model is one of the affordable ones for those working with a limited budget but you still get a good quality set.
The bistro set does need putting together but as mentioned, it should be fairly straightforward if you have done your fair share of Ikea style builds. The table is a bit too small to hold large plates, but for drinks or smaller plates, it works just fine.
Read next: Best garden egg chairs for relaxing
---
4. Yaheetech 3 PCS Rattan Wicker Furniture
I think the Yaheetech Rattan Wicker furniture set looks very modern and rigid but is very comfortable to use. This square-shaped set can be placed indoors, or outdoors conveniently because it is durable and looks good. It features weather-protected padded seats that bear a maximum weight of 130kgs which is pretty standard.
The table as with the other models in this review is fitted with a tempered glass top so will last a long time. The easy-to-clean set requires assembly before use, but it is not too complicated and for most people, they will easily have it build within an hour. The chairs themselves measure 76.5cm (H) by 57.5cm (W) by 55.7cm (D) while the table measures 38.5cm (H) by 40cm (W).
Pros
Created from durable synthetic rattan and weather-protected steel.
Comes with padded cushions for comfort.
Easy to assemble within around 60 minutes.
Features a stable tempered glass table.
Easy to clean and looks good.
Offers excellent value for money.
Cons
No issues to find, unless you class taking an hour to assemble a issue.
Our recommendation
The Yaheetech 3pcs Rattan Wicker furniture has a simple but elegant design that looks good regardless of where you put it. The set has comfortable chairs and a low-profile table to hold your drinks/food within reach.
This set is not too expensive, and it is not too much of a challenge to assemble; therefore, making it an accessible product to many. If you are looking for an affordable but durable set with a square design, this model is well worth a try.
Read next: Best rattan conservatory furniture sets
---
5. VonHaus Natural Rattan Bistro Set
If you are looking for something with a different design, the VonHaus Natural Rattan Bistro Set is worth a look. This three-piece set uses hand-woven synthetic rattan to ensure durability and provide low maintenance. The PE rattan set presents a bohemian design supported by strong rustproof metal legs that are stable.
Also included in the set is a round table with a tempered glass top that is easy to clean. The chairs have padded cushions for comfort, but you can add a back cushion to avoid straining your back. This easy to assemble model comes with clear assembly instructions and a 2-year warranty to guarantee the reliability of the product.
Pros
Offers an attractive design.
Made from weatherproof PE rattan.
Easy to assemble.
Features a tempered glass table.
Comes with padded cushions for comfort.
It is affordable.
Accompanied by a 2-year warranty.
Cons
Not foldable for storage.
Our recommendation
The VonHaus Natural Rattan Bistro Set is a good-looking set for those who want something vintage-looking and not the tightly woven rattan design we now see a lot off.
I like that the rattan is handwoven as it ensures that the build is robust. This set is among the more affordable ones, and it comes with waterproof cushions to promote durability. I would recommend this easy to assemble set to those working with a budget but still want something robust for outdoor use.
---
Buyer's Guide
Below, is a brief guide with some key points to keep in mind when looking for the best rattan bistro set. After reading the guide then you can choose a suitable model for your space and spend your money confidently.
Quality material
As always, any product in the market, no matter how flimsy, needs to be durable. To make sure that the bistro set that you buy is durable, look at the materials used. It may be synthetic or natural rattan, but the material needs to be weatherproof and of good quality.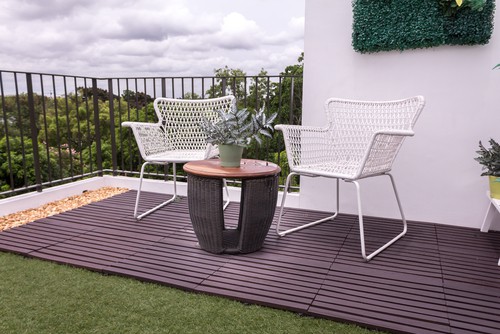 This also means that if there is metal involved, the metal needs to be powder-coated to prevent rust. The rattan should also be UV-resistant to prevent the colour from fading. For the tables, tempered glass is preferred because it does not break easily.
Size of the space
It is essential to consider the space that the furniture will be occupying so that you can pick the right size. If you have a large space, then you are free to select various sizes. If you are tied down for space, you would do well with foldable bistro sets like our Best Pick, the Dawsons Living Faux Rattan Bistro Set.
Weight capacity
For safety purposes, all seats come with a maximum weight limit. The higher the weight can be supported, the more chances of differently sized people to get comfortable furniture. Please look at the specifications to find the weight limit as most models fo give this information.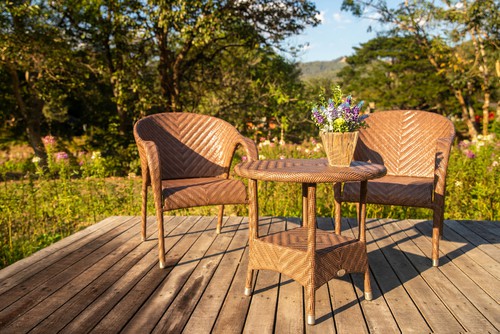 Accessories
Bistro sets come with accessories like weatherproof covers that offer value for money. Apart from covers, some brands offer additional cushions to ensure the user remains comfortable. Not all brands offer accessories, but depending on your budget; you can easily find models accompanied by accessories.
Budget
Considering the economic times, you don't want to spend extravagantly on a bistro set unless you can afford it. To narrow down your choices and make choosing the best one easy, you need to work within a budget. From your budget, you can find the best deal and get the best value for your money, in terms of durability.
Easy assembly
The majority of bistro furniture sets require assembly before use. Some models are easy to assemble, while others take a while to assemble or are accompanied by poor instructions. Regardless, if you choose to do the assembly yourself, be prepared for some challenges. If you take your time, most models can be easily assembled within an hour.
Easy storage
Folding chairs and collapsible tables are convenient for storage, especially if you don't want to leave the furniture outdoors year-round. Some bistro sets featuring heavy, but stackable chairs like the Kingfisher Rattan Effect Bistro Set. You can look for this option if you want large seats that are equally sturdy.
Warranty
A warranty is a sign from the manufacturer that you can rely on the product. Most of the bistro sets I looked at come with warranties that are valid for 2-5 years depending on the price tag. Although it might not be specified in the product description, you can confirm from the supplier if a warranty is available.
---
FAQs
Is Rattan furniture low maintenance?
Yes, rattan furniture is easy to keep because it needs little attention. Furniture made from synthetic rattan is especially easy to clean and less affected by the weather too. As long as the rattan is weatherproof, you have nothing to worry about.
Natural rattan needs a little bit more care, but it is not too much work. A bit of gentle scrubbing is required to remove mildew and other stains that might form. Oil treatments or paint is an excellent way to protect the furniture from the elements.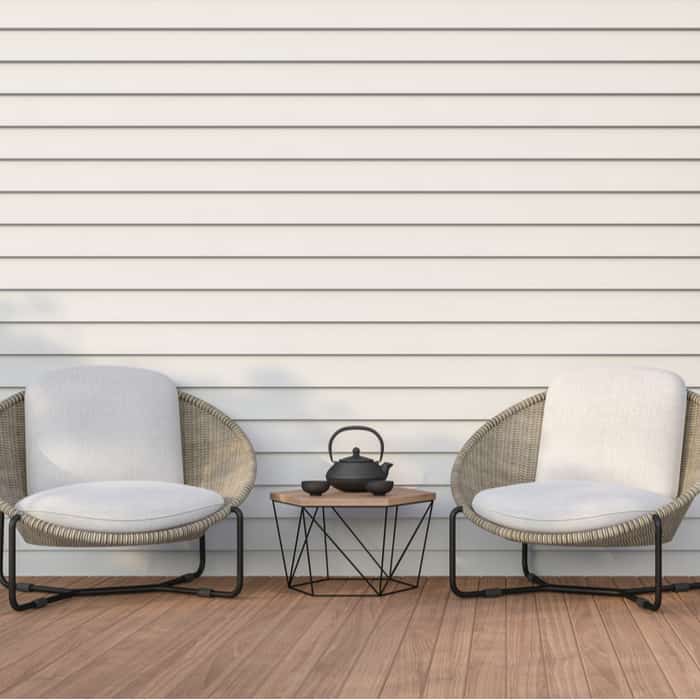 Do some bistro sets come already assembled?
Yes, some models come already assembled. Most of these sets are collapsible; therefore, making them easy for shipping and storage. If you don't want to deal with assembly, look for models that come already assembled.
Are covers a must?
No, covers are not an essential requirement when buying synthetic rattan furniture because the material is usually weatherproof. However, if you want your furniture to last longer, buying a weatherproof cover is not a bad idea particularly if you don't have internal storage.
---
Final Conclusion
Rattan furniture is classical and affordable thus, it is always a go-to for most people. Did you find the best rattan bistro set from any of my favourite models above?
You may have selected my Best Pick the Dawsons Living Faux Rattan Bistro Set that is of high quality, and convenient for use because it folds for storage. I think its just a good design.
You may have also peeped at our Runner-up, the Kingfisher Rattan Effect Bistro Set, which is larger and more compact but it doesn't fold down but is stackable. The set may be pricier but I feel when you take the quality into consideration it's well worth the price.
Also, be sure to check our review on sofa sets for gardens if you happen to be shopping for outdoor furniture.
Last update on 2022-03-17 / Affiliate links / Images from Amazon Product Advertising API