Our site is reader supported, this means we may earn a small commission from Amazon and other affiliates when you buy through links on our site.
Last updated on January 21st, 2020
If you are looking for the best shrubs with yellow flowers to perfectly complement whatever colour pattern and scheme you have in your garden, then you need to incorporate one of these top 10 beautiful yellow flowering shrubs.
Many of them produce a good show of flowers in early spring before much else is flowering, we have large shrubs for informal hedges such as Forsythia as pictured below, stunning ground cover shrubs such as potentilla and 8 more stunning yellow flowering shrubs.
Forsythia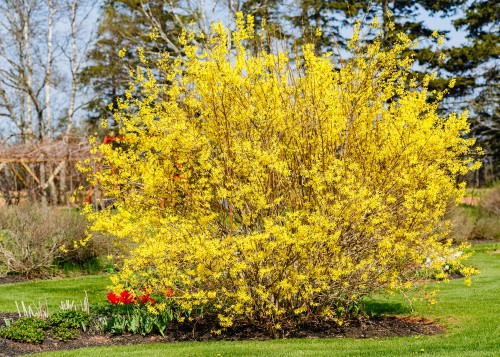 Forsythias are deciduous flowering shrubs that have long branches each of which is overflowing with yellow blooms in the springtime. They offer a very cheerful backdrop to any garden and when they reach peak maturity grow to be incredibly tall but only ever so slightly wide. This makes them perfect for regions where you want a tree-like shrub and any area that has full sun exposure.
They require well-drained soil but a very tolerant of acidic to alkaline soil levels so you won't have to modify your existing space much. The flowers actually proceed the leaves which means you will get beautiful yellow flowers long before the leaves give you a vibrant green shade and more importantly, you will get full digital access to the flowers because there won't be any leaves in the way.
Given that there isn't much particularly astounding about the plant after the yellow flowers, it is best to have it paired with other late bloomers which can compensate when the yellow flowers have fulfilled their seasonal existence.
---
Mahonia x media 'Charity' (Oregon grape)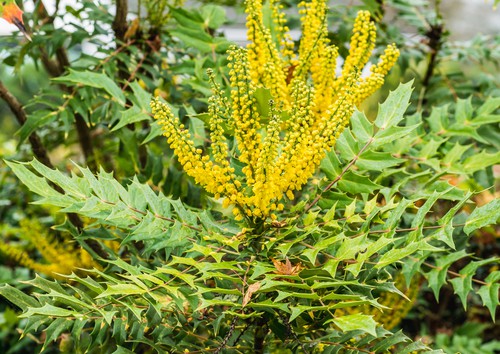 For stunning yellow and green foliage, the x media Mahonia charity, commonly known as Oregon grape, is an evergreen shrub that offers leathery leaves adorned with fragrant yellow flowers and followed thereafter with purple berries.
It is an upright evergreen shrub and each of the leaves that it produces is composed of 21 spine tooth leaflets and the subsequent cup-shaped flowers. As such it will fill a grand space both in height and width.
It can reach up to four meters in height and spread by the time it reaches full maturity so it is best to plant it in an area where you will allow it to grow properly. It does best in partial shade or full sun. In the spring and summer, you will enjoy bright green foliage and throughout the Autumn and Spring when the yellow flowers appear. It grows best in smaller gardens in flower borders towards the back with some smaller contrasting plants in front.
---
Magnolia Yellow River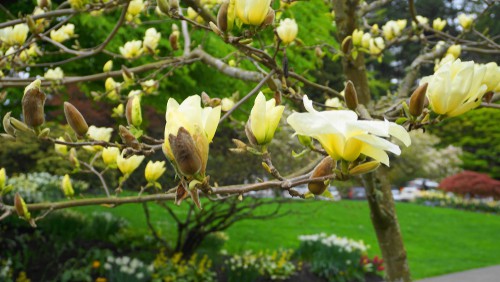 This particular variety of deciduous tree brings with it a buttery yellow flower not as bright as the other options on this list but still stunning. These softer yellow flowers are upright and goblet-shaped with a sweet fragrance.
As they open and reach full maturity the flowers can get up to 15cm in size and look very similar to lilies. They fade to a softer, cream colour at the tips with time but maintained that rich buttery yellow colour at the base. It does bloom late in the season which means you don't have to worry about late frost damaging any potential blossoms. It will reach up to 5 meters tall and wide and grows best in slightly acidic, rich soil. A stunning unusual tree.
---
Santolina chamaecyparissus (Cotton lavender)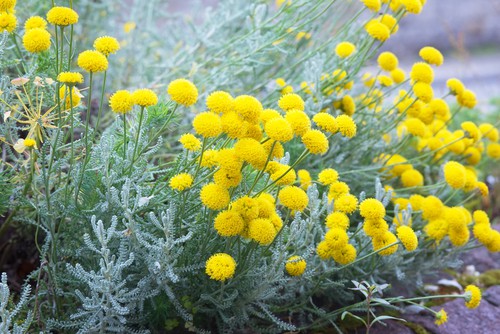 For those of you interested in adding yellow colour to your garden but maintaining a unique colour spread in an otherwise monochromatic green world the rest of the year, the lavender cotton plant is the perfect solution. This is favoured in many Mediterranean gardens because it is not only evergreen with bright yellow flower but it produces silvery grey-green foliage throughout the year. It blooms in late spring early summer and each of the yellow flowers is bright in their colour and shaped similar to a button. It can reach up to 60cm tall and 90cm wide which makes it best suited for dense mounds, not necessarily tall privacy screens. Being evergreen it's also perfect for ground cover too.
---
Azalea mollis luteum (sweet pontica azalea)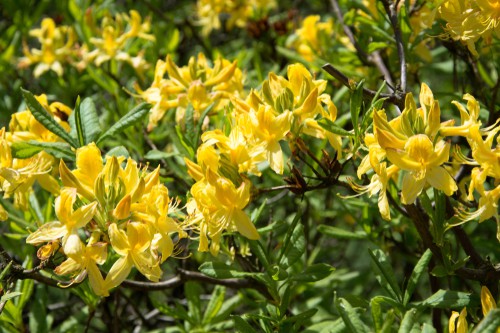 This particular Azalea is giving its name because of the beautiful yellow flowers a produces with a sweet fragrance they afford. The small flowers take on a funnel shape and offer beautiful colour in the springtime.
The flowers themselves are very small but the bush can grow to be 4 meters tall. The foliage colour changes throughout the Autumn such that even after the yellow flowers have run their course you will still get a beautiful mixture of reds, purples, and oranges throughout the remainder of the year. This is considered an invasive, non-native species to certain areas so you will need to take care that it is properly pruned annually.
---
Kerria Japonica (Japanese Rose)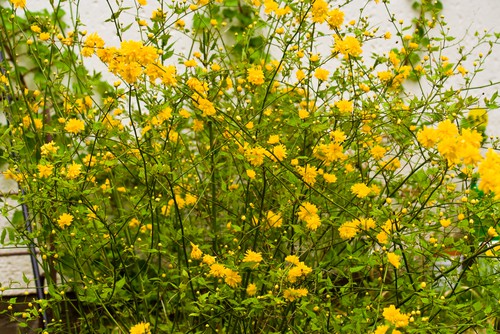 The Japanese rose does not actually produce roses but the yellow flowers it offers grow out in a spindly form across multiple branches and look like small cotton balls of yellow. The yellow flowers produced in the springtime and subsequently in the summer can bloom for weeks on end before the second blooming season begins.
Most exciting is not just the yellow flowers that you can receive but of course the natural shape. It grows in very loose, informal structures so it makes for a wonderful specimen plant but is not necessarily effective as a formal hedge. The amount of pruning required to shape this bush into a hedge would detract from the enjoyable natural shape it likes to assume.
The blooms produced in springtime are on old wood so you need to prune just after the spring flowering comes to an end. But remember that a second flowering later in the season is not unusual but if that happens and you have yet to prune, you will have to wait until the following season to do so.
---
Hypericum Hidcote (St. John's Wort)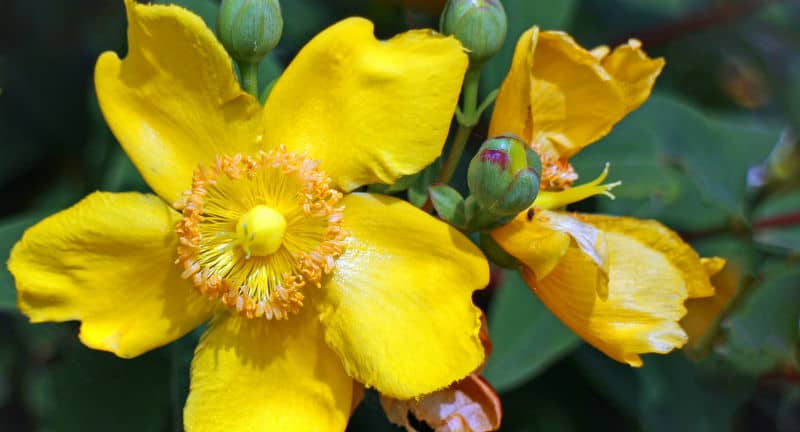 Anyone looking for larger flowers and a medium sized bush rather than clusters of smaller flowers would do well to consider Saint John's Wort. St. John's Wort produces yellow flowers whose shade doesn't have the golden brassiness of things like forsythias or Magnolia Yellow River. Instead, it takes on a lighter, richer golden yellow that not only manifests in the form of the five petals but the subsequent centre of the flower which draws not only the attention of the eye but many wonderful guests to the garden such as bees and butterflies.
---
Berberis darwinii (Darwin's Barberry)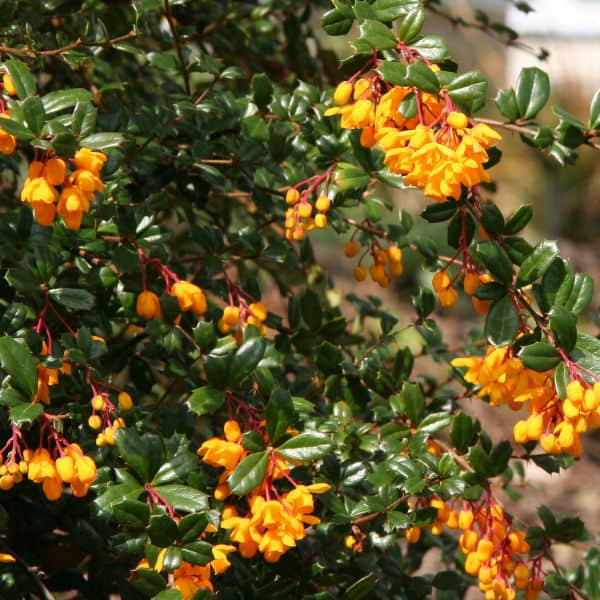 Standing tall and proud with its unique shape and color, Darwin's Barberry is an evergreen bush that gets smothered with clusters of tangerine buds growing on red stems which open into the form of vibrant orange flowers. The foliage remains dark green which offers a very striking floral design.
The flowers grow in clusters that hang downward taking on the shape of a bell or an urn. They are small in shape but very shiny. At its full maturity, this plant will reach a height of 1.5 meters with a spread of 1.2 meters on average.
It requires full sun or very light shade and once it gets established it is particularly drought tolerant. It will attract bees, birds, and butterflies with its early spring flowers and is resistant to deer.
---
Potentilla goldfinger (shrubby cinquefoil 'Goldfinger')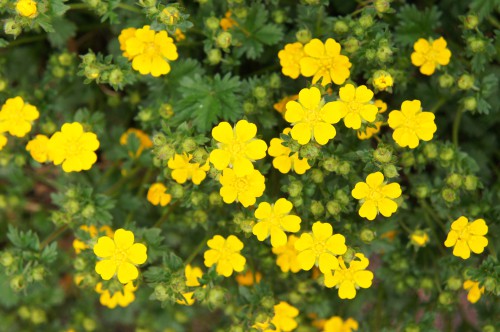 The potentilla Goldfinger is not nearly as ostentatious in terms of its flowers as some of the other plants on this list so it is ideal for a more reserved garden space where you still want yellow flowers but yellow flowers that are spread out across the vastness of the plant and not clustered together in dense groups.
This is a versatile shrub that is small in size. The green foliage grows in a mound shape and the flowers themselves are buttercup yellow. It is the perfect shrub to use as a colourful accent in your border and requires full sunlight. It also makes an excellent ground cover shrub but it's worth noting it is deciduous so will look rather bare in winter.
---
Rose Golden Wedding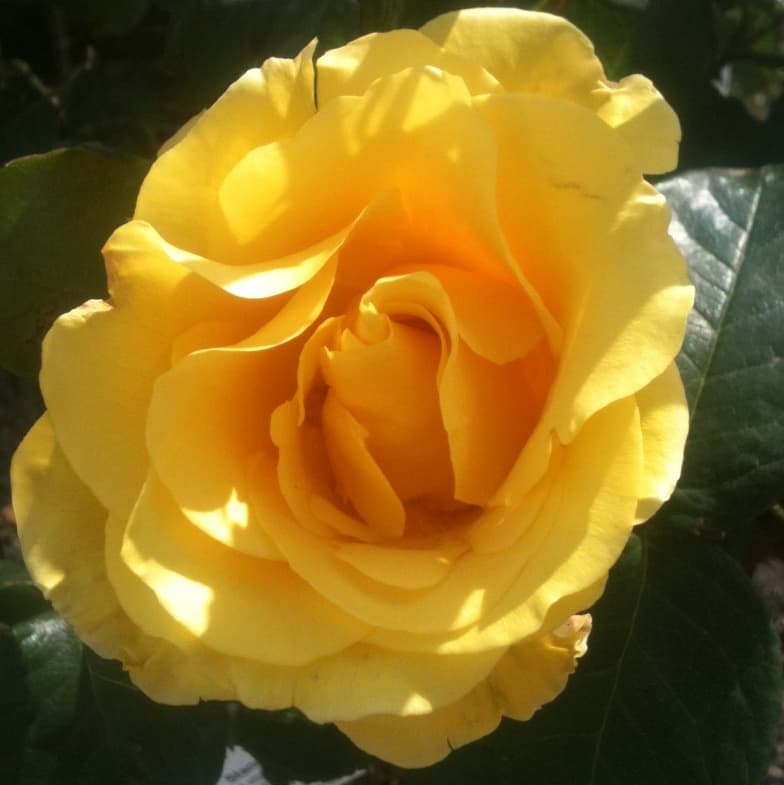 Happily accepting any ostentatious blooms, the Rose Golden Wedding is a floribunda type and produces perfectly-formed, bright golden yellow rose that are produced in clusters. The flowers will maintain their shape throughout the growing season so they will stand upright rather than drooping over like some of the other plants, a little deadheading and you can keep they flowering all summer. The roses stand juxtaposed against the rich, green leaves. For those who prefer roses in their space and are not looking to add yellow flowers simply for the purpose of a hedge or privacy screen, the Rose Golden Wedding is the plant to choose.
The good thing about roses is you just need to prune them back to a couple of feed every spring and they will stay looking fantastic year after year.

---
Uncredited photos: Shutterstock.