Our site is reader supported, this means we may earn a small commission from Amazon and other affiliates when you buy through links on our site.
Last updated on January 21st, 2020
There are many areas in your garden where flowers can be hung, vegetables can be grown, but what about the rest of the space? If you have any area of land you know that it's important to add ground cover. But for many they need fast spreading ground-cover plants, specifically those that will cover an area very quickly.
Ground cover plants to cover an area quickly help to add character and detail to an existing space. A rocky garden for example with large boulders spaced throughout can be accented with a fast-spreading ground-cover plant. A woodland area can be made to look less empty with ground cover plants to fill in the existing gaps between trees and shrubs. To that end below are 10 of our favourite plants that are fast growing and appropriate for ground cover, including both shrubs and perennials so there sure to be something perfect for your own needs.
Main image is Creeping Phlox as talked about further down the our list.
Shrubs for cover ground fast
Vinca Minor/Major (Periwinkle)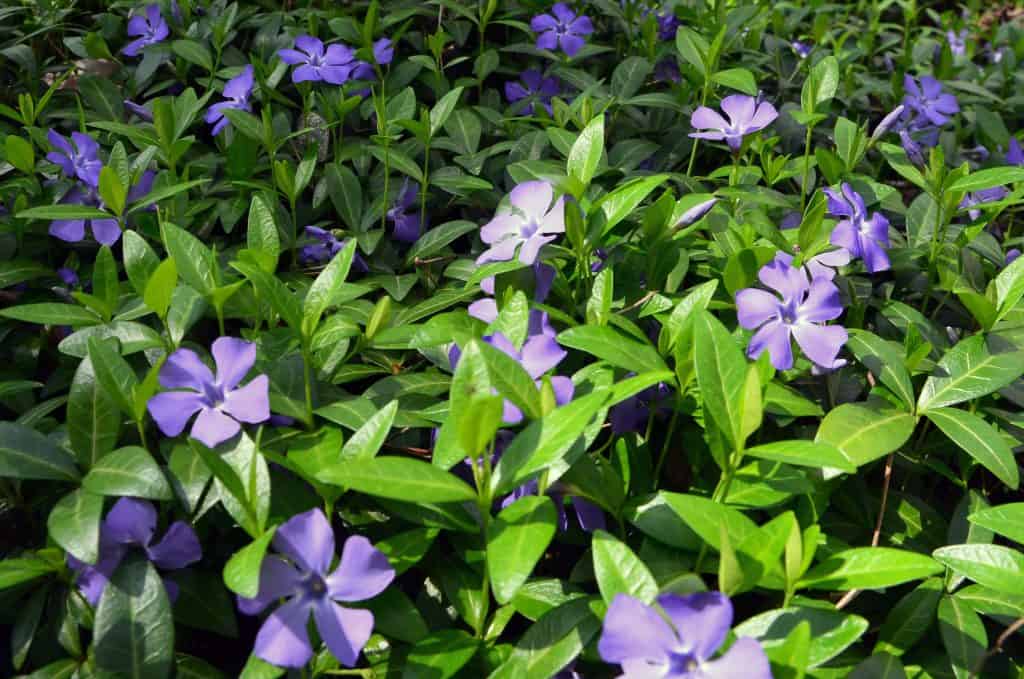 This evergreen is an award-winning shrub which is popular not just for the flowers but for the ability to form a mat like a carpet of ground cover. It develops long, prostrate stems which produce sea green shaded leaves and violet coloured flowers reaching 5cm across. The flowers appear mid-spring and remain in effect until Autumn. These stems grow into the form of a rich, dense carpet that naturally suppresses weeds.
It can reach heights of 20cm and when allowed to grow as ground cover it will create lush tangles and tumble over any land you have. To that end, to cover a large swatch of land, you should plant new Periwinkles 30cm apart but for smaller spaces, only 20 cm apart. Got to be one of the best low growing evergreen shrubs.
It works well as ground cover specifically for slopes or under shrubs as it is hardy, requires little maintenance, and is resistant to rabbits and deer so if you do have problems with rabbits or dear, this is a good plant to consider.
Pachysandra Terminalis (Japanese Spurge)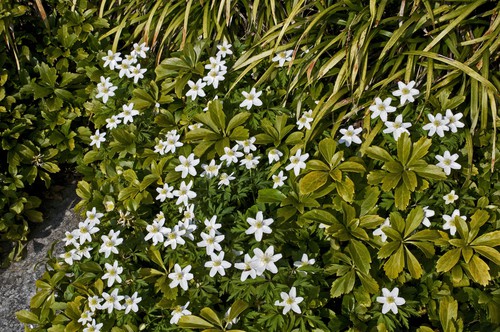 The Japanese Spurge is part of the Boxwood family, and really is an evergreen perennial but is often considered a shrub. It offers beautiful foliage which remains alive and well throughout winter, only yellowing a bit. This ground cover offers white flowers come springtime as shown above but the remainder of the year is well known for its dark green leaves.which are perfect for suppressing weeds
This plant is best for ground cover in rocky areas and grows prolifically in full sunlight and with acidic soil. It is quite tolerant of shade, drought, pests, and clay-heavy soil which makes it ideal as ground cover for gardens rife with wildlife, particularly gardens where wildlife have consumed other plants and flowers. Moreover, it does well in dry shade which is one of the more challenging growing environments for traditional plants. Extremely hardy.
Juniperus squamata 'Blue Carpet'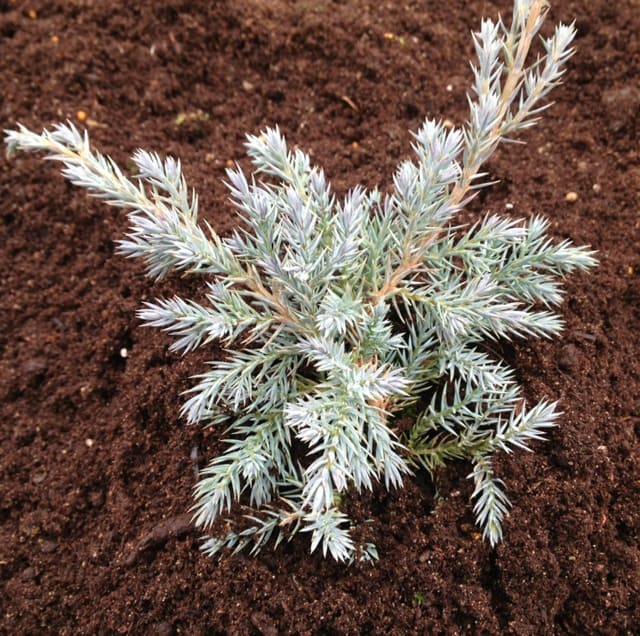 This plant gets its name from the blue-hued tones it takes on and the dense carpeting clumps in which it grows. Juniperus Blue carpet is particularly useful in areas where you want thicker, taller ground cover around trees or empty regions of the garden, not in areas where you want flat cover in between rocks.
Ideal as a specimen shrub or a bushy ground cover, there is no pruning required which makes it a low maintenance solution. If allowed to thrive, it will reach up to 150cm wide and 30cm tall. It grows well in most soils, full sun, and is quite a drought tolerant once it is established.
Ceanothus thrysifolius repens (creeping blue blossom)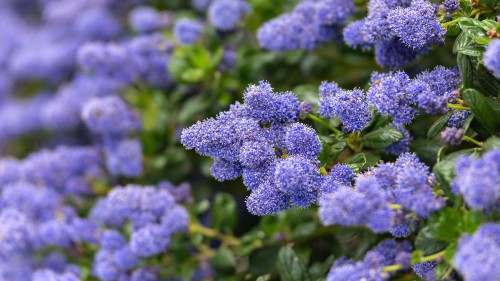 Called the low creeping blue blossom for a reason, this plant produces sky blue flowers in large puffs, tantamount to light blue balls of cotton. It is an evergreen ground cover shrub that is tolerant of full sun or partial shade. It will grow in sand or clay soil which makes it an excellent choice for any coastal or near coastal gardens. In fact, it excels in clay soil along slopes, especially if afforded protection against any winds.
A fairly drought tolerant plant, it will add a light sage green and baby blue to your land with little maintenance required and even less watering. Grows to around 1-1.5 metres tall with a spread of around 2.5-4 metres.
Euonymus fortuneii 'Blondy'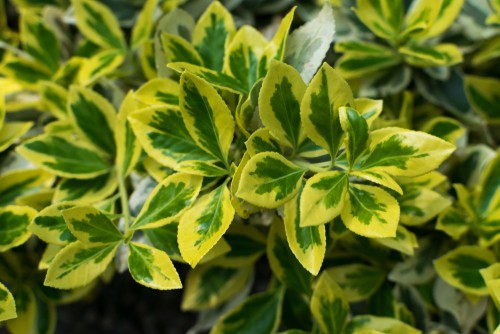 Euonymus Blondy gets its name from the bright yellow leaves it produces each of which are lined with thin, dark green margins. The plants grow in mound shapes and will not sprawl out of control like other ground cover plants which makes it perfect to place along sidewalks, walkways, driveways, or for mass planting in and around trees on your property.
It requires partial to full sun and regular watering. The yellow leaves offer year-round visual appeal so using it in containers or as a hedge or border is sure to brighten up an otherwise monochromatic landscape.
Perennials for providing ground cover fast
Geranium x Johnsonii (Johnson's Blue)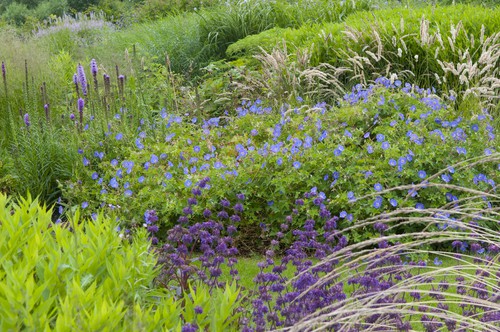 Johnson's Blue will offer blue, violet flowers from June through September, so if the other perennials in your garden are early bloomers, this late bloomer can fill in when they are done. It naturally attracts butterflies and is quite tolerant of deer or rabbit so those who have had bad luck with deer consuming every plant in sight will benefit greatly from incorporating this into existing ground cover.
Purportedly a hybrid, it has been popular throughout British gardens since the 1950's offering dense, spreading mounds with saucer-shaped flowers blooming in clusters and standing offset by the dark green leaves. A popular ground cover geranium which is available at most well-stocked garden centres.

Alchemilla mollis (Ladies Mantle)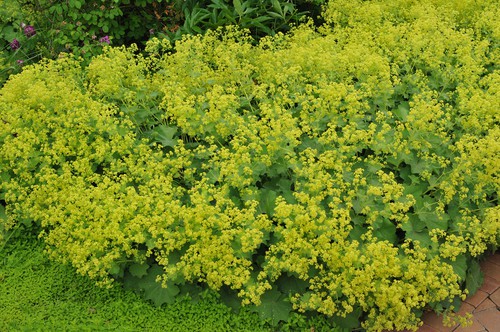 Lady's Mantle is a clumping perennial which creates long, circular leaves with scalloped edges and shallow lobes. There are star-shaped flowers that grow in loose clusters on top of each stem come spring time.
This plant boasts an ornamental design all around with showy flowers that work well when dried and put in the home. The colourful leaves are tolerant of deer and rabbit too. Otherwise, it prefers well-drained soil, full to partial shade, and will perform best with afternoon shade if possible.
Phlox subulata (creeping phlox)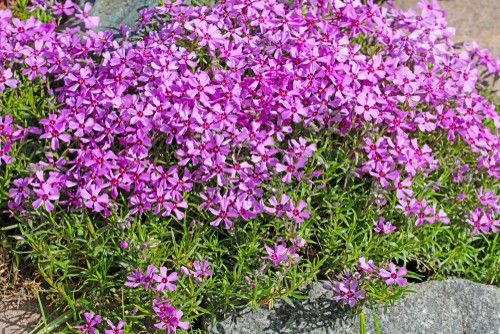 Not all ground cover needs to be green and boring. With the Creeping Phlox you can get a variety of pastel shades in all pink, purple, blue, and white hues. Mixing and matching means vibrant ground cover so rich in medium sized flower clusters that the green below is almost invisible.
Creeping Phlox is often considered one of the most colourful ground covers. This herbaceous perennial will bloom profusely at the end of spring with very fragrant flowers. It forms a mat reaching up to 15cm tall and up to 60cm wide. It often resembles a carpet of moss before the flowers bloom. In winter it offers an evergreen appearance provide ground cover all year round and suppressing weeds.
Bergenia cordifolia (Elephants ears)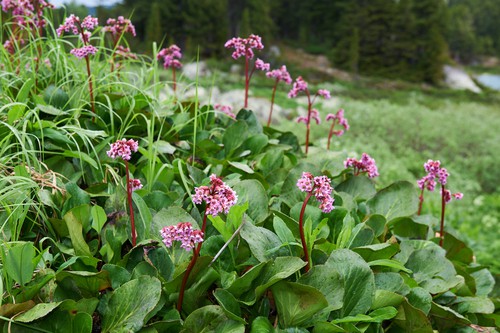 Elephants ears might have an odd name, but rest assured they make for the perfect ground cover in gardens where an awkward space is in need of filling.
These tough ground cover plants take on so many colours and shades that gardens are soon overgrown with beetroot, dark red shoots alongside green leaves in abundance. Absolutely stunning when in flower.
Ajuga Reptans (burgundy glow)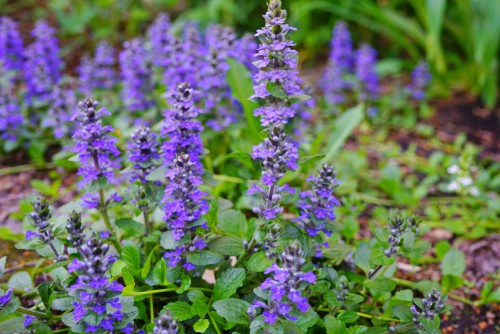 Ajuga Burgundy glow, otherwise known as the carpet bugle is just one of many varieties. Will offer a nice geometric style to your garden, producing upright shoots of green leaves tinged with yellow/cream hues and small, purple-blue flowers jutting out of each swath of leaves. Moreover, these leaves change their exterior tinge, from burgundy to pale green to cream. Even in shaded regions they will form dense carpet-like mats and work well as decadent ground cover and are quick spreading once established.
Uncredited photos: Shutterstock.