Our site is reader supported, this means we may earn a small commission from Amazon and other affiliates when you buy through links on our site.
If you have a fence in your garden, it can be particularly dull to the eye. Those who work hard on stunning border gardens and potted plants find that fences take away from the beauty of the garden. Some climbing plants look great for a few months but then leave behind nothing but browning vines and even more unsightly backgrounds. But that doesn't have to be the case.
With evergreen climbing plants you can grow something beautiful all year up and over your fence, giving your garden the perfect appearance everywhere you look. But how do you choose which ones to grow?
Look over our list of the top 8 options!
1. Clematis urophylla 'Winter Beauty'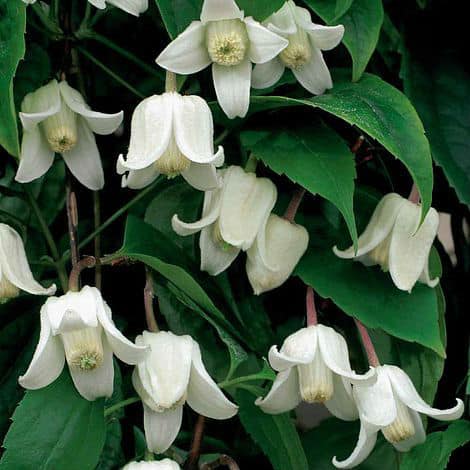 The winter beauty is an evergreen clematis known for producing flowers in winter, hence the name. Said flowers are waxy, bell-shaped flowers that sit among lush foliage. It is a hardy plant that will tolerate sheltered, warm spots and produce stunning white blooms. It reaches heights upwards of 400cm and spreads up to 120cm (4ft). This plant is perfect for beginners, as it requires very little aftercare once planted and is easy to grow.
No products found.
---
2. Trachelospermum jasminoides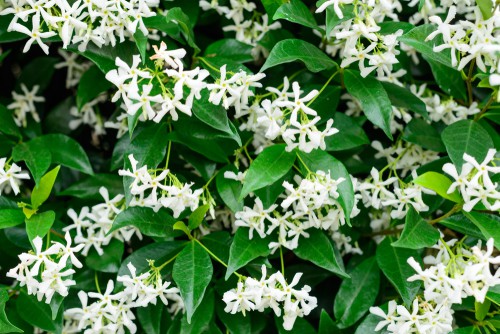 If you want the same white flowers as the winter beauty, but smaller and more prolific, this is the plant for you. This jasmine is ideal for any place where you sit and relax along your fence because of its sweet fragrance.
The blooms will perfume the air all around your garden so its makes the perfect plant for planting around a patio area. The flowers are small, as mentioned, with a star shape. You will get thousands of them on a single plant. The flowers aren't all that's in store though, as the foliage turns bronze and deep red in Autumn, continuing the beauty into winter. It is a little more tender than some climbers so is plant positioned in a more sheltered spot and not in exposed areas.
Star Jasmine Evergreen Climbing Garden Plant for Trellis, Fences & Obelisks Baring Fragrant White Summer Flowers, 1 x Trachelospermum Jasminoides in a 2L Pot by Thompson & Morgan
Star Jasmine, also known as Trachelospermum jasminoides, is a tall, large evergreen climbing plant for gardens and outdoors with scented white flowers in summer.
This fast-growing, white flowering climber plant provides year-round screening with its glossy evergreen foliage along with white star-like flowers with a heady fragrance. Excellent gifts for a gardener.
Ideal for growing up trellis, obelisk, on pergolas or outdoor garden arches, this easy-to-grow and vigorous hardy plant thrives in most gardens - your own perfect stunning plants display. Grow alongside other plants, such as lavender or hydrangea, for a colourful display.
Potted garden plant; Supplied as 1 x Trachelospermum jasminoides (Star Jasmine) plant in 2 Litre Pot.
Your satisfaction guaranteed; we want you to be 100% satisfied with any product you buy from us. If you're not 100% happy then neither are we, so let us know and we'll replace your product or give you your money back.
---
3. Clematis armandii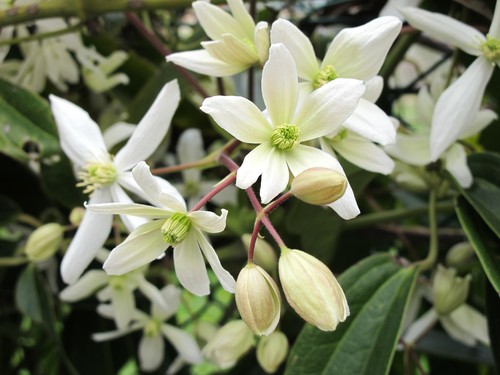 This particular clematis is different from other varieties in that the flowers are much smaller and they take on the star shape appearance. However, this one grows particularly fast so if you need to cover a large space very quickly this is a great choice. You will get glittery white blooms with a delightful fragrance make it the perfect plant for growing right along the storage area for your waste bins or recycling.
They will remain colourful and stunning all year round and have fairly large leaves so you never have to worry about your fence looking dull. There are also several varieties of clematis armandii with some taking on a more pinkish tinge to the flowers.
No products found.
---
4. Clematis 'Early Sensation'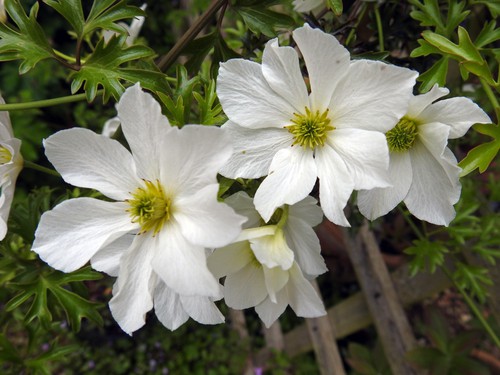 Yet another clematis for consideration is the early sensation variety. It is called that because it flowers early compared to the other clematis varieties. The blooms are large and fragrant, richly white with stamens a dense, yellow-green hue.
The blooms are surrounded by green foliage that starts out bronze when it is young, progressing to a darker and darker green with age. You can train this plant easily up your fence and over. It reaches a spread of around 1 metre and a height of 2 metres so doent get too big so is ideal for smaller places.
---
5. Hedera helix 'Glacier'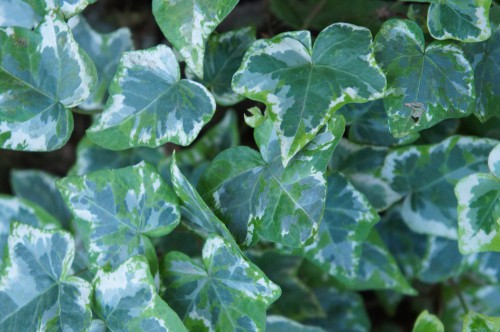 This plant is known as the 'goldheart' because the centre of the otherwise rich, dark, verdant leaves is filled with a creamy yellow heart-like shading.
Ivy, it is a fast climber so it will quickly take over your fence and offer a dense collection of leaves. It grows in walls or fences where there is sun or shade, perfect for brightening an otherwise dark region.
But be advised, it will reach up to 8 metres in spread and height, so be sure to trim appropriately as it can be a little invasive so should be planted with caution.
YouGarden Climbing Ivy Glacier for Screening, 2 Litre Pot
An easy to manage ornamental ivy that does not become invasive in the garden unlike some green varieties
Has 3-5 lobed mid green leaves with irregular cream markings; ornamental throughout the year
The ideal plant to grow over walls and up posts and trellises climbs without support and ideal to cover unsightly features in the garden
Thrives in any moist soils and easy to grow in sun or shade with few pest or disease problems can be trimmed to shape at any time
Delivered as an established plant on cane and growing in 2 Litre pot
---
6. Sollya heterophylla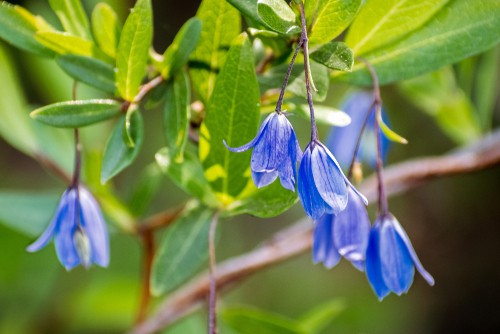 Referred to as Ultra Blue, this Blue Bell creeper gives the brightest blue flowers you have ever seen. You will have an endless supply of bell-shaped blue flowers all summer long that are unlike any flowers you've ever had.
Grow it in an area with full sun or dappled shade and you can train it to grow around a trellis or any other support system so that it is as eye-catching as possible.
It is very easy to grow and once it is in place you have to do very little to care for it afterwards making it perfect for beginners. You can place it along your fence and almost forget about it. It reaches a spread of up to 60cm and a height of up to 200cm so is also perfect for smaller places.
---
7. Clematis cirrhosa 'Freckles'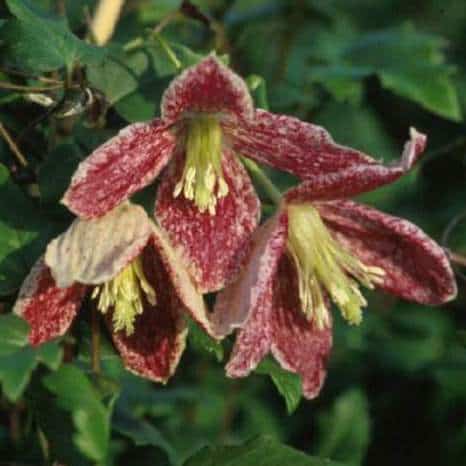 It gets its name from the freckled colour of purples that dot the inside of the flowers. This clematis will provide colour all winter and bloom early each year with cup shaded flowers where all other plants fail to flower.
It has glossy green leaves that require very little maintenance. This, too, has a large size when fully grown, upwards of 300cm in height and 150cm in spread.
---
8. Passiflora caerulea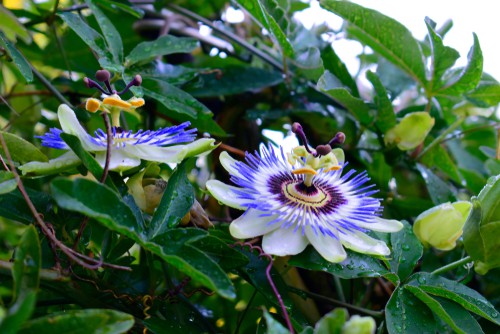 Known more commonly as the blue passionflower, this is the most common of passion flowers. It is a semi-green vine that will grow upwards of 10m or more, and cover your entire fence with some of the most unique, tropical blooms. It's probably the most eye-catching of all flowers and when planted in a sheltered position will make a stunning display. There are lots of more tender varieties that are only really suitable for indoor so make sure you get the blue Passiflora caerulea variety.
Now that you know what your best options are, consider which ones you like most. It comes down to personal preference; no evergreen is better than the other, simply better in some situations or climates than others.
---
Related articles
Last update on 2021-03-29 / Affiliate links / Images from Amazon Product Advertising API