Our site is reader supported, this means we may earn a small commission from Amazon and other affiliates when you buy through links on our site.
Last updated on March 19th, 2021
Do your patio, garage doors, driveway and even your kids' outside toys look a bit grubby? Do you dread getting a bucket and brush and painstakingly scrubbing them all down. You need a power tool – a pressure washer. While we've titled this review "….for Patios", think beyond that. Yes, start with cleaning the patio, but then aim the pressure water spray – use the right nozzle for different strengths of sprays – at whatever you want to clean outside your home. Who knew washing things down could be so much fun!
Pressure Washer Comparison Table
The comparison table below can be used to compare our top recommended pressure washers to compare important specification such as hose length, included accessories, bar pressure, water flow rating and more.
Title
Kärcher K5 Premium Full Control Pressure Washer
Nilfisk C 120 bar Compact Pressure Washer
Bosch High Pressure Washer AQT 37-13+
Kärcher K7 Premium Full Control Pressure Washer
Wilks Genuine USA TX625 Petrol Pressure Washer
Ryobi RPW150XRB Pressure Washer
Accessories
3-in-1 lance, T350 patio cleaner
Standard and Tornado nozzles, Detergent bottle, patio cleaner attachment
3-in-1 spray nozzle, PC2 patio cleaner, underfloor nozzle & brush head cleaner
3-in-1 lance & T 450 Patio cleaner
Five "Snap in" ceramic nozzles
30cm surface cleaner, rotary brush, turbo lance and vario lance
Hose length
8 meters plus 12 meter extention
Detergent Application
Incorporated 1L detergent tank
Motor Watts
NA - Wilks 7HP 4-stroke Engine
Our Best Pressure Washer for Patios review looks at a range of washers, some electric and some petrol, some for domestic use and some for professional jobs, some for light cleaning and others for places with really well-worked in grime and moss. We list the essential features of each model and discuss their benefits. Our Buyer's Guide explains how to make the choice between electric and petrol powered washers, and some numbers to consider.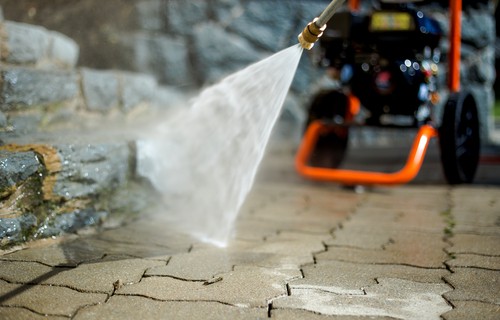 Our Best Pick is the Karcher K5 Full Control Home Pressure Washer. This is an electric pressure washer for domestic use that has all top-of-the-line features. It's as good at cleaning vertical walls as it is at washing horizontal patios.
Our Best Pick for Professionals (and Heavy Duty Use) is the Danau 3000A Petrol Pressure Washer. As a petrol washer, it puts out more power than an electric one. But it's still a compact machine and is fuel-efficient.
BEST PICK
Karcher K5 Premium Full Control Home Pressure Washer
If you're serious about finding a good all-round pressure washer but want one designed for cleaning patios, the K5 ticks all the boxes. For starters, it comes with the T350 patio cleaner and you conveniently adjust the power via a dial on the cleaning head. It also comes with the 3-in-1 wand which means you don't have to switch attachments to change from low pressure when you want to apply detergent or switch to using the dirt buster. This saves time when moving from decking to block paving. The dirt buster setting provides extra power that brings up paving slabs and concrete like new. You also get the longer 8-meter hose which for larger patios makes life much easier. And there's more, with the 5-year warranty. Whatever your domestic landscaping, the Karcher K5 Full Control Home Pressure Washer has all the top-of-the-line features you need.
---
Our Top 7 Recommended Pressure Washers For Cleaning Patios
---
BEST FOR PROFESSIONALS
---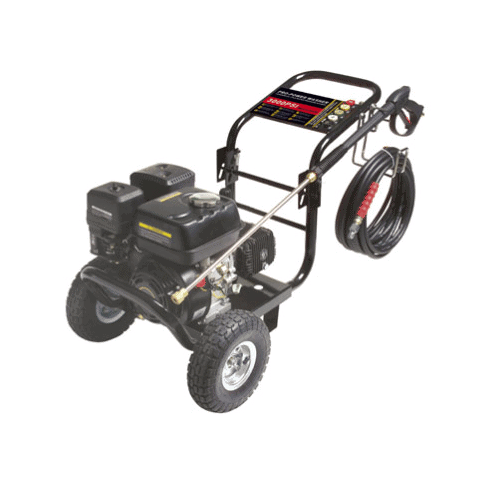 Danau 3000A Petrol Pressure Washer
Many features in the Danau 3000A Petrol Pressure Washer would suit those in commercial settings. For one, it is powered by a reliable 196cc engine and it has a large 3.6 litre fuel tank to ensure consistent working without interruptions to refill the petrol.
Secondly, it comes with all the cleaning nozzles you need for most jobs. Last but not least, the pressure washer has an extra long 10 metre hose for easy reach, that's 2 metres more than our Best Pick.
All these things come together to create a versatile pressure washer for many professionals in the field or for heavy domestic use. Overall, it is a premium quality model that is guaranteed to provide optimal service.
---
PATIO PRESSURE WASHER REVIEWS
1. Karcher K5 Premium Full Control Home Pressure Washer
BEST PICK

The Karcher K5 Full Control Home Pressure Washer offers an incredible 2100 watts of power, generated by a superior water-cooled motor. This patented cooling system minimises wear and tear and maximises the life of the unit. This is why Karcher is able to offer a longer than usual 5-year warranty.
This model packs some features that have your convenience in mind. The LED display on the Full Control spray gun is new to us. Although it's not really essential, it is handy as it lets you easily keep an eye on the selected power level. In addition, the power gun and connected lance fit conveniently onto the machine when you're done cleaning. No more hunting around for them the next time you get the power washer out of the shed. The Plug and Clean Detergent system makes for quick and simple replacement with one easy move. The Karcher K5 Full Control pressure washer has great physical stability due to an increased foot plate, a re-designed hose guidance system (compared to the older model) and a low centre of gravity. All this helps to reduce the risk of you pulling the machine over when you're using it.
The unit includes a rotating jet for blasting away stubborn dirt from weathered surfaces. This is the setting to use for removing moss from driveways and paths. You regulate the water pressure, from low to high pressure jet, by an easy twist of a Vario Spray Lance. This is an update to the old system and works very well. Another included accessory which is what makes it do good for cleaning patio areas is the included T350 T Racer Surface Cleaner intended for cleaning various exterior surfaces in a spray free and efficient manner. All the essential accessories are within easy reach in their built-in storage compartment.
What makes this pressure washer different from less expensive ones we've reviewed is the integrated handle for cleaning vertical surfaces such as garage doors. If you intend to wash you garage, fences or exterior walls often, this is the one option to look for in your pressure washer.
To get you started cleaning, the machine arrives with a 1L stone detergent with 3-in-1 formula for maximum cleaning performance. It works on facades, walls and stone patios. This model comes with an 8m hose which is longer than most other models, with only the Karcher K7 having a longer hose at 10 meters. The 8 meter hose on this model is long enough for covering wide areas.
PROS
Electric pressure washer with all the features you need for use in any size domestic landscape.
Build-in hose reel.
Offers convenient on-board storage for gun, lances and hose, therefore, there's no need to disconnect everything and fit them back next time.
Easy to manoeuvre on the job due to a convenient pulling handle and wheels.
Handle is retractable for convenient storage.
Features a patented cooling system for increasing the life of the motor.
Has LED display for checking the selected power level.
Good hose length, which makes it ideal for cleaning wider areas.
Easy replacement of detergent due to a simple click and clean design.
Five-year warranty for full peace of mind.
No problems found with this model, well designed and very reliable.
---
Final Conclusion
Anyone in need of a heavy duty model can rely on the Karcher K5 Full Control Home Pressure Washer. This model has top-of-the-line features, from a 2100W motor to its excellent cooling system, LED display trigger gun to extendable aluminium handle, and 1L stone and façade detergent.
What even beats most competitor models is the hose length of 8m reaches most everywhere. The model is easy to set up and store away and even provides on-board storage for the accompanying accessories. You won't waste valuable cleaning time looking for lost bits of the washer. We particularly like its ability to wash vertical surfaces as well as horizontal ones.
All this makes the Karcher K5 Full Control Home Pressure Washer our Best Pick of pressure washers. This is the right washer for you if you especially have as manual vertical walls as horizontal patios and pathways to wash.
If this is a little over budget, there is a standard K5 version with does not have the hose reel which is looking at, however, having the hose reel makes using the premium model such much easier to use.
---
2. Danau 3000A Petrol Pressure Washer Review
PROFESSIONALS PICK
If you need a heavy-duty pressure washer, the Danau 3000A Petrol Pressure Washer is is definitely one to consider. It's also one of two petrol models that made in into this review. This pressure washer has a powerful 196cc engine with a 3.6 Litre fuel tank. It generates enough power to work on different surfaces without using too much fuel. For those working with a tight fuel budget, this energy-conscious machine is well worth considering, especially for professional use.
The maximum pressure produced by this cold water model is 3000psi but the regular operating pressure is 2750psi. This high pressure is perfect for dislodging dirt from the patio or stonework around your property. It comes with five cleaning nozzles that are easily interchangeable for seamless cleaning depending on the level of dirt and the surface you are cleaning. Store all the cleaning nozzles neatly on the washer's handle when they're not in use.
For a machine to be durable it needs to be made of quality material. This model has a powder-coated steel frame that is strong and can maintain its appearance for years. The 10 steel braided hose gives the user adequate reach when working on tight or far-away areas. The hose does not kink or twist easily, fixing a common problem with pressure washer hoses.
Other features including a detergent dispenser and folding handles make this pressure washer more user-friendly and easily transportable. This washer comes with 10" pneumatic tyres that make moving the model around a cinch, even on uneven ground.
The easy-to-start and operate pressure washer is accompanied by a 90-day commercial warranty which is less than the standard guarantee. We would like to see a one-year warranty, but at least you do get a one-year domestic warranty for home use.
PROS
Perfect for professional cleaning or patios, cars, walls, building etc.
Offers a reliable 196cc petrol engine to handle both light and heavy-duty work.
Features a 0.5L tank for fewer refill trips.
Comes with five interchangeable cleaning attachments.
Folding handles for a smaller footprint in storage.
Provides a soap dispenser for effective cleaning.
Comes with large air tires for easy manoeuvrability over different surfaces.
A long 10m hose permits easy reach to places away from your outside taps.
Covered by a 90-day commercial and 1-year domestic warranty
---
Final Conclusion
The Danau 3000A Petrol Pressure Washer is a premium heavy-duty machine that is perfect for the most demanding cleaning jobs. The high water pressure is adequate to remove dirt from different surfaces and is a great choice for professionals. We like that it is a compact machine with pneumatic tires that allow for easy movement.
We also like its long hose, at 10m, it's 2 meters longer than our best pick. This is our Best Pick of pressure washer for Professional or Heavy-Duty cleaning.
---
3. Nilfisk C120 7-6 Patio and Brush Pressure Washer
The Nilfisk C120 7-6 Patio and Brush Pressure Washer is another compact patio cleaning appliance. It comes with a range of accessories that suit cleaning and maintenance tasks around the home. Like the title suggests, this model gives a maximum pressure of 120 bar and an impressive flow rate of 440l/h, making it perfect for cleaning flagstones, paths, patios, drives, bikes and vehicles.
To complement the handy size of this pressure washer, the model weighs around 10kg. It's light weight works along with its fitted with wheels to make it easy to transport or move along within the work area.
The nozzles have a click and clean system, which makes nozzle changing quick and easy, whilst an integrated swivel function assists in quick connection of the hose. The machine also uses a standard Nlifisk bayonet coupling, which guarantees compatibility to all Nlifisk range of consumer accessories.
There are two dedicated attachments. The first is a Click and Clean compact patio cleaner for paths, patios, drives, decks and other large areas. The other one is a Click and Clean soft bristled brush for cleaning cars, caravans, conservatories and greenhouses. Online reviewers, however, report that the patio attachment is not very effective at deep cleaning, so be sure to clean your patio regularly.
The C120 7-6 comes with a range of standard accessories including 1 x 6m high pressure nozzle, click and clean foam sprayer nozzle and bottle, 1 x 5m mains supply cable, 1 nozzle jet cleaning tool, and 1 hose connector. It also provides on-board storage for some supplied add-ons such as gun, extension lance, nozzles and electrical cable.
This pressure washer comes with a dependable and long lasting 1400W Air-cooled universal motor. It also features an auto start/stop function, which ensures the unit only operates when needed. One major benefit of this unit is that it can also be operated from a standing water source.
PROS
Electric pressure washer with a compact footprint and light weight so even kids can use it easily.
Fitted with wheels and fully movable handle for easy movement around the job area.
Supplied with a range of attachments which ensures you have the proper attachment for the right task.
Compatible with a wide range of Nlifisk accessories.
Two-year warranty for full peace of mind.
---
Final Conclusion
The Nilfisk C120 7-6 Patio and Brush Pressure Washer has a compact design and we especially love it because of its light weight and quality sturdy build. We also like the fact that it offers a patio cleaner and a soft bristled brush to tackle different spaces.
However, we found that you'll benefit more from using the brush than the patio cleaner. It still does the job anyway. You'll also appreciate the on-board storage for keeping a few accessories. With that said, the Nilfisk C120 7-6 Patio and Brush Pressure Washer is a well-priced pressure washer ideal for cleaning outdoor items that have a fair amount of dirt or mess.
if you clean your outside surfaces on a regular schedule and don;t let the dirt and grime build up to a thick layer, this is a great compact pressure washer to consider.
---
4. Bosch AQT 37-13 Plus High Pressure Washer
The Bosch AQT 37-13 Plus High Pressure Washer is a powerful cleaning tool and is a middle of the range model from the Bosch pressure washer range. This 37-13 model is fitted with a powerful 1700W motor. It boasts a water flow rate of 370 litres per hour and a maximum pressure of 130 bar, making it efficient for day to day cleaning tasks. This machine comes with a two-year warranty and the guarantee period can be extended to three years by registering the tool on the manufacturer's site (MyBosch-Tools). The included attachments are perfect for removing dirt from cars, garden furniture, patio cleaning and more.
To increase the efficiency and longevity of the machine, the pump features an auto-stop system. This automatically halts operation when not in use, delivering power, and hence water flow, only when needed.
Another very useful feature of this pressure washer is the 'Click and Go' system, which makes for easy setup and lets you use the machine straight out of the box. The quick and easy connect fittings ensure that minimal assembly is required,so you don't have to be skilled at DIY to set up this unit.
A range of accessories accompany this pressure washer and they are each meant for particular applications. There's a 3-in-1 nozzle which offers a high pressure fan for general cleaning and a patio cleaner intended for cleaning driveways and patios.
As you would expect for a well-reviewed patio cleaner, it also has a patio cleaner attachment which does a great job at bringing up your patio like new.
A very useful 90-degree nozzle helps in removing dirt from wheel arches or roof gutters without you having to stretch or bend uncomfortably. A detergent nozzle allows easy application of detergent. The package also includes a wash brush for cleaning vehicles, a drain cleaner nozzle and a suction nozzle. An integrated accessory storage is available for packing the essentials neatly when not in use.
At 6.5kg, this machine is very lightweight for its size and power, yet compact, making it easy to transport and store away. It has an adjustable handle which makes it ideal for users of any height, thus reducing strain on your back and arms. In addition, it has wheels for easy maneuvering within the work area. However, at 6m, the hose length is shorten than the average 8m length found in most other pressure washers.
PROS
Electric pressure washer with ergonomic features for your comfort and convenience.
Easy to transport and store due to its lightweight and compact design.
Requires little assembly through an easy 'click and go' system.
Has wheels for easy manoeuvring within the job location.
Can be handled with users of different heights thanks to an adjustable handle.
Comes with a two-year warranty and the period can be extended to 3 years.
---
Final Conclusion
The Bosch AQT 37-13 Plus High Pressure Washer is such a neat product with a great design and compact dimensions. You'll find it incredibly easy to store away after every use, also thanks to its low weight. Furthermore, the appliance provides compartments for storing some vital accessories, so there's little chance that misplace your favourite parts, if you're diligent.
The powerful performance is due to a powerful motor (1700W), 130 bar pressure and impressive water flow rate figure (370l/hr). Set up is super easy as everything just clicks into place out of the box. However, we feel the hose could be a little longer because as it stands, you are forced to move with the machine when cleaning large are, especially driveways.
Nonetheless, the Bosch AQT 37-13+ offers an all-in-one solution to most outdoor cleaning challenges. We think its a great choice for someone looking for an more affordable model, though with fewer features, than the K5 which is our 'Best Pick'.
---
5. Kärcher K7 Premium Full Control Plus Home Pressure Washer
The Kärcher K7 Premium Full Control Plus Home Pressure Washer is similar to the Karcher K5 model (our Best Pick) in terms of design and appearance. However, the K7 model is a heavyweight pressure model capable of washing any patio, decking, garden furniture, stonework, cars, and other surface in record time. This machine has probably the highest pressure washing levels of up 160 bar plus a maximum flow rate of 600 litres per hour. This flow rate is 100 litres more per hour than our 'Best Pick', the Karcher K5. The Karcher K7 is capable of tackling the toughest cleaning jobs that you can throw at it. It's the best choice for someone looking for a serious machine to tackle the largest of patios and driveways.
At 20.8kgs, of course, it's a heavier model than most others but then it certainly outweighs many on performance. Even with the hefty weight, this model is easy to move, thanks to two highly robust wheels and a convenient adjustable handle for easy pulling. Combined with a 10m, hose which is 2 meters longer than our Best Pick, you can tow this unit anywhere you need it.
Like all Karcher pressure washers, the K7 is accompanied with a range of accessories for special purposes. It comes with a Dirtblaster nozzle which produces a powerful rotating point jet for blasting away stubborn dirt.
You regulate the water pressure from a fine spray to a high pressure jet using a Vario Lance, while a T450 T Racer Surface Cleaner cleans walls, garage doors and any other vertical surfaces. To ensure high cleaning performance, the product includes 1L stone and façade detergent with 3-in-1 formula. This unit also offers on-board storage for the accessories, including a place to keep the power gun during cleaning breaks.
The Full Control spray gun features LED display which lets you check the power you selected for a particular task. For information, this machine generates 2800 watts of power. A patented cooling system increases the life of the motor.
The K7 also comes with a suction hose to ensure that you can use the washer from a harvested source or a static source such as a water tank or butt. This product comes with a five-year warranty, which in some way justifies its quality.
PROS
Electric pressure washer delivers unmatched performance for any cleaning and washing task outside your home.
Has LED display on Full Control spray gun for checking the selected power level.
Can be easily moved on robust wheels.
Has a long 10m hose to reach every part of your garden.
Comes with a five-year warranty, much longer than with many other models.
---
Final Conclusion
Well, if you think the Karcher K5 Full Control lacks the power and size needed to tackle your cleaning jobs, then the Kärcher K7 Premium Full Control Plus Home Pressure Washer is the perfect upgrade and probably the best model you will find.
One such feature you benefit from the K7 is the hose length, which is 2m longer than the K5's. Of course, the K7's power is unrivalled and so is the flow rate and maximum pressure. With the LED display on spray gun, you can easily select the ideal power level for gentle car washing or strongly removing dirt on stubborn surfaces.
Overall, this pressure washer is a diverse powerhouse ideal for cleaning tasks on large patios, decking or car wash and with five years of warranty, you have full peace of mind.
One feature we nearly forgot to mention is that this model also comes with the integrated hose reel on the back which makes packing the hose away super easy.
---
6. Wilks Genuine USA TX625 Petrol Pressure Washer
The Wilks Genuine USA TX625 Petrol Pressure Washer is an excellent choice if you're looking for a petrol pressure washer that is powerful but affordable. There are two features with this model that instantly stand out; it has a 7HP 210cc petrol driven engine and the vigorous steel frame, which is unlike your standard streamlined, domestic patio pressure washer.
The use of petrol is one of the reasons to purchase this model since it offers a different approach and maximum power. While the price of this Wilks petrol pressure washer is on par with the cost of an average electric pressure washer, its performance is on par with that of high-end electric washers which cost nearly three times more.
This machine gives a pressure of 272 bar (3950psi) when it's operating at maximum power. With several power settings you can select the right one to match the application. The pressure range is perfect for tough domestic tasks such as removing tough stains from garage doors or preparing an outdoor wall for painting or simply cleaning a large driveway or patio.
It has a flow rate of 720l/hr, which is very good. This ensures there's plenty of water for cleaning as well as washing away removed dirt. The 7HP engine complements the flow rate and pressure very well and keeps the pressure working at full power on the toughest tasks.
Also featured on this machine is a detergent suction tube, which allows the pressure washer to eject detergent before you deal with dirt with clean water. This is very useful when cleaning cars, motor cycles, bikes and anything that needs the application of detergent first. The detergent suction tube can also be used for cleaning grease stains on garage floors and driveways, and cleaning plastic furniture.
The machine is supplied with five quick fit nozzle attachments designed to give different kinds of sprays. The pencil spray is the strongest spray and narrows the water flow to a small area, while the jet spray is lighter and ideal for larger areas. The fan spray is soft and ideal for larger delicate areas and the detergent spray lets you spray detergent before cleaning. It also includes a straight lance, curved gutter lance, nozzles, turbo nozzle and self-propelled drain cleaner, something most models don't.
For mobility around the job, the Wolf pressure washer has large all-terrain wheels and they are perfect on most terrains. The machine weighs 32kg so is certainly not light and has a 8 meter high pressure hose, but an additional 12 meter hose is also included. It goes without saying that the model is easy to set up; initial setup especially takes little time even for those who have no experience of setting up a petrol pressure washer.
Simply fuel up, add the oil, set the choke and pull the cord, once the engine starts, turn the choke off and you're good to go. However, as with all petrol machines, it's fairly loud because of the petrol motor and needs maintenance to maintain the engine.
PROS
Petrol pressure washer that's more powerful than most electric pressure washers.
Comes with five nozzle attachments to help tackle various jobs.
Includes a straight lance, curved gutter lance, nozzles, turbo nozzle and self propelled drain cleaner.
Mounted with wheels for easy mobility around the job area or even moving from job to job.
Includes a low level shut down, which lets you know when the oil level gets too low.
Easy to set up even for inexperienced people.
---
Final Conclusion
The Wilks Genuine USA TX625 Petrol Pressure Washer offers great value for money at a fraction of the price for a comparable electric model such as the Karcher K7 or a professional grade petrol model like the Danau 3000A Petrol Pressure Washer, our Professional Best Pick.
It has an excellent mix of pressure and flow rate, enough for tackling most domestic jobs with ease. You'll benefit greatly from the five different nozzles in jobs such as washing cars, removing stubborn grease from garage doors and cleaning patios.
As expected, petrol machines are a lot louder compared to electric ones, so the noise might be disturbing if you are noise sensitive. With that said, this Wilks petrol model is quite a versatile solution to cleaning challenges at home and is a great affordable option for anyone looking for a powerful jet wash at a reasonable price.
---
7. Ryobi RPW150XRB Corded Pressure Washer
The Ryobi RPW150XRB Corded Pressure Washer is an electric washer that puts out a significant 2,200W of power. This is more than enough force to drive the four wands you receive with your purchase: the 30cm surface clearer, a rotary brush, a vario lance and a turbo lance. None of your external surfaces stand a chance against this combined cleaning ability. And it's also on a par with the power from our Best Pick selection.
As for numbers, they're impressive too. The motor delivers a maximum of 150 bar pressure and a maximum flow of 420l/hour of water. This makes it a worthy competitor to any of the non-heavy duty washers in our review.
This Ryobi comes with a standard length 8m hose, but this one is flexible and steel-armed. These characteristics prevent the hose from kinking and curling up, common problems with pressure washer hoses. Think of the time and irritation you save by not having to stop and straighten out of the hose every so often.
And for those who like to use detergent in their patio washing, this Ryobi model has an integral detergent tank. Just use the on-demand detergent function handily located on the handle of the detergent wand to dispense the soap when you need it.
And for tidiness during operation and in storage, the hose reel situated within the washer handle evenly and neatly extends and retracts the hose as you need it. And don't worry about having hurting your back or shoulders lugging this washer around to where you need it; it's on wheels that smoothly roll across a variety of textured and smooth surfaces.
PROS
Electric high-performance pressure washer delivers 2,200W of power for all your outdoors cleaning duties.
Flexible 8m hose is steel-armed that reduces kinking so you don't have to keep uncurling it.
Hose reel sits between the sides of the handles for easy and even retraction of the hose.
Detergent tank is built-in so you can fill it and forget about it for a while.
Attachments provided included the surface cleaner, the rotary brush and the turbo lance for a variety of surface cleaning.
Has wheels so not a chore to move it around the area you're cleaning.
---
Final Conclusion
The Ryobi RPW150XRB Corded Pressure Washer is a high-powered electric washer with performance to match. It comes with the four wands that are more generally used, but other attachments are available at extra cost. The 1L built-in detergent tank holds the soap and you easily dispense a squirt of detergent from the control on the handle of the detergent wand. The hose reel is a handy feature that's not even available on our Best Pick, the Karacher K5.
If you like the idea of a fully featured pressure washer that's less expensive than our Best Pick, take a look at this Ryobi RPW150XRB Corded Pressure Washer.
---
BUYER'S GUIDE TO CHOOSING THE BEST PRESSURE WASHER FOR YOUR PATIO
Buying a pressure washer for your patio (and beyond) boils down to one basic decision – whether to go electric or petrol powered. Other features to look out for fall out from this one choice. And that's why we spend some time in this Buyer's Guide giving you information to make your best choice.
Electric pressure washers
Electric models are perfect for home outside cleaning jobs such as cleaning garden furniture, cleaning patios, bikes, cars, paths, walls… the list goes on. You start an electric pressure washer with the simple flip of stitch after plugging it into an outside electric outlet. These pressure washers are generally maintenance free and easy to use. Some electric cords, however, are quite short and you might need to use an extension cord; be sure to buy a waterproof extension cord.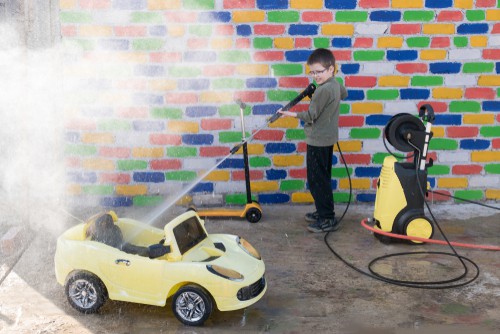 Electric pressure washers are also lightweight, usually compact, quiet and generally run clean due. They can even be used in ventilated areas such as basements and garages. The major downsides of electric pressure washers is that they need to be near a power source and they have slightly lower power compared to petrol models. However you can get some powerful models now such as the Karcher K5 (our Best Pick), which is on par with some petrol pressure washers now.
Petrol pressure washers
Petrol pressure washers are ideal for dirtier cleaning jobs, small or large, such as cleaning external walls of buildings, agricultural machinery, garage floors, large patios and large drives. If you have long-term grime or moss layers on your surfaces or pressure wash professionally, consider the power of a petrol washer.
Petrol pressure washers offer greater mobility options due to the fact there are no power cords involved. These units are usually started with a manual pull cord though some models have an electric on/off switch for easier starting but these are usually the more expensive models.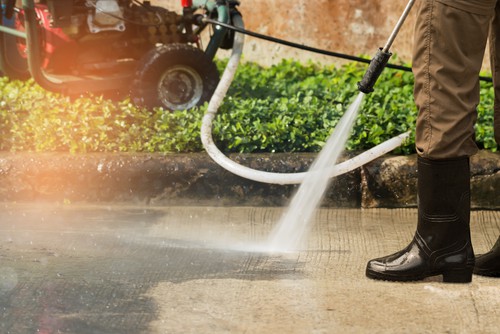 As you expect, petrol engines are quite noisy and heavy. They also emit fumes, and should only be used outside or in extremely well ventilated areas. The engines and other parts require frequent maintenance such as checking air filters, oil and refueling. On the plus side, petrol washers provide extra power at a lower cost. For example a good petrol pressure washer costs around £240 and produces 200 bar of pressure while a similar electric model would cost double this at over £400.
Features and numbers
Power output
This is an important part of the machine, especially with electric models. Generally, the more powerful the motor (the more watts), the higher the pressure and flow rate. Most machines range from 900W to 2800W. If you have larger areas to cover or plan to use the machine on a frequent basis, going for higher power is the best option. If you only need to use a pressure washer once a while or for smaller jobs, then a 1400W unit or slightly above is just ideal, while a 900W model is suitable for smaller patios.
Maximum pressure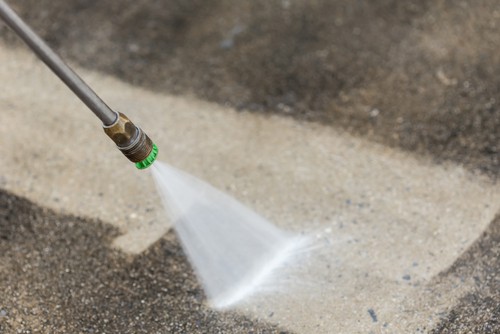 Pressure is usually measured in bar which this refers to the pressure of water from the unit. A higher pressure means easier removal of stubborn stains. The maximum pressure usually ranges from 110 bar to 180 bar, depending on the model. Entry level pressure washers will have 110 bar to 130 bar, making them ideal for lighter jobs such as cleaning cars or bikes. If you want to clean patios and driveways, anything from 140 bar and above will go a long way towards a making a major cleaning difference.
Flow rate
This the speed of delivering water to an area with the pressure washer and is usually measured in litres per hour (l/h). A higher flow rate will translate to using more water, allowing you to cover greater areas quickly. Most budget models have a flow rate of around 350l/hr, mid-range machines around 420l/hr and high-end units will range from 500 to 600l/hr. For covering large areas of patio or driveways, a mid-range to high-end model will make the job quite easy.
Weight
Pressure washers differ considerably in weight, beginning at reasonable 4kg up to a hefty 20kg. Most machines come with wheels but keep in mind that some budget models do not s and might need to be carried or left stationary. And remember that if you're washing a large area, you may move the washer around a lot.
Attachments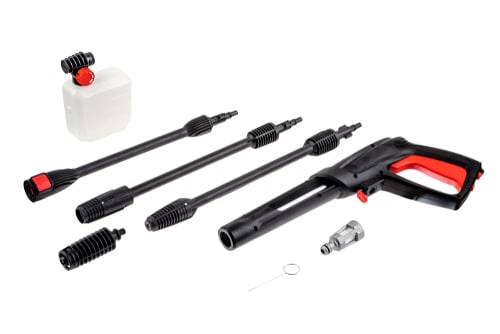 Figure out what you plan to use the pressure washer for and what attachment you need to do that. Pressure washers with many accessories may be enticing, however, can you justify the additional cost versus how frequently you will utilise them? If need be, you can always purchase extra accessories later since most parts are easily interchangeable between brands. For patio cleaning, the major accessory you should consider is a dedicated patio cleaner. It saves considerable time on larger patios compared to using a conventional lance.
Price
With pressure washers for patios, prices can vary significantly. As such, it's important to consider the features and specifications that you really need in order to get the best value pressure washer. Look for a model that meets your needs regardless of the price, while focussing on how often you'll be using the machine and for what tasks. As we've said, some attachments can be bought later when needed. With that in mind, you may realise that an inexpensive model delivers what you need.
Warranty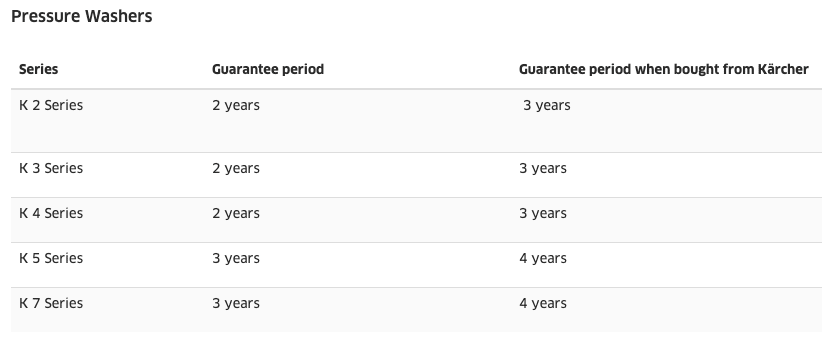 A manufacturer's warranty gives you peace of mind should anything go wrong with the washer or should it become faulty. In generally a good model comes with at least a two-year domestic warranty, with more expensive models coming with three- and five-year warranties. If a model only has a one-year warranty ask yourself why?
---
FAQs
How far from the surface should I hold the nozzle?
Consider two things: the power behind the spray coming from the washer and the toughness of the surface you're cleaning.
Narrow sprays have more force behind them and hit the surface harder, while sprays that fan out in a wider arc generally deliver a softer fall of water. Patios made of brick or stone have a tougher more abrasive surface than the paint on your exterior home walls.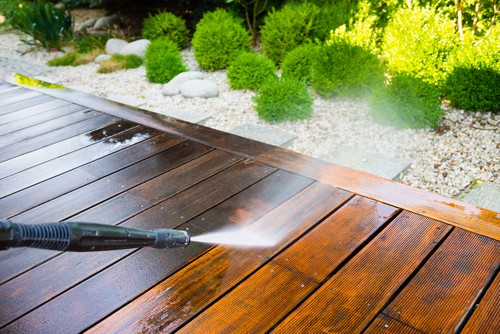 As for distance, the closer you are to the surface, the harder the water hits and dislodges whatever is there – grime, moss, paint, and so on.
So, for example, a dirty patio can take a narrow and powerful spray from about 30cm away; but when washing the side of a painted house, use a wider less powerful spray and start from a distance of two metres of so. You can always move closer gradually if you need to.
Can I use dish washing liquid to clean my patio?
Before you squirt your Fairy Liquid into the detergent tank on your pressure washer, please:
Read the manual to see what the manufacturer recommends.
Consider if the detergent is environmentally friendly; after all, the water is probably going to end up in your flower beds and on the lawn.
Also check if the detergent is pet friendly if you have dogs or cats that are allowed outside.
Ask if the detergent is strong enough to remove the grime on your patio. Is "soft on your face" going to cut through years of accumulated dirt on your flagstones?
All in all, it's best to follow the recommendations for your brand of power washer.
---
Final Conclusion
This guide covers everything you need to know in order to buy the best pressure washer for patio cleaning and ultimately r other cleaning jobs at home. Buy a pressure washer now and watch grime and stubborn dirt wash away with minimal effort, eliminating the hard work from cleaning your patio, decking, car, driveway, garden furniture, and more.No more buckets and brushes and scrubbing on hands and needs.
Our Best Pick of pressure washers is the Karcher K5 Premium Full Control Home Pressure Washer. Although this electric washer is for domestic use, it has top-of-the-line features for convenience and for full-on cleaning of your outside structures. landscape and anything that doesn't move.
Our choice for Best Professional / Heavy Duty pressure washer is the Wilks Genuine USA TX625 Petrol Pressure Washer. This washer has enough power to clean layers of worked in grime and moss over large areas. Use this at home too if you've neglected your patio and driveway.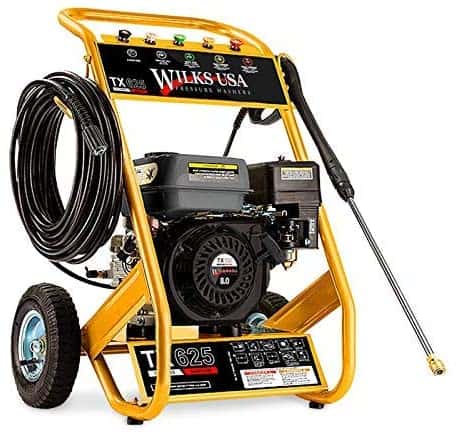 If you're hooked on buying a petrol patio pressure washer and want to see more options, check out our Best Petrol Pressure Washers for Domestic and Professionals review.
If you're picky about washing your car, you need to look at our review of the Best Pressure Washers for Car Cleaning.
We have advice for those not sure how to go about cleaning their patio with a pressure washer.
And now that your patio looks as good as new, how about some new furniture to match? Check out our top picks for the Best Garden Furniture Sets.
---
Last update on 2021-03-29 / Affiliate links / Images from Amazon Product Advertising API