Last updated on April 5th, 2022
Our site is reader supported, this means we may earn a small commission from Amazon and other affiliates when you buy through links on our site.
When you add a patio or decking around your garden it creates a beautiful area for dining and entertainment but it's important that you keep this area clean to prevent the build-up of things like algae and dirt. Using a pressure washer is a fast and effective way to do this regularly.
A pressure washer will help you remove even the most stubborn of stains and algae that are trying to take over your patio. It will also help you avoid having to undertake any manual scrubbing or scraping by using powerful pumps to spray a forceful blast of water that removes dirt and grime from your decking or paving slabs quickly. The dirt is also removed much more effectively than if you were to use a regular garden hose.
What you need
In order to effectively clean with a pressure washer, you will, of course, need the pressure washer. In some cases, different detergents are needed, a hose, hose adapters, and safety gear such as safety goggles.
Check out some of the best pressure washers for cleaning patios in this review that we have recently written
You can rent or buy pressure washers. If you are planning to clean your new deck or patio regularly, buying a pressure washer can make for a very sound investment, one that can be used all over your garden, including areas such as paths, patios, and driveways.
---
How to Use a Pressure Washer to Clean Your Patio
Step 1 – Clear the area
Start by removing any garden furniture you have, BBQs, pots, planters, or ornaments.
Take a brush to sweep away any loose debris, you can even consider using a leaf blower to get rid of the loose dirt and leaves.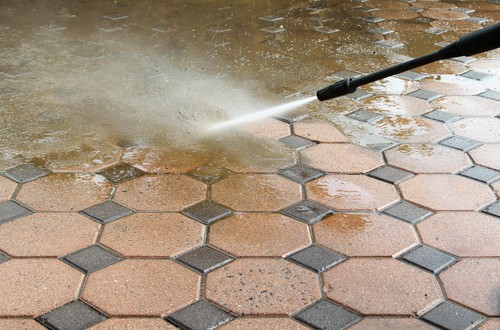 Step 2 – Getting set up
Make sure that water is running freely to your hose before you start. You want to run the water through your pressure washer after you connect the hose just to remove any air bubbles. The hose needs to be, in most cases, a minimum of 7.5 metres in length, most domestic pressure washers, like the ones purchased from DIY stores and online such as the Karcher K4, will work with most standard hoses.
Some pressure washers you can rent require quite a high pressure and a larger 3-inch hose so it's best to check beforehand because they aren't always suitable for use at home.  If you have a hose reel for your hose, make sure it is fully unwound and there are no kinks or knots in it so that you can maintain constant water pressure as you are cleaning.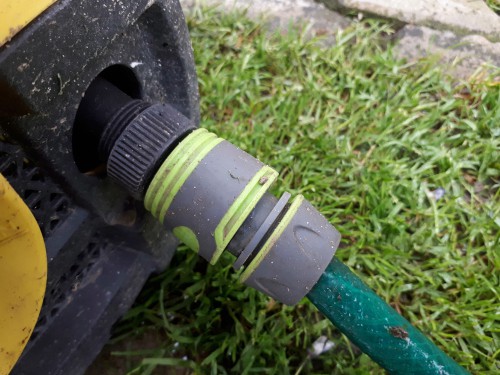 With most pressure washers you will need universal connectors as well as a tap adapter to connect your hose. If you are renting your pressure washer you can make sure all of these components come with it at the time of the rental. If you purchase your pressure washer, you might need to purchase the adapters separately, but again, make sure you have them either way before you begin. The connectors can be purchased for a few pounds at DIY stores and online.
Step 3 – Powering the pressure washer
Once the hose is connected to the pressure washer you want to connect your pressure washer to your mains electricity supply unless you have a petrol pressure washer. After this is done, turn it on to begin pressurising the system, or if you have a petrol model start the engine.
Consider applying a detergent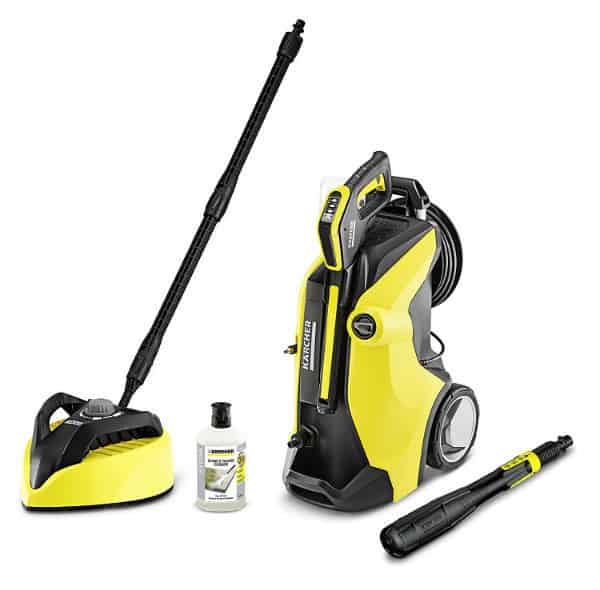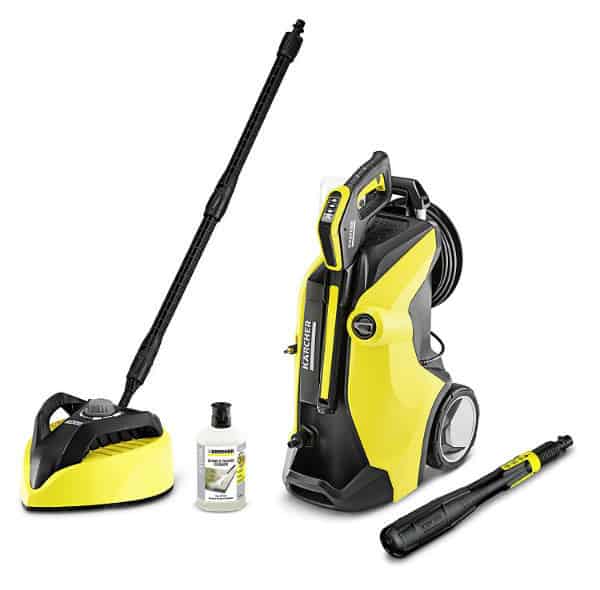 At this point, depending on how dirty your patio or decking is, you might want to apply a detergent to the surface according to the instructions so that the detergent has time to dissolve the dirt that is otherwise sticking to the surface, which will make it much easier to clean. There are certain detergents with properties that are designed to reduce the build-up of dirt in the future after it has been applied so this can protect your surfaces and make them easier to clean going forward.
Other detergents come with protective elements against weather damage and some are specially designed for materials like wood and stone. You can even find some for your vehicle if you want to use your pressure washer on your car in the future. Some models like the Karcher K5 now some with the option to insert bottles of detergent for stone and decking into the pressure washer itself.
Step 4:
Some organisms can be very difficult to remove with a standard patio cleaner but most pressure washers have what is called a rotary pencil Jet and that gives you increased power. Using that jet specifically will help you to get rid of even the most stubborn of dirt but the increased power associated with these specific nozzles mean they should only be applied on hard surfaces like stone and paving. If you try to use such a powerful nozzle on soft surfaces like wood it can damage the paintwork or finish.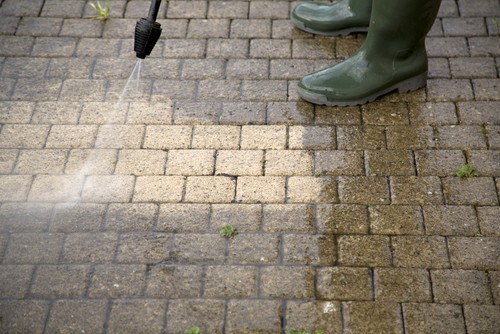 Tips:
If you use your pressure washer on your driveway, try to use it on a very low setting. High settings on a block paved driveway are so powerful they actually remove the sand that holds those blocks together.
If you plan to use a pressure washer regularly on a block paved driveway you will need to replace the sand regularly.
---
How to Use a Pressure Washer to Clean Your Decking
When cleaning your decking with a pressure washer it can be more susceptible to damage so care needs to be taken. Follow the same steps as cleaning a patio but also take the following into account.
There are specific detergents you can buy for woodwork that is designed to protect your decking against any subsequent UV damage while also dissolving dirt.
Avoid any rotary pencil jet nozzles because these will damage the decking.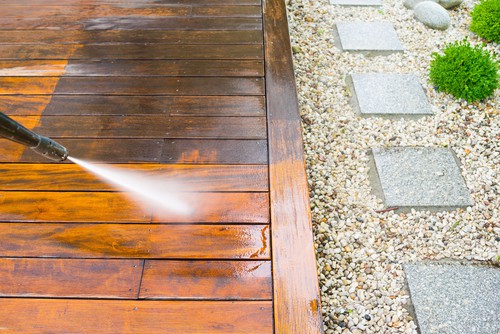 Some extra tips to bear in mind
If you have an extension cable make sure it's no longer than 10 metres in length and provides a constant rating of 13 amps. Also, make sure it is fully unrolled if coiled because it can get very hot.
Make sure you use a special detergent specifically for the type of decking you have when removing difficult grime.
Always wear safety goggles when using a pressure washer, especially if you are also using a detergent.
Be careful if you are using the pressure washer near plants because they can quickly fall over and break, even if they are otherwise secure in their pots.
---
Overall, pressure washing is a very fast and simple way to clean your decking and patio areas. There are pressure washers that are perfectly suited to cleaning driveways, garden furniture, and even your vehicles, which makes them a great investment for all of your outdoor cleaning needs.
The versatility of pressure washers means that you can find something suitable for the size of garden you have, as well as a variety of accessories and washing detergent for the type of material you have on your patio or decking. With just a little bit of work now and again you can keep your back garden looking as good as new without any manual scrubbing.
Have you ever considered cleaning your patio or decking without a pressure washer? – See our recommended patio cleaner than you apply and leave – no pressure washers are needed
Also, see – the best decking cleaners