Our site is reader supported, this means we may earn a small commission from Amazon and other affiliates when you buy through links on our site.
Last updated on January 22nd, 2021
Do you prefer to raise your own plants from seedlings and grow tomatoes in the summer, but you don't have much room in your garden? Consider using a mini greenhouse. These greenhouses have the same functions as their bigger siblings but take up much less space. Their small footprint, however, doesn't stop you from growing or over-wintering a great variety of plants. Even people in flats who have balconies can have fresh vegetables in the summer.
The mini greenhouses in our Best Mini Greenhouse review are all stand-alone models. You don't need to attach them to a wall or fence; put them wherever you want to. Some of them are so light that you can easily move them around your garden depending on where the seasonal sun is. In addition to reviewing the pros and cons of each model, we give recommendations as to why you should consider that particular mini greenhouse. Our Buyer's Guide helps you decide which features are important to your plan to grow plants under glass.
Our Best Pick is the Plantpak 70200425 Grow House. This wood greenhouse has many of the features you need to successfully grow plants under glass and it's available at a mid-range price and is a good combination of quality and price.
The Simplicity Sandon Greenhouse 4ft x 2ft is our Runner-up mini greenhouse. Its aluminium frame and safety glass walls are just two of its top-end features. Plus it has a minimal aesthetic that adds style to any garden. This really is a premium greenhouse but its also fairly expensive.
Best Pick
Plantpak 70200425 Grow House
Our Best Pick is the Plantpak 70200425 Grow House. Although this is a wood stand-alone greenhouse, it's still light enough to move around easily should you need to. The UV-protected polycarbonate walls and roof let in plenty of light while not becoming brittle which gives it more longevity which means it made to last, unlike the many cheaper alternatives. The dove grey colour lets the greenhouse sit quietly in your garden without attracting attention to itself. A really useful feature is the split roof. Each of the two parts opens independently of the other so you control just how much ventilation the inside of the greenhouse, and your plants, gets. We like the Plantpak 70200425 Grow House as it delivers most of the best features for a relatively low price.
Runner-up
Simplicity Sandon 4ft x 2ft Greenhouse
Our Runner-up, Simplicity Sandon mini greenhouse, it may be more expensive than the others we review but it comes with top-of-the-line materials and features. The aluminium frame (in a neutral colour) is rustproof and durable. It's the only mini-greenhouse here to have walls and the lid made of toughened safety glass, there's nothing like a real glasshouse. This greenhouse has a base (another unusual feature) that closes the greenhouse in. It may be expensive but no other model seems to come close in terms of quality. Its does take time build, not quite as simple as some other models, however the final result is nothing short of outstanding.
---
6 Best mini greenhouses to buy
---
Best Mini Greenhouse reviews
1. Plantpak 70200425 Grow House
Best Pick
The Plantpak 70200425 Grow House is a solid wood greenhouse that comes in a gentle dove grey colour. This greenhouse will be an unobtrusive addition to your garden structures. This is a freestanding mini greenhouse that doesn't need to be near your house walls or garden fences. The manufacturer doesn't identify the species of wood on the package but online users say that it's lightweight and soft.
The lightweight wood is a bit of a problem for some online reviewers. It's soft so some users predrilled the holes for the screws as they worried that putting them in might split the wood. The frame came with just a thin coat of paint on it. If you receive one in this condition, make sure that you either paint the frame or use a wood preservative on it before you put the greenhouse together, this is not essential but would ensure its properly protected for the British winter weather. The lightweight of this greenhouse is an advantage if you want to move it around your garden throughout the growing season but a disadvantage if you live in an area with high winds so is best positioned somewhere that is a little sheltered or put a weight of some kind (bricks, paving slabs) on the bottom shelf to improve the greenhouse's stability.
The walls and roof of this Plantpak Grow House are made of 5mm polycarbonate that's been UV-treated. This keeps the harsh rays away from your plants while letting the sunlight through. The roof/lid is split into two independent parts and you tilt each one to catch the breeze from different directions. The locking mechanism keeps the roof in whatever position you place it; just remember to close the lid in the evening or if bad weather is forecast. The French doors open from the centre making it easy to move plants in and out of.
This mini greenhouse comes with three wooden shelves that are all adjustable. Different sizes of your plant pots, trays and containers can fit onto the shelves. In addition, the shelves are removable to make space for your rapidly growing tomatoes. If you do remove some shelves, the greenhouse has a board on the bottom to preserve its stability.
Pros
Solid wood mini greenhouse in a dove grey colour that matches any house or garden colour scheme.
Freestanding so you don't have to place it against the house or a fence
Windows are glazed 5mm polycarbonate that has been UV-treated to ensure it doesn't deteriorate.
The hinged design has locking stays to keep the split roof tilted when it's open for optimum ventilation.
Three adjustable wooden shelves to fit whatever size pots you put on them.
Dimensions are 132cm (height), 70.5cm (width) and 41cm (depth).
Cons
Lightweight wood with a thin coat of paint.
---
Our recommendation
The Plantpak 70200425 Grow House is priced at the mid-range of the mini greenhouses in our review. It's made of solid wood (unspecified species) and comes with all the features you need for successful under glass growing. The lid is in two parts which you can tilt independently of each other to catch the wind to ventilate the greenhouse. The double doors open outwards so you can access all your plants at the same time. The adjustable and removable shelves (included) give you plenty of space to grow your seedlings and we especially like they can be removed for growing tomatoes.
We've made the Plantpak 70200425 Grow House our Best Pick of mini greenhouses for all its features and better than average build quality even though it's not perfect.
If you're looking for a mini greenhouse that will last throughout your plant growing ambitions and gives you all the features you need, the Plantpak 70200425 Grow House is our recommendation but we recommend at least giving it a coat of paint.
Read next: Best space saving lean to greenhouses
Read next: Best affordable polytunnel for growing your on fruit and veg
---
2. Simplicity Sandon Greenhouse 4ft x 2ft
Runner-up
The Simplicity Sandon 4ft x 2ft Greenhouse is the most expensive mini greenhouse in this review. For its price, though, you receive top-of-the-line materials and features. This truly is one of the best small greenhouses currently on the market. We would describe this model as commercial quality but designed for the home gardener with limited space.
This mini greenhouse has an aluminium frame that is rustproof, rigid and durable. The frame is plain, not powder coated, and its silvery colour reflects that. The greenhouse is rectangular with a roof/lid that comes to a point at the top, rather like a gabled roof. The single roof vent opens up for ventilation and to ensure that your plants don't get too hot. You prop the vent open with the greenhouse vent post on the roof. Diagonal roof braces are provided with this model which cheaper models simply don't have. Using them helps to increase the greenhouse's stability but it also makes it much easier to assemble.
The walls are made of toughened safety glass. This is the safest product for a greenhouse as, if a glass panel breaks, it breaks into many hundreds of small pieces (not shards) that won't hurt anyone, but more importantly, it's unlikely to break in the first place. The walls have a foam cushioning glazing seal that gives a tight fit. The double sliding doors open on wheels for easy access. The wheels are made from heavy-duty plastic for long-life and are attached using smooth brass bolts to reduce the disintegration of the wheels through wear.
The Simplicity Sandon Greenhouse, unlike some other greenhouses in this review, comes with a base. The base is the same aluminium as the frame and not only provides extra space for your plants and gardening tools but also completely encloses the greenhouse. Online reviewers comment that it takes some time and effort to assemble this greenhouse but if you take your time it's fairly straight forward. However, the seller at Amazon.co.uk does offer to come and install it for you for a fee if you prefer.
Unfortunately, this Simplicity Sandon greenhouse comes without any shelves. And it doesn't look as if there's anywhere on the walls to attach any shelves that you already have. This leaves you to buy shelf racks to put your plants on.
Pros
Exceptionally high-quality product.
Aluminium mini greenhouse with a plain finish so it's unobtrusive in your garden.
Double sliding glass doors give you access to half of the greenhouse at a time.
One roof vent to ensure good ventilation for your plants.
Come with diagonal roof braces to increase the greenhouse's stability.
Base is made of aluminium for durability and rigidity.
Dimensions are 123cm (internal length), 71cm (depth), and 160cm (internal height).
Cons
Shelves are not included.
Assembly is time-consuming.
---
Our recommendation
The Simplicity Sandon Greenhouse is a mini greenhouse that has the materials and the features that you expect from a top of the line greenhouse. Its design is quite stark with a simplicity of line. The double sliding doors add to its minimalist look. This is a sturdy structure for two reasons: the walls are made of toughened safety glass in full sheets and the aluminium base provides a solid platform and keeps the greenhouse stable.
The Simplicity Sandon Greenhouse 4ft x 2ft has the Runner-up position in our Mini Greenhouse review but it is expensive but at the end of the day you always get what you pay for.
Consider this option if you're looking for a high-end and stylish greenhouse to stand the test of time.
---
3. Alexei 1.2m W x 0.6m D Mini Greenhouse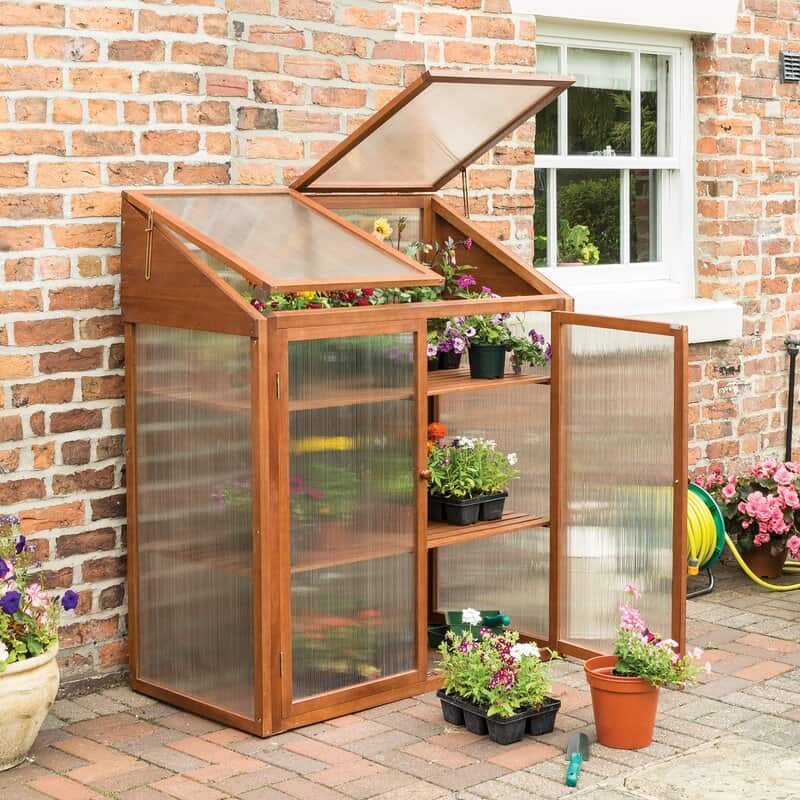 The Alexei 1.2m W x 0.6m D Mini Greenhouse is made from eucalyptus wood and overall is a lovely greenhouse. It's intended for year-round use to raise seedlings in early spring through to growing vegetables in the summer and then over-wintering plants when the weather turns cold. The windows are of ridged plastic but you can still see through them to the plants inside.
This Alexi greenhouse comes with two slatted shelves to put your pots and trays on. The shelves are not adjustable so you're limited in what pots you use and what plants you grow. There may not be enough room for older tomato plants. The roof/lid is split into two independent sections. Both sections can be opened for ventilation so your plants don't become too warm. This mini greenhouse doesn't have a base so you have to stand it on directly on your patio or another solid base. Be aware that the base you use may absorb heat and increase the temperature in the greenhouse.
Online reviewers complain that the wood frame splits and cracks in the summer. The door may warp and stick. However, the manufacturer address this problem by saying that this doesn't affect the integrity of the structure. They recommend spraying the wood with water when the weather is hot. We saw this problem with most wood greenhouses and they usually return to normal once the weather cools and the wood absorbs moisture again so we don't see this as an issue.
Pros
Eucalyptus wood mini greenhouse for year-round use.
Comes with two slatted wooden shelves that drain the water away if you give your plants too much.
Roof is split into two independent halves with roof stays to keep them open for the best ventilation.
The windows are made of ridged plastic for durability and safety.
Dimensions are 133cm (height), 102cm (width) and 54cm (depth) – all interior measurements.
Assembly is best done by two people with a screwdriver.
Cons
Shelves aren't adjustable.
Comes without a base.
---
Our recommendation
The Alexei 1.2m W x 0.6m D Mini Greenhouse is a eucalyptus wood greenhouse that you use year round and is well worth considering. Propagate seedlings in the spring to fill up your flower and vegetable beds and then over-winter your delicate plants in warm comfort. Two hinged lids that open independently let you decide how much ventilation your greenhouse receives at any time.
If your garden or house design style is rustic or natural, the Alexei 1.2m W x 0.6m D Mini Greenhouse will fit right in.
---
4. Grow It Gardman Wooden House
The Grow It Gardman Wooden House is a stand-alone mini greenhouse for anywhere in your garden. The (unknown to us) wood is certified by the Forestry Stewardship Council to be both environmentally and economically beneficial. Consider protecting the wood frame by painting or using a wood preservative before you build the greenhouse, we recommend doing this with most wooden greenhouses.
The twin walls are of polycarbonate that is ridged horizontally. Some reviewers suggest sealing the walls with silicone as you build the structure to ensure a tight fit. The hinged roof is in one piece and opens up from the front. It has roof locks – when you open the roof it stays where you place it. The roof is slanted forward. Online reviewers report that the degree of slant of the roof lets rain run down it and pool at the base of the roof.
The two-hinged doors (French style) are held closed by a wooden latch. This 'wooden house" come with two shelves that have slats in them to let any moisture run through them to the bottom of the greenhouse. This mini greenhouse doesn't have a base so the type of ground you place it on becomes part of the structure.
Pros
Wood stand-alone mini greenhouse for vegetables and ornamental plants that you want to protect.
Wood is certified as environmentally friendly and econonomically sustainable by the Forestry Stewardship Council.
The walls have two layers of polycarbonate glazing for extra insulation.
Two slatted shelves that let any water run down to the bottom of the greenhouse.
Hinged roof locks in place so you don't have to worry about propping it open for ventilation.
Two hinged doors are secured by a wooden latch for easy access.
Dimensions are 76cm (height), 100cm (width) and 57cm (depth).
Cons
Lightweight and softwood of unspecified species.
Shelves are removable but the structure becomes wobbly so not recommended unless you build something to strengthen the frame.
---
Our recommendation
The Grow It Gardman Wooden House is one of the smaller mini greenhouses in our review. Its (unspecified) wood frame holds the walls of two layers of polycarbonate. Your plants are well insulated. The single piece roof opens up to ventilate the greenhouse so condensation doesn't form. Use the two shelves and the bottom of the greenhouse to grow your seeds and to place your garden tools.
If you really don't have much space or want to grow only a few plants, this could be the mini greenhouse for you.
---
5. Christow Walk-In Greenhouse With Shelves
The CHRISTOW Walk in Greenhouse With Shelves is another stand-alone mini greenhouse. Unlike all the rectangular greenhouses we review, this one is square. It's also different as the walls and roof are actually a cover made of polyethylene. This is a one-piece soft cover that you pull over the frame. Another unique feature of this structure is that it's a walk-in greenhouse. The roof is high enough for most people to potter about inside. This greenhouse is light enough to easily move it around your garden for the best placement each season.
The frame of the CHRISTOW Walk In Greenhouse With Shelves is made of powder-coated steel – the best kind for resisting rust and for lasting a long time. As we've said, the walls and roof are one piece that's constructed of an internal grid placed between two layers of white polyethylene. This is not only UV resistant but has extra thickness for increased insulation. Plus the white colour lets more sunlight into the greenhouse than darker colours do.
With the click-together frame, assembly is easy. Just put the steel poles together with the (included) plastic clips. Then use the ground pegs and the guy lines to anchor the greenhouse to the ground. As you need to put the pegs in the ground, this greenhouse won't work on a concrete or paving slab surface to easily but something could be fashioned to hold it in place such as buying some paving slabs (12") x 8, and lay them inside along the bottom. you could also insert rings into the hard surface to attach the guy lines to.
The door into this greenhouse is part of the cover. It has double zippers – one on each side of the door – and rolls up to the top of the structure. Ties are there to keep the rolled-up door out of the way. Another useful feature of this greenhouse is that it comes with eight mesh shelves. These are removable to create space for your tallest plants. Online users recommend that you use cable ties to attach the shelves to the frame for stability as the shelves are a bit flimsy.
Pros
Walk-in stand-alone greenhouse is made of steel and polyethylene so you can move it easily.
Dimensions are 143cm (length), 195cm (height to point of roof) and 143cm (depth).
Walls and roof have an internal grid placed between two layers of UV-resistant polyethylene for extra insulation.
Frame is made of powder-coated steel for rust-resistance and a long life.
Door is double zippered and you roll it up to get into the mini greenhouse.
Comes with eight removable mesh shelves that allows pots to drain away water easily.
Easy assembly with click-together frame, and ground pegs and guy lines to hold it in place.
Cons
Mesh shelves are lightweight and flimsy.
Doesn't have a base.
Not easily constructed on a solid service with somehow fixing to the ground as previously mentioned.
---
Our recommendation
The Christow Walk In Greenhouse With Shelves is one of the least expensive mini greenhouses we review here. It's also one of the lightest and the biggest. Easily place the two-layer polyethylene cover over the powder-coated steel frame and you're ready to start planting in your seed trays. This is the only walk-in greenhouse we looked at, with mesh shelves (included) down each side of the structure.
If you're an avid gardener who grows many plants from seeds and wants a walk-in greenhouse with a lot of room, check out this Christow greenhouse. Just remember its much easier to construct on a sold surface like a lawn.
---
6. Christow Mini Greenhouse
The Christow Mini Greenhouse is almost the same as the Christow Greenhouse with shelves that we review above. It's just smaller and costs less. However, it still has a larger area than some of the hard-sided mini greenhouses here
The frame of this mini greenhouse is made from powder-coated steel that lasts a long time and won't rust (unless the coating is rubbed off). The greenhouse is stand-alone and of a light weight so it's easily portable. The click-together design of the frame means that you don't need any tools to assemble it.
The greenhouse's cover is two layers of white polyethylene with a strengthening grid between them. The light colour of the cover lets the maximum amount of light through while reflecting some of the heat. Plus it's UV resistant to stop any sun degradation including fading.
The door in the cover is at the front of the greenhouse. It's part of the cover and has zips at either side for easy access to the plants. Once you roll up the door, keep it in place with the ties at the top. This Christow greenhouse comes with four mesh shelves, one of which is at the base of the frame and gives extra stability. However, the shelves aren't adjustable but they are removable. You don't have to limit the sizes of your growing containers and the size of the plants according to the spacing between the shelves.
Online reviewers report that the light weight of this mini greenhouse is both a pro and a con. You can move it easily but so can any strong wind. They suggest anchoring the greenhouse with a bag of compost or some bricks or paving stones or anything else that's heavy. You may want to have different places in your garden to move this mini greenhouse to depending on the time of year and the position of the sun.
Pros
Stand-alone mini greenhouse made from steel with a heavy-duty polyethylene cover.
Cover is two layers of white polyethylene with a mesh between them to reinforce it.
Frame is powder-coated steel and resists rust and UV rays.
Roll up door has zippers on both sides so it's easy to open.
Door keeps in place with ties at the top so you can leave it open for ventilation on warm days.
Comes with four heavy-duty mesh shelves that let the water run away if you over-water your plants.
Click-together design doesn't require any tools so non-DIY people can easily set the greenhouse up.
Dimensions are 69cm (length), 143.5cm (height inside) and 49cm (depth).
Cons
Shelves aren't adjustable.
Lightweight.
No base.
---
Our recommendation
The Christow Mini Greenhouse is the least expensive greenhouse we look at in this review but it has enough growing space to compete with more expensive mini greenhouses. The polyethylene doesn't weigh too much and the powder-coated steel frame holds up in all weathers. You don't need any DIY skills to put this mini greenhouse together as it has a click-together system. This Christow greenhouse comes with four mesh shelves so you don't have to buy anything for your greenhouse.
If you have a small space (even a balcony) but you still want to grow plants from scratch, this lightweight Christow Mini Greenhouse is a good choice.
---
Buyer's Guide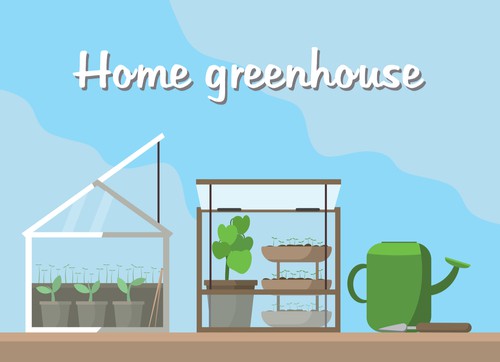 Greenhouses of any size provide protection and optimal light conditions for the plants that you grow in them. Delicate plants that can't normally prosper in cooler outdoors conditions are good candidates for growing under glass. These may be tender plants that need overwinter with a little protection or seeds that you start before the outdoors growing season.
Before you read this Buyer's Guide to discover the features of greenhouses, ask yourself two questions to start your research:
Where are you going to place the greenhouse?
What direction is it going to face?
Your first answer guides you to the size of greenhouse you need and the second answer identifies how much sun the plants in the greenhouse will receive.
Mini greenhouses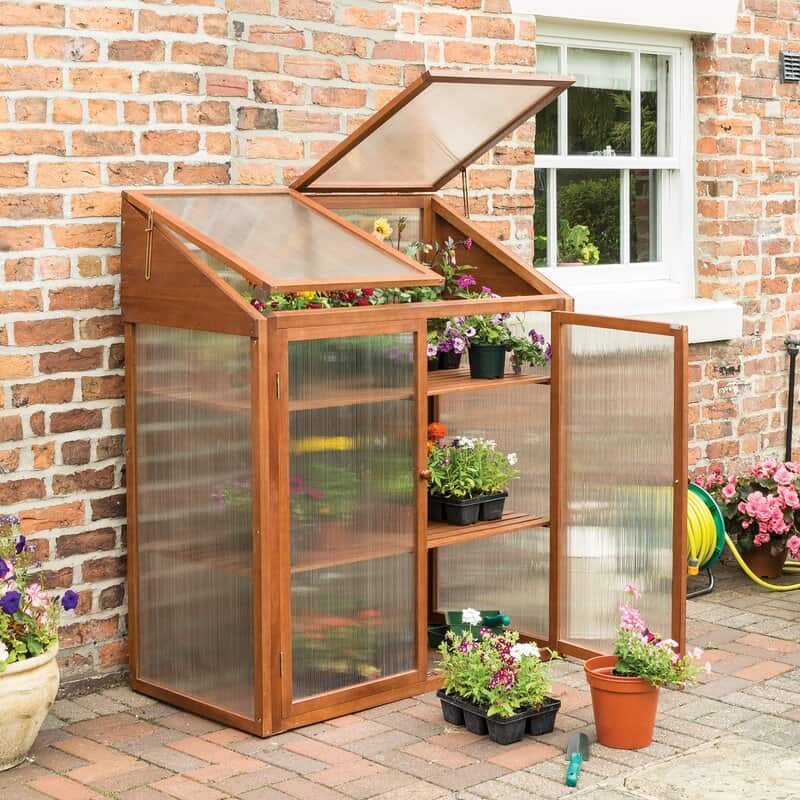 Mini greenhouses are a smaller version of full-size greenhouses, but perform the same functions. They can be short and wide, tall and narrow and even walk-in structures. Generally, mini-greenhouses cover about 1m2 of floor space. In this review we look at standard mini greenhouses that you purchase in a kit; custom mini greenhouses are also available so you can design your own but are usually expensive.
Why you need a mini greenhouse
If you're an avid horticulturist you probably start growing your flowers and vegetables from seed before spring even arrives. Doing this in a mini greenhouse ensures that the climate remains warm for the plants and that they receive the right degree of ventilation. Consider a mini greenhouse as a larger and more controllable cold frame.
Mini greenhouses are also great for growing plants from cuttings and seedling. If you have favourite plants in your garden, take a cutting and put it in the greenhouse until it's hardy and sturdy enough to return to the garden bed.
Styles
Mini greenhouses come in two basic styles. We review stand-alone or freestanding mini greenhouses in this review. These greenhouses stand up on their own and you can place them anywhere in your garden. Lean-to greenhouses need to be attached to a wall or fence that forms the back wall.
Construction and materials
Frame
Mini greenhouses that come in kits usually have frames made of aluminium, steel or wood.
Aluminium frames are either bare metal or are powder-coated for extra protection. They're lightweight and durable and don't conduct heat well. With these frames, check frequently that your plants are at the right temperature. Steel frames, which also may be powder coated, are heavier but very durable but there are more prone to rust, unlike aluminium.
Wood frames give a natural and traditional look to mini greenhouses. Most wooden frames arrive with all the panels attached. Maintaining wood frames involves painting or staining them before you put the greenhouse together and doing this regularly through their service life.
Glazing
The glazed walls and lid of mini greenhouses are usually one of these materials
Standard horticultural glass is clear and practical. The contents of your greenhouse are on display to the outside world. This type of glass does shatter into large shards if it's broken which is not ideal.
Polycarbonate safety glazing is a plastic that's difficult to break and is the most popular choice. It's usually opaque, though you can see your plants faintly through it. Two sheets of polycarbonate often are a grid sandwiched between them to add to its strength.
Reinforced high quality polyethylene is another plastic used as glazing. This is a soft plastic that's used for soft covers for greenhouses. These are the type of greenhouses in which just one cover goes over the sides and the lids. The cover also has a roll-up door in it and is completely removable. Use you mini greenhouse as a plant stand when you've finished growing plants inside it.
Toughened safety glass is the safest form of glazing and is usually used in high end greenhouses like that of our Runner-up. It's a clear and strong glass that disintegrates into hundreds of small pieces if it's broken. It's not easy to cut yourself on the glass bits.
Shelves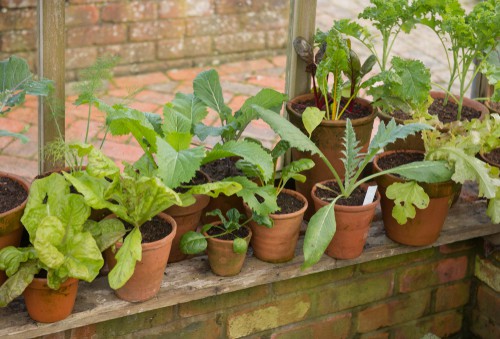 Most mini greenhouses kits provide shelves that attach to the side walls or from front to back in larger structure. The shelves might be made of wood to match the frame or aluminium or another metal. Many of the mini greenhouses come with shelves made of slats. This enables water to run through them, in case you overwater your plants. Look for shelves that are adjustable or are at least removable. The problem with some models is the greenhouse removes less rigid when the shelves are removed and requires some extra braces DIY style to strengthen the structure. This is especially true for cheaper models.
Flooring
A few mini greenhouses come with a built-in floor. This ensures that the greenhouse is completely sealed. Many greenhouses, however, have an open floor so you need to place it on a surface that doesn't get too hot or too cold. Try grass, gravel, concrete, wooden decking or paving stones. Also look for ready-made bases to purchase.
Roofs/Lids/Vents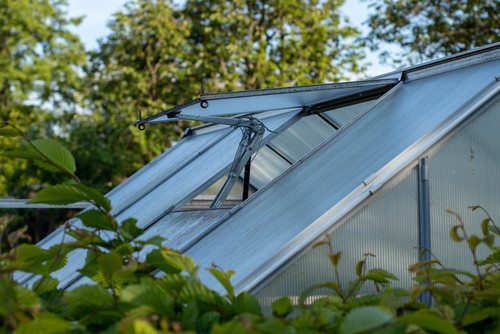 Roofs (also known as lids) are important in ventilating the greenhouse. Your plants won't become too hot and dried out if you have a controlled air flow into the greenhouse. Some mini greenhouses have a single lid that opens and others have split lids that open independently of each other. The lids are made of the same material as the greenhouse walls. Some models also have separate vents as pictured above.
Doors
Many mini greenhouses have double doors that open from the centre. This gives you access to all of the plants at once. One greenhouse in our review has sliding glass doors. These are elegant and minimalistic but you can only get to one half of the greenhouse at a time.
Accessories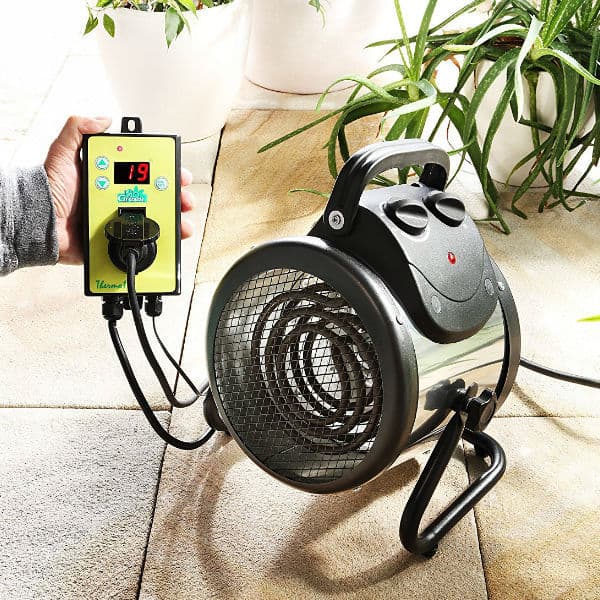 Once you have the basic and workable mini greenhouse you may want to add optional, nice to have, accessories. These include:
A heater for the cooler nights in spring and autumn to keep it above freezing.
A thermometer to tell you how warm the inside of the greenhouse is or how low it has been.
Potting benches to replace the shelves for a sturdier place to put your plants.
Shading screens to protect your plants from the middle of the day harsh sunlight.
Check out the following articles that may be useful
---
Final Conclusion
From growing seedlings from scratch in spring to picking ripe tomatoes in the summer, mini greenhouses give your plants the warmth and shelter that they need. Although their footprint is small, these greenhouses provide a significant amount of growing space.
The mini greenhouses in this review are of a variety of styles, sized and materials. Before you select your mini greenhouse, the two key questions to answer are wat you want to grow in the greenhouse and where you're going to place it. The answers will help you narrow down your selection.
The Best Pick in our review is the Plantpak 70200425 Grow House. This wood greenhouse is still light enough to move easily. The split roof lets you control how much air to let in for ventilation.
In Runner-up position is the Simplicity Sandon Greenhouse 4ft x 2ft. This mini greenhouse has high-end materials and features. The walls and the lid are made of toughened safety glass and it's exceptionally well made.
If you now think that a mini greenhouse is too small for all your plant growing ambitions, read our Best Greenhouses article for reviews and buying advice for larger greenhouses.
Last update on 2021-02-12 at 00:54 / Affiliate links / Images from Amazon Product Advertising API