Last updated on June 22nd, 2023
Our site is reader supported, this means we may earn a small commission from Amazon and other affiliates when you buy through links on our site.
When it comes to relaxing in the garden on your patio, the UK is not exactly known for its warm summer evening, and temperatures often drop off as we enter the evening. If you are anything like me, as soon as that sun goes down, I can't stand being sat out in the cold. This is where the best table top patio heaters have proved very valuable.
For me, tabletop patio heaters have proved a good alturnative to full-sized patio heaters, which can take up to much floor space as tabletop models can be positioned nicely on the patio table. I'm a big fan of gas models, including my Kingfisher PH300 Table Top Patio Heaters as well as this Sahara 4kw Gas Table Top Patio Heater, both very good gas heaters. I have found that the gas models generally give off more heat, especially if you use propane patio gas instead of butane. Both will work; however, I always choose propane as it seems to give off more heat and i've had patio heaters not run well off butane in the past.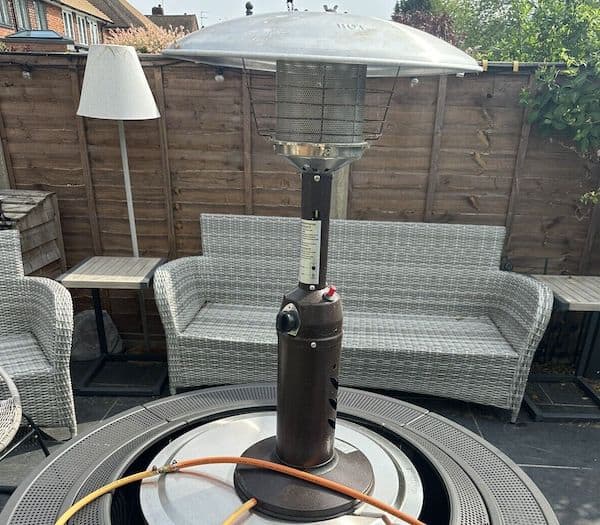 If table top outdoor heaters are not for you, I've also had success using wall-mounted garden heaters which I have installed for clients over the years, mostly infrared. I also recommend a parasol heater, again infrared. If you usually have a parasol in the centre of your patio furniture set like my mum and dad, these can free up precious table space. Overall though, I prefer using a table top patio heater, but thats just me.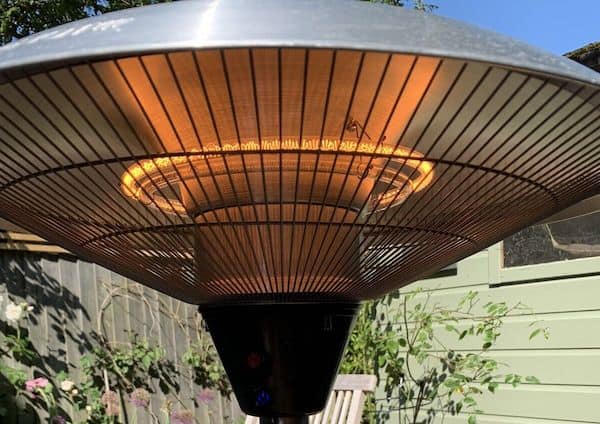 I also have a buyer's guide further down that can help. Before I get into my detailed reviews further down, I want to highlight some of my favourite gas and electric models. Now, there is no question that gas patio heaters give off more heat than similar-sized electric models. The heat from gas heaters is probably double that of electric patio heaters. However, that only tells part of the story. I often have my patio heater turned down to 'low' and use it to just remove that chill from the air. I've had electric models that give off a similar amount of heat or at least feel like they do in that im comfortable sitting outside with them on.
My favourite gas heater is this Kingfisher PH300 Table Top Patio Heater. This thing is fantastic for the price, it has adjustable temperature control, and it's reasonably well made, not perfect for not bad. Put it this way, I've had this heater for around 3 years, and it still fires up every time. In terms of heat, it doesn't half kick out some heat. In terms of specs, I think it's just over 13.500 BTUs or 4000w. Thats more than double any other electric model.
Another alturnative worth considering is this Sahara 4kw Gas Table Top Patio Heater. This is very similar, but it's more sleek, depending on what style you like.
So when it comes to electric patio table top heaters, I have two that I think are worth considering. The first is this Swan Al Fresco 1200W Electric Stand Patio Heater. This electric heater doesn't compare to the two gas models above in terms of the intense heat they emit. However, it's a decent heater, especially for an electric heater, and it still give out enough heat to make you comfortable.
The other electric heater I recommend is this Parzune Tabletop 1500w Electric Patio Heater. However, it's also 1500w, compared to just 1200w of the Swan Al Fresco. I would say it extra 300w makes a difference or perhaps its really the way the heat is projected downwards that makes the differnece. If you like the idea of an electric heater and want to get the most heat output, this is what I would choosing.
I have one more exciting table top patio heater that might be worth considering; this time, it's this Solo Stove Mesa Tabletop Fire Pit. This is a real fire pit, but it's super compact and smokeless and very well made. The size, of course, limits the heat output, but it doesn't half kick out some nice warmth if you have a small table. The downside is that I think its over priced. However, I'll let you decide
---
The 7 best tabletop patio heaters that I have reviewed are listed below:
---
7 Best Tabletop Patio Heaters Reviews
1. Kingfisher PH300 Table Top Patio Heater
BEST GAS TABLETOP PATIO HEATER
There are a lot of this style of gas patio heaters around. However, I found that this Kingfisher PH300 Table Top Patio Heater definitely offers the best quality at its price point. It also kicks out quite a bit of heat. It doesn't include the regulator to attach the heater to a gas bottle, so I recommend using propane patio gas with a clip-on regulator. From experience, even though butane does work, propane gives off more intense heat and is the better option. At least, that is what I have found with all patio heaters. Let's talk more about the heater itself.
This tabletop heater has a powder coat finish to protect the heater from the elements, such as rain. Thats being said, I would still get yourself a cover to protect it when not in use.
When it comes to performance/heat output, when on full, it produces 13,565 BTUs or 4000w at its highest setting. Compare this to around 5100 BTUs that the Parzune Tabletop Electric Patio Heater I review next and you can see that this kicks out a lot of heat.
To give you an idea, the Kingfisher PH300 gas heater warms up spaces between around 4 and 6m2 of space. Now, in terms of weight, at 5.35kgs, this model features a fairly heavy base to help stabilise the heater whilst still being light enough to move it around or put it away when not in use. When it comes to dimensions, it's probably just under 3ft (88cm) tall.
The size of the gas cylinder depends on your preference, I use a Calor 13kg bottle, but I also share this will my Charbroil bbq grill too. As already mentioned, I recommend using propane gas which is usually sold as patio gas and is in a green bottle because the regulator for these bottles simply clip on, and this means no spanners to worry about; simply push the regulator down onto the gas bottle until you hear a click, and it is ready to use, having turned the gas on first of course.
This model also features adjustable power settings so you can select your preferred temperature level. It's simple enough to adjust; you just move the dial from the 1kw setting to the maximum 4kw setting, depending on how much heat you need.
Be careful as the heater does get hot. Keep children and pets away from the heater when it is in use to avoid accidents. The tabletop model also comes with a Piezo ignition that makes it easy to start. It also comes with a 6ft hose to allow easy positioning of the heater inside the patio area.
The tabletop unit does not cost much to run. It may cost up to 22p per hour on a 12kg tank which I think is affordable. This is calculated using the formula below:
12000W = 1kg (1kg of usage per 12000W per hour)4000W / 12000W = 0.33kg (4000W usage per hour)
12kg / 0.25kg = 36.36 hours per 12kg tank of gas
£33 / 36.36 hours = £0.90 per hour
Half power 2kW = £0.90 / 2 = £0.45 per hour
Low Power 1kW = £0.45 / 2 = £0.225p per hour
Pros
Heats up spaces 4-6m2 which is enough space for a larger 6 seater table.
Comes with a protective coating to prevent weather damage.
Has heat adjustable settings for precise temperature control.
Features a piezo ignition for a quick easy start.
Comes with a 6ft hose for gas connection, can be dropped straight down the centre of the table or to the side.
Economic to run and maintain with low running cost.
My conclusion
Overall, this model is the one I have owned for around 4 years now and its still working well, I like that there no power cords like previous electric models I've had. I simply put the gas bottle under the patio table and its ready to use. I think the heat output is unmatched and this gas tabletop patio heater is a great example of one. There are perhaps some nicer looking models, however, for the price, this really is hard to beat especially when it comes to the heat it kicks out.
---
2. Parzune Tabletop 1500w Electric Patio Heater (5100 BTUs)
This Parzune Tabletop Electric Patio Heater is one of the best 'electric' alturnative to the gas models that include my personal favourite, the Kingfisher PH300 Gas Table Top Patio Heater as well as the Sahara 4kw Gas Table Top Patio Heater.
However, where this Parzune 1500w heater, and most other electric models for that matter, really differ is the actual heat output. Basiclly, I would say they produce about half the heat output of a gas alturnative. That said, I often turn my gas heaters too low! With this in mind, these electric heaters can be warm enough to take the chill out of the air. To compare, this is 1500w and will produce 5100 BTUs. My Kingfisher gas heater produces 13565 BTUs or 4000w, so the heat is more intense. However, electric heaters are more straightforward to set up, plug them in, switch them on, and instant heat. They warm you as their infrared, rather than the air around you, like gas heaters do too. I think I'm making this heater look bad, but in fact, it is a very good and efficient heater and super simple to use. I want to give realistic expectations!
So more about this actual heater. Firstly, it uses the radiant heating method, that is, a halogen lamp, to produce heat at a single power setting of 1500W and 5100 BTUs.
This Parzune heater is a domed heater made of steel and aluminium with an anti-rust treatment. It has a hammered bronze finish that fits elegantly into any patio or deck décor. You turn it off and on by a toggle pull switch. That's all there is to use it.
The main benefit of a radiant heating system (halogen tube) is that the heat is instantaneous. Turn the heater on, and you immediately feel the warmth. In addition, the warmth heats you up directly. It doesn't heat the air in-between you and the heater first.
It's worth noting that Parzune uses a proprietary "rose gold" halogen lamp that puts out the full wattage of heat with 80% less light. This results in the heater emitting a warm glow rather than a full-blown bright light which I'm not a fan of. Good for intimate and even romantic evenings on the patio. I'm told that the halogen tube lasts up to 5,000 hours, but this is obviously something thats hard to test, so I'll take Parzune word on this.
Safety-wise, there's an anti-skid treatment on the underside of the base of the heater. This stops it from sliding across the table if it's accidentally pushed. And there's also an automatic shut-out in case the heater is tilted more than 45? or knocked over, as you would expect. The power lead is around 5ft, so like most heaters relatively short. The answer is simply a decent extension lead. Just make sure it's rated for the outdoors!
Pros
Stylish domed tabletop gem, ready to spread its warm over 360 degrees.
Expertly crafted from quality steel and aluminium, it features an appealing hammered bronze finish that adds a touch of elegance to any space.
Featuring a single power setting of 1500W, delivering good performance that doesn't compromise on energy efficiency to produce 5100 BTUs.
With a rose gold halogen tube, this heater radiates the heat across an area up to 0.75m2. In the real world, you feel the heat if you 2-3ft away from it.
The convenience of a pull switch for On/Off functionality makes this heater a breeze to operate.
The thoughtful tilt protection mechanism automatically switches off the heater when tilted at a 45? angle, prioritizing your safety at all times.
Thanks to its anti-skid design, the ultra-thin base of this heater ensures stability.
Boasting an IP44 certification (waterproof), this heater confidently stands against dust and water splashes. (do not leave in the rain!)
The 1.5m (5ft) power cord provides you with ample flexibility in positioning the heater just where you need it, but likely with an extension lead if you don't have an outddor plug socket next to your table.
Comes with a one-year manufacturer's warranty. Now, that's an assurance of quality you can trust.
My conclusion
In my experience with patio heaters, I think this Parzune Tabletop Electric Patio Heater holds its own compared to other electric heaters and even some gas models. It's true, gas heaters, like my Kingfisher PH300 heater, do produce a more intense heat, thats very noticeable, especially if you use Propane and not Butane.
However, Parzune's electric model, with its 1500W output generating 5100 BTUs, is still a great model with good heat output. It might not churn out as much heat, but it's definitely efficient enough to produce enough heat to feel comfortable and take that chill away. And that's what I'm after when considering a patio heaters. Plus, with its straightforward setup and operation – just plug in, switch on, and enjot the instant heat – it's simplicity at its finest. No gas bottles to worry about.
Yes, you'll need an extension lead as the 5ft power cord is probably a little short, but that's a small price to pay for the sheer convenience and comfort this heater provides. Trust me, you won't be disappointed with this Parzune electric patio heater – it's efficient, elegant, and undeniably effective.
---
3. Swan Al Fresco 1200W Electric Stand Patio Heater
This Swan Al Fresco Electric Table Top Patio Heater is probably one of the best electric patio heaters. However, like most electric patio heaters, it has some limitations in that it differs from a gas patio heater as the heat output is somewhat limited. Basiclly if you can position it about 2-3ft away from you, your golden. Also, like most electric heaters, in very cold temperatures, it does feel like its needs more power. However, if you need an easy to use heater to take the edge off the cooler evening, choosing one or two of these is an excellent choice and one that I highly recommend.
So more about the heater, this is a good solution for those cooler evenings spent on your patio or deck. I really do like the clean, sleek design and that it comes with a user-friendly design that features a single switch for turning it on or off. You don't get much simpler than that!
You simply switch it on and are immediately warmed by the 1200W carbon heating element. I've also been impressed with the carbon heating element on more recent heaters over the older halogen bulbs. They are much more reliable to start with!
I like the unique design that allows for a 360-degree heat distribution rather than just warming in one direction, as some tabletop patio heaters do. The heat is also reflected from the encircling aluminium, ensuring everyone around the heater can benefit from the warmth. This is super handy when placed in the centre of a table or even underneath a table.
Despite its compact size, the heater is still around 2ft tall, which also helps distribute the heat. I quickly want to cover safety. This Swan Al Fresco patio heater is designed with a keen focus on safety, as you would expect. If you accidentally knock it over, or someone else does, it's equipped with an automatic shut-off feature to avoid accidents.
Now the big question is the waterproof rating. It has an IP44 rating, which means it's built to withstand dust and splashes of water. However, don't abandon it in the rain as it's not designed for this. For heaters that are often left out in the rain, I've reviewed a few wall-mounted patio heaters where this is the case. They need to be IP65 rated. This means they're fully waterproof. This is not! However, a few splashes of rain and it will be fine. Think of it as water-resistant, not waterproof!
Having owned my fair share of patio heaters over the years, I think this Swan Al Fresco stands out. You will find that the soft, sun-like warmth quite comfortable when seated within two to three feet of it. You can even consider having two of them on the go for a larger gathering, which creates an inviting, comfortable atmosphere as the temperature cools in the evening.
Its upright, compact design is also perfect for storing, taking up roughly a square foot of space. This goes for most heaters; the power cord is somewhat shorter than you might like at around 6ft (180cm) long; with this in mind, you might need to use an extension lead as I do in my garden.
Pros
Heater frame is constructed of anodised aluminium alloy, coloured black.
Carbon fibre heating element radiates in 360?.
Puts out 1200W power.
IP44 rating for dust and water protection.
On/Off switch.
Automatic turn off if the heater tips over in any direction.
Carry handle on top.
Power cord is 1.8m long.
Height is 60cm.
My conclusion
This Swan Al Fresco Tabletop Patio Heater is a brilliant choice for those looking to take the chill off in the evening as the sun goes down. Its superb blend of style, user-friendly features, safety, and convenience make it an absolute winner. What I will say is just have your expectations aligned, it doesn't have the heat output of a gas patio heater, but if it's not too cold, then this will definitely take the edge off the cooler evening.
---
4. Sahara 4kw Gas Table Top Patio Heater
Do you need a tabletop patio heater that comes with its own hose and regulator? Well, look no further than the Sahara 4kw Gas Table Top outdoor patio heater. This model, which stands at just under 3ft tall, is equipped with adjustable heat settings so that the user can select the preferred temperature. The heat settings also come in handy when you are trying to warm a space quickly.
This model features a weighted base to provide adequate stability and it is slightly heavier than our Best Pick by Kingfisher so it may be slightly more stable. Heavier bases prevent accidental knockdowns from strong winds, however, we would always advise you to bring it outdoors in windy weather. I can't speak for everyone but I don't sit out in very windy weather anyway. This model also features a secured reflector that is able to disperse heat fairly well.
Made from stainless steel, this heater is better protected from the elements than cheaper steel models and with regular maintenance, this is a unit that will be able to serve you for years. However, it's worth noting that we have found a few complaints regarding rusting, with this in mind we would advise you still bring it undercover when not in use and invest in a little cover for it.
The patio heater requires butane or propane gas to run effectively, it does come with a propane regulator so we recommend using it unless you already use butane for another purpose and have the gas bottle. A 5kg cylinder should last you about 18 hours if you run it on full heat settings, working on the theory that 1kg of gas gives you about 14kws of heat in 1 hr, so a 5kg cylinder will last approximately 17.5 hours. The gas may last longer depending on how regularly you use the heater and whether you are using a lower heat setting.
The patio heater is equipped with a 16ft quick snap hose. This feature allows you to connect and disconnect the unit from the cylinder with unbelievable ease and this can come in handy if you want to feed the hose through a centre hole on the table. The patio heater has a slit on the side to allow the hose direct passage if you want it to come out from the side. If you have a patio table with a hole in the middle.
Safety is paramount, especially when dealing with gas-lit models. To avoid fires and other hazards, the Sahara model comes with an anti-flip and flame cut out feature and once the heater is knocked down, the flame automatically shuts off.
Pros
Comes with its own hose and regulator for propane gas, all you need is gas and it's ready to use.
Features adjustable heat settings.
Made of stainless steel, promising rust-resistance and durability but a cover is still recommended.
Has an automatic anti-flip and flame cut out feature for added safety.
Features piezo ignition and a quick snap hose which means it is easier to move around and disconnect when needed.
Comes with a 5-year warranty for full peace of mind.
My conclusion
This model comes with a 5-year warranty and offers a little more value and reassurance. Overall this is a great piece of kit, very well made, the snap-on hose connector is a very useful feature that most models don't have. It may be more expensive than my 'Best Pick' but if you have a larger budget, this is probably the best model to choose out of the two.
Compare the best prices from available sellers below
---
5. Solo Stove Mesa Tabletop Fire Pit with Stand
Solo also makes large firepit versions of this little heater, and these are excellent. However, this is the Solo Stove Mesa Tabletop Fire Pit version which gives you a different way to heat your outdoor dining table space. It's a solid fuel tabletop fire pit that lets you toast marshmallows for s'mores or make other tasty treats.
If you are sitting around a small table relaxing, it gives off just enough heat, and if you prefer a real fire, this ticks all the boxes, and it's smokeless, which attracted me to the larger version. The downside is the price, it's expensive! For what it is, I think it's a little pricey, and it's relatively small. However, it's well-made and serves a purpose. Perfect when used with kindling, try to get some pallets and make your own kindling is my advice. Or buy kindling or wood pellets.
With that out the way, let's dive into the actual fire pit more. Your fuel of choice for this mini fire pit is either pellets or small pieces of wood; think kindling size. Using the wood is straightforward; just use the included adapter if you want to use pellets. Put the fuel in the fire pit, add a fire starter (I recommend Natural Eco Wood Firelighters from Amazon), light it up and away you go. The heat from the low smoke flames stretches out about 2m around the fire pit on a still day.
The fire pit is on a stand, so your table doesn't get scorched or burned. The bowl of the fire pit is made from strong and durable 304 stainless steel. This is a grade of stainless steel that doesn't bend or buckle under high temperatures, which is probably why it's so expensive. You get what you pay for, and this is certainly true with fire pits!
The Signature airflow into the base of the bowl is 360° around. This enables all of the fire to be fed oxygen and burn efficiently, hot, and just as importantly, with very little smoke. The cool air enters between two layers of stainless steel that heat up. The now-warm air from between the double wall flows over the fire, burning up the small particles that would usually have been smoke.
Once this mini table top fire pit has cooled down, clean it out, flip up the stand and put it away in the (included) storage bag.
Pros
Use with solid fuel, including wood pellets and kindling, giving off a low smoke flame for that perfect campfire vibe right on your table!
It's meticulously crafted from 304 stainless steel to ensure the best durability and resilience to make it a long-lasting.
Whether you're a fan of pellets or prefer traditional wood like me, this fire pit is ready to adapt to your choice, offering you fuel options.
No need to worry about scorching your favourite patio table – it comes with a handy stand to keep the heat where it belongs, away from your furniture.
Its 360-degree airflow design ensures the fire keeps going and the heat keeps flowing, creating a cosy, inviting atmosphere.
With the ability to heat up to a 60cm diameter around the fire pit, it's ideal for placing in the centre of a small fire pit
Comes with a convenient carry bag, ensuring you can take the warmth and joy of a patio gathering wherever you go.
With dimensions of 17.5cm in height and 13cm in diameter, this compact powerhouse proves that good things do come in small packages!
My conclusion
This Solo Stove Mesa Tabletop Fire Pit is a fun way to generate some heat around your outdoor table and to cook up a fun treat at the same time. It's expensive for what it is, but it's very well made. Great fun with some marshmallows and a great way to teach children about fire safety, supervised at all times, of course. Overall a unique little table top patio heater that dares to be different.
---
6. La Hacienda Copper Series Tabletop Heater
The La Hacienda Copper Series Table Top Heater is a simple but elegant heater that you can purchase for your patio and the first thing you probably will notice is how amazing it looks. The tabletop heater is made from a mixture of aluminium and steel to make it durable. The patio heater has been given a copper finish that provides a warm light that would make eating on the patio a relaxing experience.
Because it is an electric heater that uses halogen heat, it's very easy to use and just has one switch for turning it on and off. As it does use a halogen heating element, it gives forth both heat and light. The quality of the halogen infrared heating element can be trusted and it gives a running time of about 5000 hours before requiring a replacement.
If you are looking for an elegant tabletop heater without too many functions, this is the one. The La Hacienda heater is equipped with one heating function that is high enough to heat up just the people around the table and, more importantly, not the air. The one setting provided is 2100w, and it is effective to warm anyone within a 9m2 area.
As usual with tabletop models, the base is weighted for stability. This unit is no different. Another convenient feature is the anti-tilt function which is an obvious necessity.
The model possesses a waterproof rating of IP44 which makes it appropriate for outdoor use but remember, this does not mean it's fully waterproof, and it shouldn't be left out in the rain. The simple-to-assemble heater comes with a long cable and a soft touch setting.
Pros
The copper finish on the heater adds to its elegance, being both energy efficient and superbly stylish.
Very high-quality product designed to offer years of service.
Features an anti-tilt function for safety purposes.
Uses a quality halogen infrared heating element that offers up to 5000 hours of service.
Because it does use a halogen bulb it heats the people around it and not the surrounding area which saves energy.
My conclusion
It is not the cheapest heater in the market, in fact, it's fairly expensive, but it really does look amazing but more importantly its one of the most powerful electric patio heaters at 2100w in my review.
---
7. Martello Infrared Table Top Patio Heater
This Martello 700w Infrared Table Top Patio Heater is an excellent alturnative to the Swan Al Fresco 1200W Electric Stand Patio Heater if you're looking for a tabletop heater that is a little smaller. Maybe for a small 2 seater table and chairs, fresco style maybe.
The first thing to note, this is an electric tabletop heater that uses infrared technology. This is the heating technology that heats up instantly and warms people and not the air, as I've already mentioned in this guide several times.
This Martello heater comes with two heat lamps, each is 350W. The Low setting uses one heater, and the High setting uses both for a full 700w. Keep in mind that this is 500w less than the Swan Al Fresco heater. But this heater does have more features. The straight-on heat is for an individual person – you get all the warmth to yourself in one direction. What I like about this heater is that if everyone is sitting on one side of the table or you're on your own, you choose the 120? oscillating option; and if your better half or friend is on the other side of the table, select the 360? oscillating option. You can have either Low or High power options with each oscillating choices, which I really like.
This heater also has Cool Touch technology, so if someone accidentally bumps into it, they won't be burned. In addition, if the heater is knocked over, it automatically shuts off.
The dust and water rating of this Martello heater is IX44. This means that it's rated for outside but has to be brought in when (preferably before) it rains. You do receive a storage bag made of durable Oxford cloth with your purchase. Use this to keep your heater in to protect it from dust and other grime when it's not in use.
This is a quiet heater that won't interrupt your dinner conversation when it's in use.
Pros
Pioneers infrared carbon technology, combining convenience and efficiency in one compact electric heater.
Available in a classic black or a pristine white, it adds a stylish touch to your patio decor while keeping you comfortable and warm.
Two long lasting heat lamps, each pumping out 350W of power, effectively doubling up on warmth to 700W, providing just the right amount of heat for every situation.
A conveniently placed control knob on the heater's top puts heat management at your fingertips.
This heater is a true game-changer with its adjustable heat direction. Opt for a steady forward heat flow or an oscillating movement to spread warmth.
The built-in handle makes transportation a breeze, adding to the heater's overall user-friendly design.
Cool touch technology, combined with an auto-off tip-over feature, ensures your safety without compromising on comfort.
With an IPX4 rating, it's designed to be splashproof, making it perfect for your outdoor gatherings.
Very light weight at only 2.7kg and compact.
Standing 41cm tall, this heater is an unobtrusive addition to your tabletop setup.A two-year warranty seals the deal, giving you the peace of mind that your investment is well protected.
My conclusion
This Martello Infrared Table Top Patio Heater is a smart-looking infrared table top heater and a good alturnative to the Swan Al Fresco 1200W Electric Stand Patio Heater if you need a heater that is just that bit more compact and smaller. Just be aware it is smaller and more compact, so heat output is limited, so it's best for small tables.
---
Buyer's Guide
People have different tastes and therefore it all boils down to personal choice. What looks to be the best outdoor table heater to one may not be to another person. The warm heat from a tabletop heater and cosy light creates a good atmosphere to unwind after a long day.
Factors to consider when buying a tabletop heater
Fuel type
There are a number of energy sources that are used to power tabletop heaters. Some are more advantageous than others in some fields. Let's look at the different types available:
Electricity
Electric models are easy to run and you don't have to worry about running out of gas, simply plug on and you're done. They come with variable heat settings and long cables for easy connection. They don't take up a lot of electricity thus they can be economic over time compared to the gas models but generally, they don't kick out as much heat. However, these models cannot be moved about as much because they need to remain connected to the electric socket.
Propane / Butane (Gas)
Propane and Butane tanks can be found at affordable prices depending on your area of residence and are readily available because most DIY stores (such as B&Q) and many local companies offer free delivery and will deliver direct to your door. Over time it could be pricey depending on your level of use. Gas patio heaters are simple to move about and they require no professional installation. Most gas patio heaters do not include the regulator so this usually needs to be purchased separately and this is because some people prefer propane while others might already have butane gas bottles and they take a different type of regulator to attach to the bottle. If you don't already have a gas bottle we recommend choosing propane (which is usually labelled patio gas) and comes in a green bottle.
Area of coverage
How large is your patio area? That question will help you determine the amount of power needed to heat the area. If you have a large patio then you will require a heater that has a high BTU/wattage level. For example, a model such as the Firefly 2.1kW Table Top Electric Patio Heater can cover areas up to 9m2. That's a 3m x 3m space.
You can access size charts that provide an inkling of the amount of power you need to heat a certain size of space. Alternatively, you can check the product information to understand the length of the space covered. Most tabletop models cover around the same amount of area between 6 and 9 square meters.
Safety features
Tabletop units require safety features due to their proximity to people sitting at the table. A good safety feature is an anti-tilt function that allows the unit to switch off when knocked over. In gas models, this feature cuts off the gas supply and kills the flame before any harm is done. Most models will have these important features but it's vital you understand that some cheaper models don't and probably should not be on sale and as with all products, some models do make it onto the market when they shouldn't be. All the models we feature take safety seriously.
Heating elements of electric patio heaters
There are basically two kinds of heating elements used:
Electric heating elements are effective but take some time to heat up the air. The heating elements are usually of good quality and will provide enough heat and light over time, often as much as 500 hours for Halogen elements.
Infrared heating elements are more efficient compared to their electric counterparts. Infrared systems heat objects near them which in turn releases heat into the air.
Weatherproof – most electric models are rated at IP44 which means they are protected from water spray, not heavy rain.
Tabletop patio heaters can be used both indoors and outdoors. They are designed to cope with outdoor weather but electric models are usually rated as splashproof which means they need to be put under cover should it start raining. A tabletop heater with a waterproof rating of IP44 will not be completely protected if you leave it out in the rain. Gas models should only be used under cover if there is good ventilation such as under a canopy or gazebo but remember not to put it too close to the walls or the roof because of the risk of fire.
Adjustable heat settings
Do you want to have control over the amount of heat released? You can select models like the Kingfisher PH300 Garden Table Top Patio Heater that have adjustable heat settings. Adjustable heat settings give you the freedom to select the temperature you are comfortable with. Besides, the seasons change, and therefore the temperature levels will rise and fall.
If you live in chilly areas then heaters such as the La Hacienda Copper Series Tabletop Heater will work. They come with one heat setting that is high enough to heat the table area and light it as well.
Safety tips to using your tabletop heater
If you are using gas models, always check for leaks in the hose. You can do this by using soapy water.
Always ensure that the unit is on a flat surface. This especially applies to models that lack security features like anti-tilt.
Buy rain covers if you live in areas where it rains frequently or if your patio lacks a roof.
Keep flammable objects away from the heaters that run hot.
For electric models, keep the cord away from human traffic. A badly placed cord can cause someone to trip and lead to the patio heater falling over.
Always turn the heater off when it is not in use. It will save energy and your money too.
Keep curious children and pets from touching the heaters. This will prevent accidents and trips to the doctor.
Wipe the patio heaters often to remove watermarks and dirt that might have settled on the surface.
---
Final Conclusion
The price you pay for a patio heater should not deter you from getting a quality product. Look at the features and the materials used before you make a purchase. We have seen that both gas and electric patio heaters perform optimally and at the end of the day the choice is yours. Get to enjoy some time on your patio with family/friends and make some good memories. Whether it is chilly summer nights or rainy days, the best tabletop heater will never disappoint.
---
Last update on 2023-12-09 / Affiliate links / Images from Amazon Product Advertising API