Last updated on April 14th, 2022
Our site is reader supported, this means we may earn a small commission from Amazon and other affiliates when you buy through links on our site.
Cordless lawnmowers have quickly become one of the most popular types of lawnmowers currently available, we compared the different features, cutting performance, as well as the running and charging times to see how the most popular models from Bosch, Ryobi, Aerotek, Gtech and other big brands compare.
Cordless lawnmowers are popular, now more than ever, with homeowners. But why not? They are eco-friendly, quieter and less messy than petrol lawnmowers, more convenient than electric mowers, and usually lightweight and easy to use. Most importantly, cordless is equal to freedom. They totally suit the lifestyle of the modern gardener.
Now, there's no denying that proper attention to your lawn will have it looking scenic throughout the seasons. And one of the ways you can tend to your garden is by investing in a lawnmower. There are many of them on the market, but choosing the best cordless lawnmower requires careful consideration of your needs against the features on offer. You'll need to think about the size of your lawn, whether or not you want a striped finish, how high or low you want to cut your grass, and even how long a supplied battery will last out there. This is just a scratch on the surface and we have a detailed buyer's guide to help you make an informed choice.
But before we go any further, we would like to bring to your attention our 'Best Pick', Bosch Rotak 430 Li Cordless Mower, which after much debate had been named as the mower 'we think would be the best choice for most gardeners'. You can see a quick overview of it below but we have a detailed review of it plus other models further down.
Our best pick for professional use is the EGO Power + LM2122ESP Cordless Lawn Mower, its a very impressive piece of kit and no other mower even comes close, however, it's also the most expensive. If you have a generous budget, this mower is hands down the best model and the only cordless model we recommend for professional use.
BEST PICK
Bosch Rotak 430 LI Cordless Lawnmower
Perfect for medium and large lawns, this lawnmower comes with a 43cm cutting width with 10 different height of cuts to work with, ranging from 20mm to 70mm. Along with these is a 50L collection box to ensure less emptying and more mowing, as well as grass combs that let you mow right to the edge. Mowing power is supplied by a 36V 2Ah battery that charges within 140 minutes and they come in a pair so that one can be mowing as the other is charging. Its razor sharp steel blade can also collect leaves and replacing it is very simple with anyone basic DIY skills. The mower also includes a roller to achieve a striped finish. Safety was thought of too as it includes a safety key that deactivates the mower to prevent accidental starting, especially by children. It's quite an expensive lawn mower but no doubt good in many aspects.

PROFESSIONAL PICK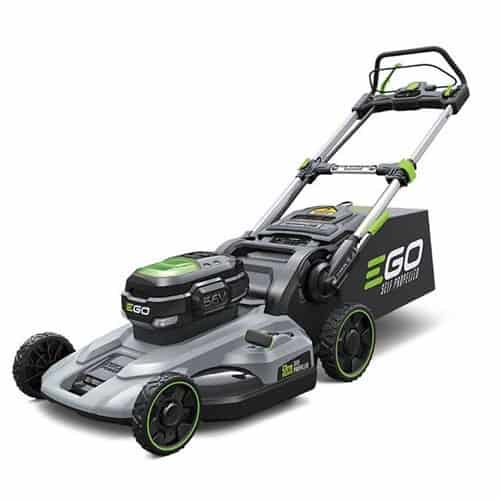 Lawnmowers that professionals may appreciate include the fact that they are self-propelled and have a wide cutting width, plus a high-quality build in general. You can quickly mow large areas of lawn thanks to this 52cm cutting width and large battery capacity. In addition, you can achieve the perfect lawn by adjusting the cutting height and letting the extra-large 70 litre collection box collect the clippings or using the mulching mode to return clippings back to the lawn.
Stand out features include a large 56v 7.5Ah Lithium-Ion battery that provides 50 minutes of mowing time, a fast charger and 3 self-propelled speeds, plus it has an adjustable handle height. If this isn't enough, it even has a warranty that covers commercial use and depending on where you buy it, it comes with an extra battery free of charge.
---
The Top 8 Cordless Lawnmowers to buy which are included in this review:
RUNNER UP
Murray 36 V Lithium-Ion 44 cm Cordless Lawn Mower
If you have a large lawn in the region of 600m², this mower is one of the best you can buy. Its 44cm cutting width and a powerful 1300W brushless motor form an amazing combination to tackle overgrown lawns a lot quicker. A 50L grass bag is a lovely addition to that whilst there are 6 cutting heights to select from. The chassis is also robust and certain to survive a few knocks. Powered by a large 36V 5.0Ah battery, you get superior runtime of 40 minutes and battery charges in a matter of 60 minutes. Then there's an unmatched 5-year warranty on this product to again emphasize on the quality.
---
Cordless Lawn Mower Buyer's Guide
Advantages of the new cordless mowers that use lithium-ion batteries
So what makes the new lithium-ion batteries better? The two main advantages are that they have much longer run times which gives you more cutting time per charge. The lithium-ion batteries can also be fully charged in around 60-90 minutes from flat, which means you spend less time waiting for batteries to charge and more time mowing. Most models will mow for 30-45 minutes between charges, which is more than enough time to mow small and medium-sized gardens.
---
Other advantages of cordless mowers
Lightweight, making them easy to lift, carry and push around corners and into tight spaces.
Most models are compact, incorporating folding handles for easy storage.
No harmful fumes and extremely quiet when in operation compared to petrol models.
They provide 30-60 minutes of mowing time and can be fully charged again in as little as 60 minutes.
Maintenance-free, no fuel filters to change, oil changes or messy fuel to worry about.
Having no cord trailing behind you means they can be used without having to worry about extension leads, avoiding obstacles and where the nearest plug socket is, pure freedom to mow anywhere.
Simply plug the lithium-ion battery into the mower and you're ready to mow.
Gtech Cordless Lawn Mower
Gtech have now updated their cordless lawnmower for 2020 and made it even better, first off they have improved the charge time to just 60 minutes which is now inline with other top spec models, it also have a larger 50 litre collect box which means more mowing and less emptying. Finally, one nice feature they have included is that It automatically adjusts its speed to tackle thicker, longer grass which just gives a better finish rather than a one size fits all process.
Read our full independent review of the Gtech Lawnmower. Learn more by clicking here.
---
Cordless Lawn Mower Reviews
1. Bosch Rotak 43 LI Ergoflex Cordless Lawn mower
BEST PICK
We had previously reviewed the excellent, but smaller 32 Li Bosch mower a couple of years back, we believed it was probably one of the best mowers available and it was named our 'Best Pick' for nearly 3 years running. The only real problem that some of our readers found was the size, it was more designed for smaller lawns. Having a 32cm cutting width and a 31 litre grass collection box is fine for those with smaller lawns.
So we decided to see how the larger models compared and we settled on the Bosch 43 Li Ergoflex Cordless Lawnmower for a few good reasons.
The two models are very similar and all have the same great features, such as the grass combs which allow you to mow right to the edge of the lawn, or against a fence or wall. It's not perfect but it is certainly better than other models without this feature. You just need to quickly finish the edges with a strimmer if you are very particular, however, for most, it will be more than neat enough.
It still leaves the amazing stripes your neighbours always envy and the quality is fairly good, and by fairly good, we mean most of the mower is made from plastic but it is quality plastic and seems very robust so there should be no quality issues.
Where this model really stands out is its size because you get a very generous 43cm cutting width and a larger 50 litre grass collection box. This means you can spend more time mowing and less time emptying, something which you seem to be doing every few minutes with the smaller model if you have a larger-sized garden.
Other features that make this model better than most are the rubber coated wheels which means it is smoother to use than the cheap plastic wheels you see on so many mowers.
Let us not forget the technology Bosch has incorporated into this model in regards to the 'Syneon chip'. In simple terms, it ensures the mower gets all the power it needs depending on the amount actually needed to complete the given task, which means it can cut through even longer grass and helps save on battery power.
As we just mentioned battery, it's worth noting the model we reviewed is available for sale on Amazon and it comes with two 36v 2.0Ah lithium-ion batteries, which means you can be mowing whilst one is charging. Charging takes around 140 minutes to get fully charged, however, you can have it 80% charged in only 70 minutes if you need to get back to mowing sooner.
Finally, a great feature specific to some Bosch mowers (including this model) is the hardened precision blades that are designed to also collect leaves from your lawn which we think is a great feature, especially if you have lots of trees around your lawn because it makes collecting the leaves much easier and simpler.
You also get to choose your preferred cutting height between 20-70mm so it cuts very close to the ground, which of course looks amazing, the cutting height can be changed easily with just a pull of the handle.
Our recommendation
If you have a medium-sized or larger lawn (up to 600m²) then we would highly recommend investing in the larger Bosch 43 Li Ergoflex Cordless Lawnmower. It's obviously more expensive, but you get a wider cutting width and a larger collection box. Don't forget it also comes with two batteries so you can be charging one whilst mowing. There is nothing worse than running out of battery before finishing your lawn and having to wait for the battery to recharge.
Overall it's certainly one of the best cordless lawnmowers currently available and cuts amazingly well and best of all you get those stripes we all want.
If you have a small lawn then this model might be a little overkill and in this case the Bosch Rotak 32 Li Ergoflex cordless lawnmower would be just fine but remember it only has one battery.
Something we did notice is that it will mulch but you will need to buy the extra accessory to plug the hole which you can see here.
If we could only recommend one lawnmower then this Bosch model would be it. Simply an amazing mower that provides amazing results and beautiful stripes.
---
2. EGO Power + LM2122ESP Cordless Self-Propelled Mower
BEST PROFESSIONAL PICK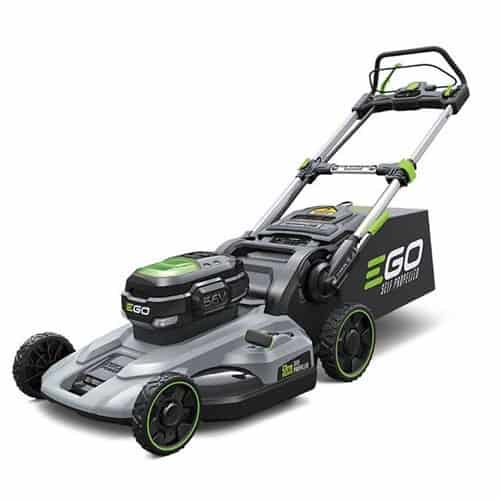 Make your life easier by using the EGO Power + LM2122ESP Cordless Self-Propelled mower to tend to customers' lawns. This model is probably the best alternative to petrol models and once you have used one, you will not return to using a petrol mower, it really is that good and packed with features. The 2-in-1 function lawnmower is designed to be environmentally friendly, producing no emissions when in use and operates quietly to lessen noise disturbances which makes it perfect for professionals working in domestic gardens and noise-sensitive areas like hospitals and schools.
This mower is powered by robust brushless motor that is powered by a very impressive 56v 7.5Ah lithium-ion battery which comes included. Once the battery is charged you get a running time of around 50 minutes and this is enough to get some work done before another recharge. Both the battery and the corresponding charger are supplied for convenience. Depending on where you buy it from, you can even get a free 2.5Ah battery to give you around 90 minutes of consistent use, this way you can charge one battery whilst charging the other.
This lawnmower possesses a cutting width of 52cm, which is considerably wider than the regular-sized lawnmower and comparable to most large petrol models. With such a wide cutting width you can cover more ground in less time, therefore, reducing the time spent mowing the lawn.
In the spirit of getting an even lawn, the blades need to cut at an appropriate height and that is why the lawnmower possesses a cutting height adjustment feature. This adjustment feature makes changing the cutting height easy. This feature is controlled by a single lever that moves into six positions between 28mm for a close cut to 94mm for tackling longer grass.
Weighing 28kg without the battery, the lawnmower is considerably light for its size when compared to petrol models but still robust enough for continuous professional use. It is supported by durable wheels that won't dig into the grass causing damage to the roots.
The machine can perform two functions. These are mulching and cutting/collecting. If you choose the cut and collect function there is a generous 70 litre collection box and this means more time spent mowing and less time spent emptying. Mulching is another option found on petrol alternatives, not usually on cordless models, but this mower does mulch which many professionals will find useful.
Another wonderful feature that can be found in this model (that is usually not found on other cordless models) is the automatically controlled variable speed (3 speeds) that enables the user to work without interruptions are their own pace. You can move up and down the lawn swiftly without having to fumble with buttons to regulate the cutting spread. The adjustable handles also give you control over the preferred working position whether you are tall or short and it also has three settings so you really can get the right handle height for you.
This self-propelled lawnmower doesn't come cheap, and for this reason, we would only really recommend this model to those who have large lawns or lots of mowing to cater for. Whether for professional or domestic purposes, this model is designed to provide optimal service every time.
It is important to note that the battery running time will differ depending on the condition of the grass being cut, amongst other factors, however, for normal grass conditions you usually get around 50 minutes. The battery and charger are covered by a 3-year warranty therefore you can trust that the quality is dependable. The lawnmower itself is covered by a 5-year warranty, meaning any flaws with the machine will be addressed by the manufacturer. For professional use though the warranty drops to 12 months.
Our recommendation
The EGO Power + LM2122ESP Cordless lawnmower is a blessing for those with large lawns, especially if they do not want to be tied down to electric cords or need a cordless alternative to powerful petrol models. The self-propelled cordless model starts at the push of a button and has no harmful emissions. Its wide cutting width of 52cm paired with sharp blades gives the lawn an even cut which is preferred for overall neatness. As a user, you can get comfortable while working by adjusting the handles to suit your height.
Overall, this machine is designed to provide adequate power to cut through different textures of grass whilst keeping the user as comfortable as possible. It will suit any serious enthusiasts or professional well because it is made for excellence. We are yet to find a better cordless lawnmower than this model, especially for professionals.
---
3. Murray 36V Lithium-Ion 44cm Cordless Lawnmower
RUNNER UP
The Murray 36V Lithium-Ion 44cm Cordless LawnMower is intended for use in medium and larger-sized gardens measuring up to around 640m², an area typically tackled by petrol mowers, hence this cordless model is an excellent, clean and low maintenance alternative. It houses a powerful 1300W motor with brushless technology to ensure optimum productivity, low noise and an increased runtime. This kind of motor is also durable and low maintenance and far superior to brushed motors fitted to most models.
Powered by two Briggs & Stratton 18V 5.0Ah Li-Ion batteries, you can expect at least 36 minutes of mowing time from a single charge. It also comes with a charger and everything you need to get to work straight out of the box. Moreover, the supplied batteries can be used interchangeably with other 18V tools from Murray, so you may want to consider some of their bare tools like hedge trimmers and cordless strimmers and probably save some money as well.
As the title suggests, the cutting width is an impressive 44cm, which is perfect for large lawns, whilst the height of the cut is adjustable from 25mm to 75mm. Adjustment is done by a single lever mechanism that is smooth and easy to operate, making adjusting the height a straightforward process. While you'll have to push this lawnmower to cut the grass, the razor-sharp blade, plus great power output, ensure minimal effort from you so you will find it a doddle to push and on top of this, it's much lighter than the petrol alternatives. It even has soft-grip handles that feel comfortable between the hands and they can fold down for compact storage after use.
The manufacturer has also given this lawnmower a large 50-litre collection bag so it can accommodate a serious amount of grass clippings and consequently reduces trips to the green recycling bin. The hardtop fabric catcher features a 'full' indicator so you know when to empty and it easily detaches from the main body when necessary.
Last but not least, this mower comes with a 5-year warranty which is one of the longest warranties of any lawnmower. The batteries and charger are covered for 3 years though so just bear this in mind. This is a way better offer than what brands like Bosch provide and we think shows the confidence Murrey has in their products.
Our recommendation
Here we have a quality lawnmower that meets nearly all the requirements for cutting large lawns. From the power and performance of a 1300W brushless motor to the 2 x 18V 5.0Ah Li-ion batteries which come included, the wide 44cm cutting diameter and a large 50 litre grass catcher, you can't ask for more. We also like that there are 6 heights of cut as well as the ease of pushing the mower, thanks to soft-grip handles.
This one is sure to take up as little space as possible in the shed because the handles are foldable and due to the fact it's a cordless model, you won't struggle with maintenance. Better still, the product has an industry-leading warranty so you can rest assured of many years of service. Overall, the Murray 36 V Lithium-Ion Cordless Lawnmower is a massive option if you want to mow a large garden without dealing with high maintenance and loud petrol engines.
---
4. Gtech Cordless Lawnmower CLM50
The Gtech Cordless Lawnmower 2.0 is the latest addition to Gtech's range of lawnmowers and it certainly has had some major upgrades. The headline maker is the 40-min runtime, which we can all agree is much better than the 30-min mark that's popular with many other models. This runtime is delivered by a 48V Li-Ion battery, which obviously is more capable than its 36V counterparts. The battery charges in just 60 minutes and again that's amongst the fastest charging times of any cordless mowers, and it's hidden in a casing that shuts during both use and storage.
Ease of use is another positive with this mower; simply insert the battery, push the start button and pull the handle lever, and you'll be on your way to shaping your garden. The mower's large wheels coupled with a lightweight body makes maneuvering around the garden seem nearly effortless, allowing you to move freely around the corners and bends of your lawn, not just in straight lines.
Gtech reengineered the cutting blade to maximise airflow and reduce the bogging down of grass by mowing clippings into the bag quickly and efficiently. The folks at Gtech also used carbon steel to make a thick, durable blade with a cutting width of 42cm which makes it perfect for medium and larger-sized lawns. This one is perfect for cutting closer to the edges of your lawn and completing the job quicker because it covers a large area with every single pass.
In terms of cutting height, you can cut anywhere from 30mm to 80mm with 10mm increments in between, enabling you to achieve a perfect lawn, be it a quick tidy up or a more comprehensive first mow of the season. Even the grass bin got a major upgrade to 50-litre capacity and there's an indicator flap to inform you when the bag needs emptying which is a nice touch.
Safety was certainly considered because there's an operational safety key that must be in, and turned 'On' for the lawnmower to cut. You'll also need to turn it 'Off' after work to store the mower. Then there's something Gtech calls 'smart storage'; the mower has been designed to fold down for space-saving storage and we mean really fold down into a compact size. Also, its carry handle and lightweight frame make it easy to push to and from the shed.
Our recommendation
The Gtech Cordless Lawnmower 2.0 is a brilliantly designed model that anyone would love to own. Its 42cm cutting width puts it in the large garden category but even if you don't have acres to cut, you'll be happy with the performance of this mower. It offers the best runtime on the market as well as charge time. Other features we were impressed with are the six cutting heights, with a close cutting height of 30mm on its lowest setting. All the grass cuttings can easily be collected using its 50L grass bin. It comes at a price though and is fairly expensive, however, we think it's well worth the price and Gtech has done a fantastic job at designing this mower.
We noted that the grass bin has an awkward shape because it angles up at the back, but that's not even a deal-breaker. In fact, we struggled to find serious negatives here and that's why we say if you can match the price, go for it.
---
5. Greenworks 40v cordless lawnmower
We had previously reviewed the older version of this model (which is still available) and back then it was probably the best-priced model around and had proven very popular for that reason.
The model pictured above is the new version of the Greenworks 40v cordless lawnmower and looks have certainly been improved but so has the performance because it has a longer cutting time of 40 minutes which is brilliant. It is worth bearing in mind that you will only get close to the 40 minute cutting time if your grass is fairly short and mowed every week or two.
---
6. Bosch AdvancedRotak 650 Electric Rotary Lawnmower
The Bosch AdvancedRotak 650 Electric Rotary Lawnmower is one model that strikes a great balance between performance and affordability. To start with, this lawnmower has some tremendous power behind it in the form of a 1700W motor. This makes it ideal for medium to large-sized lawns, and capable of cutting overgrown grass, whether dry or wet although it will do a much better job with dry grass.
It also provides impressive speed and movement even for its large body, though you'll have to be mindful when mowing into tight areas. Bosch also featured the ProSilence function, which reduces the noise of the mower by up to 75%, an excellent feature if you are wary about the noise produced by lawnmowers.
This electric mower comes with a 10m power cable and this is fairly standard for corded models. Should you need more length, you will need an extension cord. The attached ground steel blade is 41cm wide and is sure to give you a clean, neat cut every time. You will need to sharpen the blade after every couple of uses to keep it in great shape and maintain durability. The cutting width is perfect for large lawns because it gives a decent combination of speed and efficiency.
When it comes to cutting height, this Bosch mower offers seven levels of adjustment ranging from 20 to 80mm. This means you can cut grass to your preferred finish depending on the season and can cut really low too. Just to give a tip, avoid setting low cut heights on longer grass. Start with a higher setting and keep lowering the height with each subsequent mow. The blade height is easy to adjust because is a matter of pushing a button, unlike many other models that utilise a lever mechanism to do the trick.
In addition, the AdvancedRotak 650 comes with a 50-litre collection box which we find suitable for catching large amounts of cuttings before needing to be emptied. As this mower is designed for gardens up to 650m², it's only reasonable to have a matching grass box. Moreover, the box features a 'full' gauge that clearly indicates when it needs emptying, eliminating all the guesswork of stopping and checking to see if the grass is full. An integrated carry handle makes it easy to detach and transport the bag.
Better still, the blade has a useful LeafCollect design that makes it a breeze to collect up leaves from the lawn and chop them up alongside the grass cuttings. No need for a rake or leaf blower afterward because this mower deals with the leaves. Another cool addition to the AdvancedRotak 650 is a grass comb and this assists in gathering up stray bits of cuttings along borders, edges, flowerbeds and paths, areas where models without this feature struggle to mow.
Moving on to the ergonomics, the mower's double handles make it easy to push around. They also feature soft-grip padding and are perfectly shaped for your hands so you won't feel tired sooner than the job is complete. The handles are also telescopic in that you can easily adjust them to suit your height.
Our recommendation
This AdvancedRotak 650 Lawnmower certainly boasts some top-of-the-range features and yet it still comes at a decent price, however, remember it's not cordless but we had to feature this as an alternative because it's that impressive. The build quality is what you would expect from a leading brand. The mower is one of the most powerful out there and will make easy work of dealing with long and wet grass on fairly large lawns. We like that there are seven cutting heights allowing you to trim to your desired finish and a large collection box that lets us focus more on mowing and less on emptying.
Another touch of class is the ergonomic, telescopic handles that make the entire mowing experience much easier. You'll also love how quiet this mower is and don't forget it folds down nicely for compact storage. All things considered, an excellent purchase with true value for money.
---
7. Ryobi 36v ONE+ Fusion Lawnmower
This Ryobi One+ Fusion Lawnmower is powered using two 18v batteries that gives it more than enough power to mow an impressive 600 square meters of lawn from just one charge.
It has an impressive 40cm cutting width that provides more coverage when mowing and the height can be altered between 20mm and 70mm using a simple lever to set the cutting height. The large 50 litre collection ensures you can mow more and empty the clipping less, allowing you to mow the lawn in the least amount of time possible.
The aerodynamically optimised cutting deck and 40cm blade ensure the best mowing performance and another clever feature includes the Vertebrae™ handle design for extended fatigue-free use for extra comfort.
Another useful feature is the EasyEdge™ combs, this ensures you can mow up to the edge of lawns and fences while still maintaining an exceptional cutting performance and neat job.
Conclusion
This Ryobi One+ Fusion Lawnmower is one of the most expensive models available but you are buying supreme performance and quality from a brand you can trust.
The unique two battery system does give you the extra power needed for those larger lawns, it will mow up to 600 square meters from one charge which most other mowers do not even come close to.
It can be up and running out of the box within around 5 minutes and when you have finished the handle folds back and the large 50-litre collection box folds down flat so the whole mower can be stored easily without taking up too much space.
If you have a larger lawn, this model is worth considering and you will not be disappointed. The only negative point is that the batteries take around 4 and 1/2 hours to fully charge and this is nearly double that of the larger Bosch Rotak model which has a similar performance.
---
8. Einhell GE-CM 36 Li Cordless Lawnmower
This Einhell GE-CM Li Power X-Change 36v Lithium Lawnmower is ideal for small and medium-sized gardens. This cordless mower has an impressive cutting width of 36cm and a 6 level cutting height which can be set between 25mm-75mm. It will mow up to 300 square meters of lawn from one full charge making it ideal for even medium-sized lawns.
The fast-charging batteries (it has two), can be fully charged within 60 minutes and this is one of the fastest charge times of any cordless lawnmower available.
It incorporates a large 40-litre collection box that has a 'full indicator' fitted, so you always know when the grass clippings need to be emptied.
It comes with 2 years manufacturer's warranty for peace of mind and Einhell spare parts are readily available should you need them.
Our recommendation
If you are looking for a reliable, high-quality cordless mower and have a budget of around £300, then this Einhell GE-CM Li Power X-Change Lawnmower is worth considering.
This cordless mower is manufactured to a very high standard, as you would expect from the German manufacturer 'Einhell'. It is reasonably quiet when mowing and will easily mow a medium-sized lawn up to 300 square meters from just one charge, this will give you around 40 minutes of consistent mowing.
One advantage this mower offers is that the batteries can be charged in around 60 minutes and it comes with 2 years warranty for extra peace of mind.
Einhell also has a full spares backup service, so you can get replacement parts if needed very easily without much trouble.
Another positive point is that the Power X-Change 36v Lithium batteries can be used in other 'Einhell' power X-Change tools'. This could save you some of your hard-earned cash if you plan on investing in some other power tools because they are much cheaper when purchased without batteries.
Overall, a very good mower, nice clean cut, easy to use and worth the extra cost when compared to other cheaper models.
---
Final Conclusion
Cordless mowers are here for the long haul and it's only reasonable to buy one that suits your individual needs. Also, the benefits of a battery-powered mower are hard to beat, so you'll be getting the best bang for the buck. And the best cordless lawn mower doesn't have to be expensive such as the Bosch Rotak 430 LI Cordless Lawnmower; you can get the AdvancedRotak 650 Electric Rotary Lawnmower at half the price.
BEST PICK
Bosch Rotak 430 LI Cordless Lawnmower
Perfect for medium and large lawns, this lawnmower comes with a 43cm cutting width with 10 different height of cuts to work with, ranging from 20mm to 70mm. Along with these is a 50L collection box to ensure less emptying and more mowing, as well as grass combs that let you mow right to the edge. Mowing power is supplied by a 36V 2Ah battery that charges within 140 minutes and they come in a pair so that one can be mowing as the other is charging. Its razor sharp steel blade can also collect leaves and replacing it is very simple with anyone basic DIY skills. The mower also includes a roller to achieve a striped finish. Safety was thought of too as it includes a safety key that deactivates the mower to prevent accidental starting, especially by children. It's quite an expensive lawn mower but no doubt good in many aspects.

---
Our website supports our amazing readers with countless hours of research and testing to help you find the best product so you don't regret making a purchase. You support us through our independently chosen links, which earn us a small commission and cost you nothing but helps to support our research.
---
Other related reviews:
The best lawnmowers for small gardens
The best lawnmower for making stripes
The best lawnmowers for large gardens
Last update on 2022-03-17 / Affiliate links / Images from Amazon Product Advertising API