Our site is reader supported, this means we may earn a small commission from Amazon and other affiliates when you buy through links on our site.
Whether you have brand new decking or you've had it for some time, it's important that you make sure the timber used in your decking is well maintained so that it lasts. Part of this maintenance includes fixing any parts of the decking that is damaged and protecting against the worst of the weather so you don't end up with damp wood and eventually dry rot. Basically you want to keep it in good order as it will quickly deteriorate if not look after correctly.
A big part of this is using decking oil to literally feed the wood. Decking oil can be applied to new wood and will preserve your wood. With proper oil, you can protect your deck from harm and keep it looking aesthetically pleasing all year round and also help make it less slippery.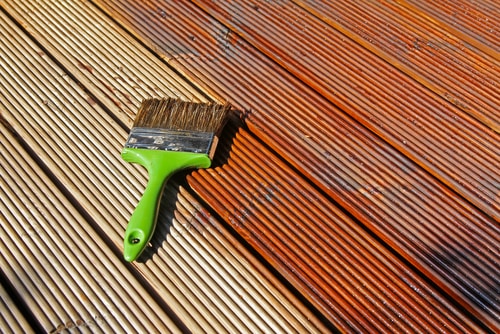 Before you apply decking oil
Before you get out and start lathering your deck, you need to make sure that everything is clean and free from dust. Examine your decking for any physical damage and make sure that broken pieces are mended before you start.
Once that is done and you have removed all the elements from your deck including potted plants, patio furniture, all the way down to dust and debris, then you can apply a clear or coloured decking oil.
How to apply oil to your decking
The good news is decking oil is actually quite easy to apply and you don't need a specialist to do it. It just comes down to making sure that you adequately push the oil into the would rather than applying a thin film on top of the wood.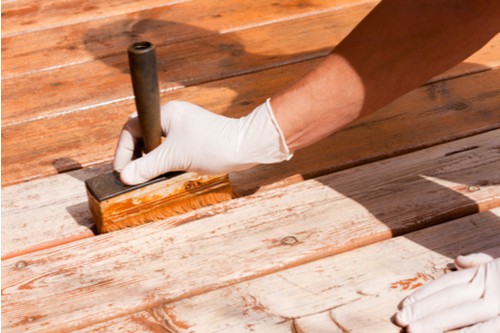 Choosing between using a roller or brush
The best way to do this is to use a long-handed microfiber roller or standard roller id you don't mind working on your knees. If you have grooved decking you will need to use a brush as pictured above to more adequately push the oil into the wood.
Applying 3 or 4 thin layers of oil
It's the content of the oil that actually protects your decking against damage from water or sunlight and as such you need to make sure that you get as much of it directly into the wood as possible. For this, you should apply the actual oil in very thin coats because thicker coats won't penetrate the wood as well and it will take you a very long time to have the decking properly dry out. It's much better for you and more effective to apply three or four thin coats over one or two thick coats which take much longer to dry and soak into the wood.
As you move the oil around the wood with your roller or brush, do so until you notice that the oil has sunk into the grains. A well-applied oil coating won't take a lot of physical effort from you and it should be dry within one day. On that note, it is important to plan accordingly and make sure you have at least two or three dry, sunny days without any rain during which time you can apply and allow the coats to dry.
When decking oils might not be suitable or the decking has enough oil applied
The only exception is decking with a wood naturally high in oils like teak or exotic hardwood. These don't need extra applications of oil. Regardless of the wood type you have for your decking, you will know when the wood is properly saturated with oil because no matter how many times you rub your brush along the decking with oil, you won't be able to get the wood to absorb any more oil. Once you reach this point you can wipe away any excess and allow the decking to dry.
Recommended decking oils
Ronseal Ultimate Protection Decking Oil Teak 5L
The Ronseal RSLUDOT5L Ultimate Protection Decking Stain comes in the following:
Our unique formula penetrates deeper into the wood to provide increased durability
Providing a lightly tinted finish it will give double the weather resistance and foot traffic protection, versus standard decking oils
Image credits – Shutterstock.com
Last update on 2021-10-19 / Affiliate links / Images from Amazon Product Advertising API