Last updated on February 15th, 2022
Our site is reader supported, this means we may earn a small commission from Amazon and other affiliates when you buy through links on our site.
Sometimes on a hot summer day, you just want to lounge around outside on something comfy and cushiony. Only a bean bag chair will do for you to nestle right into.
My review of the Best Garden Bean Bag Chairs looks at different styles of bean bag chairs (including two for kids) and presents the best ones we found for each style. I list each bag's pros and cons and discuss their features along with our recommendation.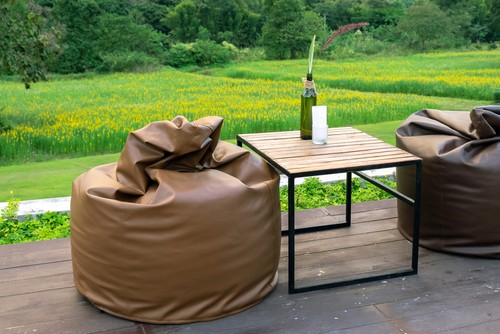 My Buyer's Guide discusses what to know about these garden chairs in order to get your best use from them.
Best Pick – Adult
Loft 25 Bean Bag Gamer Chair Set
This chair set comes with an adult-sized highback bean bag chair plus a matching footstool. Not only can you sit in this ergonomically designed chair with your back supported, but you can put your feet up for full relaxation. Both furniture pieces are made from strong woven polyester which is water, mould and tear resistant. The outer cover is easily cleaned if you wipe it with a damp cloth. There's a choice of 11 colours - brights and neutrals - to fit any deck or patio décor. The Loft 25 Bean Bag Gamer Chair Set is a great addition to any outdoor living space.
Best Pick – Kids
Beautiful Beanbags Highback Beanbag for Kids
Instead of having your kids sprawling all over your own bean bag garden chair, buy them their own pint-size one. The Beautiful Beanbags Highback Beanbag for Kids is a replica of an adult highback chair but with kid's dimensions. It's made from the same woven polyester as adult chairs so have the same strength, durability and easy care properties. With a selection of 12 colours, young ones can indulge their love of bright colours or the latest trending tones. This lightweight bean bag chair is easy for young children to carry around the garden and sit on. Give them their own piece of family outdoors furniture.
---
Best Garden Bean Bag Chairs reviews
1. Loft 25 Bean Bag Gamer Chair Set
Best Pick – Adult
The Loft 25 Bean Bag Gamer Chair is another high back adult garden bean bag chair. In the familiar style of a round base with allowance for armrests and a high tapering back support, this model comes with a matching footstool.
Many online reviewers of bean bag chairs recommend the use of a footstool for the best relaxing experience and footstools are available separately (see further down this review). But you might as well buy the complete set at once so the chair and footstool match.
The woven polyester fabric in which this chair and stool are made is water resistant and resists mould, so you don't need to take them in and bring them out each day in the warmer months – just leave the set outside.
The good news is that an inner liner in the chair contains the fire-retardant polystyrene balls, but the not-so-good news is that this inner bag is attached to the outer cover. This means that the outer cover is not removable and you have to clean it in place. That's not too difficult – just wipe it down with a soapy cloth.
The model we review comes in a bright aqua blue. However, there are also ten other colours in this style, including Black, Lime and Ultra Violet. This is an attractive ergonomically designed chair for your lounging comfort in the garden.
The manufacturer states that this outdoor bean bag chair holds up to 150kg of people.
Pros
Ergonomically designed bean bag for correct posture support.
High back chair with rounded seat into arm rests.
Made from polyester material that's water and mould resistant.
Clean by simply wiping with a damp cloth.
Has an inner lining containing the beads.
Holds up to 150kg.
Polystyrene EPS beads are fire retardant.
Comes in eleven colours.
Dimensions when made up:
Chair: 80cm high and 75cm wide;
Footstool: 40cm (width); 33cm (depth) and 25cm (height).
Cons
Inner liner is not removable.
Our recommendation
The Loft 25 Bean Bag Gamer Chair Set contains a high back bean bag chair and matching footstool. Really lean back in ergonomic comfort and relax in your outdoor space. The water- and mould-resistant woven polyester fabric is easy to wipe down and keep clean and the polystyrene beads are treated with a fire-retardant coating.
The Loft 25 Bean Bag Gamer Chair Set is a good choice for the ultimate comfy bean bag chair. It's my choice for the Best Pick – Adult of all the bean bag chairs in this review.
---
2. Beautiful Beanbags Adult Highback Beanbag
The Adult Highback Beanbag is a large outdoor bean bag chair made from soft woven polyester. This fabric is water resistant as well as stain resistant. For this chair, the back of the fabric is coated with a fire retardant coating. You don't need to worry about leaving the chair out in the rain or accidentally placing it too near the barbeque.
All these convenience and safety features make it easy to clean the chair, just wipe it down with a soapy rag. You need to do this as there is no inner bag that holds the polystyrene balls. To remove the cover, which is machine washable, you need to empty the balls into a separate container first.
The chair is in one piece and comes with the EPS polystyrene balls. The round seat rises up through some shaped arm pieces to a truncated triangular high back. You have a choice of twelve colours including the grey in this review, and also Aqua Blue, Black, Purple, Olive, and Red among other bright and neutral tones. This model holds 283L of balls.
Pros
Outdoor bean bag is made from water-resistant polyester.
Design has a high back and a round seat with integral arms.
Fabric is water- and stain resistant and treated with a fire retardant coating.
Polystyrene EPS beads.
Comes in a selection of twelve colours.
Dimensions for sitting: 72cm (max height); and 90cm (max width).
Cons
Our recommendation
The Adult Highback Beanbag is a well-reviewed garden bean bag chair with a round seat, arm shapes and a high, tapering back. In practical woven polyester, it doesn't need any special care or maintenance. And the wide range of colours available ensures that there's one or more to fit in with your garden and patio décor.
---
3. Lazy Bag Giant Bean Bag Chair XXL
The Lazy Bag Bean Bag Chair is different to the other bean bags we review in that it's not made from polyester but from cotton, and is labelled for indoor use. But we feel that with a 100% cotton outer cover that's removable and machine washable (at 30 degrees), this bean bag chair can be used outside. Especially if you apply a waterproof treatment to the cover.
This chair is an adult version of the Bean Bag Bazaar Kids Big Bag we review. It's basically a giant floor cushion that you configure into any number of chair positions depending on how you want to sit and which parts of your body you want to be supported. All the seams are double sewn for strength and durability; this ensures that they don't come apart if you apply extra pressure by squishing all the polystyrene balls up into one corner.
An inner bag made of ticking contains the balls and is separate from the outer 100% cotton bag. This means that you can remove the outer bag to wash it. The inner bag closes with both a zip and with Velcro, so the balls are safely contained.
There are twelve colours of outer cover to choose from. The Colour range includes Brown, Violet and Dark Grey as well as some brighter colours.
Pros
Bean bag chair made from tear-proof and dirt repellent 100% cotton.
Double sewn for strength and stability.
Chair is one big pillow that can be positioned in a number of chair configurations.
Filling is 400L of premium EPS polystyrene beads.
Inner bag is made of ticking and is separate to the outer cotton bag.
Inner bag closes with Velcro as well as a zip.
Twelve colours to choose from.
Dimensions: 180cm (length) by 140cm (width) by 30cm (depth).
Cons
Our recommendation
The Giant Bean Bag Chair XXL is a large floor bean bag cushion for adults which you can squish into a multitude of sitting on or laying on shapes. If you tend to sprawl or lounge when you relax, this is a good option for you. Unfortunately, it's not water resistant. But the outer 100% cotton cover is durable and washable, and you can always spray a water repellent coating on it yourself.
---
4. Beautiful Beanbags Beanbag Cube Footstool
For extra comfort in your garden bean bag chair, consider a Beanbag Cube Footstool. Made of the same woven polyester as the best bean bag chairs, this footstool has the same resistance to water, mould and stains. Plus there's a fire retardant coating on the back of the fabric in case a spark flies from your outdoor fire pit. Just wipe it down to clean off shoe marks or spilt beverages.
Stuffed full of polystyrene balls, this 40cm by 40cm by 40cm stool is the perfect height to sit on, to prop up your legs when laying you're back in the bean bag chair or to use as a table next to you for beverages, snacks and your phone or book.
The colours of this footstool match the most popular bean bag colours and range from neutrals such as Grey through midtones including Blue to bright shades such as Yellow.
Pros
Constructed of polyester so it's stain and water resistant.
Has a fire retardant coating on the back of the fabric.
Stuffed with polystyrene balls.
Selection of twelve colours.
Clean by wiping with a damp cloth.
Dimensions: 40cm (length; width; and height).
Our recommendation
Quite a few online reviewers remark that bean bag chairs are more comfortable if have a footstool – and the Beanbag Cube Footstool is the best that we found. Its 40cm height makes it versatile as a stool, a seat and as a table – and we love multifunctional garden furniture. The wide range of colours means that you should be able to find something to fit in with your patio décor and other bean bag furniture.
---
5. Beautiful Beanbags Highback Beanbag for Kids
The Highback Beanbag for Kids is a children's version of the Adult Highback Beanbag we review. The polyester fabric has the same water-, stain- and mould-resistant properties and a fire-retardant coating.
You don't need to worry about your kids being rough on this chair as woven polyester is a strong and durable fabric. And if the chair ends up in some more natural parts of your garden, just give it a quick wipe down with a soapy rag.
This kid's version comes in the same twelve colours as the adult chair, including Lime, Pink and Orange. You can select a matching set for the whole family or let the children express their own personality by choosing their own, probably bright, colour, even though it may clash with your patio décor.
Please check the given dimensions of this bean bag chair against the size of your children as several online reviewers report that this chair is suitable only for smaller kids.
Pros
High back bean back chair for kids which supports their back and arms.
Made from polyester and is water, stain and mould resistant.
Fire resistant coating on the back of the fabric
Clean by wiping with a damp cloth.
Comes in 12 colours.
Dimensions for sitting: 65cm (max height) and 75cm (max width).
Cons
Only suitable for younger children.
Need to add more balls to retain high back shape.
Our recommendation
The Highback Beanbag for Kids provides a kid-size chair for little ones to lounge in – their own space rather than sprawling all over your own bean bag chair. The polyester fabric is very practical for kids' lives in the outdoors. And the high back design ensures that their bodies are supported even when they're in sprawl mode.
The Beautiful Beanbags Highback Beanbag for Kids is our Best Pick of the bean bag chairs for Kids.
---
6. Bean Bag Bazaar Kids Big Bag – Extra Large
The Bean Bag Bazaar Kids Big Bag – Extra Large lets kids choose what shape bean bag chair to make. In essence, this is a large, almost square, bean bag floor pillow that children mould into different chair styles. It's lightweight so kids can carry it around and mould it against walls, trees, and other furniture and then sit or lay on it. One of the photos on the sales page shows the rectangle folded in half to form a high back chair, so they can even have good posture while using it.
As usual, the bean bag is made of polyester that's water resistant and tear resistant, just the job for the rough and tumble of kids' outdoors activities. All the seams are reinforced, anticipating heavy use. And internal and external zips keep all the polystyrene balls safely inside.
Some online reviewers report that the cover is a bit slippery rather than soft and younger children may have difficulty sitting on the bean bag. But older kids just love it. As always, please check the dimensions of this bean bag and make sure it's large enough for the intended users.
Pros
Bean bag lounger chair for kids that can be shaped into various chair positions.
Made of water-resistant and tear-resistant polyester.
Polystyrene bean bag filling.
Conforms to UK Fire Safety regulations.
Reinforced seams for strength and durability.
Internal and external zips keep everything inside.
Lightweight so kids can move it around the garden and patio themselves.
Dimensions: 120cm (length) by 100cm (width).
Cons
Cover is a bit slippery for younger kids.
Our recommendation
The Bean Bag Bazaar Kids Big Bag – Extra Large gives kids the option of making a chair of whatever shape they mould from this rectangular cushion. They can choose to lay it down flat (like a bed) or prop it up against a garden tree or the shed, or even just squish it together and jump on it. The reinforced seams ensure that everything remains together and that the polystyrene balls don't fall out.
This is a great kid's bean bag to encourage them to use their imagination and body in creating their own seating.
---
Buyer's Guide
In researching this review, I found some common issues and concerns with garden bean bag chairs. But there were also many suggestions about how to deal with these. Here are the most talked about complaints and how to successfully deal with them.
Bean bag chair is smaller than I expected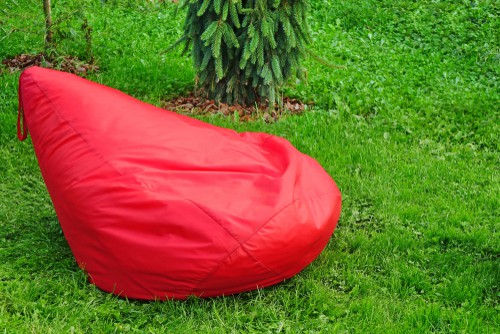 This complaint is easy to handle. Just check all the measurements before you order. Measure the people (adults and kids) who will be using the chair in a seating position. You need to know how wide their bottoms are for the seat width, how high the distance is from their seat to their head when they lean back for the high back supporting part of the chair, whether they plan on curling up in the chair (you need a wider seat for this) and any other strange contortions they relax in.
Then check the measurements given for the chairs you're looking at. And see if it all fits.
Keep in mind that bean bag chairs are made to change their shapes a bit but within constraints. For example, if you make the seat wider, then the high back will be lower. The main advantage of these chairs is that you can pummel them around to conform to your shape, whatever that is.
The bean bag chair doesn't keep its shape / The back support is useless now / It feels too rigid
All of these issues are related to one part of the chair – the polystyrene balls inside the outer cover.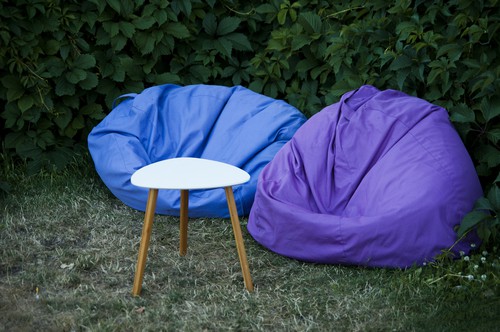 The balls settle over time so you need to keep plumping up the chair by giving it a good shake. You may even need to direct some balls towards certain parts of the chair – for example, the top of the high back – manually.
Quite a few online reviewers report that, while their bean bag chair arrived with the polystyrene balls, there weren't enough for a full-feeling chair. Be prepared to buy a bag or two of extra balls and fill up your chair before you start using it.
On the off-chance that your chair is too rigid, removing some of the balls and redistributing the rest through shaking up the chair (after closing the cover zip) should do the trick.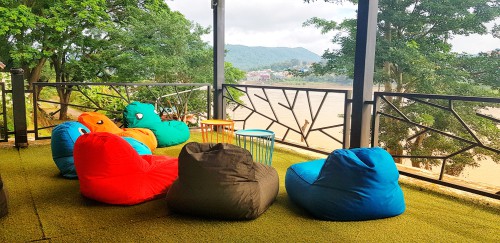 My legs and feet are not comfortable
There's quite a bit of online support for using a footstool with your bean bag chair to put your feet up on. In our review, we have a set containing a chair and a matching footstool, plus a separate footstool that works with any bean bag chair. They're inexpensive and create a cohesive look for your patio or deck décor as well as more comfort for you.
---
Final Conclusion
Whether you choose a pre-defined garden bean bag chair or one that lets you define its form, being enclosed in the cosy and comfy cocoon around you is so relaxing. All the models we review, except one, come in hard-wearing and easy to care for woven polyester. And this fabric comes in a wide variety of colour choices – neutrals, pastels and brights – that match with most garden décor schemes.
My Best Pick – Adult for Garden Bean Bag Chair is the Loft 25 Bean Bag Gamer Chair Set. This is a high back chair and footstool set, so you receive all that you need to relax in comfort.
My Best Pick – Kid is the Beautiful Beanbags Highback Beanbag for Kids. These are smaller versions of the adult high back versions and provide some support for kids' active bodies.
If you decide that bean bag chairs are not really your thing, check out our other garden chair reviews. We have plenty, 7 Best Garden Deck Chairs for Modern/Traditional Style and Relaxation, 6 Best Hammock Hanging Chairs for your Ultimate Outdoors Relaxation, Top 6 Best Hanging Garden Egg Chairs For Relaxing In Comfort and Top 5 Best Zero Gravity Chairs for Relaxing In Comfort.
---
Last update on 2022-03-17 / Affiliate links / Images from Amazon Product Advertising API