Last updated on May 20th, 2022
Our site is reader supported, this means we may earn a small commission from Amazon and other affiliates when you buy through links on our site.
Wouldn't having a tall garden structure overflowing with fragrant, colourful climbers in your garden be a jaw-dropping design feature? Adding one or more garden arches to your outdoor space is both functional and decorative. Display your climbing plants such as clematis to their best on a kit-form garden arch that adds vertical interest to a mostly flat garden to give it some vertical appeal.
This Best Garden Arches review looks at garden arches of a variety of materials and styles. We look at wood, metal and plastic and highlight the pros and cons of each. We also discuss the features each model has. Our Buyer's Guide points out the basics of what you should know before choosing the garden arch for you. We select and recommend the Best Wooden Garden Arch and the Best Metal Garden Arch too.
BEST WOODEN GARDEN ARCH
Rowlinson Square Top Arch
The Rowlinson Square Top Arch is a wood structure with a flat roof. The entire framework is made from pressure- treated certified softwood so is designed to last. If you don't like the natural finish (it has a green tinge), feel free to paint or stain the arch to suit your garden flowers and décor. This square top arch is 224.5cm in height, 150cm in width, and 90cm in depth. These, however, are measurements of the outside of the structure. On the inside, you have 107cm of width to walk through. You'll need an electric drill for assembly as the holes for the screws aren't pre-drilled but it's easy enough to assemble.
If you're looking for a wood garden arch that has an up-to-date yet classic design, strongly consider this one.
BEST METAL GARDEN ARCH 
Gardman Natural Arch Trellis
A stylish metal garden arch that will be an eye-catching addition to your garden. Its modern Gothic look complements any garden design, even formal gardens. Alternatively, it's so open and airy that you can just make it disappear from sight under a mass of climbing flowers and vines. The powder-coated solid steel frame resists the worst of the British weather too unlike most cheaper alternatives. This is for you if you are looking for a minimal but solid metal garden arch with a style that requires no maintenance, unlike wooden alternatives.
---
Our top 5 garden arches which we have included in our review are listed below
---
Top 5 Best Garden Arches Reviews
1. Rowlinson Square Top Arch
BEST WOODEN GARDEN ARCH
The Rowlinson Square Top Arch is from a family business that has been trading since 1926 and is well known for its quality wooden products. This wooden garden arch has a geometric look and you can tell it's designed to last. It's made of pressure-treated FSC-certified softwood that has protection against rot. The wood is planed smooth and has a natural green tint. The 10-year warranty protects against any damage caused by the wood rotting and this is when you know you have a product made from quality timber that won't rot too easily.
This Rowlinson arch has a flat roof, so the entire structure is a rectangular shape. This is a different look from the usual arched roof – it's a classic design with a twist. The trellis on each side of the arch has a spaced square arrangement. This gives your climbing plants many struts and intersections to cling to. The flat slatted roof also provides a structure for climbing plants such as clematis and other vines, as well as grapes because of its ability to hold the extra weight of the grapes.
The dimensions of this garden arch are: 224.5cm (height), 150cm (width) and 90cm (depth). However, some online reviewers from former years state that the height of their Rowlinson garden arches was only 214.5cm. The lost 10cm does make a difference in whether tall people can walk through the arch, but this was perhaps a small oversight that has since been resolved. These measurements are taken from the outside of the posts and rafters. The internal width of the garden arch is 107cm. This is how wide the path through the arch actually is. All this wood weighs 36kg so it is a heavy but sturdy piece of kit.
The Rowlinson Square Top Arch has a natural finish that you can sand down lightly and then stain or paint using your chosen colour. Using a light colour stain (or no stain) lets the arch blend into your garden; for a dramatic statement paint the arch a bright and eye-catching colour.
The manufacturer reports that this garden arch is easy to assemble in 1-2 hours. However, some users online say that they had some sizing problems when putting together the different parts of the structure but this is probably more down to your own DIY experience. You need to secure the arch somehow to the ground, and the kit doesn't come with any fittings for that. In addition, the screw holes aren't pre-drilled, so an electric drill is essential to putting the arch together, but most people who are competent enough to put an arch together will more than likely already have a drill.
Pros
Has a natural wood finish with a green tint that can be changed with stain or paint to suit your garden colour scheme. 
FSC-certified softwood is pressure-treated to resist rot and the 10-year warranty covers this.
The garden arch has a flat slatted roof which gives an angular geometric look to the structure.
The trellis at the sides is an open square style, with plenty of supports to train flowers up.
Dimensions are: 224.5cm (h) x 150cm (w) x 90cm (d).
The internal width is 107cm and that's how much space you have to pass through.
Cons
No fittings for securing the arch into the ground, however, this is the case with nearly all arches.
Our recommendation
The Rowlinson Square Top Arch is a sturdy wooden garden structure with a flat roof. You can consider growing grapevines across the roof but it also works well with clematis and other climbers. The pressure-treated softwood is FSC-certified so you know that it comes from responsibly managed resources, something we think is important. If you like colour, don't be put off by the natural finish and green tint of the garden arch. You can paint or stain it with whichever hue you want but we recommend sanding it down lightly first. The 10-year warranty against rot damage shows how resistant the wood is so you do get that extra peace of mind.
We've made the Rowlinson Square Top Arch our Best Wooden Garden Arch Pick. We like the almost 100-year heritage of the Rowlinson company, the Forestry Stewardship Council-certified timber in its construction and the angular geometric style of the arch.
The Rowlinson Square Top Arch could be the best garden arch for you if you want a wooden arch made with FSC-certified wood for durability and has a shape that's a little different to other garden arches.
Read next: The best garden obelisk
---
2. Gardman Natural Arch Trellis
BEST METAL GARDEN ARCH
The Gardman Natural Arch Trellis is a metal garden arch and one of a line of nature-themed garden structures. In this arch, the nature theme is seen through the graceful scrolls of leaves going up the sides of the arch. This gives the arch an airy feel and looks that won't compete for attention with your climbing plants. The top is arched in the traditional way.
This arch trellis is made of iron. It has an aged look and the structure will appear to have been in your garden forever. The dimensions of the garden arch are: 235cm (height), 120cm (width) and 45cm (depth). This is a narrower arch than some of the others in this review, but there's still enough room to comfortably stroll through it.
For stability, you can sink this arch's spiked legs into the ground. However, it is important to note that will reduce its height. If you are very sure of where you want to place the arch trellis, consider embedding each leg in concrete. All the fittings for assembling the arch come in the kit.
Pros
An iron garden arch with an aged finish for an elegant rustic look.
Delicate scrolls of leaves enhance the nature theme of this arch.
The sides of the arch have two scrolls of leaves and provide significant space for training your plants upwards.
Dimensions are a height of 235cm, a width of 120cm and a depth of 45cm.
Cons
Would benefit from a little extra stability through leg supports.
Our recommendation
The Gardman Natural Arch Trellis is a garden arch with a rustic-yet-elegant appearance. Made of iron, the structure has an aged finish. The delicate leaf scrollwork on the sides of the arch trellis brings in nature and gives this garden arch its open and airy appearance. This is a slightly narrower garden arch than others in this review and is better suited to a smaller garden.
The Gardman Natural Arch is a good choice if you want a sturdy, metal garden arch that references the natural world.
---
3. Rowlinson Rustic Arch 
The Rowlinson Rustic Arch is an all-weather garden arch. It's made from FSC-certified, pressure-treated timber (species not given) that's been treated to be rot resistant. The arch has a heavy-duty post construction but remains visually open. If you don't like the natural finish of this framework, you can always paint or stain it in the appropriate colours for your garden.
This arch is taller than some of the other garden arches in this article. It has a gabled roof that comes to a point at the tip. This gives more headroom under the arch and adds more visual height to your garden. The sloped roof has the same trellis design as the sides of the arch. Instead of a more traditional lattice, the sides have diagonal crossbeams. These do form a diamond pattern, but the openings are larger than those of regular lattice. 
The dimensions of this rustic arch are 272cm (height), 45cm (depth) and 160cm (width). The width of the actual entryway is 120cm. The natural finish and the straightforward structure give this garden arch its rustic appeal. The roof extends wider than the arch framework, adding further interest and more convenient places for climbing plants to wind around. Some online users state that they have extended the width of the arch to meet the edge of the roof. This gives more width (internal and external) to the arch structure.
To stabilise this Rowlinson Arch, anchor the legs into the ground. You can do this with spikes that you attach to the bottom of the legs. However, online users state that they couldn't find any ground stakes of the right size for this. An alternative is to cement the legs into their own pads, which is easy enough to do.
Pros
Wooden arch of heavy-duty post-construction for long-lasting life.
Made of timber (species unspecified) that's been pressure treated, is resistant to rot and can handle all weathers.
The wood has a natural finish so you can stain or paint it to fit into your outdoor design scheme.
The simple and straightforward design with an unusual roof gives an eye-catching yet rustic look.
The roof is gabled (comes to a point) and overhangs the sides of the arch.
The side trellis is a large diamond pattern that leaves space for your plants to grow and expand fully.
The external dimensions are 2.75m (height), 45cm (depth) and 1.6m (width), with an internal width of the walkthrough is 1.2m.
Cons
The frame is sometimes not accurately cut and wood is sometimes split, although this is common on most wooden models and is the nature of the material but does not reduce its integrity.
Predrilled screw holes don't always line up with the screws.
Our recommendation
The Rowlinson Rustic Arch is a wooden arch with a gabled roof. This roof comes to a point at the tip and creates extra headroom under the garden arch. This design might match or compliment the shape of the roof of your home. The straightforward design of this arch, without any frills, gives it a rustic charm. If you're not happy to be this much back-to-nature, paint or stain the arch to compliment or contrast with the colour scheme of your garden.
If you're looking for a rustic wooden arch that adds to, not detracts, from your garden landscape, it's worth taking a long look at the Rowlinson Rustic Arch.
---
4. KHW Garden Rose Arch with Planter Boxes
The KHW Garden Rose Arch with Planter Boxes is different from the other garden arches in this review in two ways: it's made of plastic and it comes with two attached planters. It's also a lighter weight than similar arches made of wood, however, it becomes very stable with the planters are filled with compost because they are fairly deep.
As with other garden arches, the Tamarac arch comes in a kit for you assemble yourself (or with help). This arch is made from 100% plastic with a gloss finish in an anthracite colour. This is a mid-grey that's neutral enough to visually fit in anywhere. The plastic is resistant to many conditions including weather, UV rays, warping and fading which are all essential because it's going to be outdoors 24 hours a day. This is an all-weather garden arch that weighs only 12.1 kg.
The sides and roof of this Tamarac arch are covered in the same trellis pattern. The pattern is of open space diamonds that give plenty of connection points for your climbing flowers to cling to. The roof of this garden structure is a rounded arch that's higher than some others. The external dimensions are: 207cm (height), 186cm (width) and 43cm (depth).
This is more than a simple arch structure though. It comes with two planters, in the same colour as the arch, which you attach to the bottom of each side. Holding 44 litres of soil and plants each, these planters can hold your climbing plants as well as any potted plants. This adds another level of colour and fragrance to your arch. The planters add stability to this arch, which is useful because the kit comes without any anchoring fittings. In addition, they allow you to set the arch on a hard surface and still grow flowers and vines.
Pros
An arched garden structure made of 100% plastic for long service.
The gloss finish is an anthracite colour that's neutral and goes with any colour flowers. 
Weather-resistant, UV rays resistant, fade and warp resistant to handle all weathers.
Two 44 litre planters are attached to the bottom of the sides of the garden arch, meaning you can set the arch on a hard surface. 
Dimensions: 207cm (height), 186cm (width) and 43cm (depth).
Cons
Anchoring kit not included.
Our recommendation
The KHW Garden Rose Arch with Planter Boxes is made of 100% plastic which means it is very low maintenance. Weather and UV rays can harm a garden structure and fade or warp it. The plastic construction of this arch has a high resistance to many of the problems an outdoor structure encounters, which was essential for it to even make it into this review. The diamond-pattern trellis is continued from the sides onto the roof. This gives your plants a chance to completely cover the garden arch. Two planters at the base of the arch give you ample space to grow enough climbing flowers and to display potted plants.
If you're looking for a lightweight garden arch with something extra, consider the Tamarac Arch with Planters.
---
5. Forest Ryeford Garden Arch
The Forest Ryeford Garden Arch is made from timber that is certified by the FSC to come from environmentally managed sources. This is an arch that merges an angular geometric design with a slightly arched roof for an attractive and functional structure.
The timber used is pressure treated and comes with an impressive 15-year warranty against rot and fungal decay and is designed and made in the UK. Feel safe leaving this garden arch out in all four seasons. The stylish gently curved roof has five rafters, each with slanted ends. This arch's roof design contrasts with the sides that have a trellis pattern of open rectangles. This combination produces a natural-and-modern appearance to the arch. If you want something more colourful, paint or stain the arch to fit in or contrast with your garden landscape. Doing this also increases its weather resistance.
It's easy to construct this framework with the pre-notched rafters and full instructions, you would be surprised how many arches don't provide instructions. The arch comes with the manufacturer's estimate of how long assembly takes – in this case, it's two hours. Knowing this may be persuasive when you're rounding up a friend to help you. However, you do have to take the time to drill the screw holes in the wood.
The dimensions are 242cm (height), 180cm (width) and 90cm (depth). The internal width between the posts is 130cm. The generous depth gives you some room to put a chair under the arch to be truly surrounded by the flowers growing up it.
Pros
Pressure-treated timber sourced from forests in Scotland and Wales and is FSC-certified.
The impressive 15-year warranty against damage from rot and fungus shows the manufacturer's confidence in this product and offers peace of mind.
Natural finish that you can personalise with weatherproof paint and stain in your choice of colour.
Straight sides with a diamond pattern trellis contrast well with the gently curved roof for a modern natural style.
Dimensions are: 242cm (height), 180cm (width) and 90cm (depth).
Extended leg lengths so you can embed the posts in concrete for maximum stability.
Cons
No spikes or fittings are included to anchor the arch.
No pre-drilled holes in the wood.
Our recommendation
The Forest Ryeford Garden Arch is constructed out of FSC-certified wood from forests in Scotland and Wales. Don't worry about damage from rot or fungal decay because the 15-year warranty covers these destructive situations. The rectangular trellis pattern and the curved roof contribute to this arch's rustic elegance. If you don't want to have a rustic arch, but really like the design of this one, feel free to stain or paint it in any way you want to. 
---
Buyer's Guide
A garden arch adds a place to grow climbing plants in your garden. It's not as obtrusive as a pergola or a gazebo. Garden arches are usually structures whose open trellises give them a spacious look and feel. In this review, we cover garden arches that come in kit form for you to assemble at home although some might arrived already constructed if you're lucky.
Before you run out and buy your garden arch, you should know some things that may affect your decision. We go over them here.
Garden arch vs trellis vs pergola
People often use different words for the same garden structure. We include two of the arches here in our Best Garden Arbours review. Here's our brief description of each of these garden structures.
Garden arch
The best way to look at a garden arch is to consider it as an arch that you stroll under that's covered in flowers. Of course, you can also use it in a part of your garden where no one walks. A garden arch consists of two sides and a roof which may be arched (to some degree), flat or gabled. The sides of the trellis are open, to different degrees, and enclose a flat, vertical trellis. The roof may have the same trellis pattern across it or may have rafters. All in all, garden arches are light and airy and offer many places for your climbing flowers to grow.
Trellis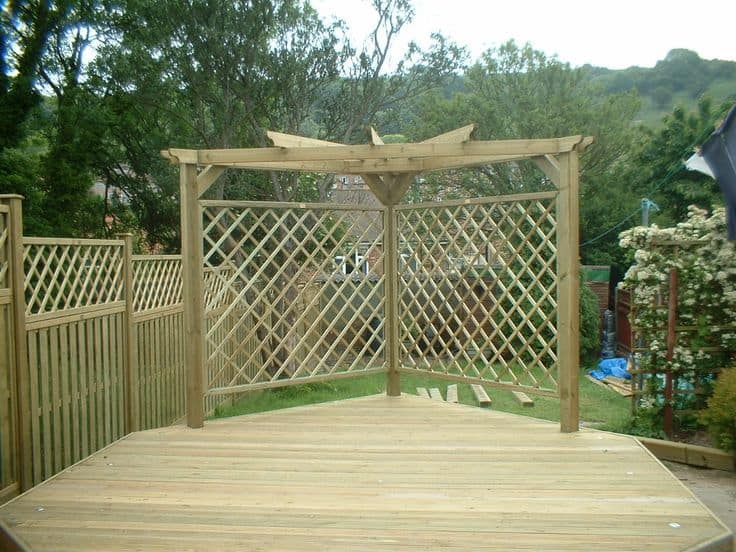 A trellis is a flat lattice on which you grow climbing plants. It can look the same as the panels of trellis on the sides of garden arches. However, you usually fix a trellis to a wall or fence. Plants climb up the trellis in the same way as they do on a garden arch. The traditional trellis pattern is a diamond, though you can find square and rectangular patterns as well. Other patterns are available.
Arbour
This is where it gets confusing. An arbour is sometimes the same as a garden arch. It's a vertical garden structure on which you grow flowers that climb it. But some arbours are deeper than arches and have a place for you to sit. This may be in the form of a built-in seat or one of your own chairs. Most arbours are freestanding and have rounded roofs.
Style
Garden arches are designed to both look good and be functional. The arch should be strong enough and have enough trellis or scrollwork to support the climbing plants. It should also look good when doing so. The arches in this review are of several different styles – rustic, gothic and modern natural spring to mind. Choose a garden arbour to match your home and garden styles. Or buy one that's a complete contrast.
Material
Garden arches are constructed of iron, steel, wood or polymer composite material. All these materials stand up to the hard living of being outdoors all year round. Polymer composite (plastic) is often the lightest weight arch. Look for metal that's powder-coated to prevent rust and fading. Iron is also a strong material and often has an aged finish to seem as if it's been around forever. Solid steel is preferable over tube steel for its strength and durability. Wood generally has been protected with a weatherproof coating, but check anyway.
Size
Garden arches come in a variety of similar sizes. They mostly have the same height of around 225cm to 235cm. However, the Rowlinson Rustic Arch (pictured below) that we have reviewed has a gabled (pointed) roof and so has more headroom at 272cm. 
The width of garden arches is usually within a range from 150cm to 160cm. The narrowest pergola in our review has a width of 120cm and won't overwhelm a smaller garden.
The depth of garden arches varies considerably. The shallowest arch here is the Tamarac Arch with Planters at 43cm. The deepest at 90cm is the Rowlinson Square Top Arch and could be called an arbour instead.
Be aware though that these measurements generally refer to the exterior dimension of the garden arch. Look for the interior measurement to find out how wide the entranceway actually is.
Placement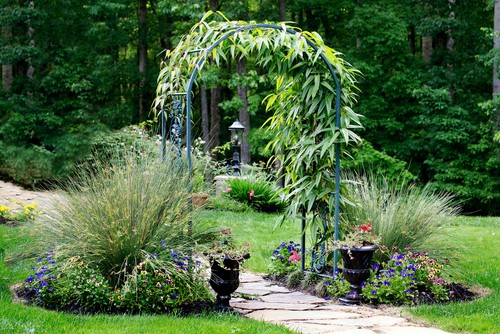 With their two sides and open front and back, garden arches are usually used over a pathway to make the walking route attractive and fragrant. Placement of the arch for this purpose is usually over a path or one part of the lawn that you want to separate from another. Garden arches work well in both back and front gardens.
However, you can use a garden arch just for decoration and don't intend anyone to walk underneath it. Make a secluded nook by a hedge with the arch or tuck it into a corner of your back garden.
Garden arches are usually freestanding in that they don't need to be attached to another structure. If you're placing one on your lawn, look for spikes that attach to the bottom of the legs. If you know that you won't want to move the arch for a long time, consider concreting each leg into its own pad. Before you do this, ensure that the arch won't become too short with part of its legs below ground.
Those who intend to place their garden arch on a hard surface, perhaps on a patio, should look into getting footplates and some other form of stability.
---
Final Conclusion
Add functionality and decoration to your garden at the same time with one or more garden arches. Use one to highlight a cascade of climbing plants; use two to hide an unsightly or not-yet-developed area, or use three or more to form a fragrant pathway through your garden. Choose from metal, wood or plastic to suit your preferences. With the diverse styles of the arches we review in this article – from rustic through modern natural to Gothic – there's a garden arch out there for you. 
Our Best Wood Garden Arch is the Rowlinson Square Top Arch. This rustic wooden arch has an angular appearance and a natural, green-tinted appearance. It's also mid-size compared to the other arches in this review.
The Gardman Natural Arch Trellis is the pick for Best Metal Garden Arch. It is a garden arch with a rustic-yet-elegant appearance. Made of iron, the structure has an aged finish.
Perhaps you like the idea of growing flowers over a garden structure – but maybe you want a larger structure or even a garden room.
Read the following reviews for more information.
The best Garden Arbours and Arches
The best wooden and metal pergolas

Also of interest will be the Best Climbers for Pots and Containers and How to Train a Climbing Rose
Last update on 2023-12-09 / Affiliate links / Images from Amazon Product Advertising API