Last updated on January 21st, 2020
Our site is reader supported, this means we may earn a small commission from Amazon and other affiliates when you buy through links on our site.
10 Amazing easy to grow climbers for a pergola and covering trellis
Do you want to improve the quality of your outdoor living space? Are you looking for a way to transform your patio into a visually appealing area? Want a place to keep your extra potted plants? Well, a pergola is an ideal solution.
A pergola is an outdoor structure that can change your backyard from a dull open area to an adorable living space. These structures may be attached to a house or built free-standing. Pergolas are made of vertical beams and roof beams without solid walls or roofs. So in order to create the best shade and protection from elements, many people consider guiding climbing plants over a pergola. An outcome is a beautiful place where one can lounge with family and friends or enjoy a summer day without worrying about sunburn.
We have listed the best plants for a pergola and you might as well want to use them on your garden trellis.
10 Best Climbing Plants for a Pergola
Climbing roses
Roses are classic and the varieties are endless; from Blue Moon to Aloha, Ena Harkness and Madame Alfred Carriere. Roses are the favourites of most gardeners because they create a sense of happiness, tranquillity, nostalgia and not forgetting their romantic reputation. They are special. The climbing varieties are perfect for covering a pergola and garden trellis.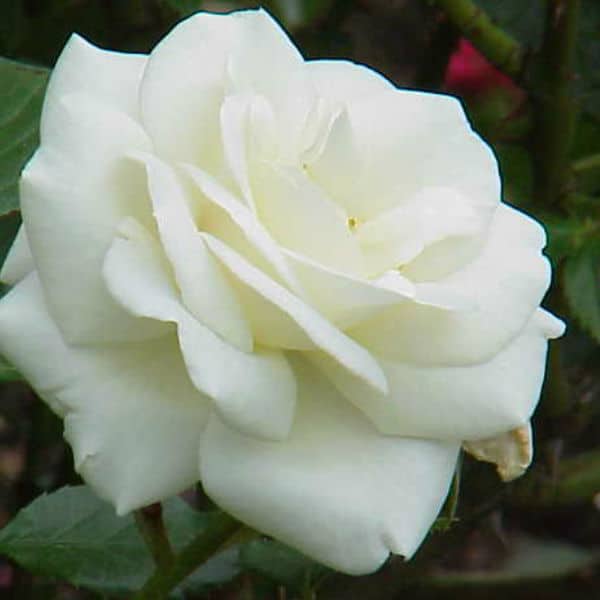 Roses have flexible canes that are easy to wrap around your pergola and can grow up to 15 feet. Some varieties are thorny whilst others such as Blue Moon and Golden Showers are thornless. Whichever type of rose you choose, they all have the natural characteristic of making a garden alluring.
Click here to see our top 10 recommended climbing rose we recently look at!
Clematis
No doubt, one of the best climbing plants for a pergola. Clematis blooms abundantly and flowering usually starts in spring. Give it a season or 2 and with a little care, the entire structure will be covered in Clematis. These plants are easy to grow and require fairly low maintenance with minimal pruning. Go with the tall varieties such as Clematis Montana and Clematis Terniflora, which can grow more than 20 feet.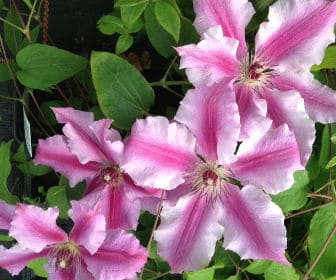 Furthermore, Clematis are perfect companions of roses and can be combined around a pergola to create a majestic floral display. They also complement each other; Clematis can conceal rose's bare canes whilst roses supply their lovely fragrance. When they bloom together, they create a more dramatic impact than when standing alone. At the end of the day, Clematis can cover your pergola with fascinating and colourful flowers.
Lonicera periclymenum (Honeysuckle)
Also known as Honeysuckle, Lonicera periclymenum grows by winding itself around pergola in a clockwise direction. It doesn't mind the shade and it has woody stems that can grow to several feet.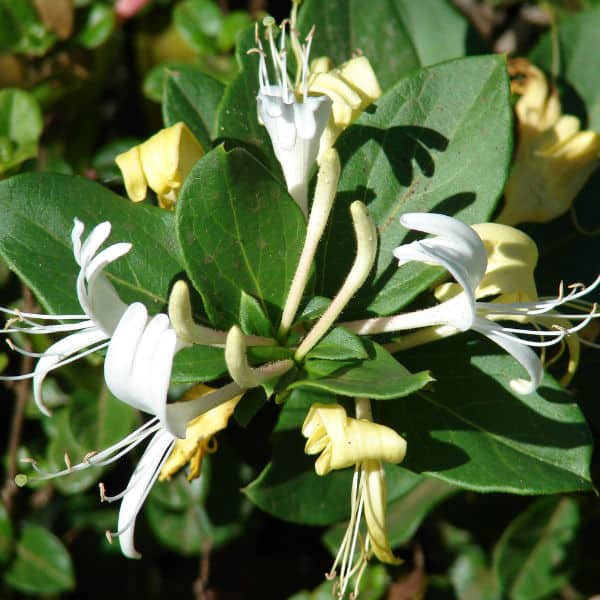 They have a delightful scent that is strongest in the evening and can be felt even before spotting the plants, especially in summer. Honeysuckle attracts nocturnal butterflies and other insects that become active in the evening. These vines grow rapidly and can cover up a pergola easily.
Passion Flower (Passiflora)
This plant is characterized by colourful flowers and edible brightly coloured fruits. Passionflower is best suited to the sunny sheltered spots in mild regions of the UK. These should be planted in spring or autumn and their flowering season is in summer to autumn.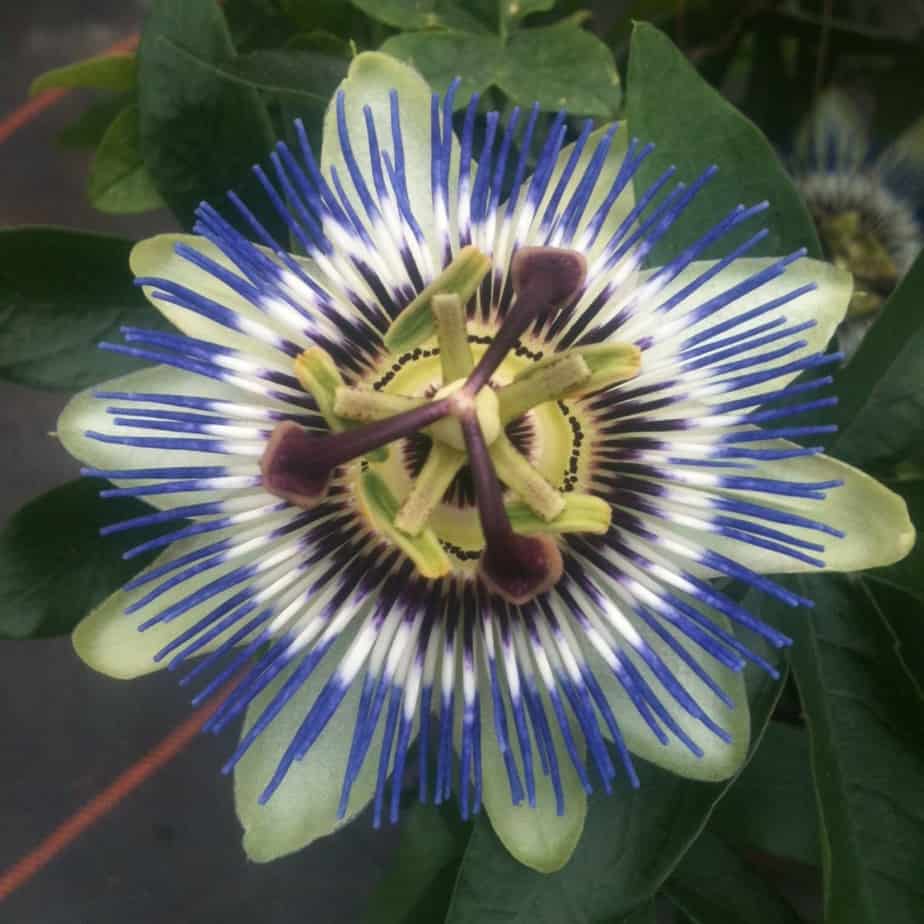 They thrive best in full sun but don't mind spotted shade. Shelter from cold, drying winds is vital and a south or west-facing wall is ideal. Passiflora is a naturally self-clinging climber but can benefit from training so as to create a more attractive plant surrounding a pergola than leaving it to scramble.
Wisteria
These are aggressive climbers but may take time to establish. If you have a large, strong pergola, wisteria is an ideal climber to grow on it. Regular pruning is also a must to control its growth.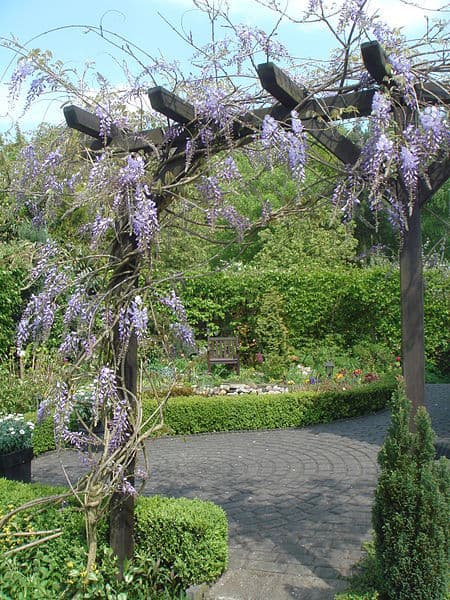 The most common species include Wisteria floribunda, W. sinensis, and W. brachybotrys. These can grow up to 10 metres in trees and up to 20 metres when guided over a structure such as a pergola. Flowering usually happens in spring with occasional flowering in summer. Wisteria flowers appear in shades of white, purple, blue and pink and they have a sweet fragrance.
Climbing hydrangea
Climbing hydrangea features large, sweet-scented clusters of white flowers that bloom in spring and summer. The clusters comprise of a central mass of small, fertile flowers encompassed by a ring of large, sterile flowers. Climbing hydrangea is best grown in a moist, well-drained soil enriched with rotted organic matter and in partial shade. The climbers are usually heavy and need substantial support, which is partly why pergolas are ideal structures for growing them. Climbing hydrangea can grow up to 12 metres if left to there own.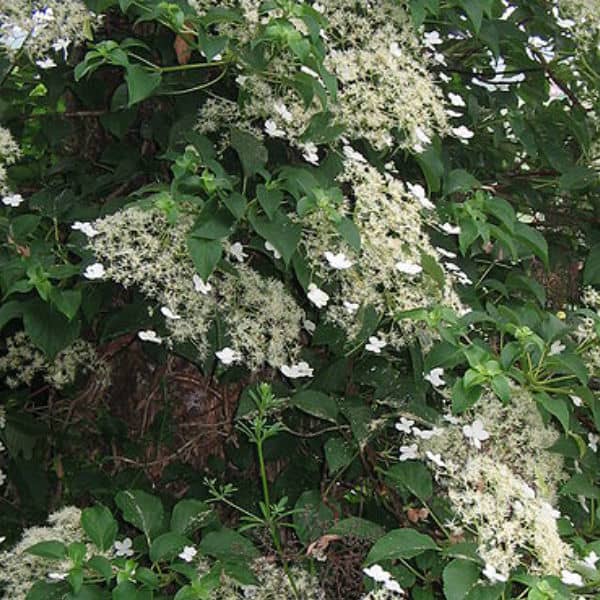 Fallopia (Mile-a-minute) – Very fast grower
Fallopia is a woody deciduous climber that is always described as very vigorous. An extremely fast-growing climber, the Fallopia is ideal for covering large unsightly garden structures. They can create a dense shed over a pergola. Mile-a-minute is easy to grow; its tolerant to poor to moderately fertile soil and in partial shade or full sun. Flowering period is around August and September. Whoever grows this should be ready to handle pruning group 11 because Fallopia can grow beyond its welcome in no time. Additionally, it can smother every other plant on its path, so you ought to stop it.
Parthenocissus quinquefolia (Virginia creeper)
This is another vigorous grower that blooms from June to August. Parthenocissus quinquefolia plant is popular because of its unique, splendid autumn colour. The plant is showstopping and will quickly romp across a pergola. However, it needs regular pruning and could stifle any other plants on its way. It thrives well in full sun or shade and needs fertile, well-drained soil. Make sure to prune in autumn or early winter to restrict it within bounds.
Solanum jasminoides Album
A scrambling evergreen plant that can be trained over a pergola, fence or wall. It can reach up to 7 metres in height and will require a strong pergola to sustain its weight. This is a vigorous and heavy grower. The plant grows virtually in any soil and any site in sun or shade is okay, however, protection from cold winds will go a long way. Once established, the plant blooms from June to September. The flowers are star-shaped with tiny, yellow anthers and have a pleasant fragrance. Prune in spring to keep the plant under control.
Trachelospermum Jasminoides
(
Star Jasmine)
This is an attractive, evergreen climber featuring dark-green leaves that turn yellowish-brown in winter. Best suited to the sunny, mild regions of the UK, Star Jasmine produces clusters of fragrant white flowers in mid to late summer. After the flowering season, prune the plant to fit the available space. It yields well in fertile, well-drained soil and the rate of growth is just average. Growth will need some guiding over a pergola until the plant can twine naturally and then left to scramble. In any case, Star Jasmine is usually hassle-free.