Last updated on January 21st, 2020
Our site is reader supported, this means we may earn a small commission from Amazon and other affiliates when you buy through links on our site.
To make your garden more attractive you can capitalize upon climbing plants and flowering vines that not only produce dark foliage juxtaposed by beautifully coloured flowers but attract butterflies and bees to your garden.
The best climbing plants for trellis designs are those that really fit with your garden and the infrastructure you have. For example, you don't have to purchase a brand new trellis in order to take advantage of a climbing plant. You can, instead, build one yourself using whatever materials you have around your property. Old wood, PVC pipe, and garden wire can go a long way toward creating a structure up which any climbing plant can grow.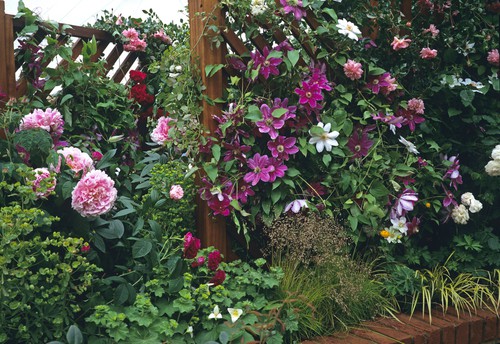 In some cases, you might use climbing plants to attract local bees or butterflies to your garden in which case you need to seek out those things which fulfil that purpose. Other gardeners might want to grow a climbing plant specifically to cover up an otherwise unsightly wall or structure. Still, some want to create short privacy walls or simply have something that is beautiful and fragrant to create a border around a patio or existing feature in the garden. That said there are plenty of beautiful plants that you can use.
The best climbers for covering a fence are those which you allowed to thrive without hindrance. All of the items on this list are plants which, when not prune and left to their own devices can quickly and easily grow up over any fence or trellis you have.
Best climbers for covering a fence or trellis
Trachelospermum jasminoides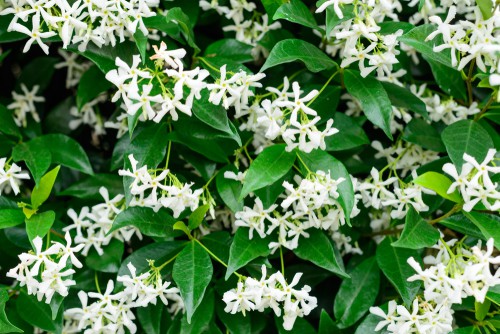 Star jasmine is a fragrant evergreen that vines up very effectively but can also be used as ground cover. In fact, you can plant it strategically so that it not only covers an area of your garden effectively but climbs up certain structures just as well. The star-shaped tiny white blossoms are beautiful and richly fragrant with a mixture of honey and almond but they are juxtaposed by the long, green leaves that will fan out and fill your garden.
Being evergreen they provide all year round coverage but they do need to be planted in a more sheltered position.
Lonicera x tellmanniana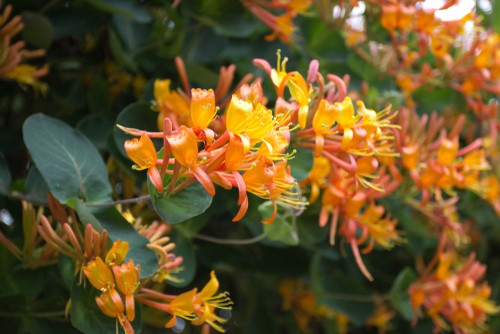 This variety is a type of honeysuckle with a very long bloom time which allows you to enjoy flowers for a longer length of the growing season. What's more, the flowers themselves not only add a delicious perfume to your garden but take on a uniquely shaped blossom that can vine around any structure you have, scale a fence or building up to 5m in a single season, and does well to attract bees and butterflies to the area.
Rhodochiton atrosanguineus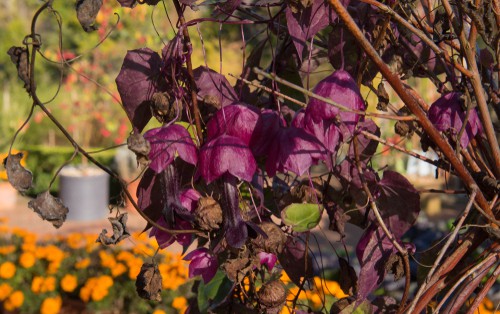 This purple bell vine gets its name from the exotic looking heart-shaped leaves and the fuchsia pendant flowers. They hang from tubular red and purple petal tubes which fall away after pollination giving your garden multiple levels of colour and texture. So popular are the combination of flowers and colours that this particular variety has received the award of garden marriage from The Royal Horticultural Society. Be aware of the fact that it will grow very fast and in the span of one season can reach up to 360 cm.
They are a little tender and we recommend cutting them back at the end of summer and keeping them in a greenhouse over winter before putting it out in spring to cover the whole fence or trellis again.
Wisteria floribunda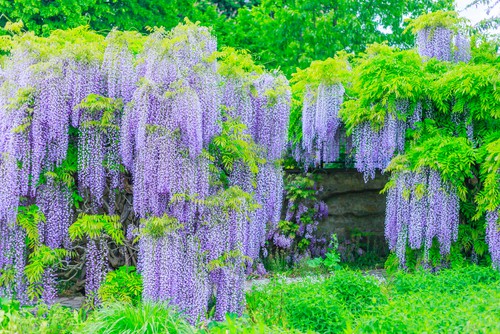 Wisteria is a wonderful plant to grow up any wall or structure because it is so strong and grow so quickly. If you are looking for something to quickly cover an unseemly structure or two add a vibrance of beautiful blooms, this is a good option.
It can climb up walls, trellises, or even climb up an existing tree in your garden. If you let it it will reach remarkable heights of 30m if needed. It prefers moist, well-drained soil with a great deal of sun exposure.
Jasminum nudiflorum (Winter Jasmine)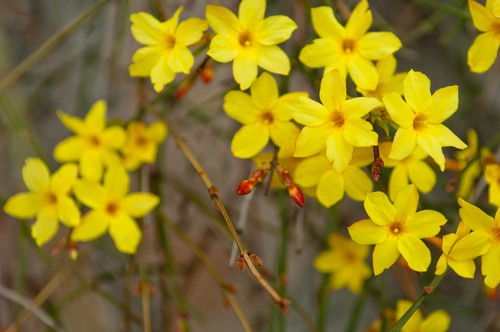 This variety of Jasmine is otherwise known as the winter Jasmine because it produces stunning flowers against a backdrop of vibrant green stems throughout the winter prior to the arrival of the leaves.
Unique in this one capacity is a wonderful plant to mix in and around your garden with other plants so that you are able to enjoy the vibrancy of the lemon yellow flowers as well as the green stems at a time when other plants might still be in dormancy. This winter jasmine does not self-cling so needs to be support and attached to a trellis or wire netting attached to a fence.
Hydrangea anomala subsp. Petiolaris (Climbing Hydrangea)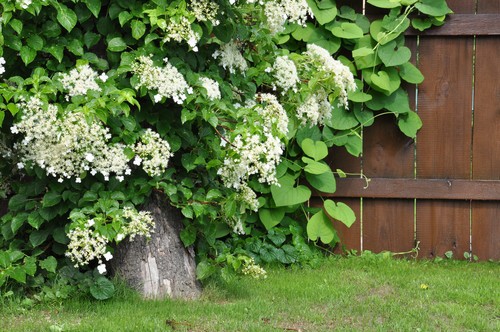 This hydrangea can help you take your love of hydrangeas to the next level. This particular climbing vine can grow up to 25m or more if allowed which makes it perfect for growing up and over structures that you have.
You will see beautiful white flowers produce all summer long with the vibrant green leaves turning a yellow shade in the autumn. These grow well in shade and are often a good choice for planting in more shady areas where other climbers don't do so well.
Parthenocissus quinquefolia (Virginia creeper)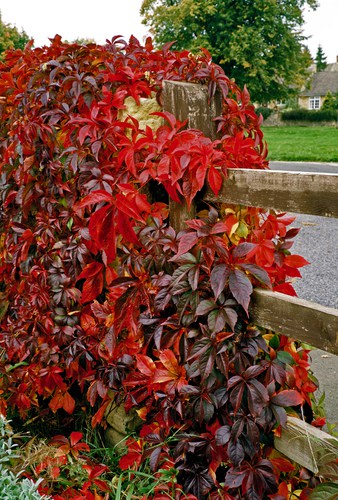 If you are more interested in fast cover that cleans two walls or other surfaces and lends itself to some of the most richly shaded leaves, this is what you want.
Otherwise known as the Virginia creeper, this vine will cling to all surfaces very effectively and the leaves start to change in the fall as sun exposure diminishes and the amount of chlorophyll with it.
What starts off as richly green foliage changes so that each leaf takes on a combination of Reds, yellows, oranges, and greens.
Clematis montana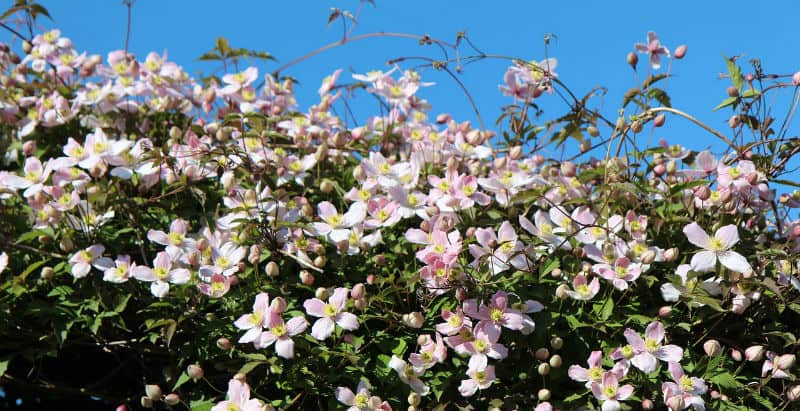 The clematis Montana is a flowering climbing plant that will produce beautiful blooms as long as you keep the soil moist. It typically takes about two years for these to become established after which time you will enjoy an abundance of flowers in spring. These particular plants can grow significantly high and they will thrive in partial shade.
For clematis they are very low maintenance and require very little to no pruning except to keep them within a certain size.
Fallopia baldschuanica (Russian Vine)
Colloquially referred to as the Russian Vine or the mile-a-minute plant, it gets its name from the expediency with which it grows. Once it grows it's very difficult to stop so it can quite easily be described as vigorous.
If you have a large space that you want to cover quickly, this is the perfect plant for that. It produces rich green leaves with clusters of small flowers that take on white and pink shades. It can be self-supported by its own tendrils and will grow much smoother than other plants without needing a great deal of pruning.
Passiflora (Passion Flower)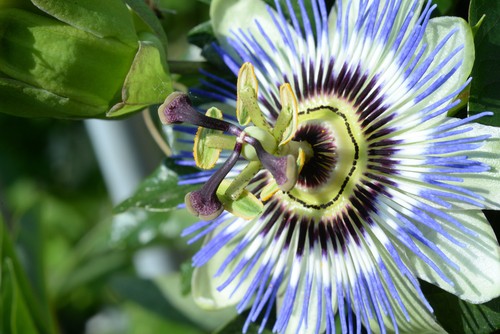 Passion flowers are breathtaking blossom that offers a sweet smell as a wonderful bonus. The quintessential passion flowers the blue crown which will grow quite effectively up a trellis or over a wall and can reach up to 7 m tall.
Being evergreen it offers all year round colour and is great for using to cover large fence panels or walls.