Our site is reader supported, this means we may earn a small commission from Amazon and other affiliates when you buy through links on our site.
If you want to properly treat your wooden decking, it's important that you use the right product at the right intervals to make sure that your wood remains in Tip-Top shape and enjoy the long life-span you expect from a wood decking that is looked after properly.
First things first, most wood decking can be oiled to feed the wood, stained to get that perfect look and sealed to protect the wood the weather.
There are no rules about which one is best, it really comes down to personal preference but they all could be used. Oil tends to bring out the natural texture of your wood in decking but in some circumstances, it might not be the most attractive thing to do. Whichever method you like best, start by cleaning your timber which is easiest done with a bucket of soapy water or a good pressure washer. Once you have properly scrubbed everything clean, you can choose the method of treatment you want.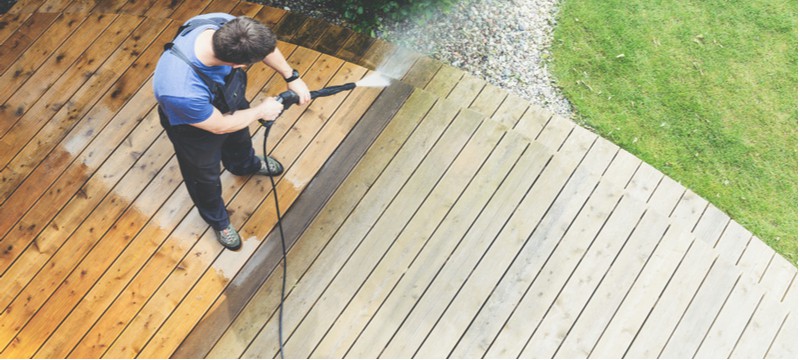 You will find dedicated products that work well to not only clean your decking but keep it clean and the stronger the product, the less elbow-grease you have to put into the process. It's best to find products that offer ongoing cleaning solutions with chemicals that suppress mould growth so that you don't have to worry about future problems as often and it just helps keep it looking cleaner for longer
Staining wood decking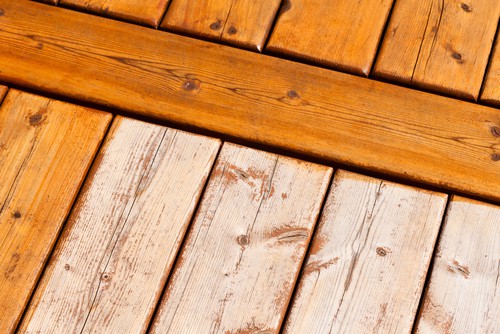 In many cases, you have to stain your decking and have it cleaned before you treat it. This is contingent upon the type of wood you have and your personal preferences.
Using linseed oil on decking
If you want to treat your decking with oil start by applying a universal wood preserver which will help prevent any rot or wood-boring insects from damaging your decking. With most hardwoods, linseed oil is the best and you can apply this up to three times per year.
Linseed oil is an extract of flaxseed so it might be labelled as such. It's very safe and has a pleasant odour and penetrates the wood surface. This is important because many people make the mistake of applying a layer of oil on top of their decking but they don't work it into the wood itself so it ends up sitting on top until it gets washed away and doesn't help you at all. Linseed oil will penetrate the wood well but it doesn't provide a surface barrier like varnish which means water will still penetrate leaving your decking susceptible to mould and subsequent dry rot. Linseed oil will also fail to protect your wood from scratches but it does give you a natural look and is quite mild.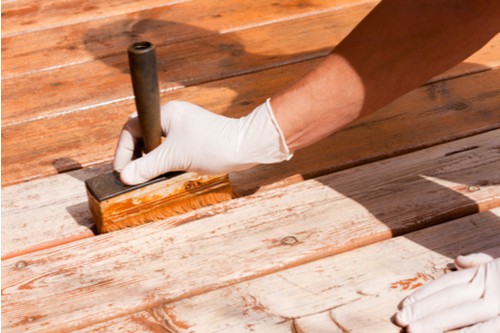 If you are going to choose linseed oil, be advised that you can find products labelled as raw or boiled. It takes a very long time for linseed oil to dry which means you have to wait a long time before you apply the second coat. For this reason, some products have additives to help with this like mineral spirits. Boiled linseed oil isn't actually boiled, it just means that it has additives mixed into the raw linseed oil so that it dries faster. Raw linseed oil has none of these additives.
There is no right or wrong answer. It's really based on your decking and how much time you want to allocate tour drying. You really want to get the job done within a reasonable amount of time, boiled linseed is best.
Bartoline Boiled Linseed Oil. 5 Litres
A wood sealer suitable for wooden garden furniture
The oil protects wood from drying out after long periods in the sun'
Gives a long lasting lasting natural sheen
Applying Linseed Oil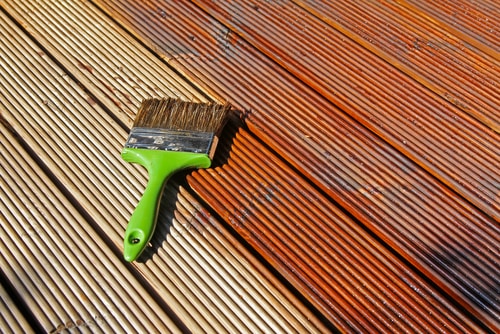 Once you have your linseed oil you can apply it with a regular brush by literally covering any exposed surface. You don't want to let the oil pool but rather spread it evenly across the wood. Some areas are going to absorb the oil quicker than others but there's no need to worry about that so long as you spread it evenly.
After about an hour or so you can rub down the entire area with a dry cloth to get rid of any excess. Wait 24 hours for it to dry at which time you can apply us subsequent coat in a thinner layer and follow the same structure of spreading it out evenly and then after 1 hour wiping away any excess.
Whatever product you use you should always follow the guidelines provided by manufacturers and adhere to the drying times they provide.
The amount that you put on your decking is really contingent upon how thirsty the wood is. In most cases, you can cover between 6 and 12 square meters for every litre of oil.
Using Danish Oil
Another option is to treat your decking with Danish oil. This is a wood finish that is typically made from linseed oil that has other plant extracts in it. With this, you get the benefit of varnish and oil but it's long-lasting and water-resistant which is particularly important in UK homes. Danish oil dries a little bit faster as well. This is a good oil to use if you want the look of varnish.
Applying the Oil
When you are ready you can use a rag or brush to apply the oil evenly across your decking surface. It's recommended that you wear gloves.
You should follow the instructions or application amounts and method printed on the type of Danish oil you purchase. The cleaning and application methods are the same as with linseed oil. As a rule of thumb, you can typically cover between 12 and 15 square meters with one litre. The drying time is much the same, up to 24 hours.
---
---
Image credit – Shutterstock.com
Last update on 2021-10-16 / Affiliate links / Images from Amazon Product Advertising API