Last updated on January 1st, 2022
Our site is reader supported, this means we may earn a small commission from Amazon and other affiliates when you buy through links on our site.
Gtech is renowned for its innovation and simplicity with the Gtech vacuum cleaner range. Their latest cordless lawn mower, the Gtech Cordless Lawnmower 2.0, continues this goal. The Gtech cordless 2.0 has more features than the previous Gtech model which we also reviewed, the Gtech Falcon which was a fairly good mower at the time.
The new Gtech 2.0 cordless mower comes with an impressive 48V battery (and its charger) to provide enough power for around 40 minutes of run time which are slightly reduced if mowing longer grass, usually just the first cut of the season. The recharging time of 60 minutes is less than many other cordless lawnmowers beating in Bosch in this respect so it earns a few extra points here. The Gtech 2.0 has a wide range of cutting heights from a very close 30mm, only really useful if you have a very level lawn to 80mm for longer grass and cuts your grass in 42cm rows (just over 16 inches wide).
The single-sided carbon steel blade is sharper than a plastic blade also most decent mowers now use steel blades bit not always carbon steel and it does cut cleanly. The blade also is designed to maximise airflow and stop the mower being bogged down by grass which can be an issue with some mowers, especially on damp lawns but not with this mower. The grass collection bin is an impressive 50L; again, larger than with most other cordless mowers which mean less emptying and more mowing. Finally, the mower folds up compactly, the collection box and the handle fold down, for transportation and storage which is made easier with the mower's lightweight design and the carry handle on the top of it.
We're impressed with the Gtech Cordless Lawnmower for small or medium-sized lawns (up to 400m2) that are flat and mowed regularly. This model is well worth considering if you want to invest in a professional designed but reliable cordless mower and is a good alternative to the go-to brands such as Bosch. Finally, it also comes with a 30-day money-back guarantee and 2-year warranty for full peace of mind. For a more detailed review carry on reading our detailed review below.
Below we have listed a few of the places you can buy one from including direct from Gtech themselves.
Pros
The powerful Lithium-ion battery is 48V and comes with the battery charger which charges in only 60 minutes.
Weighs 13.5 kg so it's not too heavy.
Good runtime is 40 minutes for you to mow a small to medium lawn.
Battery takes one hour to charge with Rapid Charge, adding flexibility to your mowing chores.
Large 50-litre grass box so you don't have to empty it very often.
The carbon steel blade maximises airflow so you won't get bogged down in the grass.
Cutting height is from 30mm for a close cut to 80mm in six 10mm incremental steps or the perfect cut.
Cutting width of 42cm (just over 16 inches wide) for fewer passes across your lawn.
Small storage footprint so you can store in the corner of your shed.
The removable safety key has to be in the ON position to start the mower.
Warranty is a 30-day money back guarantee and a limited 2-year manufacturer's warranty for full peace of mind.
Cons
The battery doesn't last the full 40 minutes with longer grass but this is the case with most mowers.
Grass bin is collapsible and doesn't collect all the grass clippings as good as it maybe should.
No rear roller for a striped appearance. See further down for our recommended cordless lawnmower that also makes stripes.
---
Gtech Lawnmower Review 2.0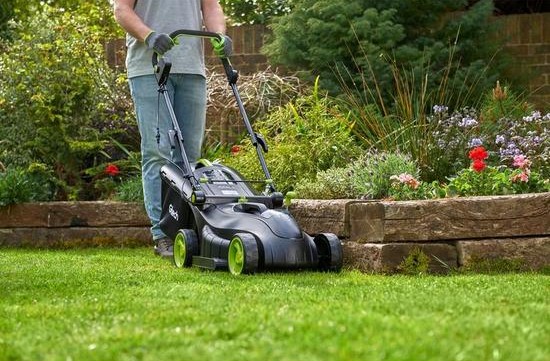 Cordless lawn mowers
If you want to keep your neighbours happy or to let your family sleep in late, then a cordless lawn mower may be for you. They're quieter than petrol and corded lawnmowers, though not quite as powerful. Cordless lawn mowers run on a battery that powers an electric motor that turns the blade. The run time of the best cordless mowers is usually between 40 and 60 minutes, with 40 minutes probably being about average. The recharging time is also important as this is the time that you sit on the patio between mowing sessions.
Remember that cordless lawn mowers put less strain on the environment than petrol mowers or corded mowers so you are also doing your bit for the environment.
Power
48V battery for a significant run time
Nowadays, Lithium-ion batteries provide the power for cordless lawn mowers. These batteries are rechargeable and powerful. The Gtech Cordless Lawnmower 2.0 comes with a 48V battery for a significant run time. The battery lasts 40 minutes and takes around 60 minutes to fully recharge again.
Reduced run times on wet grass as well all cordless models
However, some online reviewers challenge the stated run time and say that the real run time is around 20 minutes but there is more to this, usually unreal expectations when cutting long to wet grass. Gtech's website states that cutting wet or long grass time reduces the battery run time. The problem with comparing mowers is they need to be compared when used in the same situations, the reason being is that most cordless mowers will see a significant drop in run time when cutting long or wet grass not just this tech model so I would take this comment with a pinch of salt.
Recharge battery in only 60 minutes
Your one-hour downtime between mowing sessions is manageable and adds flexibility to your garden tasks. On the mower, the battery has a safe storage casing that snaps shut for easy use. You can leave the battery in there when you store the mower if you want to which is also a nice feature.
Visual battery charge level gauge so you don't get caught out
The visual battery gauge on the top of the mower lets you know when the battery level is low. You won't suddenly run out of power if you keep an eye on it through the clear visor. You remove the battery for charging and as mentioned on only 60 minutes you can get back to mowing again.
Do you have an uneven lawn, be sure to rise the cutting height slightly to avoid catching the ground with the blade
Reports online from users discuss how the mower keeps unexpectedly stopping, especially when you're using the lowest cutting heights. In addition, there are tales of the mower speeding up and slowing when it's dealing with long grass or uneven ground. Gtech says that the speed of the mower does change with the grass conditions. Again this is not something only the Gtech mower does, any cordless model will stop on the lowest setting but only if you have uneven ground as the blades with catch the ground usually on raised sections and humps. We recommend rising the height one if you have this issue and the same goes for any mower.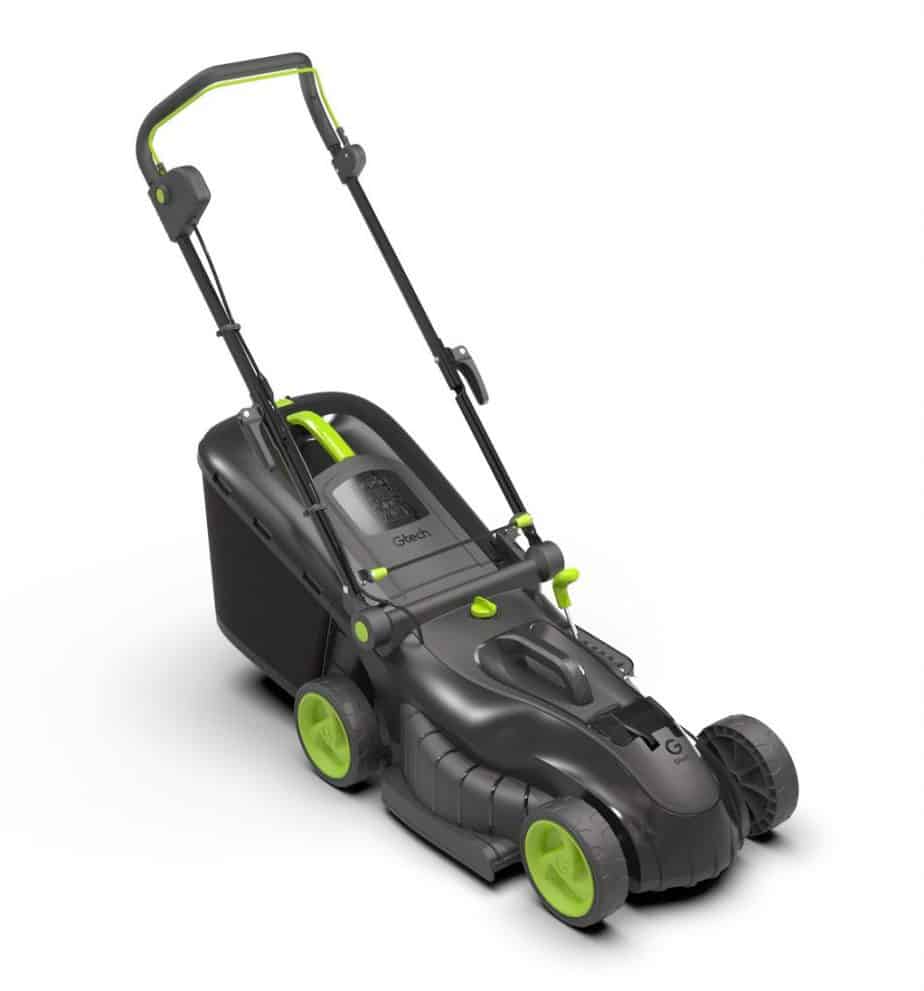 Cutting details and numbers
The Gtech Cordless Lawnmower 2.0 has a single-sided carbon steel blade that reduces the airflow. This means that you won't get bogged down in the grass as the clippings are moved to the cutting box efficiently and quickly.
Durable carbon steel blade – less sharpening needed
The steel blade is thick and durable, reducing the amount of mower maintenance you need. You won't need to sharpen the blades very often. Steel wears slower than plastic blades so you have to sharpen the blades less often.
Wide 42cm (16 inch) cutting wide
The cutting width of the Gtech 2.0 mower is a generous 42cm. With other mowers having cutting widths of around 35cm, this extra width means that you won't have to make as many passes across your lawn to complete the task. The 42cm width is suitable for small gardens to larger gardens up to 400m2. The deck is well-designed and allows you to cut close to the edge of the lawn or up to fences. This means less strimming to do and the cleaner finish overall.
Cutting height of 30mm to 80mm for a close cut or longer lush lawn
The cutting height available range from 30mm to 80mm in increments of 10mm. This gives you a wide option of how long to cut your grass and how manicured it turns out to be. If you have long grass, or it's been a while since you mowed it, start on a higher height setting and gradually, over time, work your way down to the height that you want. The areas of short grass will catch up with the (increasing shorter) long grass. You adjust the cutting height through a central lever on the mower moving it into one of the six notches.
Large 50-litre collection box – less emptying more mowing
The Gtech Cordless Lawnmower 2.0 comes with a generously sized grass collection box. At 50L, it compares with that of the top lawnmowers in our Best Cordless Lawn Mower review. Gtech says that this is their largest grass collection box ever and it's certainly one of the biggest when compared to most mowers. The box has a flap at the top; when the flap is up you know that the collection box is full and that it's time to empty it. This won't happen too often with such a large box. You spend most of your time mowing and less time running to the compost bin.
To empty the grass clippings box, lift the flap and use the carry handle to transport it. The hard box is collapsible and reviewers have written that this causes a problem when attaching or removing it. It can be a little awkward to take off when it's full as the grass clippings can fall out.
This cordless lawn mower can cut your lawn and collect or eject the grass clippings. It doesn't, however, have a mulching capability which is a shame.
Lacks a roller so won't leave them eye catching stripes on your lawn
Don't expect those eye-catching stripes on your lawn as this mower doesn't have a rear roller either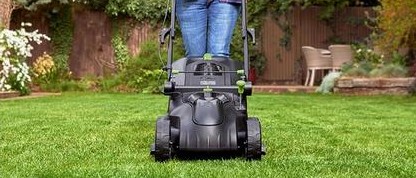 Ease of Use
Weighing 13.5 kg, the Gtech Cordless Lawnmower 2.0 is considered a lightweight mower. It has a carry handle that lets you carry it easily. The large wheels allow you to mow your lawn with minimal effort. They're as good at turning corners as they are in straight lines.
The set-up of this cordless mower is in a simple and easy three steps. You insert the battery, push the activation button and pull the lever, much easier than petrol or dealing with cords. People have agreed that this is an easy task although the instructions are not very clear.
Would be nice to have an adjustable handle and perhaps make it a little easier for smaller people to use
Unfortunately, the handle of the mower is set at a fixed height. This might make it feel uncomfortable for shorter people to push the mower but for most this should not be a problem.
Fold down to a very compact size
The handle does fold back on itself for storage. If your storage space is still too small, remove the handle entirely to fit the mower in. The grass collection box also folds down flat to reduce the size of the ready-for-storage mower.
Safety
The safety of people and children around lawn mowers is of great importance. The Gtech cordless 2.0 mower deal with this by having a safety key. This removable key has to be in the ON position to start the mower. Turn it to the OFF position when you've finished mowing and are ready to store the mower. The key can be removed and stored somewhere safely rather than leaving it in the mower.
Warranty
The Gtech Cordless Lawnmower 2.0 has a generous warranty. If your mower doesn't work or has problems, you can use the 30-day refund or replace warranty. There's also a 2-year limited warranty from the manufacturer that covers the battery as well as the mower itself.
How it compares to other models such as the Bosch 42 LI Cordless Mower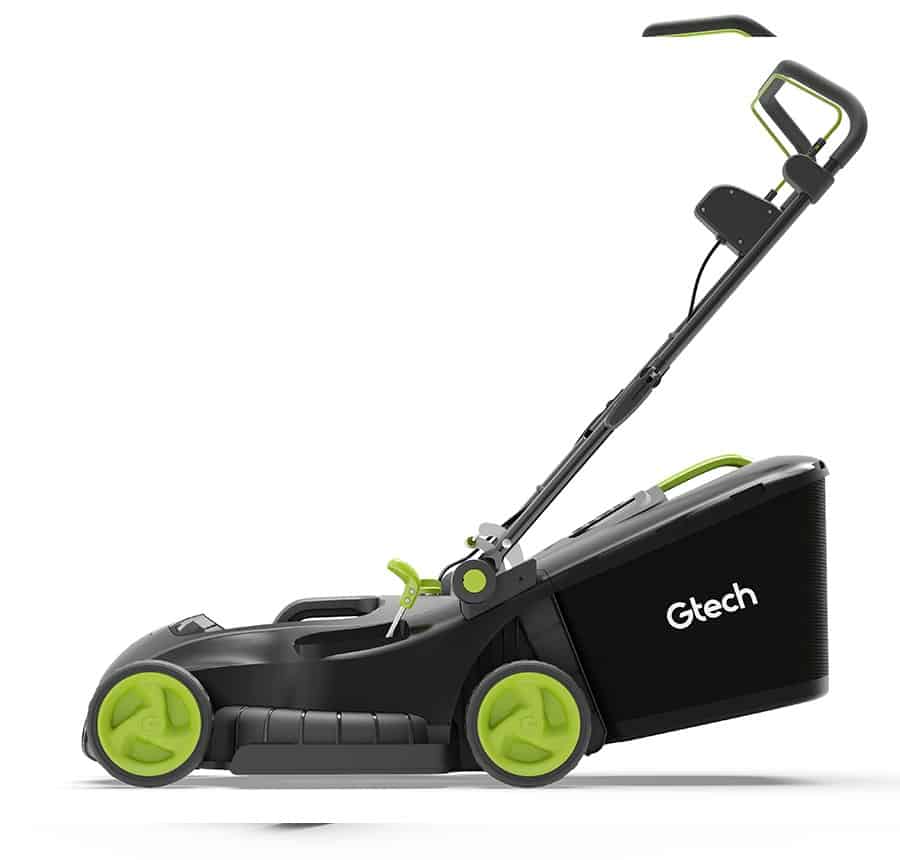 We compare between the Gtech Cordless Lawnmower 2.0 to the Bosch Rotak 42 LI Ergoflex, our Best Pick in the review for Best Cordless Lawn Mowers.
BEST PICK FROM OUR CORDLESS LAWNMOWER REVIEW COMPARISON
What features they share
Both cordless lawn mowers have some of the same features. They both have a grass collection box that holds 50L of clippings; they both run for around 40 minutes; both have a carrying handle; they both weigh around 13.8 KG; they both have safety keys for your and your family's security; and they both have hardened precision steel blades with airflow technology for clean cutting. Each lawn mower comes with the unit, the battery, a battery charger and an instruction book.
How they differ
Where these Gtech and Bosch lawn mowers differ is in their power and their cutting ability. The Gtech mower works off a 48V battery and the Bosch mower has slightly less power from a 36V battery. In addition, you can buy the Bosch mower with two batteries; you have one to work with and another ready to substitute in when the first one fades. The charge time is also different: one hour for the Gtech model and two hours for the Bosch one. However, you can charge the Bosch's battery to 80% of its capacity in one hour.
The cutting heights also differ slightly. The Gtech's range is from 30mm to 80mm in six steps while the Bosch has heights of 20mm to 70mm also in six steps so the Bosch model can give a slightly lower cut. The Gtech mower has a cutting width of 42cm and the Bosch one has a cutting width of 42cm.
The Bosch mower can create those stripes lawns whereas the Gtech cannot
Both mowers have the height adjustment lever in the top centre of the mower for easy access. A significant difference if you want a well-manicured lawn is a rear roller that the Bosch mower has. This is what leaves those stunning stripes in your lawn. You can adjust the handles on the Bosch mower unlike the fixed height handle on the Gtech one.
The main differences therefore are in the size of lawn each mower can comfortably handle: 400m2 for Gtech and 600m2 for Bosch, the power of each mower and whether it can make stripes.
---
Final conclusion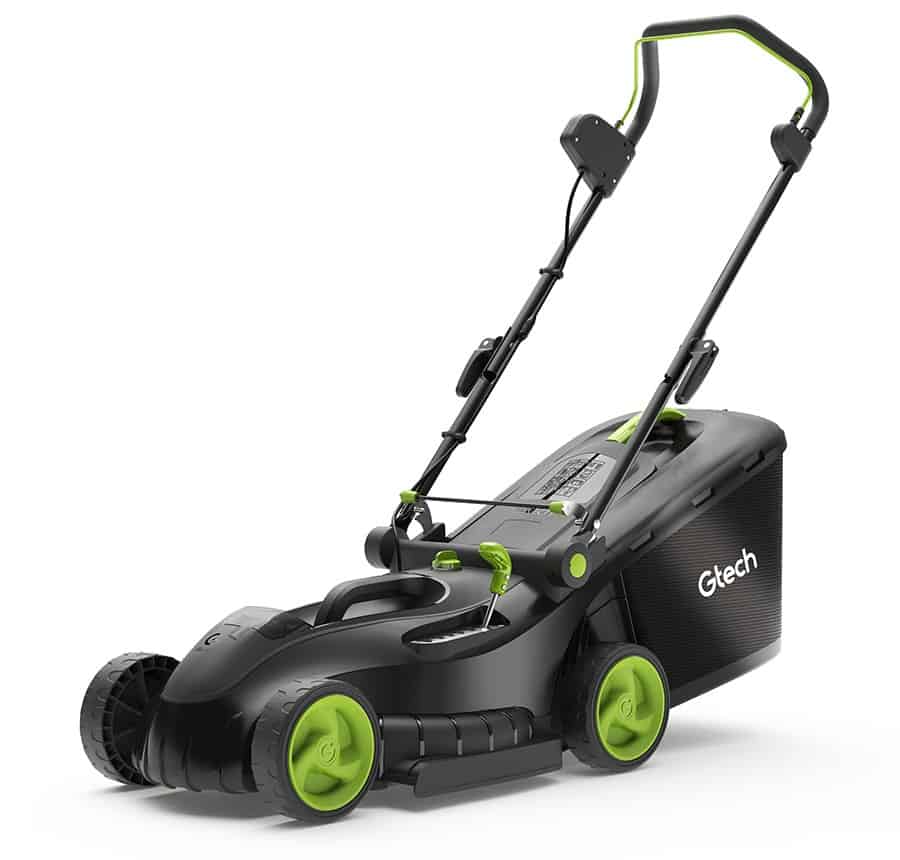 The Gtech Cordless Lawnmower 2.0 has some features that the previous Gtech cordless lawn mower, the Falcon, does not have. The battery recharging time is down to 60 minutes, while the battery recharge time is five hours for the Falcon. The battery run time for both mowers is the same at around 40 minutes. The Gtech 2.0 model also has a larger collection box (50L vs. 40L). With a 42mm cutting blade you can cut your lawn quickly. The cordless aspect of this lawn mower means you don't have to worry about filling it up with petrol or plugging several extension cords together. Just remember to charge the battery and you're ready to go.
We recommend the Gtech Cordless Lawnmower 2.0 for people with gardens up to 400m2 who don't want to empty the grass collection box every few minutes. However, if you want stripes in your lawn, this mower isn't for you. But if you want a lawn mower that charges quickly and runs quite a while on one charge, seriously consider this one.
If you're not sure whether you want a cordless lawn mower, look at other types of powered lawn mowers as well. We have reviews on the Best Cylinder (Push) Lawn Mowers, the Best Electric Lawn Mowers and the Best Self-Propelled Lawn Mowers. These reviews present the top mowers in each category along with each of their features and a Buyer's Guide. Look for our Best Picks for the lawn mowers we highly recommend.
---
---
Last update on 2022-01-24 / Affiliate links / Images from Amazon Product Advertising API