Our site is reader supported, this means we may earn a small commission from Amazon and other affiliates when you buy through links on our site.
Hydrangeas are a unique plant known for having large blooms of various colours. Many people think of the stunning pinks and blues for which they are known. But how do they get that way?
There are different varieties of hydrangeas, and they require different growing conditions. Some, like the bigleaf varieties, or mophead, can thrive in almost any soil conditions. However, the colour of the flowers is indicative of the soil type.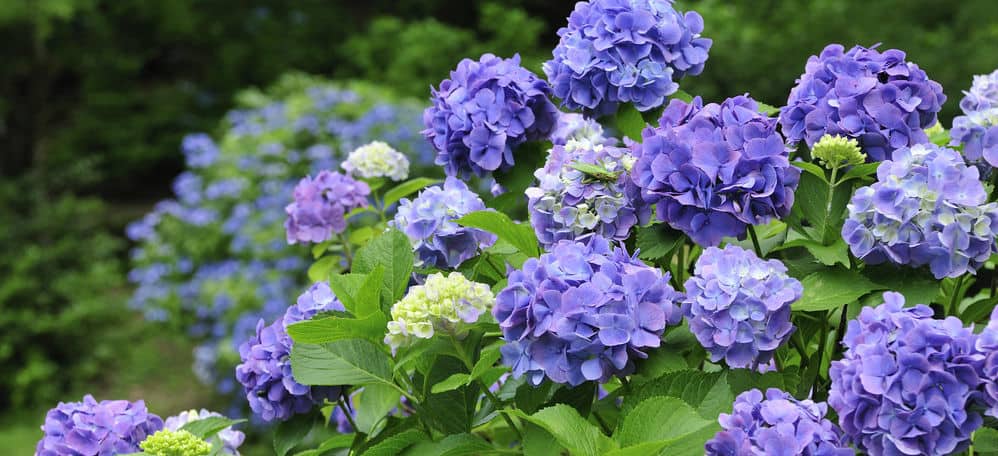 Blue flowers are the epitome of acidic soil, something achieved with ericaceous compost. 
Pink flowers are the epitome of alkaline soil. 
Purple flowers are somewhere in between and the exact shade you get is a reflection of the pH in your soil
Know your Variety
There is no variety of hydrangea that absolutely needs ericaceous compost, as they can get along quite well in almost any conditions, but it does bring with it some benefits.
Now, this is something you only get with the mophead varieties, those that start out with some shade of pink or blue. If you have a different variety, such as one which produces white flowers, the ericaceous compost won't alter the bloom colour. 
You can purchase ericaceous compost in garden centres or make your own by adding acidic compost and material to the soil each season. 
YouGarden Ericaceous Compost 60L Bag for Acid Loving Plants
This specialist Ericaceous Compost has been blended to provide the right acidic soil conditions needed for optimum growth
Specifically designed for plants like Rhododendrons, Azaleas, Camellias, Heathers, Magnolias, Blueberries and similar.
It is a general purpose compost, so use for potting on or taking cuttings. Contains 20% Forest Gold wood fibre, which reduces the amount of peat used, and opens the structure up.
Also includes starter fertiliser and some slow release feed too, so need to feed for 10-12 weeks after potting.
Supplied as 60L bag delivered direct to your door for ultimate convenience free of charge!
Test the Soil
If you want to change the flower colour you are getting, you can add ericaceous compost to the mix.
You can test the level of pH in your soil with an at home test kit. This will tell you to what degree you need to modify the soil with ericaceous compost. 
Once you have the numbers, and you know what needs to be changed, you can add ericaceous compost to the soil before you plant a new hydrangea, and then each year if you are adding to a potted plant, and of course, seasonally when the hydrangea is in bloom.
No products found.
Tip:
If you have heavily alkaline soil and you want to keep it acidic for your blooms, you will need to do so every year. Your garden soil will naturally revert to its original level of pH. One alternative is to grow your hydrangeas in pots or containers so that you have better control from the start over the pH levels. 
Overall, hydrangeas can certainly benefit from ericaceous compost from time to time, especially if you are growing a variety whose bloom colours you can control.

Last update on 2021-12-03 / Affiliate links / Images from Amazon Product Advertising API