Our site is reader supported, this means we may earn a small commission from Amazon and other affiliates when you buy through links on our site.
Hydrangeas are a pretty flexible shrub in that they will tolerate most soils, so long as it is well-draining and rich in nutrients. But there are times when ericaceous soil is best. 
But what is it?
Ericaceous Compost
Ericaceous compost is a type of acidic compost which is lime-free. It is not suitable for all plants, only those which prefer highly acidic soil such as hydrangeas, Pieris, rhododendron and azaleas. You can also find ericaceous compost which functions the same and is meant for those plants that only tolerate acidic conditions and you want to grow in pots and containers or add a little boost when planting them in the ground.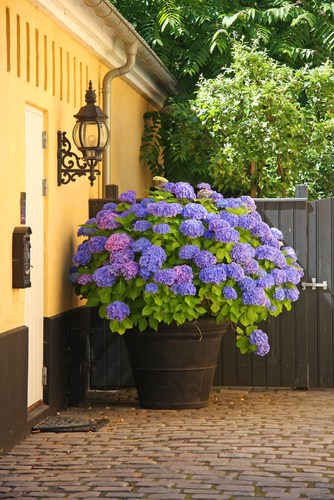 Hydrangeas and Ericaceous Mixes
Hydrangeas can be acid-loving plants which means they can thrive in acidic conditions and do well in acidic soil. If you already have them in acidic soil, then you can help their nutrient content by adding ericaceous compost the same as you would mix compost in with your soil in all other situations. This can be at the start of Spring, as the plants are growing most, or when you prepare a container for hydrangea planting. If you have lighter soil, then an ericaceous compost can prove most beneficial. 
Scotts Miracle-Gro Levington Ericaceous Compost 50 Litres
NPK 3.2-3.4-3.6
For use with seed trays, houseplants, hanging baskets and containers Precisely balanced to allow germination of seeds, yet strong enough for vigorously growing plants
Makes 100 litres of compost
Contains trace elements and wetting agent
You can change the colour of hydrangeas flowers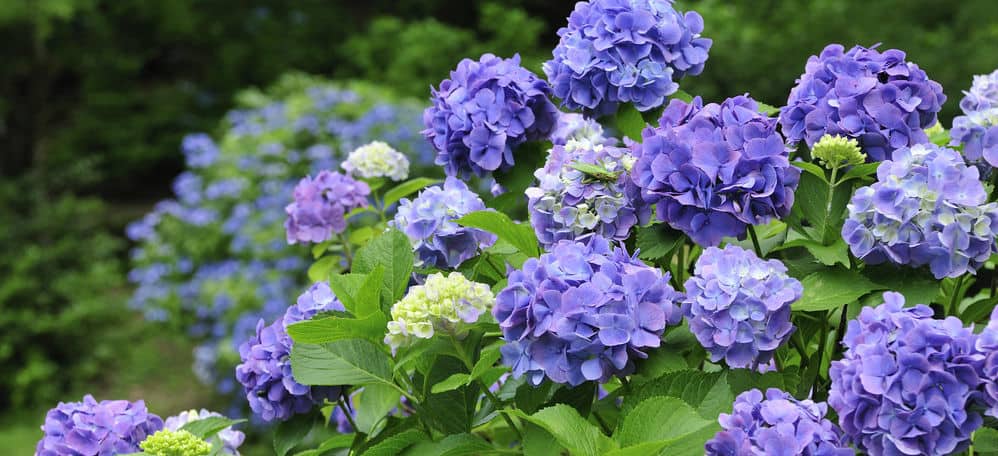 Bigleaf hydrangeas, the most common with the pink and blue blooms, are of particular interest here because you can control the colour of the flowers by making the soil highly acidic. If you have pink or purple flowers and you want blue ones, it is time to add some ericaceous compost.
So, if you want to change the colour of your blooms and you are certain you have a bigleaf variety, you can change the soil and compost to one that is more ericaceous and watch as the colours change from one season to the next.
No products found.
Before you do this it is recommended that you invest in an at-home pH test kit. These soil test kits are relatively inexpensive and very easy to use. You can test the soil in multiple areas of your garden where you plan to grow hydrangeas to see what the current pH level is. With the results, you can determine whether your conditions are highly acidic which means they would need very little irritations compost if any, or if they are highly alkaline in which case they would need a lot of ericaceous compost, and ericaceous fertilizer.
You can invest in multiple kits and use them on a regular basis because getting this type of change won't happen instantly so you'll want to test the soil regularly as you integrate ericaceous compost or soil so that you can see how well the results are and make any amendments or stop adding the compost depending on your needs.
With this, it is important to note that if your soil is heavily alkaline and you use ericaceous compost to change the acidity, you will need to do that every year to keep the colour of bloom you have because the soil will naturally revert back to its original condition.
---
Related articles
---
Image credits – Shutterstock.com
Last update on 2021-10-19 / Affiliate links / Images from Amazon Product Advertising API