Our site is reader supported, this means we may earn a small commission from Amazon and other affiliates when you buy through links on our site.
If you are growing a traditional hydrangea, aside from the climbing varieties, they're moderately slow growers. However, they still need help from time to time especially if they are younger.
Regular Varieties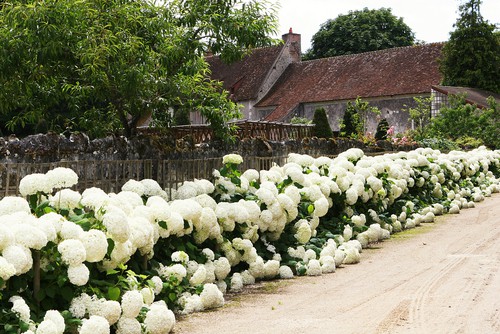 If your hydrangea is starting to reach the point where it's flopping over, you might need to give it some support while it is continuing to grow. Almost all of the big leaf and panicle varieties get significantly sturdier as they mature and become free-standing mature plants but when they are young you can still give them a hand here or there.
If you have one of these varieties you can keep them up right and prevent them from flopping over by giving them stakes up which to climb. If you are growing a hedge, for example, one great thing to do is to set up something that is temporary, give support while they are young, but can be easily removed without damaging the structure once the plants get older. One thing you might consider is setting up a stake on either end of a large plant far enough away that it has room to reach its full size, and running length of steel wire or nylon-like washing line from one end to the other.

This length should be what you temporarily attach the different branches to as the hydrangea is growing. But once the hydrangea is strong enough to stand on its own you can easily cut the wire and pull out the stakes without any damage to the plant.
Climbers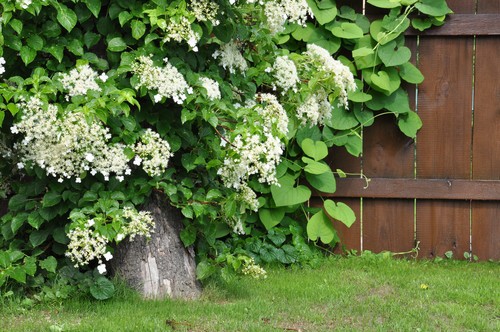 If you have a climbing variety, these grow much faster and you will need to give them more support to keep them upright and prevent them from flopping over. Climbing varieties will naturally climb but only if they have something up which to climb. The best thing to do is grow them near a wall, a fence, or a trellis that you already have in your garden.
For example, if you have a Pergola that rests over a seating area in the back corner of your garden, you might consider growing the hydrangea up and over that.
If you don't have something yet in place you can always build something and then help train the branches up and around the structure you wanted to climb. Much the same as the method above, you can even use make-shift items like twine or rope to create the support structure around which the branches will grow but the difference here is that most of the time of climber will need that structure to remain in place.
There are plenty of support systems that you can buy in a garden store that come with the stakes,  gardening wire or string, and easily removable clips in various sizes. These plastic clips are crafted such that they have a large metallic hoop that goes around the branches, clipping them in place. As they get older or thicker and are able to hold themselves up, you can replace the plastic clips with the next size up or remove them as soon as the structure is free-standing.
100 PCS Plant Clips Garden Clips Climbing Plants Support Plastic Spring Peg Clamps
1. Recommended by Helen Yemm, gardening expert of the Daily Telegraph to solve thorny problem.
2. Package: 100pcs of plastic garden clips.
3. To fix plants to canes, wire or branches gently; Won't harm plant or hinder growth.
4. Easy to use & remove clips for supporting plant and seedling stems.
5. They are fantastic indoor and outdoor for supporting all kinds of plants and do not damage stems in any way.
Overall you have plenty of options when it comes to adding a support structure and keeping your plants from flopping over. Most of the time this is a natural part of their growing cycle and they will grow out. As your plant reaches maturity it will be a successful, stand-alone structure that brings you beautiful flowers.

Last update on 2022-01-21 / Affiliate links / Images from Amazon Product Advertising API