Our site is reader supported, this means we may earn a small commission from Amazon and other affiliates when you buy through links on our site.
Arbours, same as pergolas, are effective ways of introducing statement pieces into the garden without having to invest too much. Arbours with seats are practical when one needs to relax in the garden while admiring the hard work you have put into your garden and some even have built-in storage boxes. The best arbour seats will have adequate space for you to sit while making and statement and lasting for many years to come.
If you are in search of a reliable arbour seat, then you came to the right place. In this review are what I consider to be five of the best arbours available at an attainable price. The models presented below may be affordable as the Best Pick, the Forest Garden Forest Parisienne 6'10 x 5′ Arbour, or present extra features like our Runner-up, the Pure Origins Lyon Garden Arbour with it's storage box. You won't get to discover all the features our top picks and the rest of the models have to offer at a glance unless you read on.  Let us dive in:
BEST PICK
Forest Garden Forest Parisienne Arbour
The Forest Garden Forest Parisienne Arbour is our top pick because its size fits in many gardens, it's great quality and it is affordable. Furthermore, this model is durable because it is pressure treated to protect it again from the worst of the British weather, and provides comfortable seating for you. Its style and allowance for climbing plants make it suitable for those who prefer minimalistic designs in their garden decor. Overall, this model also has lots of great reviews from pleased customers which also backs up my own finding. Overall this is a great choice and well worth considering but be prepared for the instructions which could be better but take your time and it not to difficult if your use to putting together Idea furniture and the like.
RUNNER UP
Pure Origins Lyon Garden Arbour
The Pure Origins Lyon Garden Arbour is an excellent choice for those needing space to put additional items but just be know that it's not fully waterproof. This robust arbour offers protection from the elements while providing comfortable seating. It also features lattices like our best pick and does not present too much of a hassle in assembly, it's easier with a second pair of hands and only takes around an hour or two to build depending on how many brews you have. On top of that, it looks good, and it is durable; hence, you will get good value for money. This sturdy model would be suitable for year-round use, and you can paint it your favourite colour to match the garden scenery. Overall if your looking for a model with some storage, this is a great model to consider.
---
Top 5 Arbour Seat Reviews
1. Forest Garden Forest Parisienne Arbour
BEST PICK
This is my favourite, the Forest Garden Forest Parisienne 6'10 x 5′ Arbour featuring an elegant design and adequate space to seat two people, perfect for relaxing with the wife on those what seem to be rare, warm summer days.
The arbour is made from robust pressure-treated wood to give the structure durability outdoors but I would recommend giving it a coat of paint or wood preservative every couple of years to keep it looking good.
It is comfortable to sit on as the model has a sloped back for those who prefer to lean back or use cushions. Something that you may find is that the seating height is perhaps a little too high at 510mm, however, this is easily fixed with a small modification by shortening the one support post to size. I recommend building the whole arbour and then deciding, that way you know what to adjust and what not to touch. For most people you probably want need to do this, just personal presence.
This model is around 212cm (H) so plenty of room by around 144cm wide so plant of space for two people. I also like that it features a slatted roof (rather than a solid roof) that allows light to seep through while also stopping the rain from getting through when you're relaxing under it. Something else this slattered roof helps with is stopping it from being damaged during storms as the wind can still pass through the roof, overall great design with many advantages.
It also has lattices for climbing plants, which after a while, cover the area for more privacy and offer additional beauty and if you choose your plants carefully, some once scent too. 
The arbour is easy to assemble taking about two hours, but you may need some help to make the process more seamless and the second pair of hands will make life much easier.
The only downside is the instructions. Many people find that less them useless and there simply not detailed enough, however, it's not rocket science so take your time and most will find it easy enough even with the instructions that are more useful to get the chiminea started.
Pros
Simple but elegant design that looks fantastic in any garden.
Made from pressure-treated wood which is designed to last but I still recommend painting with woodpreservative.
Offers lattices side and back for growing climbing plants up.
Features a sloped back for user comfort.
Lattice roof lets light through while also protecting you from the rain.
Offers good value for money.
Cons
Poor assembly instructions which is the most common complaint.
Our recommendation
The Forest Garden Forest Parisienne Arbour is a relatively affordable model that offers durability and subtle elegance. Overall it's amazing it really is but they couldn't make it a 5-star product by just making few minor changes, one simply being better instructions.
Assembling this model is a bit challenging, but if you take your time, the structure will come together better. Make sure to organize the parts before assembly ensuring all the screws and bolts required are present. 
I like that this model is suitable for most gardens because its size is not too large and its price is what I would consider affordable. The instructions delivered are poor but really is the only point that lets it down, but you can get better instructions online for an easier time during assembly. Overall I would still highly recommend this model.
---
2. Pure Origins Lyon Garden Arbour
RUNNER UP
This is my Runner-up and if you need some extra storage (not waterproof) then the Pure Origins Lyon Garden Arbour is a great choice and it also provides adequate coverage whether it is sunny or raining thanks to its solid roof.
The wooden arbour is pressure-treated to keep it from rotting which is super important, I wouldn't buy anything wooden structure not manufactured from treated timber. This thought is but I still recommend giving it another coat of wood preservative too. I do this with all my wooden structures in my garden, even my raised beds.
In terms of space, it offers space for two adults to sit comfortably and it has lattices to support the climbing plants in your garden. Need some inspiration, check out this article to get some ideas.
This model is 202cm high so just under 7ft tall by156cm wide which is just over 5ft, and 67cm in depth again this is just over 2ft allowing a storage box to be fitted underneath.
The storage box holds things you need nearby, but it is not waterproof; hence, don't store anything in there that can't get wet which means it not really suitable for cushions but kids toys, garden tools, pots, it does come in useful. This model won't take too much time to assemble because the arbour comes with a set of clear instructions to ease the process. The only downside is there are no predrilled holes so be prepared to drill some pilot holes as you go.
Pros
Made from FSC certified timber which is better for the environment which is more important than ever.
Made from pressure-treated timber for durability.
Comes with a storage box (not waterproof but still useful).
Offers lattices for growing climbing plants up.
Fitted with a solid roof to give protection from the elements.
Provides good value for money.
Cons
Our recommendation
The Pure Origins Lyon Garden Arbour is suitable for small gardens due to its size and I really like the design and this time the instructions are much better. The arbour is small but robust; therefore, you can get good years of service from it just remember that it still needs treating every few years to keep it in good shape even though it is pressure treated.  What I like about this model apart from its robustness, is that it comes with a storage box, this can be super useful. 
Another thing that I appreciated about this model is its weatherproof roof; unlike our best pick, it keeps heavy rain from seeping through. The arbour takes around an hour or two to assemble, but when it is done, it looks amazing.
---
3. Outsunny Garden Metal Arch Arbour
Looking for a metal arbour seat, the Outsunny Garden Metal Arch Arbour is an attractive model made from powder-coated metal to prevent rust. This strong structure supports a maximum weight of 220kgs so it is fairly heavy-duty (I've seen much more flimsy models) and seats two people comfortably. It has a wide bench and an arc to support climbing plants or potted plants, depending on your preference. Again if you want to grow some climbers in pots, check out this article for some ideas.
The arbour comes with a high backrest to provide comfort to users of different heights but it's not as comfortable as the wooden alternatives. It can be made much more comfortable if you get yourself some cushions but it's not the sort the seat you'll be falling asleep on. That being said, if you want to enjoy a cup of tea while relaxing, it's good enough for that.
Overall, the arbour is 203cm high, 115cm in length, and 57cm wide so fairly spacious; it comes flat packed with instructions for easy assembly and it comes with everything you need including the tools. Much easier than wooden arbour seat alternatives.
If you live in areas with strong winds, anchoring the arbour is necessary for stability, some L brackets will do the trick on a solid patio area.
Pros
Stunning metal arbour seat for relaxing.
Made of powder-coated metal to prevent rust.
Supports a maximum weight of 220kgs.
Can hold potted plants and support climbing plants which you can grow over the arch.
Easy to assemble, everything you need is included.
Sold at an affordable price.
Cons
Not the most comfortable seat.
Our recommendation
For those looking for an affordable metal model, the Outsunny Garden Metal Arch Arbour is a good option. The arbour looks good once assembled and it is comfortable to sit in, especially with some cushions which I highly recommend, the back is just a little too much upright for sitting on for long periods of time.
This model is powered coated for durability; thus, rust should not be an issue. What I really like is that it is not complex to assemble making it a user-friendly model, especially compared to some wood alturnatives.
---
4. Garden Market Place Garden Arbour with Integral Garden Bench
Now I live the design of this model with its arched roof and solid sides and back. Available in an attractive design is the Garden Market Place Garden Arbour. This model seats two and features a solid roof to shelter you from the passing rain showers.
You can leave it outside without much damage because it is treated with a water-based wood preservative but again I still recommend giving it another coat and it can't hurt and then doing it every year or two just to keep it looking like new.
This Arbour arrives flat packed; therefore, it is easy to assemble taking an average of an hour or two. If you can, a second pair of hands with make putting it together much easier or maybe get some clamps if you're doing it on your own to hold the parts together when inserting screws.
Once it is assembled, the structure is around 202cm high, 132cm wide, and 84cm deep so a good size.
Pros
Stunning design with solid sides and back for extra privacy.
Made from robust treated wood.
Comes with a solid roof to keep out the rain.
Easy to assemble, all holes pre-drilled.
Offers good value for money.
Cons
Some may find the assembly instructions not easy to follow.
Our recommendation
The Garden Market Place Garden Arbour costs a little bit more than our best pick, but it is suitable for those who want an attractive model without lattices and let's be honest, how amazing does it look.
This model is robust and although it takes some time to assemble, it looks great once put together and all the holes are pre-drilled. The arbour comes with a natural finish; hence, you can paint it any colour you want. This model would be a good choice for those who want a deep-seated arbour with solid sides.
---
5. Rowlinson Dartmouth Swinging Seat Garden Arbour
The Rowlinson Dartmouth Swinging Seat Garden Arbour is a premium-priced model that comes with a swinging seat and open back, perfect for relaxing and reading a book.
The pressure-treated wooden arbour is protected against rot and features rust-resistant base fittings to protect the feet from damage. It also has a solid apex-style roof to keep rain and the harsh sun out as you relax underneath.
Like the other models in this review, this model seats two people, and it is supported by two durable steel chains and the overall structure is very solid and well made. When assembled, the spacious structure measures 233cm (H) by 223cm (W) by Depth: 109cm (D). It also features lattices, so you can grow your favourite climbing plants to blend in with the garden surroundings.
Pros
Comes with a swinging chair for relaxing while swinging back and forth.
Features lattice sides suitable for climbing plants.
Made from pressure-treated wood so is designed to last.
Features rust-resistant base fittings and hardware.
Robust and attractive design.
Cons
Lacks pre-drilled holes. (common on wooden arbour seats)
Our recommendation
The Rowlinson Dartmouth Swinging Seat Garden Arbour is suitable for those with a spacious garden and in need of a model with a swinging seat and to be that a very attractive feature. This would perhaps be a good alternative for those considering a swinging chair or recliners.
This arbour is not cheap, but its design and durability make it worth it. Some may find it a little challenging to put together; however, just take your time and get a second pair of hands to help. Other than that, it is a quality model you will enjoy adding to your garden scenery which is well worth considering if you're looking for a more open swinging model.
---
Buyer's Guide
An arbour that suites your garden should fit in the space you have and provide comfortable seating. While looking for the best arbour seat in your price range, you need to think of the features you would prefer. Do you want it to have extra storage or do you need a swinging seat? To narrow down on your selection, I recommend considering the following points:
Type of arbour seat
Arbours are available in many designs, it's just up to you to select a model that fits your purpose. Some models feature a storage box, while others come with side tables for barbecuing though we didn't include these models as our focus was on arbours with seats. You can also find some arbours with swinging seats like the Rowlinson Dartmouth Garden model for an added level of fun.
There are many possibilities in terms of accessible features, so take your time to find the perfect model.
Location
Where will the arbour seat be situated? Will it be in a corner or a central place? Asking yourself these questions permits you to figure out the size of arbour to get. Those with corner spaces can buy models with a corner design that fits into the area while still maximising on seating space. Some of the models I featured here as come in a corner design too.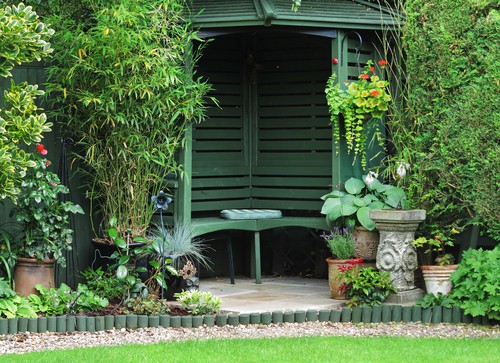 You also need to consider the location to pick the right roof. There arbours that don't have roofing, while others sport weatherproof roofs to shade the user from the elements. If your arbour is in an open space, you might want a model with a roof for protection. If the arbour is in a shaded area, then the roof is not that important.
Capacity
How many people will use the arbour at once? If you have a large family, you need a large arbour with enough sitting space. If it is just you using the arbour, then a standard size model that seats two is adequate. Make sure that the structure is stable enough to support the weight of the user without collapsing by checking the maximum capacity specified by the manufacturer. Most models are designed for two people unless you decide on a corner model.
Construction Materials
Whether the arbour is wooden or metal, the materials must be of good quality. Weak materials lead to weak structures that will not stand the test of time. The materials also have to be protected from the elements since the structure will be outdoors year-round. Wooden arbours are normally painted and treated for durability also known as pressure treated timber, while metal arbours are typically powder-coated or galvanized.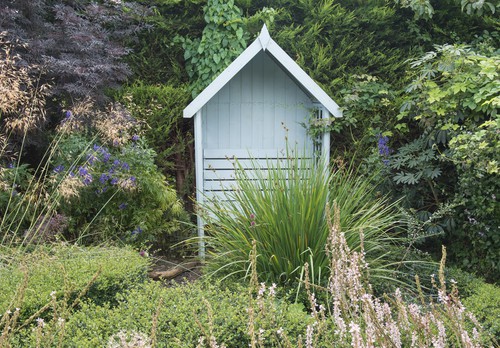 Supporting plants
If you are looking to integrate plants into the arbour, you need a model with lattices or hooks for hanging potted plants. Climbing plants fill the empty spaces in the lattice; therefore, covering any empty spots and creating some privacy. The lattices should be robust to support the weight of the plants without breaking off.
Ease of Assembly
While arbours are generally time-consuming structures to put together, others need more time than some depending on how handy you are. To save yourself the hassle of putting together intricate pieces, you can now often hire professional help on Amazon by adding installation to your order. This move comes with added costs, but at least you will be assured that the professional will set–up the structure correctly and fix any assembly flaws.
If professional help is not an option, find an extra pair of hands to assist you so that the work gets done in little time. Overall they are not too difficult to put together some some models do need holes drilling first and the instructions are often more useful for starting a outdoor fireplace.
---
FAQs
Do all arbours need to be anchored to the ground?
No, not all models need anchoring. However, some lightweight models need to be weighed down for stability, especially in areas with strong winds and if they have solid sides or backs which can easily catch the wind. This can be done by digging the feet into the ground and using cement or using brackets on solid surfaces like patios.
How often should wooden arbours be treated?
Ideally, you would give it a coat of wood preservative before building and then again once a year. However, most people won't do this so for them I recommend at least giving it a coat of wood protector every two to three years. Always look at the instructions provided for any clues on the best way to maintain the arbour.
Are arbours expensive?
Arbours can be as cheap or as expensive as you want but it often reflects in the build quality, some high-end models will cost you more due to the materials used such as the grade of timber or steel.  On average you will spend around £200- £1000 for a model that will last you for many years. £300-£400 is probably the average.
---
Final Conclusion
Arbour seats are the perfect way to relax in the garden with a book or relaxing with friends and family while taking in the surrounding nature. Regardless of whether you are looking for a model with lattices or not, the best arbour seats will last for many years. 
You can play it safe with a simple but robust model like our Best Pick, the Forest Garden Forest Parisienne Arbour, or spend a little more on the Pure Origins Lyon Garden Arbour that features a storage box that will come in useful.
Drop the indecisiveness and pick a model that will work for you best on days you choose to relax in the garden. It is that simple.
---
Sources:
---
Last update on 2022-03-17 / Affiliate links / Images from Amazon Product Advertising API