Our site is reader supported, this means we may earn a small commission from Amazon and other affiliates when you buy through links on our site.
Growing plants in a hanging basket can offer a wonderful array of colour, at heights and levels ground-based potted plants simply don't offer. Of course, that comes with the requirement to hang it securely, so that the basket doesn't fall and it's important to remember are large 16 to 18-inch basket that has just been watered is very heavy.
Thankfully this process is rather simple.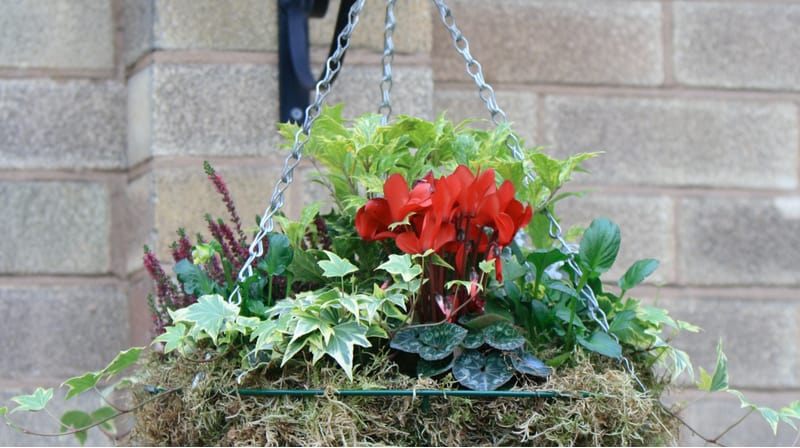 What you need
You will need a drill, the mounting brackets and heavy-duty wall plugs and screws, and a pen or pencil.
Most hanging baskets are better mounted on what is called a hanging basket bracket available from most DIY stores, garden centres and nurseries. The mounting bracket often has two or three points which are affixed to the surface, with a large, flat-bottom on which the baskets can hang. Depending on what hardware you are using, you will need to drill one or two holes measured accurately apart.
It's worth noting that you can buy differently sized hanging brackets to match the size of your hanging baskets. You can use large brackets without issues but if you use a smaller bracket than recommend the basket will rest against the wall and probably get damaged in windy weather and may not even be strong enough to hold the weight of the basket.
Hanging to a brick wall or concrete
Step 1
If you have a regular brick garden wall, you need to mark the position where the hole will be based on where you want the hanging basket to start. First, hold the bracket in position and mark in the holes with a pencil or pen. Using a drill bit, make a preliminary hole into the wall for the size of the screw you will use where you marked the wall with the pencil.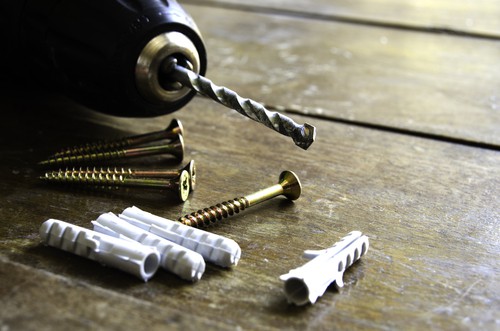 If you are hanging to a brick wall, you will need to ensure you have a masonry drill bit. The drill bits meant for material like wood might break when you try to drill the hole in a harder surface. Also note that if you are drilling into brick, always drill right into the brick itself, not the mortar in between bricks as this can become loose and this is when hanging baskets tend to fall off walls.
It is important to hold your drill level during this time, which may require standing on something to reach the right height at eye level.
Step 2
Once you are ready, insert a raw plug into the hole, if the holes is to smaller make a slightly larger hole with the next size drill bit. This may require a slightly bigger hole, but when it comes to affixing or mounting, it is always better to start with a slightly smaller hole than have one that is too large at the start.
Step 3
Finally, Screw the bracket for the basket into the holes securely until it is very tight and secure.
Hang your basket and enjoy.
Hanging on a Fence
If you are affixing the basket to a fence instead, you have the issue of thickness. Fence posts don't have the same depth as a wall, which means the screw would likely come right out the other side.
So, figure out how thick the fence is, and if it is too small, use the fence post which is often the only part thick enough. The method for hanging should be the same as with brick.
---
Related articles
---
Last update on 2021-03-29 / Affiliate links / Images from Amazon Product Advertising API