Last updated on April 19th, 2021
Our site is reader supported, this means we may earn a small commission from Amazon and other affiliates when you buy through links on our site.
Hanging baskets are a wonderful way to provide a cascade of colour in your garden in multiple areas. A hanging basket can give you layers to what would otherwise be a very flat garden with pots. This layering also gives you the opportunity to plant trailing plants that naturally cascades down and enlivens your space with colour all year round as you can plant baskets in spring that flower throughout summer and them swop them for winter hanging baskets filled with thing slike pansies, violas, Bellis and ivy, not forgetting that stunning conifer for the centre.
If you are considering hanging baskets, it's important that you properly space your plants so that they have enough room to grow. If you use too many plants they can compete against east other and not do as well or look as full as if you had used fewer plants.
But how many should you plant?
There is no single answer for this because it is contingent upon the size of the hanging container, whether your planting just the top or are you planting the sides as well. The other consideration is are you using plug plants, usually available by mail order from nurseries or are you using larger basket plants in 9cm pots that are much more advanced. 
We always recommend using larger plants in 9cm pots as they generally do much better as they are already established with good root systems.
The number of plants shown below assumes you are planting larger basket plants grown in 9cm pots. If you want to plant smaller plug plants, we recommend doubling up on our recommendation below.
If you have a basket between 12 inch and 14 inches across, you can plant between 3 and 5 basket plants. If you are planting the sides to, you may want to add another 3 to 5 but we usually recommend just planing the top of smaller baskets. You want to make sure that when you do so you space them evenly around the perimeter of the basket so that they don't get overcrowded as soon as they come into their roots.
If you have a basket which is anywhere between 16 inches and 18 inches, you can plant between 5 and 7 flowers but at this point, you want to make sure that you have a deeper basket to accommodate the large root systems for all of these flowers. If you want to plant the sides too, we recommend an extra 5 or 6 plants for around the sides. This will ensure that they don't get tangled. 
Hanging baskets do come in lots of different sizes and designs, some even have plastic clips with holes around the sides which pop out so you can insert the plants, this makes it easier to buy the right amount of plants. The numbers above are just a guide and it takes a little common sense to.
Planting Methods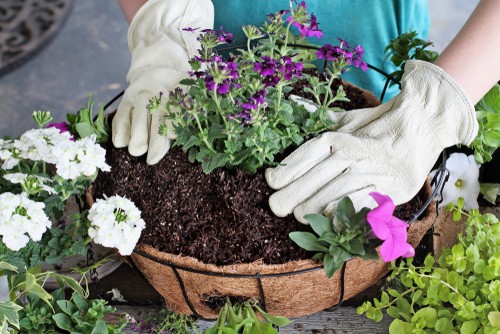 No matter the size there are two ways that you can plant inside of your hanging baskets. The first is to place your plants all over the basket allowing them Cascade over the sides, this works well when planting just trailers or using one type of plants such as petunias or trailing begonias or bacopa. The second is to place a nice centrepiece such as a larger geranium or even a smaller conifer middle of the basket and then dot smaller trailing plants along the edge. If you have a multitude of plants it is best to put the brightest colours in the middle as a focal point with white flowers or light green colours along the perimeter.
After you have decided upon the placement of your flowers add plenty of potting compost over the roots before you hang the basket. We recommend using good quality compost designed for hanging baskets and also adding some water-retaining crystals to the compost and keep them watered and deadhead spent flowers regularly.
Products that might come in use
Miracle-Gro Moisture Control Plant Food Gel 250g
Save time and reduce the amount you need to water your plants
Crystals absorb up to 150 times weight in water, releasing as plants need it
Works all season, simply mix into compost
Ideal for pots, tubs and hanging baskets inside and out
Sufficient for 15-20 average size (30 cm) containers or baskets
---
Related articles
---
Last update on 2021-12-03 / Affiliate links / Images from Amazon Product Advertising API