Last updated on January 21st, 2020
Our site is reader supported, this means we may earn a small commission from Amazon and other affiliates when you buy through links on our site.
If you have standard roses, you can keep your rose bush in excellent form, producing abundant flowers with proper pruning methods. Below we will explain exactly how to prune standard roses:
Why Prune standard roses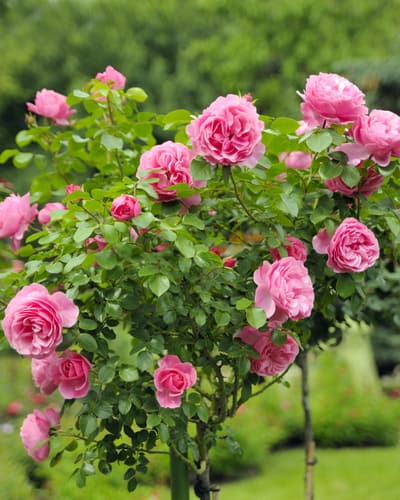 Standard roses have to be pruned regularly to maintain the compact, spherical head similar to how you would prune regular roses to keep them compact and looking good. Without proper pruning, you won't get the large compact bush full of flowers you want. If you do not prune, you will often get smaller flowers and a very heavy head which, in the end, makes your plant susceptible to damage in even the mildest of wind as it becomes too top-heavy and often looks leggy and bare.
What you need
When pruning, you will need a sharp pair of secateurs or pruning shears, Rose fertilizer, and mulch such as compost or farm manure. If you feel so inclined, you can also have gloves to protect your hands. It is recommended that you have a sanitizing solution if you are pruning more than one plant so that you can regularly clean your tools in between each plant and reduce the risk of spreading contaminants. We recommend using bleach or Jeyes Fluid to clean gardening tools.
FELCO Model 2 Secateurs (Large)
Comfortable, lightweight, sturdy aluminium alloy handles
High quality hardened steel blades, forged aluminium alloy handles, wire cutting notch
Anvil blade with sap groove, rubber cushion shock aborbers
For a medium to large hand, right Handed; the handles have a non slip coating
Lifetime guarantee, all parts replaceable
How to Prune
Step 1
Start by removing all dead or diseased stems. After that, remove stems that are weak or thin compared to the rest, and any stems that are rubbing against one another.
Step 2
Look at the crown, if you see stems that are crossing over the centre, you should remove them as they will inhibit airflow and leave your plants susceptible to fungal infections such as black spot.
Step 3
If your plant has lots of new, healthy growth, you can remove some of the old stems that aren't producing as many flowers as they used to so that the plant can better allocate energy to the new growth.
Step 4
Once this is done, cut back all of your remaining stems to 15-20cm while maintaining that quintessential, spherical shape.
Step 5
Remove any suckers from the base of the plant and up the stem, but remember that suckers should be removed carefully from their roots not just cut off where you see them at the base, otherwise they will grow again.
When to prune standard roses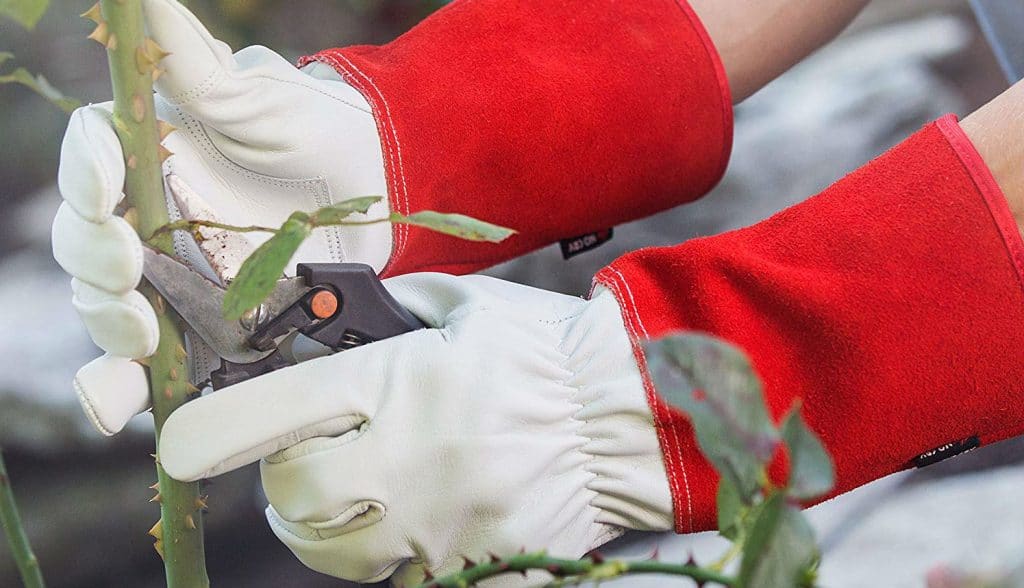 Wait until your rose has finished flowering in the summer before you cut back all of the stems to that 15-20cm mark. If during the season you notice dead or diseased stems, these can be cut off as you see them. But if not, wait until the flowering season is at its end and then make sure you cut back stems to just above an outward-facing node.
If you miss pruning back after flowering we recommend waiting until spring before pruning once the risk of hard frost has passed.
After you have prune your rose, give the plant some Rose fertilizer, some water, even some mulch or leaf mould if you have it to help replenish the plant and give it the energy to recover the following season.
Rose Care 5878135 Toprose Rose and Shrub Feed, 4 kg
Ideal balance of nutrients for roses and shrubs
Easy to apply: Simply sprinkle around your roses and lightly hoe into top soil
Contains long-lasting nitrogen for balanced growth
Also contains iron and magnesium that guard against premature leaf drop
Toprose is a boosted granular plant food for high results
Last update on 2021-12-03 / Affiliate links / Images from Amazon Product Advertising API