Our site is reader supported, this means we may earn a small commission from Amazon and other affiliates when you buy through links on our site.
Last updated on January 21st, 2020
There are 3 ways you can propagate alpines successfully. The three methods used are incredibly similar to the method you would use for most other plants whether taking cutting or sowing seed. They include:
Sowing seeds: the process which removes seeds from alpines and cultivates new alpines from them. You can also buy rockery plant seeds from local garden centres and online.
Dividing established plants: the process of lifting and dividing an existing plant is probably the easiest and a great way to spread existing plants into new areas.
Taking cutting: the process of cutting part of an existing plant before or after it flowers and growing a new root structure and subsequently, new plant from it. This is probably the second easiest way after dividing.
Top 10 rockery plants for beginners
Propagating from Seed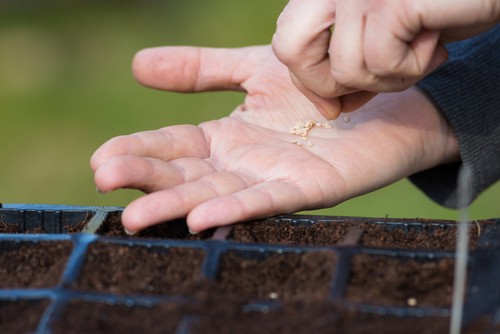 There are some species that like to reproduce on their own from seeds. Only true species are the likely candidates for this, as hybrids are often sterile even if they do produce seeds. The easiest way to ensure you have good quality seeds by purchasing them from a reputable seed retailer.
The process is simple. You take the seeds from the plant after flowering or buy new seeds and then place them in a new container or seed tray with compost. They will start to develop their root system the same as other plants and can be moved outside after this is done. If you take the seeds at the end of summer, you should keep the new alpines indoors until the following spring at which point you can move them outside and allow them to establish themselves in the garden before the flowering phase.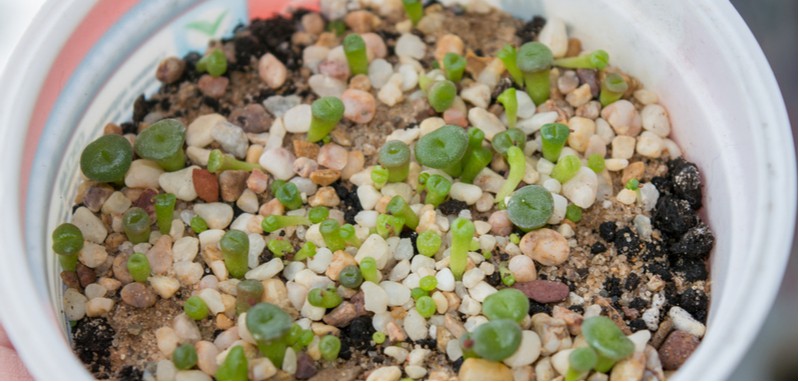 If you propagate at the end of the summer and then move them outdoors in Autumn, they won't have enough time to get established and store nutrients for the winter.
Read our detailed guide on growing rockery plants from seed in this guide
Best selling rockery plant seeds
Bestseller No. 1
Bestseller No. 2
Aubrietia Springtime Mixed Seeds – Pack of 340 Seeds - SOW Directly INTO Your Garden – Ideal for Rockeries or Borders – Flowers Year After Year - in Your Beautiful Garden
Sowing time – Mid Mar – Jun Flowering time – Apr – May(Yr 2) Hardy Perennial. Height – 10cm (4") Approx.
QUALITY CONTROL – These seeds has been carefully tested to ensure high germination. Prior to use, store in a dry cool place
SOWING/GROWING - Sow in pots or trays in a propagator on a windowsill or in a greenhouse at approx. 13-18°C (55-65°F) onto a good quality, finely sieved, moist compost. Do not cover as the seed requires light to germinate, usually 7-21 days. As the seedlings develop, transplant into 7.5cm (3") pots and grow on. Plant out after carefully acclimatising to outside conditions allowing 30cm (12") between plants
Alternatively, sow direct outside into finely raked, moist, weed-free soil from May to early July
This cute ground cover plant produces roundish bushy balls with purple blue flowers. From the beginning of spring, it bears hundreds of flowers to the point of actually crowding out its own leaves. Both hardy and cold-resistant, it can grow in a hole in the wall, along edges or in rocky terrain. It is often compared to a cute flowered pillow, and is just as suited to growing in pots or garden boxes as it is growing in the ground with other aubrieta plants
Bestseller No. 3
AUBRIETIA GRACILLIS - Rock CRESS - Royal RED - 0.15 Gram ~ Approx 300 Seeds
Sow Mar – Jun under glass or in heated conditions on fine soil based compost and lightly cover with compost or vermiculite.
Can be sown directly outside from late Apr to Jun. When large enough to handle transplant to trays or pots and grow on.
Plant to growing position in early autumn. Flowers the year following sowing annually in Mar-Apr.
Professional DEFRA licenced Quality Seed Supply only - Minimal packaging - Ziplock labelled bags - Instructions not attached - See details provided above for cultivation advice.
Bestseller No. 4
Just Seed - Flower - Sedum spurium coccineum - 200 Seed
Part of the "The Difference is JustSeed" Seed Range
Genuine Just Seed Branded products only supplied direct by JustSeed UK .
Professional Seed Company Defra Registered 7291 , Organic Registration AP23164
All Seeds Packed and labelled with helpful growing information
Bestseller No. 5
20 Alpine Baby's Breath Seeds CERASTIOIDES Pixie Splash Mouse-Ear gypsophila, Chickweed Baby's-Breath, Loved by Butterflies, Best for Rock Garden
Fresh EU standard seeds!
Thrives in well-drained, ideally limey soil, in sun. Ideal for rock gardens, gravel gardens, raised beds and alpine troughs. Culinary note: Baby's Breath (Gypsophila sp.) has white or pink flowers that have a mild, slightly sweet flavour, perfect for dessert garnishes!!!
A small type of Gypsophila which is drought tolerant, tough and produces endless supplies of white flowers, which are loved by butterflies. The Mouse Eared Gypsophila is good for alpine gardens, rockeries, patio containers, troughs or for growing in gaps in walls and paving. The tufted, mounding plants produce flowers from spring to summer.
Envelope content 20 seeds.
Botanical name: Gypsophila cerastioides L.
Propagating by dividing established plants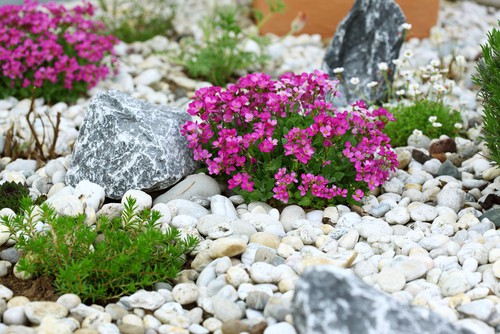 Dividing rockery plants is the easiest and fastest way to propagate alpines. You can use this method on older, established plants. Simply lift them out of the ground or the container right after they have finished flowering. Shake away as much soil from the roots as you can. Gently break the plant into the individual pieces with their roots, and repot them in sandy compost, John Innes potting compost mixed with 30% grit should be ideal. Certain plants like succulents will break off at natural points or nubs and can be re-potted easily.
One particularly unique aspect of Alpine plants is that most can be propagated by simply detaching a piece of the existing plant that has already formed roots and putting it directly into a new container or directly into the ground. If you have a large plant in the ground you can simply use a trowel or spade to cut a section off the existing plant ensuring you get as much root as possible.
Propagating with Cuttings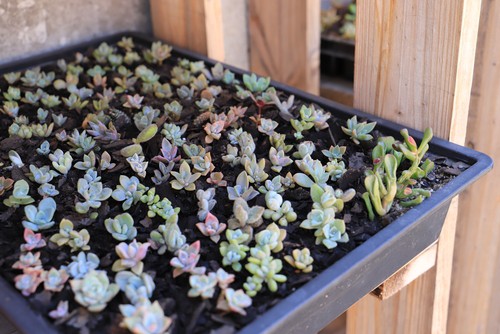 You can also propagate rockery plants by taking cuttings. There are certain alpine plants that grow in a single crown from which the procumbent stems grow. In order to do this, you want to make a nodal cutting right at the soft tip for the new shoot.
Be selective about the shoots that you cut. You don't want any that already has flower buds. They will very rarely produce healthy plants.
Once you have the new shoot in hand, use a very sharp knife to make a very clean-cut and remove the lower leaves. Put the cutting into seed compost or sand. they should be placed closely together in small pots or trays with individual cells as pictured above and put in a ventilated area that is shaded and closed off from direct sunlight until such time as you noticed roots growing out of the cutting and they can be potted up into larger 9cm pots. We recommend growing them on in 9cm pots before planting directly in the garden.
Read our detailed guide on how to take cuttings from succulents/alpines
Whichever of these three methods you use remember that it's important to know which variety of Alpine plant you have so that you can pick the most suitable and employs the technique at the right time. Using the right technique at the right time will go a long way toward ensuring the success of your propagation.
How to care for alpine Rockey plants – the beginner's guide
Learn how to make a rockery step by step

Last update on 2021-04-02 / Affiliate links / Images from Amazon Product Advertising API