Our site is reader supported, this means we may earn a small commission from Amazon and other affiliates when you buy through links on our site.
Last updated on January 21st, 2020
Alpine Rockery plants originate from high altitude climates, above the treeline where they have access to ample sun, but also a lot of exposure to cold, winter weather. That is why they do so well in UK rockery gardens and tolerate the winter conditions but they do need well-drained soil with plenty of grit mixed in.
If you plan to grow and care for alpine rockery plants though, you still need to enforce some measures to make their growing habitat suitable.
Planting Alpine Rockery gardens
First is how you plant them.
Drainage is very important for them. Again, being plants that live above the tree line in high altitude places, they get ample drainage down the mountains and hills where they grow. You need to ensure that drainage is recreated at home. They will tolerate cold weather just fine, but not wet feet.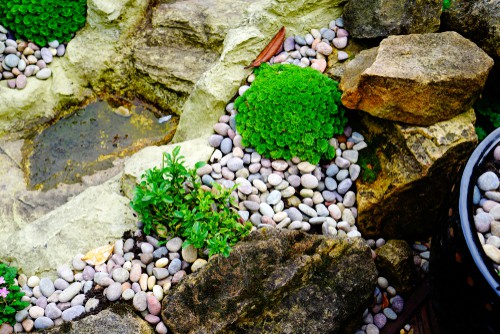 Types of rockery stones
Limestone is the traditional rockery stone, but it is hard to find today. That said, sandstone is more widely available.
Choosing the right compost for rockery plants
Fill in any gaps between your rocks with a loam/grit compost mixture, we recommend using a mixture of John Innes potting Compost mixed with about 30% horticultural grit. This will ensure the soil they are planted in is well-draining but will still retain moisture.
Plant in full sun and consider planting in containers in the ground
Find areas in the rockery where access to the sun is possible, and good drainage is offered as already mentioned. One way to help with drainage is to plant your alpines in different containers and then bury the containers in your rockery. This will prove useful for those who want to grow a multitude of alpines that prefer slightly different soil conditions like alkaline or acidic in that each can have its preferred environment in the container. Add extra drainage holes to the bottom, and maybe even a layer of grit or gravel if you go this route.
Add a layer of stone or grit on the surface of the soil as pictured below.
Put a layer of decorative grit around the plant to stop soil from splashing up on it when it rains, this also helps keep the soil cool and retain moisture. Moreover, the decorative grit will help keep away the snails and slugs at bay.
See our top 10 recommended rockery plants for beginners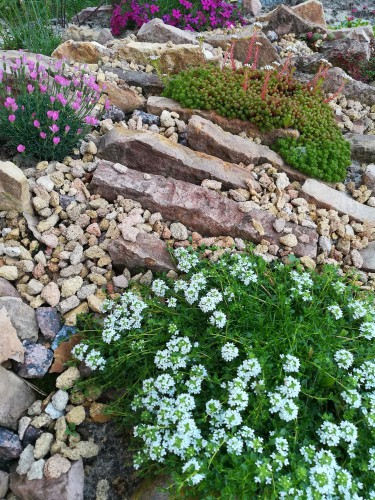 Regular Care
Watering
Once they are planted, you have to maintain them. Start by watering them right after planting. They won't likely need a lot of watering unless the weather is particularly warm which is kind of a rarity in the UK but we do sometimes get some warm months if we're lucky.
Feed with a high in potash feed in spring
At the start of spring, give them a high potash fertiliser to encourage more flowers. Once the alpines start to flower, deadhead them to keep the flower production going.
Trimming alpines
Many of the alpines can be trimmed once they are done flowering, to keep them in control.
Problems to keep an eye on
As you care for the new plants, be on the lookout for problems. Some alpines might outgrow their space if they are fed too often or their soil is too rich. Others might succumb to root rot if they remain too wet or have poor drainage.
You should spray an insecticide at the preliminary signs of pests. Slugs and snails will be your biggest issues, and they can be deterred with the aforementioned horticultural grit around the plants and by using slug traps.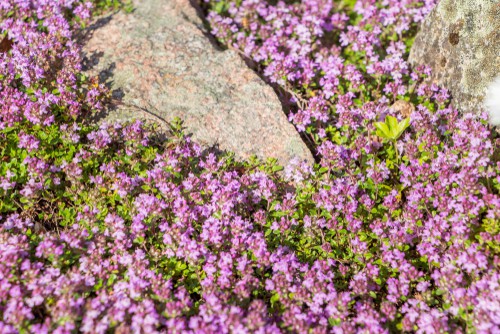 Pay Attention to Variety
There are many varieties to have in an alpine rockery and they influence the aftercare requirements. Succulents, for example, are low maintenance and once planted need almost nothing from you except for protection against serve frost in more open sites.
In general, most varieties will grow just fine with little help which is what makes them so popular.
Thymes make for wonderful space fillers, between the rocks and around the other alpine plants. They give off a delicious aroma too.
Best selling rockery plants
Bestseller No. 1
3 Pack (9cm Pots) Shrub – Polygala Chamaebuxus Grandiflora (Kamnisky/Creeping Milkwort) Low Growing Garden Plant
The flowers of Polygala chamaebuxus var grandiflora 'Kamniski' are profuse in early spring, often, but not invariably, with another flowering in summer.
The flowers have deep, impressively purple-pink wings, with yellow central petals. These winged blooms are said to resemble pea flowers, hence sometimes called the Chapparal Pea; but they equally resemble miniature orchids.
These plants are typically low growing and spread quickly to inhibit weed growth on areas of bare soil.
Please click on brand 'GrowOn Shrubs' to view all our plants and qualifying multi-buy offer items
Bestseller No. 2
YouGarden Hardy Perennial Border Collection 12 Plants in 9cm pots, Mixed
A special lucky dip perennial collection!
Each collection contains a mix of 12 named plants specially selected from our nursery
Gives a wonderful perennial garden border.
No need to worry about whether a plant is perennial or not - we've done the work for you.
Supplied as 12 x 9cm pots, ready to plant at any time of year
Bestseller No. 3
Bestseller No. 4
Bestseller No. 5
Image credits – Shutterstock.com
Last update on 2021-01-27 at 00:24 / Affiliate links / Images from Amazon Product Advertising API