Last updated on September 17th, 2021
Our site is reader supported, this means we may earn a small commission from Amazon and other affiliates when you buy through links on our site.
Watching a robot lawnmower cut your grass in a seemingly random fashion is both entertaining and relaxing. But there's a lot of preparation involved in setting things up so that the robot mower can work efficiently and effectively.
Although robot lawnmowers are quite sophisticated, they are fairly simple to use, even the more advanced models. Here's what you have to do to make a robot lawnmower work.
What are the mechanics of a robot lawnmower?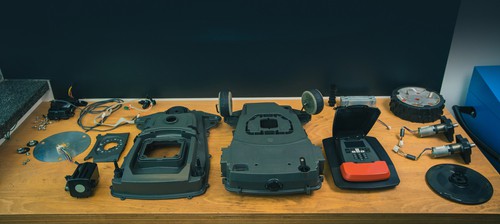 A robot lawnmower consists of a low shell that houses a Lithium-ion battery, cutting blades in a circular arrangement and horizontal orientation. There's usually a keypad on top of the body through which you program the cutting schedule into the mower.
Once you set up the schedule and mowing area and charge the battery, the robot lawnmower cuts the grass automatically as programmed and returns to recharge.
In most cases, once you set everything up, you shouldn't need to touch the robot lawnmower again except for general maintenance.
How do you tell the robot lawnmower where to mow?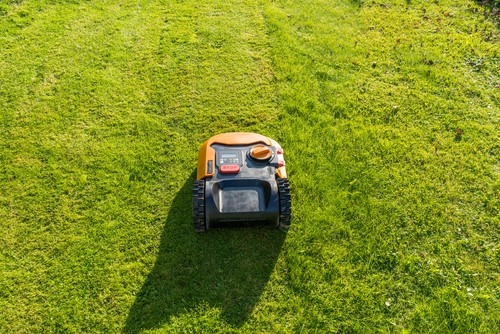 Setting up the boundary wire
You need to keep your robot lawnmower corralled to just the area of grass that you want it to mow. You do this by setting up a boundary wire all around the area. The mower senses where the wire is, stays inside it and won't cross it.
However, this is not as easy to do as it sounds but it depends on whether you decide to bury the wire (as most people choose to) or simply pin it tight to the surface of the lawn. The grass will then grow through the wire slightly and will be hidden anyway after a few weeks.
You receive a certain length of boundary wire with your purchase of the mower but it's worth noting you can buy more if needed. The length depends on the size of the mower (most have a specific size of lawn there designed for). For example, you can buy a larger robot mower model that can cut a larger area of grass at one time.
Back to laying the boundary wire, your job is to surround your lawn with the wire and stake it into the ground (pegs are usually provided). The trick is to avoid kinking or breaking the wire.
This task requires some experimentation as some mowers cut right up to the wire and others stop short to avoid cutting the wire. You can include slopes in your mowing area up to the steepness that the mower can handle.
If you have a lawn with steep areas, don't forget to check whether the robot lawnmower can handle it
Check this before buying a robot lawnmower. If you have steep areas on your lawn as sometimes they are limited to specific slope angles usually measured in a % incline. This is usually around a 25-30% incline so fairly steep.
You can see which robot lawn mowers I recommend, carefully picked for sloped lawns up to 35% here
Your robot lawnmower stays within this perimeter when it mows your grass. You can also lay the wire around flower beds or ponds if you have them inside your lawn
How do you tell the robot mower when to mow?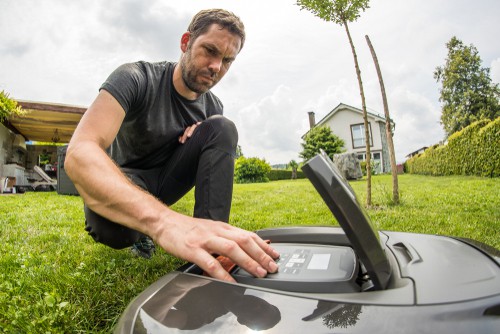 Your robot mower mows to a schedule of day and time and you need to program this into the unit. Most mowers have the capacity for you to enter this information through some kind of keypad on the mower's body. However, some of the latest models also have a mobile app so you can program the mower, and issue other controls, through your mobile phone or via Wi-Fi. One model we reviewed also lets you use voice control through Amazon's Alexa technology.
Check out the links at the bottom of this post for my recommended robot lawnmowers.
Depending on your model of mower, you can set the schedule to the hour, day or the number of days since the last mowing session. The most technologically loaded models also have weather sensors (on-board or via the app) that keep the mower docked if it rains or if rain or frost is expected though some can still mow in the rain and all models are weatherproof.
If the idea of programming the mower is intimidating to you, look for a model that comes with one or more pre-programmed schedules that you can choose from.
How do you give instructions on how to mow the lawn?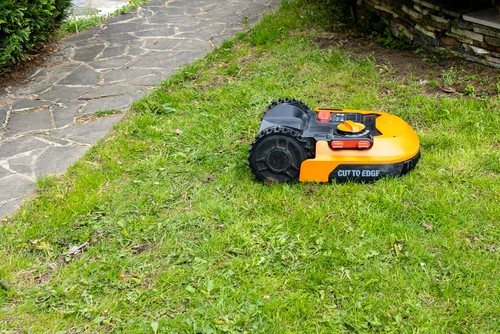 So far, the robot lawnmower knows where to mow and when to mow, but some models also offer you a choice of how to mow your lawn. Although robot lawnmowers, in general, can't produce Wimbledon stripes in your grass, they may have various other mowing patterns.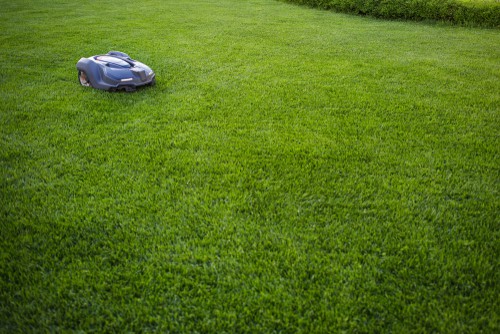 The default is that you end up with a smooth carpet of lawn, but you may also be able to program the mower to handle grass under lawn furniture or to trim the edge of the lawn in a specific way. Again, the most technological mowers use AI to work out the best random mowing pattern for the size and shape of your lawn.
You also need to manually set the grass height adjustment for the length to which you want your grass blades to be cut so this is also a little trial and error until you get the perfect length.
How do you recharge the battery in a robot mower?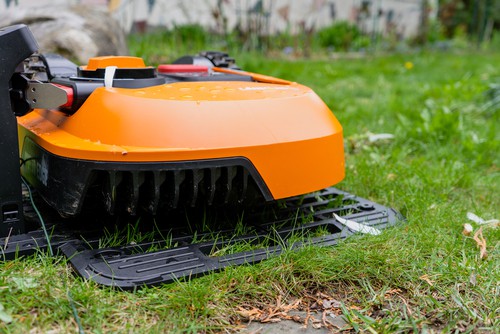 The simple answer is you don't – your robot mower handles that itself when the battery charge is running low. You may have to set up a wire that leads home to the recharging station when laying down your wire boundary. And most models have specific instructions on where and how to place the recharging station. But if all this is in place, your mower trundles onto its station when it needs more power and when not in use.
It's also worth noting that you will need access to a plug socket, one way to do this is to buy an outdoor-rated plug socket that comes with cable and then you can fix the socket to the wall or post and safely feed the cable to a plug socket such as inside a garage as I did.
Please head over to our Are Robot Lawn Mowers Safe? for reassurance about the safety and security of these mowers.
And we also have reviews of robot lawnmowers for small lawns and robot lawnmowers for large lawns.
---
Last update on 2022-03-17 / Affiliate links / Images from Amazon Product Advertising API