Last updated on January 22nd, 2020
Our site is reader supported, this means we may earn a small commission from Amazon and other affiliates when you buy through links on our site.
Climbing roses for Shade & North facing wall
Climbing roses when planted in the right place make a fantastic display whether climbing up an old cottage wall or over a pergola but one question that comes up is 'Which climbing roses can be grown in shade?'
It is assumed by most people that climbing roses are hard to grow and difficult to maintain, but with a little advice it does not have to be the case.
One of the most important aspect is 'planting the right rose in the right place', get this wrong and your rose will not flourish so when planting a rose in a shady spot, which is usually a north facing wall, it is important to choose a variety that grows well in this shady location.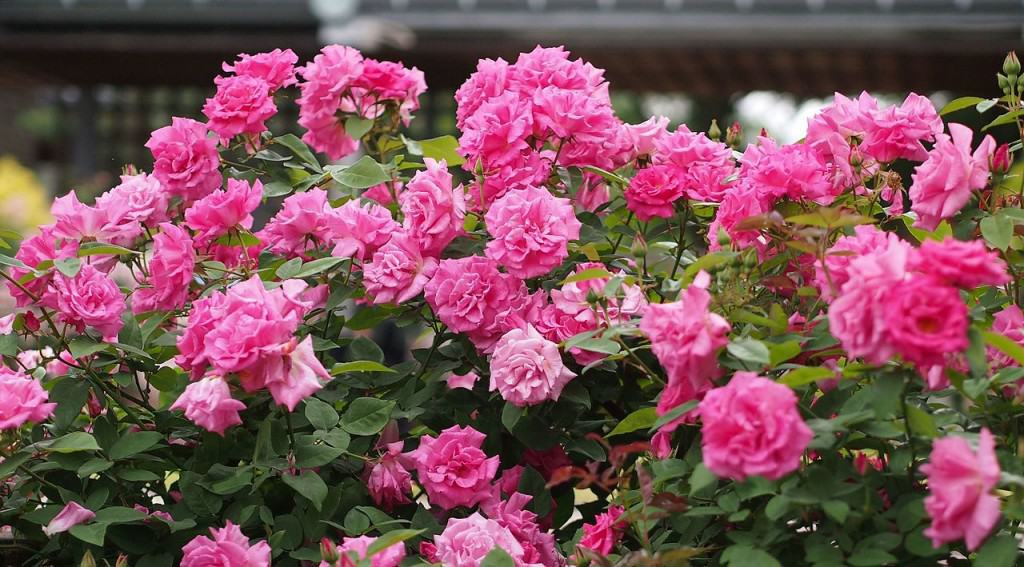 Source: Wikipedia – Zephirine Droughin climbing rose
Top 8 Roses for shade & North facing walls
Here is 8 the best Roses that have proven to grow well in shade or North Facing walls, best of all these 8 roses are also fragrant.
1. Zephirine Droughin – This rose is a very popular variety and grows well up pergolas, pillars, arches and north facing walls. It has dark pink flowers and can be a little susceptible to mildew so spraying with a fungicide in spring is recommended.
2. Alberic Barbier – This rose is a climber / rambler the difference being that climbers usually flower over longer periods and some times twice over the summer where as ramblers usually only flower once.  Alberic Barbier produces creamy-white flower in June-July and have good disease resistance.
3. Madame Alfred Carriere – This beautiful climber produces creamy / white flowers that can be 10cm across and flowers July to September. It also has a RHS Award of Garden Merit.
4. Golden Showers – The large blooms of golden yellow flowers will add that touch of colour to your garden and is well known for growing well in more shadier areas of the garden. It has a slight scent and average disease resistance.
5. Iceberg – This is probably one of the best selling climbing roses available and produces white to cream flowers and has very few thorns making it ideal for arches near door ways. This rose will flower well into Autumn if you remove old and faded flowers during the summer.
6. Danse de Feu – This rose produces vibrant clusters of scarlet double flowers and has average disease resistance so spraying with a fungicide is advised as soon as leaf growth shoots in spring.
7. New Dawn – A vigorous rose which produces pearly pink flowers.
8. Albertine – The rambler produces salmon pink flowers and has a strong scent and is a very vigorous climber.
Growing and planting tips
Now that you know which rose you can plant here are some tips for giving your rose the best chance of flourishing in its new position.
Most climbing roses are planted against a wall or fence, plant approximately 12″ (30cm) away from the wall as the soil next to a wall tends to be dry. Planting away from the wall at a 90 degree angle is the best way to avoid planting the rose in dry soil.
Roses are hungry plants, dig in well-rotted farm manure before planting.
Soak roots for 2-3 hours before planting and water regularly for the first 12 months after planting.
Roses need well-drained soil, try digging in mulch and gravel before planting to improve drainage if needed.
Other rose articles you may be interested in:
How to take rose cutting – Learn more
Top 10 best climbing roses – Learn more
When to plants roses – Learn more
How to plant bare root roses – Learn more