Our site is reader supported, this means we may earn a small commission from Amazon and other affiliates when you buy through links on our site.
Hanging baskets are a wonderful way to keep plants growing off the ground, adding texture and height to your garden. Hanging baskets are quite eye-catching and with them, you can dot a seating area with beautiful, drooping blooms and a heavy, pleasant scent. 
There are many benefits you gain with hanging baskets, one of which is having plants off the ground and away from pests. The problem though is that these plants dry out faster than those in the ground. 
Hanging baskets often have coir, which lets water go right through. Add to that, they need compost that is loose and won't compact in the container. Most of the hanging containers need extra slits in their liner or holes to help with drainage too, otherwise, the plants get severely waterlogged, more than plants in the ground. Without such drainage assistance, when you water, it just sits in the soil and rots the roots.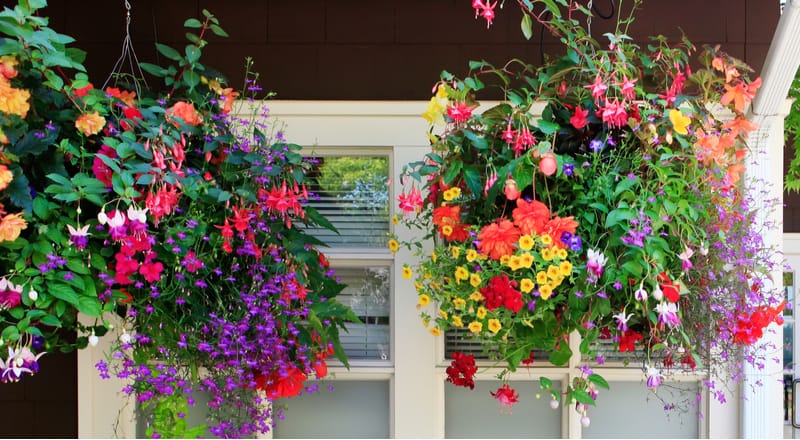 But, with it, you have issues of water draining too well, through the hanging basket, with most of it not absorbed by the roots. That said, if you have hanging baskets there are ways you can stop them drying out and keep them flowering for longer. Hanging baskets in general needs watering at least once a day in summer and sometimes even twice a day if their plants are established and there now more root than compost.
It starts with using quality basket compost that has water-retaining moisture control.
There are a few products that will help keep your hanging baskets moist for longer and help keep your baskets looking good: 
Water-retaining granules
There are many brands of water-retaining granules but Miracle-Gro has Moisture Control Gel which is designed to retain water in baskets. It works by releasing crystals that absorb up to 150 times their weight in water, so when you water, they absorb it, and then they release it when your plant roots start to dry out. You just mix the granules into the compost and the crystals work all season so you don't have to spend as much time or money watering on a regular basis. This is particularly useful when you go on holiday and your plants miss out on precious water for a few critical weeks right at their blooming stages. 
Miracle-Gro Moisture Control Plant Food Gel 250g
Save time and reduce the amount you need to water your plants
Crystals absorb up to 150 times weight in water, releasing as plants need it
Works all season, simply mix into compost
Ideal for pots, tubs and hanging baskets inside and out
Sufficient for 15-20 average size (30 cm) containers or baskets
Gel Mats
There are also gel mats designed specifically for hanging baskets. The Hozelock Water Retaining Storing Gel Mat is one such mat. You need only place one inside the hanging basket and it will absorb water each time you water your plants, then release it on an as-needed basis. This proves particularly useful in cases of unexpected weather where your plants need more moisture than normal. The mat is very easy to use and doesn't have to be mixed or anything, simply placed in the basket. You put it in and water once per week, during which time the mat absorbs water and saves you upwards of 90% of the water normally used. This goes a long way toward eliminating the problem hanging baskets often have of water draining right through the baskets and never staying long enough to be absorbed. 
Sale
Self-Watering Baskets
The baskets you choose can be self-watering, like the Lechuza self-watering basket. This is an entire basket system into which you put your plants. The water system in it contains a visual indicator so you know when it is time to water again. There is a liner which is removable and makes it easy to clean and care for your plant. The drainage system and plug built into the basket make it suitable for indoor or outdoor use.
---
Related articles
---
Image credits – Shutterstock.com
Last update on 2021-03-06 / Affiliate links / Images from Amazon Product Advertising API