Our site is reader supported, this means we may earn a small commission from Amazon and other affiliates when you buy through links on our site.
There are many a plant that thrives in sunlight and even those plants that require only partial sun exposure still need an average of 6 hours of sunlight. This makes it a bit difficult to fill the darker corners of your garden effectively. You might have heavily shaded regions, an area of the garden that stands in shadow most of the day because of a structure nearby or tree.
Conversely, you might have an area that stands in shade because of nearby plants or a fence. Regardless there are still evergreen shrubs that you can plant to add a little light in shadier places, to stand out against the shaded region with a collection of rich greens and yellows for leaves and a rainbow of floriferous options.
If you have a shaded garden and are looking for an evergreen shrub to fill the space, consider these top 10 options:
Aucuba japonica Crotonifolia (Spotted laurel)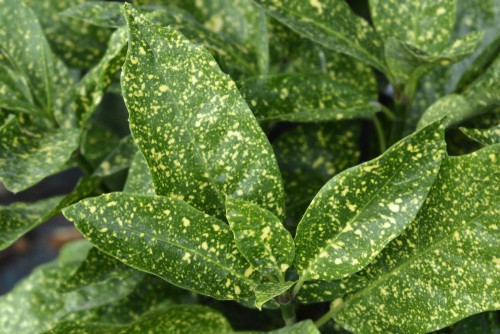 This stunning evergreen shrub offers a litany of colours. First and foremost the leaves take on the shading of a canvas splattered with paint. The leathery leaves bring yellow and green speckled shading all year round from spring through winter. These leaves are offset by the small purple flowers that appear come springtime. If you have a female plant those flowers will produce large red fruit in Summer and Autumn.
The evergreen is bushy and medium in size, when it reaches full maturity, which can take between 10 and 20 years, it can span between 1.5 and 2.5 m in height and spread. It thrives most effectively in full shade or partial shade and does well in loam, chalk, or sandy soil which makes it ideal for any shaded garden. Moreover, it can tolerate acidic soil, alkaline soil, or neutral soil which means you don't have to make any alterations to the soil you already have if you choose to plant this in a shady area. Perfect for container plants, slopes, or small screens, it's very drought resistant once it establishes itself and beyond that requires very little maintenance.
---
Elaeagnus × ebbingei Gilt Edge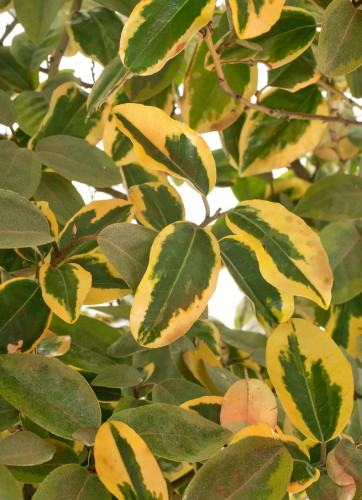 This delightful evergreen shrub has variegated foliage that is quite dramatic and its appearance, a rich hunter green in the centre with yellow edges that are so vibrant it almost looks like someone coloured the edges of each leaf with a highlighter. Flowers appear between September and November followed by fruits in December and January which make for very unique plants and something delightful to have during the winter months when other plants might be dormant, its also great seaside locations too.
The inconspicuous silvery flowers are very fragrant so you can sit back and enjoy the dramatic fully as well as the heavy scent for which it earned the Award of Garden Merit from the Royal Horticultural Society. It prefers dappled shade or partial shade and once it's established it will function perfectly well as a hedge, a screen, or something eye-catching to climb up against a wall. At its full maturity, it will reach a spread and height of 3 meters but can be pruned to a more manageable size.
---
Fatsia Japonica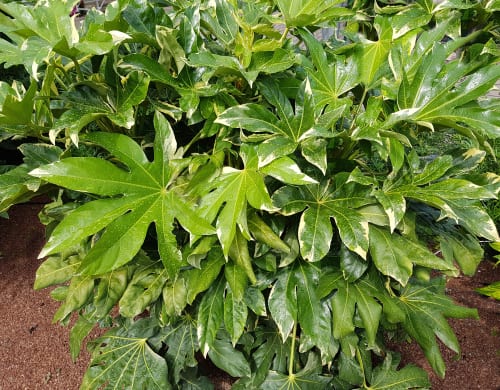 Fatsia Japonica is a tropical plant, when grown outdoors this shade-loving variety will make for a bold statement in your garden. This broadleaf evergreen has larger lobed leaves that can reach up to one-third of a meter in wits and span outward and upward like a hand reaching into the sky. The leaves are so large that their weight generally causes the plant to lean to one side or the other. In fact, at full maturity, the plant can reach upwards of three meters and some older established plants can reach up to five meters in height. Too much sunlight will turn brown which is partly why this plant is ideally suited for shaded regions.
It will bloom with small flowers that are bright white followed by shiny black berries. Birds are typically attracted to the berries and will frequent your garden so long as the berries are in season. The bloom time is contingent upon your specific climate. Although it gets very large it can be pruned which we have previously talked about here.
---
Camellia Ruby Wedding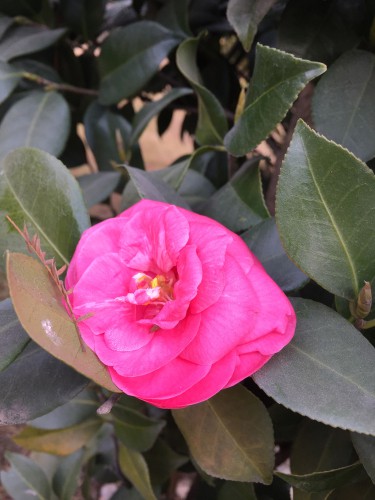 Ruby wedding gets its name from the delightful ruby red flowers that appear come springtime. The vibrancy of these red flowers contrasts the rich green foliage that appears all year round.
This evergreen shrub has glassy, leathery leaves with flowers that sometimes grow in clusters. The shrub is rather dense and can grow up to 1.8 meters tall at its full maturity. This plant prefers partial shade or full shade and in fact is better suited for sheltered areas that gets protection against heavy wind and Sun. It will do quite well in acidic soil or neutral soil. It also tolerates loan, sand, and clay soil so you won't have to make much alteration to the soil you already have unless you have highly alkaline soil. Other than that it requires moist but well-drained areas in which to grow and once it's established requires little care and is only subject to aphids or Leaf blight in some areas with bad air circulation.
---
Osmanthus × burkwoodii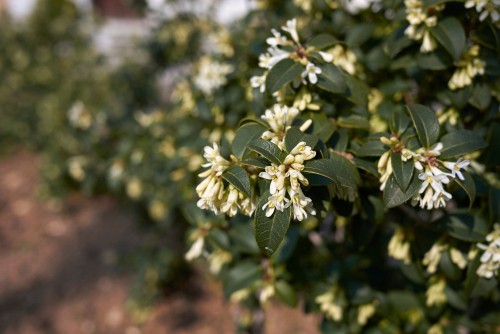 This evergreen shrub creates leathery leaves offset by fragrant, tubular flowers which are often white but can also be yellow or orange depending on the variety. After the flowers comes blue black fruit that is very effective at attracting animals to your yard. Very dense, slow-growing evergreen it will manifest in a rounded shape spanning an average of 3m in height and width at full maturity.
You can enjoy green foliage all year round with the white flowers come springtime that are highly scented and the limited black fruit in the autumn. This particular plant does very well in well-drained soil and will survive effectively in partial shade. It also tolerates chalk, loam, sand, and clay soil so no amendments have to be made. Likewise, it's very tolerant of acidic, alkaline, and neutral soil so you don't have to change the pH level either. A very low-maintenance plant once it is established it will work effectively as a screen or a hedge and is otherwise pest and disease free.
---
Lonicera nitida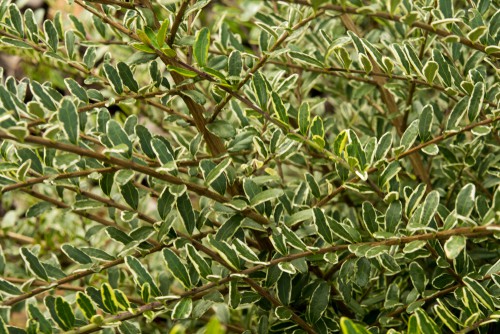 A rather versatile shrub, also known as the boxleaf honeysuckle, it is a very adaptable shrub for shaded areas in your garden because it will offer a bit of yellow sunshine turn otherwise dark area. Once established it will develop in the form of a mound with arching branches that shoot off of the mound each of which are covered by tiny, variegated leaves. In shade, the leaves will take on a chartreuse shade.
Very adaptable it's perfect for hedges and can be properly sheared to fit your garden. Conversely, you can cut it into a topiary or use it as a very tall form of ground cover something particularly effective for adding colour to winter gardens. At its full maturity, it can reach a height of 1.5 meters and a spread of 1.5 meters.
---
Viburnum tinus 'Eve price'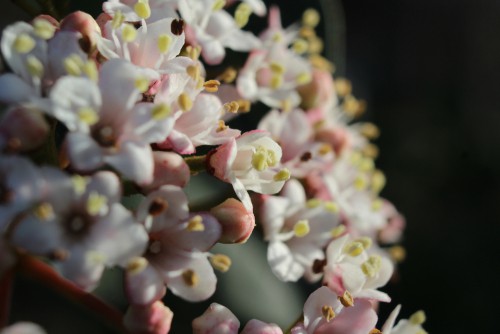 This bushy evergreen shrub offers dark green leaves and a variety of colours all season long. The dark green leaves, for example, appear all year round and then in springtime and subsequently, in summer you get flowers that take on pink or white shades and a very rich in fragrance.
After the flowers, there are red, blue, or blackberries that appear. This very low-maintenance plant as effective as hedging or screens and does well in full shade or partial shade. When it reaches maturity it's an average of 2m in height and spread. It is very effective for regions that might have soils that are otherwise intolerable to most plants such as highly acidic or alkaline soil, clay, chalk, sand, or loam soil. The plant will grow effectively in all of these conditions so long as the soil is well-drained.
---
Euonymus Emerald Gaiety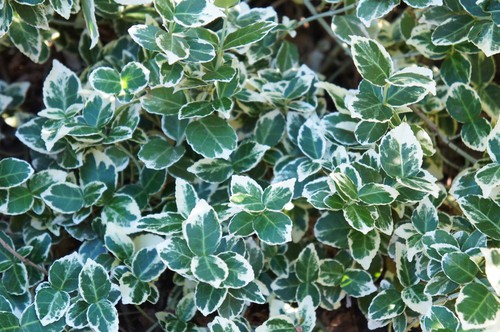 Euonymus Emerald Gaiety is particularly popular as a foundation plant as well as a ground cover because of how prolifically it grows. The leaves are a rich hunter green edged in white which stands out. At full maturity, the bush will reach an average of 1m in height and a slightly larger spread. The branches will grow in an upright fashion and you can train it with proper support to go up and over walls if you want.
The plant is a moderate grower so you won't have to worry about it overtaking your garden quickly. It grows well in partial shade and takes on a slightly darker green pattern with cream edging in the shade. Is very effective as an ornamental hedge plant or as ground cover and the only thing you really need to be careful of is reversion whereby the shrub tries to revert back and push out new branches which you just need to prune.
---
Hypericum hidcote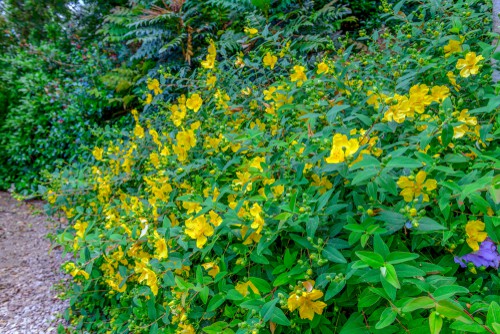 One of the most popular of plants for attracting Wildlife is commonly referred to as St John's Wort. It produces a collection of golden yellow flowers that get up to 5cm in diameter spanning from the summer into the autumn. When planted it will become dense which makes it great for a shrub border.
It does well in dappled shade or partial shade so long as the soil is well-drained. It will thrive in a sheltered area that doesn't get exposure to cold or wind. At its maturity span 1.5m in height and spread but this is one of the few evergreens that you can prune back every year in order to maintain the size and shape that you want. Like many of the Evergreens, it's incredibly tolerant of all types of soil and pH levels. It is also very good for attracting bees with its nectar and pollen-rich flowers. The plant brings with it green foliage from May through September with the bright yellow flowers from June through September. You can take cuttings in August or September and prune it between September and November.
---
Azalea japonica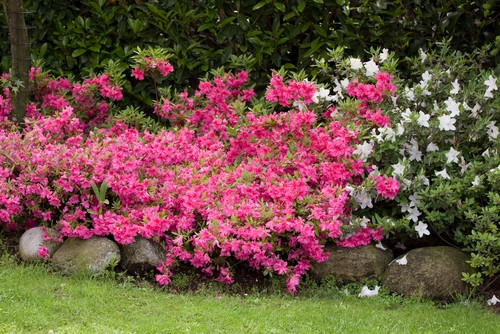 A beautiful and small shrub you can enjoy all the aspects of evergreen in conjunction with beautiful flowers that take on vibrant shades of purple, red, pink, or white. This shrub will reach a height between 1.5 and 2m tall. The foliage remains evergreen while the flowers spring up in April and May.
This plant prefers partial shade and will do well in acidic soil in particular. It's actually important that you don't overexpose it to sunlight as this can interfere with the floral production. Once it is established it won't require a great deal of watering during the Autumn but it might need watering more frequently in spring or summer depending on the temperatures.
Once it is established itself a few years in do you won't have to worry about extra watering except during heat waves. Rainwater is very effective at helping cultivate the plants. It is also not necessary to prune this particular plant unless you want to change the shape or reduce the size but in general no pruning is needed.
---
Image Credits – Shutterstock.com