Our site is reader supported, this means we may earn a small commission from Amazon and other affiliates when you buy through links on our site.
If you want to fill vacant regions in your garden with delightful shrubs that bring with them aromatic flowers, leaves, and in some cases fruit, you, of course, have to be cognizant of the space you have available. Some people designed their garden specifically to contain various levels for geometrically aesthetic purposes.
Others have landscape designs that require everything to remain at a certain height. To that end, if you need something low-growing consider these top 10 best low-growing shrubs. Each of these offers the same features, flexibility, and low maintenance of shrubs but they won't take over your garden, block the sun, and grow out of hand, or at the very least, be easily controllled.
---
Azalea japonica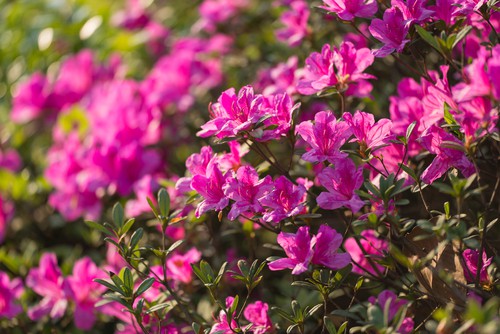 This is a small, beautiful shrub which brings with it moderate heights of 1.5 meters at its full maturity which can take upwards of ten years or longer. The foliage is evergreen but then come April and May flowers spring up in a variety of shades including white, pink, purple, and red, when in full flower they look so amazing.
This is a low-growing shrub that prefers partial shade and acidic soil. If you have tested your soil and found that it is highly acidic consider planting this low-growing shrub. Make sure that you find a place that offers partial shade as well because if it is overexposed to sunlight the plant itself won't die but you won't flower as well. If you have a particularly hot summer or autumn you may need to water regularly for the first few years until the plant is established after which it is quite a drought tolerant with the exception of severe heat waves which we don't get to often in the UK. Tangentially there is very little maintenance required and no pruning unless you want to change the shape or otherwise reduce the size but it's often not needed.
---
Dwarf buddleia (Butterfly Bush)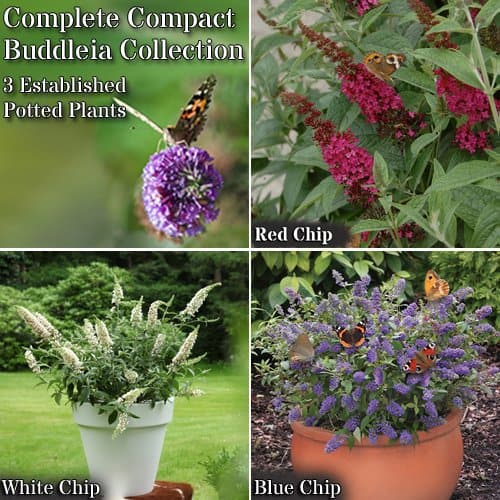 Commonly called the butterfly bush, this dwarf butterfly bush offers green foliage with bright panicles of flowers on varying colours depending on the variety. Once you plant it make sure it is getting access to full sun to make the most out of this spectacular shrub.
The butterfly bushes will suffer from root rot if you don't have properly drained soil so this is something you need to check beforehand. Otherwise, you don't have to alter the soil much because it will fare well in almost any pH level. It tolerates cold quite effectively so if you have colder winters rest assured you won't need to do much to protect it.
The blooms have a honey fragrance and bring with them bees and butterflies so it's a great plant to have on porches or near a seating area in your garden because it won't grow so large that it blocks your view but it will provide you with access to aromas and wildlife. You can prune it at the beginning of Spring and then deadhead the flowers regularly to encourage prolonged flower production. They are especially good for growing in containers.
---
Caryopteris Heavenly Blue (Bluebeard)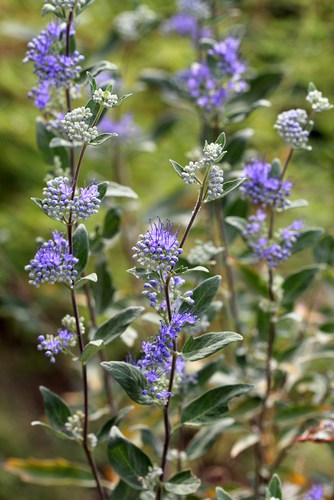 Known as Bluebeard, this deciduous shrub reaches about 1-meter maximum in height and spread which makes it perfect for a low-growing plant. It thrives in average, well-drained soil and prefers full sunlight. If you have loamy soil, this is the perfect plant. If you have a very cold winter in your area the stems might die back some but the roots will survive just fine and bring about new stems come springtime.
Do not assume that your plant is dead if you have a cold winter and you see this for the first time. It gets its nickname because of the aromatic foliage and the beautiful flowers that it produces at the end of summer which resembles blue clouds or smoke. These flowers bring forth beneficial insects, butterflies, and bees to your garden so there was more than just a delightful fragrance to be enjoyed. It's very effective in large groups, as a low hedge, shrub border, or perennial border and requires next to no maintenance after it is established, with no serious disease or insect problem its a fairly easy to grow shrub and does also respond well to pruning if needed.
---
Sarcococca humilis (Dwarf sweet box)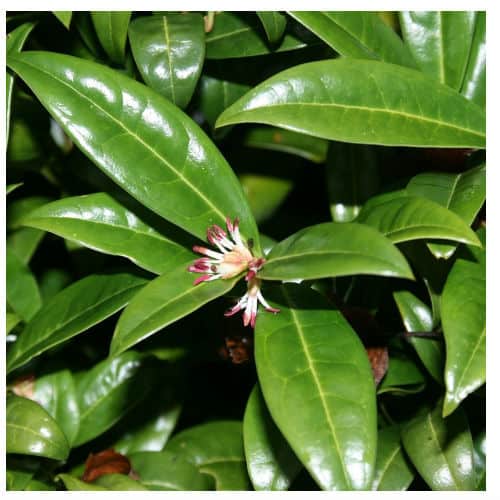 Nicknamed sweet box, this plant grows very well in acidic soil as long as it is well-drained soil. If you have very acidic soil with partial sun or full shade this is a wonderful shrub to consider. You can grow it in full sunlight but if you do the leaves will lose a bit of their lustre. When it grows the evergreen leaves lead to tiny, tubular white flowers that are incredibly fragrant in the spring.
These flowers will certainly draw the eye and eventually produce black fruits if you have female flowers. This is a low-growing evergreen that's perfect for shrub borders, low hedges, sandy slopes, shady parts of a cottage garden, or anywhere else in your garden where you want fragrance and quality foliage.
---
Ceanothus thyrsiflorus var. Repens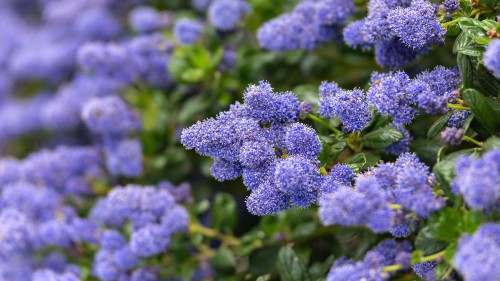 This prostrate low-growing shrub is common among Coastal communities with its attractive, sky blue clusters of flowers that take on a powdered, cotton candy shape and design. This makes for excellent ground cover because it will tolerate full sun or full shade especially in coastal regions and it grows very effectively in sand or clay soil.
It does best on compact clay soils or when grown underneath existing trees. If you live within a few kilometres of the ocean this is a great plant to consider as its tolerant of water and sea conditions but also tolerant of drought.
---
Daphne odora 'Aureomarginata' (Golden edged Winter Daphne)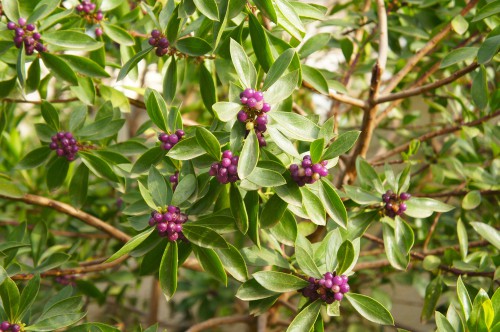 This is a wonderfully fragrant evergreen that is perfect to plant in areas where you want sweetness in the air. The leaves themselves are long and narrow, deep green and edged with creamy gold. At its height, it will spend upwards of 1.2 meters and spread 1.8 meters at full maturity.
It needs only occasional watering and is incredibly tolerant of light, open, or dappled shade. If your garden is regularly visited by dear, this is a great consideration as it's resistant to deer but it still brings bees and butterflies to the garden. Come springtime small flowers appear with sweet purple and lilac buds. A stunning shrub and a great addition to any garden.
---
Hypericum Hidcote (St John's Wort)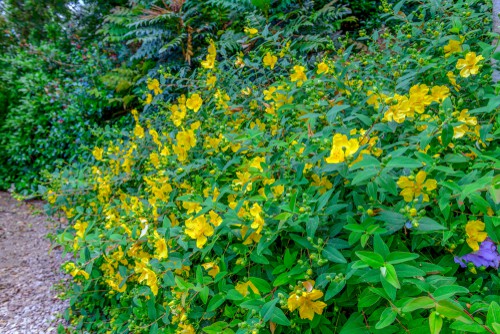 St John's Wort is an evergreen that you can prune regularly in order to maintain the size and shape that you prefer. It is a smaller, low-growing plant that will reach about 1.5 meters in both heights and spread but as mentioned this can be contained if you so choose. As long as the soil is well-drained it will thrive in partial shade or even dappled shade which makes it perfect for areas in your garden where other plants might not grow as effectively.
Like many evergreens, it is incredibly tolerant of all types of soil so if you have sandy soil, loam soil, clay soil, or anything in between you don't have to go out of your way to make modifications in order to properly cultivate St John's Wort. Moreover, it's tolerant of different pH levels so highly acidic or alkaline soils won't inhibit growth. Once planted you can enjoy the green foliage all year round and the bright yellow flowers during the summer which attract bees.
---
Genista lydia (Lydian Broom)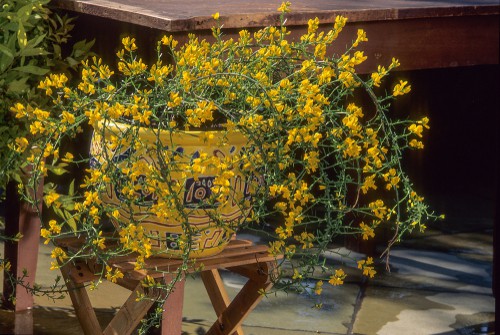 This is an incredibly compact dwarf shrub that produces a sea of tiny, pea-sized flowers that are bright yellow and so floriferous they block site of any greenery underneath on established plants. Aside from aphids, this shrub is virtually disease-free and you can prune it after flowering if you want to maintain a certain size or shape.
It is incredibly tolerant of drought, heat, and deer resistant for those of you with gardens full of deer guests. It's very slow growing and it creates a sprawling cluster of trailing branches as it grows. It won't get more than 30 centimetres tall and upwards of 60 centimetres wide making it perfect for covering the ground. Tolerant of acidic and alkaline conditions, and thrives best as ground cover, in containers, on banks or slopes, and is the perfect addition to almost any type of garden design.
---
Hebe pinguifolia 'Pagei'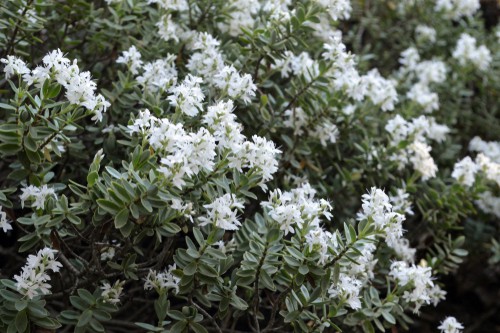 In Summer and Autumn, you can enjoy the production of simple leaves and spikes from this evergreen shrub that paves the way for delightful flowers. This is a dwarf evergreen so it's very effective as ground cover in your garden to fill in spaces in between other shrubs or trees but it's slow growing as well so it won't compete with them for height adding a lot of structure and geometric differences to your garden.
At its full maturity, it will only reach a height around 30 centimetres and will spread three times that to create a dense mat of leaves. These leaves are blue, silver, grey toned and they remain that way all year round so they bring a slightly unique spectrum of colours to even the darkest of areas.
And then come spring and summer it provides white flowers. It needs full sun or partial shade the latter does not impede growth but it does hinder the colour production. Beyond that, it needs well-drained soil but little else. In fact, it will tolerate any soil type including sandy soil or loamy soil. It's also quite tolerant of various pH levels so no modifications will have to be done on a regular basis which makes the maintenance simplistic.
---
Convolvulus cneorum (Silver Bush)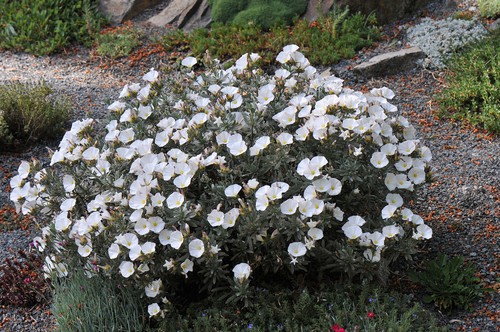 Known as the Silverbush because of the rich silvery colours the leaves assume, this plant is a Mediterranean native which creates dense, mounds of grass that don't get more than one meter wide and tall at most. In addition to the silver-green leaves, it also produces white flowers that take on a funnel shape inside of which is a yellow throat. the flowers start as pink and then open to the white flower revealing the yellow centre near the end of summer.
---
Image credits – Shutterstock.com