Our site is reader supported, this means we may earn a small commission from Amazon and other affiliates when you buy through links on our site.
Last updated on January 21st, 2020
Those with smaller gardens can still benefit from the verdant growth of conifers by selecting slow growing dwarf conifers. Different small conifers offer the same variety as traditional plants but in a dwarf option perfect for small gardens, rockeries and containers, they can also make a great choice for using as ground cover.
Below are our 10 of our top recommended dwarf conifers for smaller gardens.
Juniperus Old Gold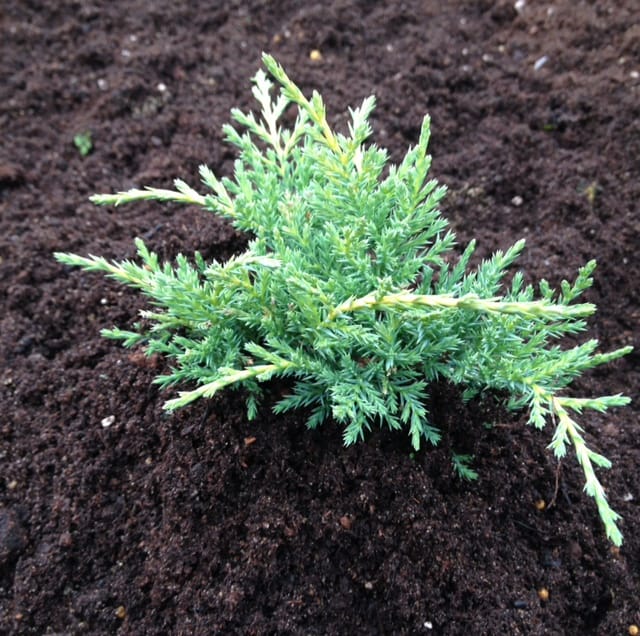 One of the more popular golden spreaders, this compact evergreen has spreading branches that are covered with bronze-yellow foliage all year round.
It has very soft, scale-like leaves that provide a decorative impact. It is perfect for a specimen plant or as ground cover in your garden. When it reaches full maturity it will span upwards of 50cm and outwards up to 150 cm which is what makes it such a good choice for providing ground cover.
You can prune is necessary to maintain the size or spread but the plant doesn't require it. It will grow well in any type of soil including clay soil and thrives best with full sun or partial shade and will even cope will in more exposed areas.
---
Thuja Teddy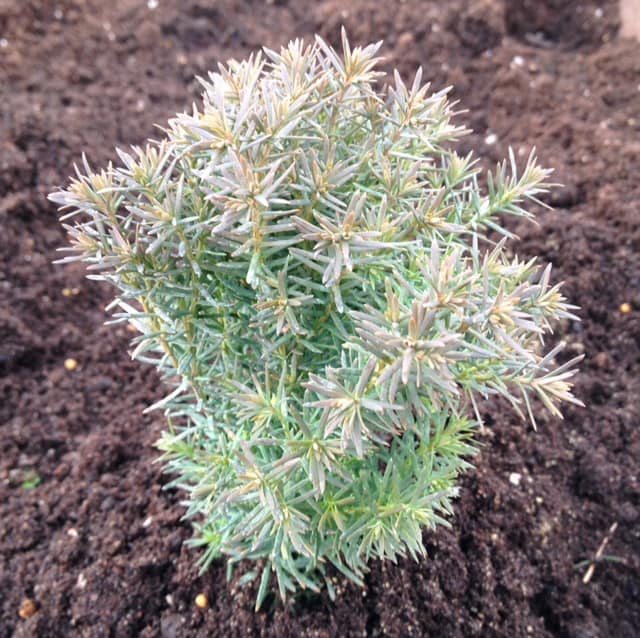 This variety is an adorable globe-shaped dwarf Conifer that produces bright green soft dense foliage. As it ages throughout the season the green takes on shades of blue and eventually gets accented by bronze in the winter.
It will grow into a perfect oval shape which can be groomed into the shape of a sphere. It requires very little water once it's established but does do well in full sun. The rounded shape of this particular dwarf variety makes it perfect for an accent piece in your garden to juxtapose the traditional conifer shapes or tree shapes your garden might have otherwise.
Much like any other conifer, it does not require a great deal of maintenance once it is established. It will grow slowly and once it's established is quite tolerant of drought and light pruning in order to maintain the round shape if desired. Overall it only gets to around 75-100cm tall.
---
Picea glauca Conica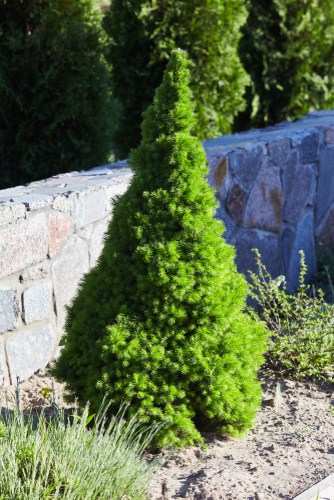 This dwarf spruce type conifer is a very popular cone-shaped Conifer that has branches which create a perfectly uniform structure and is often sold as a miniature Christmas tree. When the needles first emerged they are light green and as they get older they turn a bluish green. Like many of the dwarf varieties on this list, it is a slow grower and won't grow more than 10 centimetres per year which makes it perfect as a topiary, part of your mixed border, or something you have in pots scattered throughout your garden or either side of a door.
At full maturity, around 10 years, it will reach upwards of 100cm in height and 45cm in spread. It tolerates light shade and cooler climates, with slightly acidic soil so if growing in pots its best to get an ericaceous compost.
---
Juniperus Green Carpet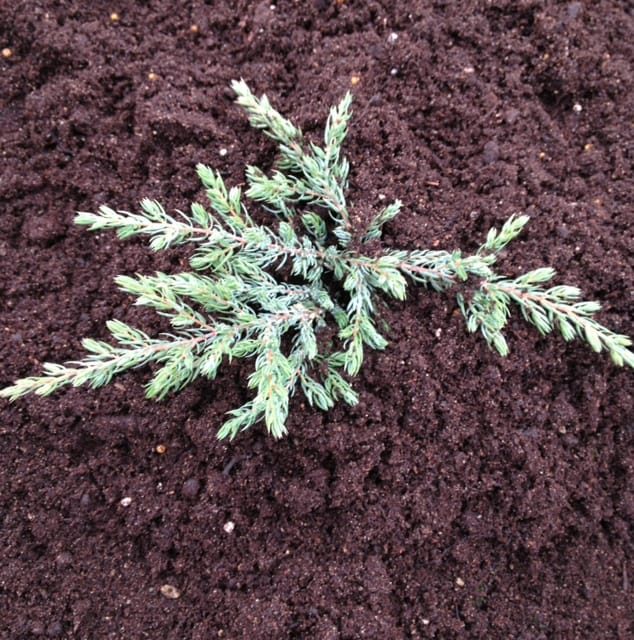 Very compact, the green carpet will grow slowly, creating a dense carpet of foliage in its wake making it the perfect ground cover conifer. In the springtime, the foliage takes on a bright green shade which turns darker as it matures. This is a creeping Juniper which means it will slowly spread effectively as a ground cover if you have any slope in your garden.
It is the recipient of the Award of Garden Merit from the Royal Horticultural Society. It grows well in well-drained soil with full sun and is effectively tolerant of any type of soil therein even poor soil. Once it gets established it is very low maintenance with no required pruning and it becomes quite a drought tolerant plant.
---
Chamaecyparis Rubicon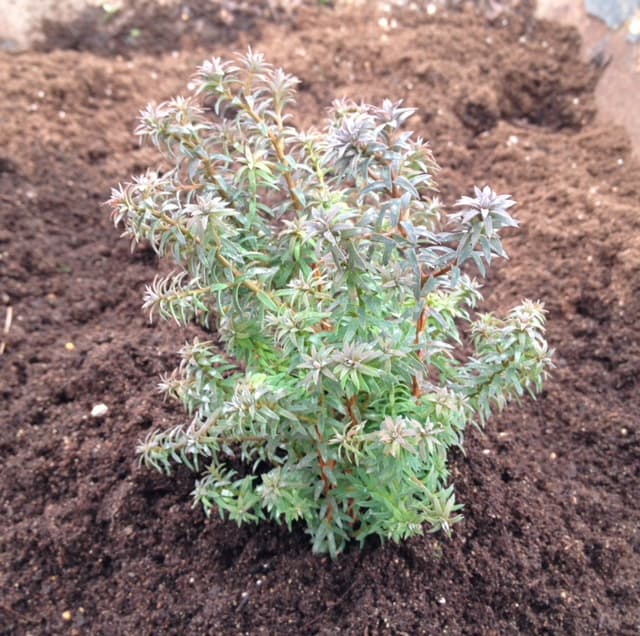 A smaller, rounded shrub, colloquially referred to as the Heather bun, this dwarf conifer has pale blue-green foliage which, come winter takes on a purple shade which stands out against any garden that is full of snow and provides vibrant winter shades in your garden where other plants don't.
It is a slow grower which takes 10 years to reach full maturity at which point it will only span up to 60cm tall and wide. On average it only grows about 5 centimetres per year which makes it one of the smaller, denser specimens out there and perfect for containers.
---
Picea glauca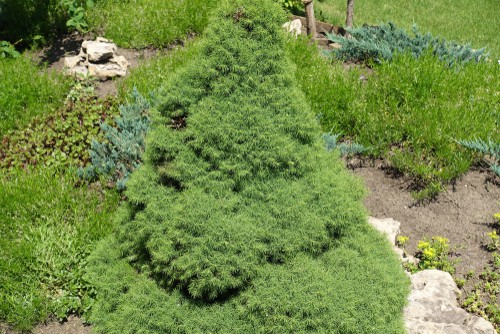 Commonly referred to as the white spruce, this needled evergreen requires full sun and well-drained soil. It performs best in climates that have cold winters which means it grows well in nearly all parts of the UK.
The tree will reach up to 80cm in height and 140 cm in spread taking on a cone-shaped crown. The needles can be crushed to produce a pungent aroma while the needles are bluish-green they also have a white waxy coating that blooms on them which is what gives them the name white spruce. This dwarf variety is perfect as a windbreak or smaller hedge or just as a focal point in the garden.
---
Juniperus × pfitzeriana Carbery Gold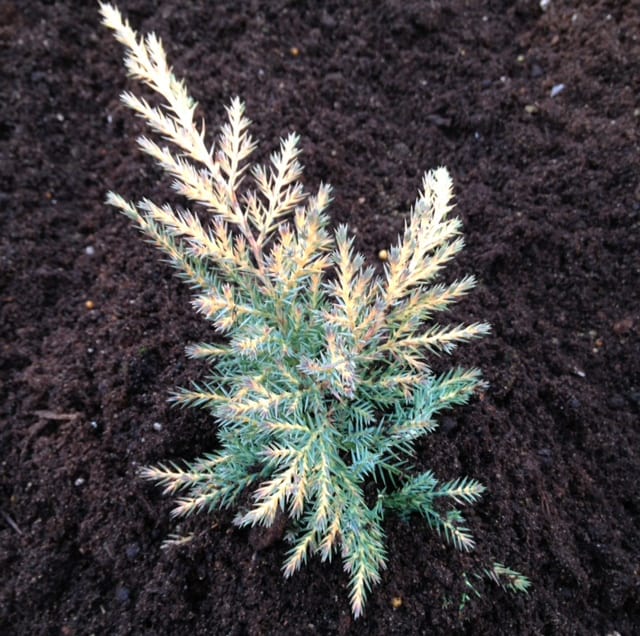 When adding a conifer to your garden this particular variety is elegant with arching branches the foliage of which take on a mixture of bronze, yellow, and green all year round which means no matter the season you can enjoy a variety of colours.
This particular variety produces small fruits and is quite a romantic. At its full maturity, it will spread between 1.5 and 2.5 metres and reach up to 1 metre in height. Much like other conifers, there is very little pruning and maintenance required which makes it an ideal addition to any garden.
---
Chamaecyparis lawsoniana 'Minima Aurea'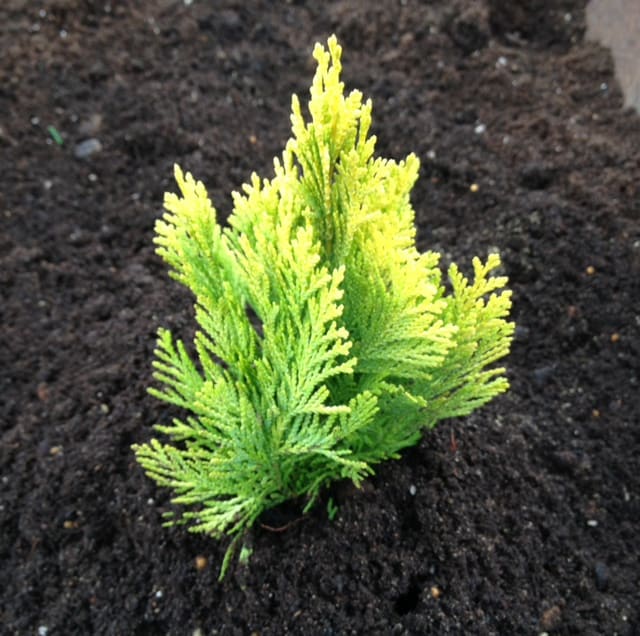 This popular Dwarf Evergreen takes on a conical shape and produces flat sprays of foliage that ascend upward in a stunning display of green and golden yellow. It will grow most effectively in a sunny location. Given its slow growth pattern of up to 15 centimetres per year, it is perfect for containers, sunny borders, or smaller areas of your garden where it will provide colour all year round. It grows well in moist, well-drained soil and prefers full sun or partial shade. It is a very low-maintenance plant with no pruning required and only grows to around 50-100cm tall.
---
Cryptomeria japonica 'Tilford Gold'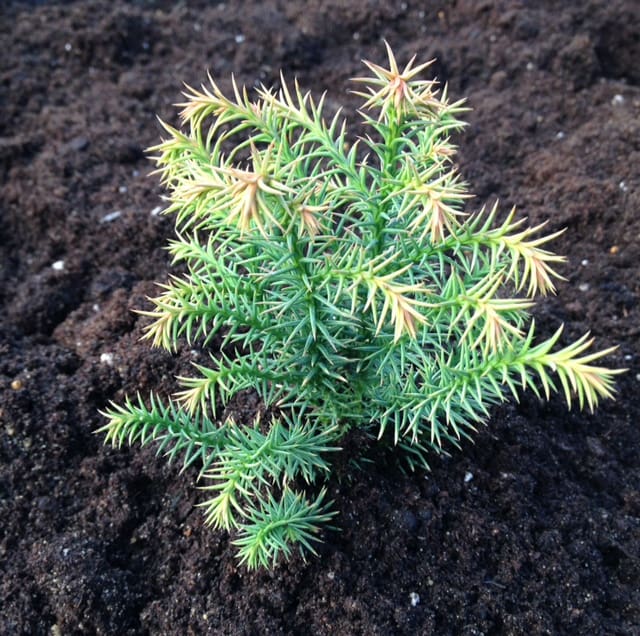 This Japanese Cedar is an unusual evergreen that offers a reddish brown bark in addition to the dense, green-golden foliage. The foliage is comprised of short leaves that are arranged in a spiral around the smaller branches with spherical cones to boot. This dwarf Conifer creates a dome shape with a sharp point and produces an overall effect similar to moss. It will thrive in all soil types and as new growth arrives it takes on a creamy yellow tint which lends itself to a bronze tint come winter. When it reaches full maturity it will have a maximum spread and height of just one meter which can be contained if necessary but takes up to 10-20 years to reach.
---
Chamaecyparis obtusa Aurora
This small and compact Conifer takes on a slightly irregular shape different from the traditional Christmas tree shape and instead offers architectural Conifer shapes that grow out of the same plant. This dwarf variety offers greenish-yellow foliage and it's perfect in rock gardens. When it reaches full maturity it will expand to 60cm to 90cm in height and 60cm in spread. It will do well in a sheltered area as long as it has well-draining soil. If you so choose you can plant in containers and it will thrive equally as well.

---