Last updated on April 4th, 2022
Our site is reader supported, this means we may earn a small commission from Amazon and other affiliates when you buy through links on our site.
If you notice moss on your lawn, you are right to be concerned. Moss can be a temporary issue, especially after persistent drought or waterlogging, however, it can also point to an underlying issue.
If you have a brand new lawn, for example, a great deal of moss can be indicative of poor site preparation. If you have an established lawn, acidic soil conditions, inadequate food, inadequate aeration, and even bad drainage can result in unwanted moss.
Killing and subsequently removing the moss is only the first step. In order to keep your lawn free from moss, you have to tackle the underlying factors which could be any of those listed above. A good way to do this is to implement an annual lawn care schedule, part of which includes things like correct feeding of the lawn, preparation by scarifying your lawn in spring and autumn, regular mowing, and drainage – which can be improved greatly by aerating your lawn.
There are many types of moss that can grow on your lawn but in most cases, they are coarse and loose, often yellow or green in colour. They form dense tufts that leave the surface uneven. Loose areas of moss can leave your lawn with a spongy feel underfoot. It's much easier to control moss if you follow a yearly routine than it is to try and remove and kill moss once it's fully established itself in your lawn.
What causes moss?
Moss can be caused by many things. If, for example, you have sparse grass coverage, the balder areas might be filled with moss. If you have areas of your lawn prone to daily wear and tear, such as areas where people regularly walk or play, this can (unfortunately) create an environment that is perfect for moss to thrive. 
Moss often grows in areas underneath trees, or in other shadier spots. Other potential causes include compacted soil, waterlogged soil, drought-stressed grass, or acidic soil. If you mow too closely, fail to maintain your lawn, or fail to give it enough food, it can also result in moss. 
---
Removing Moss
No matter the cause, you need to find a way to control and remove it. As mentioned there are many things that can contribute to the growth of moss across your lawn and the best way to control it is to prevent it. Once you have gotten rid of moss on your lawn you should regularly implement annual lawn care strategies to prevent it from coming back.
Scarification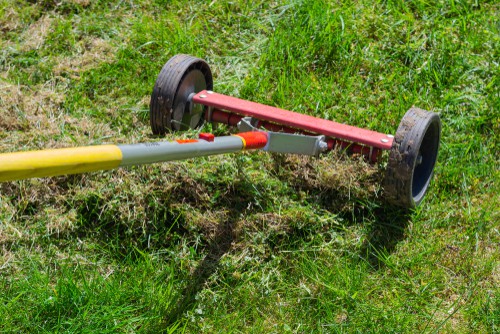 The first way is through scarification. This is something you can integrate into your annual lawn care schedule. This is best done in September or October, unfortunately, for a short while your lawn will look very bare, however, it will reward you for scarifying and will quickly recover. If you cannot scarify in the autumn then it can also be done in spring.
Vigorously rake the lawn by hand using a rake or use an electric or petrol scarifier. The second two will make the job much easier, quickly removing the moss and other debris that is starting to collect on top of the grass. A scarifier will also remove thatch and weeds from deep into the lawn and will also help water and nutrients get to the roots of the lawn.
To learn more about how to scarify your lawn you can read our guide by clicking here.
See our top recommended scarifiers that make removing moss much easier.
Our top recommended scarifier for removing moss
BOSCH AVR 1100 Verti Cutter Lawn Raker
Fast verticutting without tool blockage
Fast and complete collection of moss and thatch
Comes with a 50 Litre collection box, vibration emission value ah: 2.5 m/s², uncertainty K: 1.5 m/s²
Innovative drum with stainless steel blades and airflow inlets quickly and completely removes the layer of thatch consisting of plant debris moss and weeds from the lawn
---
Non-chemical ways to control moss and feed the lawn at the same time
You can also apply non-chemical products to control moss but if you do this, mow the lawn short beforehand and leave it for at least 7 days before you mow again. Most of these products need water to activate, so they are better applied as part of your care routine in spring, sometime between March and October. If you apply a product such as Neudorff Organic CleanLawn or Evergreen Norake, rest assured that it will help prevent moss.
Neudorff 2.5Kg Organic Lawn Feed and Improver
Fast acting & long lasting fertiliser. For a thick & green lawn that suppresses moss & weeds.
Improves soil condition. With soil improving microorganisms.
Mycorrhiza funghi for a root system up to 150x bigger ensuring strong & healthy plant growth.
Organic compound fertiliser NPK 10-3-5: animal by-products, fermented vegetation residues, organic material & living microorganisms.
Granulated for use with fertiliser spreaders. Use between March & October. Application: Scatter 50-100 g/m, 2-3 times a year.
---
Using lawn moss killers
In addition to these, you can use weedkiller controls that are commercial grade and designed to control moss and weeds. Moss killers containing sulphate of iron should be applied to your lawn in the autumn or the spring.
These products will turn the moss black after 2-3 weeks following application, which you should use a rake or scarifier to remove it. When you apply commercial products like these, you can find some that are a combination of fertiliser, moss killer and weedkiller which helps your lawn to improve. Regardless, these products should be applied according to the instructions so that you don't apply too much. Applying too much can also have a negative effect because this can actually result in dead patches on your lawn. You also need to make sure that you don't apply lawn moss killers in the wrong weather. 
We recommend using a lawn spreader because most are in granular form and this will ensure an even and correct spread as well as preventing the lawn from burning.
See some of our recommended lawn spreaders in this review roundup by clicking here
See our top recommended moss killers for lawns
Miracle-Gro 119691 Evergreen Complete 4 in 1 Lawn Food - 500 m2, 17.5 kg, Lawn Food, Weed & Moss Control
Creates a thicker, greener and healthier lawn whilst killing weeds and moss
WaterSmart formula helps absorb water and nutrients more effectively, helping to protect your lawn against drought and stress
For ideal results, apply using an EverGreen or Scotts spreader to ensure even coverage
After applying this product in accordance with the label instructions keep children and pets away from treated areas until the granules have been watered in thoroughly and the areas have dried
Use from April to September
Pro-Kleen 2.5 KG PREMIUM Iron Sulphate (Makes up to 2500L When Diluted & Covers up to 2500m2) Pure Lawn Tonic- Ferrous Sulphate of Iron Lawn Conditioner and Turf Hardener. Dry Powder easily soluble in water
✓ DRY GRADE POWDER EXTREMELY POWERFUL, HIGH QUALITY PREMIUM 3-in-1 FORMULA: WITH OVER 10,000 SALES and 10,000 SATISFIED CUSTOMERS. TOP BRAND. OVER 350 5 STAR PRODUCT REVIEWS WITH AN AVERAGE 4.8 RATING ***** Iron Sulphate is an Iron rich and long lasting fertiliser that will encourage strong growth and healthy dark green grass and act as a turf hardener.
✓ USED & TRUSTED BY PROFESSIONALS: Used by professional green keepers, lawn keepers, park keepers, sports grounds men etc for perfect pitches, green lawns, and superior golfing greens. Sulphate of Iron is used as a lawn greener and a lawn conditioner by many discerning home users across the UK to improve their grass quality.
✓ HIGH QUALITY PROFESSIONAL GRADE: THERE ARE DIFFERENT "GRADES" OF IRON SULPHATE AVAILABLE ON AMAZON. THIS IS A FINE POWDERED GRADE THAT HAS TWICE THE COVERAGE OF THE "DAMP", "INDUSTRIAL" OR "CRYSTAL" GRADE BECAUSE THAT INFERIOR GRADE ALREADY CONTAINS EXTRA WEIGHT IN EXTRA MOLECULES OF UNNECESSARY WATER. ONCE IT IS DISSOLVED IN WATER YOU ONLY HAVE HALF THE PRODUCT! BUY OUR FINE POWDERED GRADE FOR 100% POWER!!!
✓ HELPS TO PREVENT LAWN DISEASE: Our thoroughly researched & developed, tried and tested formula gives grass sensational colour and even helps to prevent lawn disease with its turf hardening qualities.
✓ EASY TO USE: Coverage of 2.5KG approx 2500 sq metres for GRASS GREENING, 1500 square metres for turf hardening - CAN BE APPLIED WET or DRY. Best used dissolved in water for easy & even coverage but can be applied dry also - The easy open/close clip top tub means this is easily stored in optimum conditions. Instructions for usage including suggested dosages for grass greening are on back of tub.
---
Preparing your area for a new lawn to avoid moss growth
If you are planning to lay a new lawn it is vital you make sure you properly prepare the area beforehand. This means making sure you have a good layer of soil underneath the lawn and that the area is free-draining. We recommend avoiding any commercial-grade products for the first 6 months to give the lawn enough time to establish itself.
---
What can you do with dead moss?
Once you have removed the dead moss from your lawn, you can add it to your compost heap. Moss can be slow to rot and should be mixed in with plenty of other compost material.
If you have a problem with moss on hard surfaces such as patios, check out my top recommended moss killers for driveways here
Image credits: Shutterstock.com
Last update on 2022-03-17 / Affiliate links / Images from Amazon Product Advertising API