Our site is reader supported, this means we may earn a small commission from Amazon and other affiliates when you buy through links on our site.
Last updated on April 19th, 2020
If you want to have a late summer flowering garden, Japanese anemones are a great addition. The flowers are held up on wiry stems and can be found in a variety of colours including pink, lavender, or white. You can find single or double flowers all of which both yellow centres. They've nicknamed the Windflower because of how easily they dance in the wind. These particular flowers differ from bulbing anemones which otherwise bloom in Spring. The Japanese anemone is a perennial that blooms in the Autumn so you can enjoy a range of colour at the end of summer so long as you have an area that has moist soil with partial sun.
Native to China, these flowers were heavily cultivated in Japanese Gardens where they were seen first by European explorers during the 17th century. The late summer flowers and the dark green foliage that dancing the wind made them particularly attractive. They grow well in full sun or partial shade and can be quite tall so they will fill up the back of a layered space effectively. They spread via rhizomes but, you can remove errant plants easily in the spring.
Anemone Wild Swan – Available from Amazon.co.uk
Where to Plant Japanese anemones
If you live in a colder area, you should plant your Japanese anemones close to a structure such as a fence or a wall or house so that they have extra protection against the winter weather. They make for great flowers to plant along the border of your home or outdoor shed. If you don't have such a space-available you can grow them in a large container suitable to the size of the root system at full maturity, and place them in areas like patios or balconies where they still get that added protection thanks to the structures around the containers.
Anemone Japonica Queen Charlotte
When to Plant
You should plant new Japanese anemones in the springtime once there is no longer a risk of frost. The roots don't like to dry out so you need to make sure where you plant them they will be able to stay moist, something you can help with a little extra mulch. They do best with humus-rich soil and a mixture of compost. If you are planting more than one, space them out approximately 1/2 meter from one another as they do quickly fill out and area.
They prefer moist well-drained soil
As long as the soil is well-drained hanging and stays moist Japanese anemones are quite forgiving. This means you don't have to go out of your way to test the pH level or amend slightly sandy or clay-like soil. However, you still need to give them some regular care no matter the soil type.
Maintaining Japanese Anemones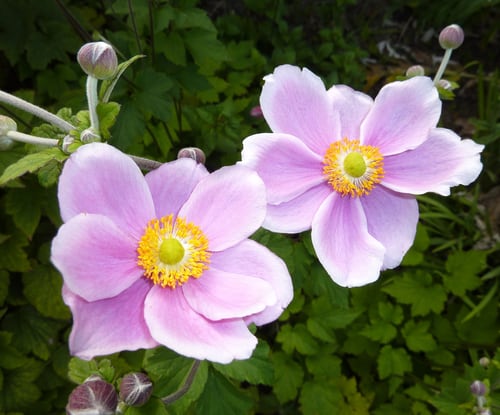 Firstly, they will need compost in the spring. Secondly, to help with moisture retention and to prevent weeds from taking over you should add bark mulch every season around the base of the plant.
Support taller varieties with canes
The Japanese anemones can grow over one meter in height and if you have the double-flowered varieties you might need to add some canes or some sort of support to prevent them from falling over.
Dividing plants
They will spread runners underground so after the first few years, you can divide an existing plant and transplant them elsewhere. To do this dig up the entire plant at the beginning of Spring, divided into fist-sized new plants, and replant them in similar conditions.
Winter care
In the winter frost has killed the plants, you can cut them back to ground level and add compost over the top. Rest assured, they will come back in the spring just fine.
They do best when you grow them in groups and give them room to spread. They will also attract butterflies so you can add them to a wildlife garden or other woodland area where they will be allowed to spread naturally. If you need to pair them with other plants to fill the garden space, you can do ornamental grasses, hosta, even monkshood.
Recommended Varieties
If you want a white coloured variety that is an heirloom flower, "Honorine Jobert" is best.
If you want a double, rose-pink variety, choose "Bressingham Glow".
For more limited space, there is a white variety that is slightly smaller called "Whirlwind".
If you want a touch of lavender, you can grow the "Kriemhilde".
For pink, semi-double flowers, try "Max Vogel".
Bestseller No. 1
Japanese Anemone Collection 6 Bare Roots by Thompson and Morgan (6)
This beautiful collection of Japanese Anemones are extremely hardy and undemanding plants. These will return year after year providing a beautiful display.
These are perfect plants for attracting insects into your garden, with a host of windflowers rising above the attractive green foliage, helping pollination.
These plants can provide you with many years of colour.
This collection comprises of 3 well known cultivars that will bring plenty of late interest to your garden. Receiving 2 each of the following, Anemone x hybrida 'Honorine Jobert', Anemone x hybrida 'September Charm', and Anemone hupehensis var japonica 'Prinz Heinrich'Supplied with T&M's very own cultural instructions on how to care for your plants.
Your satisfaction guaranteed; we want you to be 100% satisfied with any product you buy from us. If you're not 100% happy then neither are we, so let us know and we'll replace your product or give you your money back.
Bestseller No. 2
Anemone x hybrida Whirlwind - Japanese Anemone
Anemone Whirlwind is a beautiful, compact variety
Masses of graceful, cup shaped, double white flowers with lovely yellow anthers, on tall wiry stems.
Flowers from August to October
Full sun or semi shade. Will tolerate full shade but performance will be reduced.
Most moist fertile soils
Bestseller No. 3
Bestseller No. 4
Bestseller No. 5
Bestseller No. 6
1 X RED Azalea Japanese Evergreen Shrub Hardy Garden Plant in Pot
Pot Size (Supplied): 9cm Pot (Image for Illustration purposes - supplied in growers pot)
Plant height (Including Pot): 20 - 30cm
Characteristics: This deciduous shrub has a bushy habit, boasting fiery-red coloured flowering in Spring and Summer and mid-green foliage all-year-round.
Growth & Spread: Ultimate height and spread of 0.5 - 1m. It will take 5-10 years for the Azalea to reach this peak growth.
Period of Interest: The Spring and Summer months are when this Azalea will produce striking red flowers that are extremely eye-catching. The mid-green foliage is an all-year-round feature, with the only months of non-solitary growth coming during the traditionally warmer seasons.
Bestseller No. 8
Bestseller No. 9
Thompson & Morgan Hardy Shrub Flowering Japanese Quince 'Salmon Horizon' Chaenomeles, Easy to Grow, Potted Garden Plants, Ideal for Smaller Gardens, Patio and Containers (1 x 3.6 Litre Pot)
Japanese Quince 'Salmon Horizon' produces beautiful orange-pink, cup-shaped blooms on naked stems from early March
The flowers of 'Salmon Horizon' are replaced by large golden, aromatic fruits in autumn, which can be made into jellies and preserves
Excellent for bringing wildlife into your garden, Chaenomeles is highly attractive to bees, butterflies and other pollinating insects
'Salmon Horizon' is a spreading, deciduous shrub that makes a delightful wall shrub or can be used to create an intruder-proof barrier
Your satisfaction guaranteed; we want you to be 100% satisfied with any product you buy from us. If you're not 100% happy then neither are we, so let us know and we'll replace your product or give you your money back
Sale
Bestseller No. 10
Toki Blended Japanese Whisky, 70 cl
Suntory Whisky Toki brings together old and new - the House of Suntory's proud heritage and its innovative spirit - to create blended Japanese whisky that is both ground-breaking and timeless
Colour: Clear gold
Nose: Basil, green apple, honey
Image credits – shutterstock.com
Last update on 2021-01-27 at 00:24 / Affiliate links / Images from Amazon Product Advertising API