Our site is reader supported, this means we may earn a small commission from Amazon and other affiliates when you buy through links on our site.
Last updated on January 21st, 2020
Even though oranges are native to warmer climates, you can still grow an orange tree in your UK garden if you grow them in pots. The process does require the right type of orange tree, soil composition, and container, but when done correctly, you will be able to pick fresh oranges off your tree but it does mean being prepared to move them into a heated greenhouse or indoors for winter to protect them our cold weather.
Pick the right orange tree to give you the best start
It's essential to buy an orange tree, one that is already slightly grown rather than trying to start a tree from seed. It is far too time-consuming form most people to try and cultivate your tree from seed then it is to simply buy one from a local nursery or garden centre.
You also want to buy the right variety of orange tree. There are many varieties, and some get unusually large which obviously won't do well in a smaller container. Most trees will reach up to 10 meters or taller in their natural environment but this is obviously not the case when growing them in pots as it restricts there growth.
They need warm temperatures
Orange trees require temperatures that remain quite warm. If you live in an area with colder weather and you don't have the space to support a tree this large, you can prune a variety that won't get more than one meter tall but be prepared to grow it in a large pot.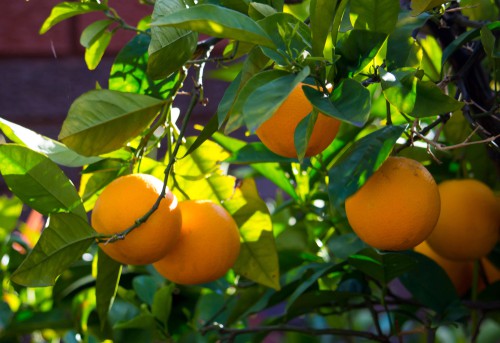 An Orange Mandarin tree, Trovita orange tree, or Washington orange tree are the three recommended varieties for growing in pots.
Mandarin orange trees
Growing Mandarin trees, for example, affords you a tree that survives in slightly cooler temperatures compared to most orange trees, and a tree whose size permits you to move it indoors over winter easily which is essential. A plus side to Mandarin trees is that they typically bear fruit within the first year so you don't have to wait multiple years before you can pick your own fruit.
Clementines / Calamondin
Clementines and Calamondins are other great options. They are smaller, straightforward to peel and are a hybrid that falls under the category of orange trees. They can grow up to 2.5 meters in height, but if you grow them in pots, they will typically stay smaller than that. The Calamondin varieties have very small fruit and are usually more ornamental as they get smothered in tiny oranges.
Bestseller No. 1
Mandarin Orange Tree (Citrus reticulata) Seeds Outdoors Fruit Pot Plant
The mandarin orange (Citrus reticulata), also known as the mandarin or mandarine, is a small citrus tree with fruit resembling other oranges, usually eaten plain or in fruit salads.
This is a beautiful small tree, that gets fragrant white flowers, and delicious tangerines that taste as if they have a touch of honey in them.
It is a rounded upright grower, and this is evergreen.
Package Inculd: Citrus reticulata Seeds 5g, About 60Pcs.
Bestseller No. 2
YouGarden Mandarin Citrus Tree, 6 Litre Pot
Pick your very own delicious fresh blood oranges and add a Mediterranean feel to your home or garden
Packed full of vitamin C, these fruits are just like the easy peel fruit seen at Christmas time
Use your fruits in everything from freshly squeezed juices, to yummy desserts and save tons of money on supermarket prices
Not only that, this tree will produce highly fragrant, white blossom during late spring and early summer
Supplied as an established plant in a 6 Litre pot
Bestseller No. 3
Kumquat Tree | Orange Tree Plant | Fruit Tree | houseplant | Height 50cm | Pot 15cm | Potted Citrus Tree (50, Without Pot Cover)
✔️ A KUMQUAT TREE IN GREAT SHAPE : Your citrus plant is maintained in optimum conditions in the greenhouse of our Dutch growers. She only needs a few days to move from the greenhouse to your home.
✔️ EASY MAINTENANCE: Strong light exposure and a glass of water when the plant soil is dry on the surface for 2cm (1-2 times a week in summer).
✔️ SECURE PACKAGING : Our packaging technology pays particular attention to protecting the roots and leaves of the plant to keep them healthy when traveling from the greenhouse to your home.
✔️ SUSTAINABLE AND ECOFRIENDLY PRODUCTION : Our growers are using renewable energy and are concerned about their environmental and social impact.
✔️ DIMENSIONS : H50cm and L22cm (pot)
Choose a container that is slightly larger than the pot it is already in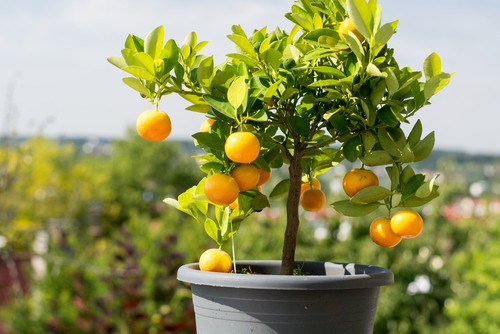 Once you have the right variety, it's essential to purchase the right container. If you don't give your orange tree enough room to grow or adequate drainage, it will stunt the growth which will reduce the fruit you receive and in some cases cause your tree to die.
You need to make sure the container you choose is made of the right material and that it is the right size. A good rule of thumb is to purchase a pot that is twice the size your tree comes in from the nursery or garden centre. Effectively you want a pot that is twice the size of the root ball for the tree.
The material matters. Orange trees will get quite heavy as they mature and combined with the amount of soil you need, the last thing you need is to add extra weight to the total size by picking a particularly heavy container. Plastic pots are very cost-effective, they are lightweight so you can easily move your tree indoors and outdoors over winter, they are durable, and you can add more drainage holes if there are insufficient holes at the bottom with nothing more than a drill.
Of course, some people want ceramic or wood over plastic if they don't plan on moving the container regularly or are sure they will still be able to move the container. Wood and ceramic pots offer a more substantial base which adds extra support against any wind and prevents the tree from being knocked over which is a big plug for taller orange trees grown more like a standard tree.
Planting your orange tree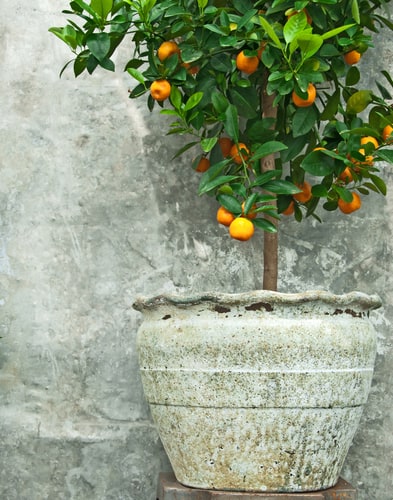 As mentioned, you need a container that's twice the size of the root ball because these trees grow very quickly. That said you will need to transplant them slightly bigger pot every three years or so depending on how fast they are growing. When you transplant, you can use the same process you did planting the first time.
Use a mixture of John Innes Potting Compost mixed with 30% grit or buy a specialist citrus compost
Fill your new container, do 75% capacity with potting soil. Only potting compost will have the right nutrient mix such as John Innes potting compost mixed with about 30% grit. Don't use garden soil from the ground or raised bed soil plus it can contain diseases and pests.
Place the orange tree in the centre of your new pot, then backfill the area around it with the remaining potting compost. You shouldn't feel it any higher than the point where the stem meets the soil.
Westland Citrus Potting Compost Mix and Enriched with Seramis, 8 L
This is a specialist blend that can be used by anybody who wants a strong and healthier plant that is provided with optimum water and nutrient availability.
The added SERAMIS granules do a fantastic job at regulating the plants water intake to ensure optimum water and nutrient availability.
This mix is loam rich to retain nutrients and for fruit development.
This 8L bag will fill a 28cm Pot.
Feeding and watering
Right after you plant your orange tree, apply a citrus fertilizer. This will help it to adjust quickly to the new environment. Water your tree for approximately 30 seconds so that the fertilizer can dissolve. You can repeat this process of watering once a week.
You typically won't have to water more than two or three times per week even in the warm weather. If the soil in the container is dry to the touch on the surface, it means it's time to water.
You can learn more about watering and feeding citrus trees in this guide by clicking here
Position where it gets lots of direct sunshine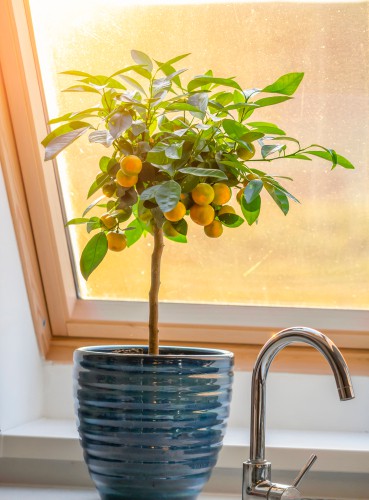 Your orange tree needs as much sun as possible. If you have an outside, make sure it is in an area where it gets between 8 and 12 hours of sun if possible. If your tree is indoors, place it near a window, where it gets as much sunlight as possible.
When you bring your orange tree indoors during the winter, it won't get as much sunlight as it does in the summer and that's just fine. Make sure you put it in front of a window where it gets as much light as possible.
Learn more about overwintering citrus trees in this guide.
General orange tree care
When it comes to maintaining your tree, make sure you water it properly. In addition to watering at regular intervals, you want to water in the evening or early in the morning to minimize evaporation and protect the leaves against getting burnt.
On an annual basis, you should fertilize the tree to help supplement any nutrients in the soil. Only fertilized when there are no flowers on the tree and no fruit on the tree.
You can prune your tree to better fit the space you have or to help you fit inside when you move it during the winter. Pruning will promote better tree growth which incidentally increases the number of oranges you get.
Repotting
As mentioned, you should transplant your container every three years or so and again make sure that the new container is twice the size of the current root ball.
Harvesting oranges
When it comes time to harvest, you can pick the oranges off the tree when they are ripe. If you try to pull them off the tree and they are firm, and they don't have any gives, they probably aren't ready, but as soon as they are soft to the touch ever-so-slightly and come off the tree easily, it's time to harvest.
Remember, cold weather can damage your tree so try to keep it in an area that's warm all year round. Too much water can lead to root rot so only water when the tree needs it. Similarly, darkness will kill your plant, so give it as much sunlight as you can find.
Last update on 2021-04-21 / Affiliate links / Images from Amazon Product Advertising API