Last updated on January 21st, 2020
Our site is reader supported, this means we may earn a small commission from Amazon and other affiliates when you buy through links on our site.
Citrus trees are not native to Britain, but you can grow them successfully in containers. You can leave them outside in the summer and bring them inside for the Winter. Most gardeners love growing lemons and calamondins, but kumquats are also tolerant of cold weather. Those in slightly warmer regions can cultivate limes or grapefruits, even oranges. No matter which type of citrus tree you want to grow, it's essential that you know how to feed and water it appropriately as overwatering is the biggest cause of leave drop and root rot. They are also very hungry plants and need feeding regularly with a winter or summer citrus feed.
Feeding citrus trees
When you first plant your citrus tree, you should give it a hefty dose of fertilizer according to the instructions on the Citrus fertilizer you choose. This will help it to adjust to its new location.
Summer and winter feeds
While you are maintaining your citrus tree, you should be adding fertilizer between one and two times per year, possibly more depending on the citrus tree you have and what it needs specifically based on where you live. Citrus plants are very hungry trees, and they need a lot of food. You should give them high nitrogen, Citrus specific fertilizer, usually sold as summer citrus feed between March and October. In Winter you need a winter feed for citrus plants and apply less frequently but as stated on the fertiliser as it can vary from brand to brand.
Feeding after repotting into larger pots
Most citrus trees have to be transplanted to larger pots as they grow toward maturity. This is something you might do every 3 or 5 years, depending on the type of citrus tree you are growing. When you transplant your citrus to a new container, you want to follow that same rule of feeding. Give it a hefty dose of fertilizer according to the instructions to help it addressed to the new container and get settled in.
Watering citrus trees
Watering is equally important. Citrus trees love an abundance of sunshine and the more sun they get, the faster the soil will dry out. You should be watering on average once per week, possibly two or three times per week when the weather is particularly warm.
A good rule is to check the soil before you water. If the soil is dry to the touch, it's indicative of dry soil in need of a refresher. Even in the Winter, if you bring your citrus tree indoors, it still needs to be watered just much less often.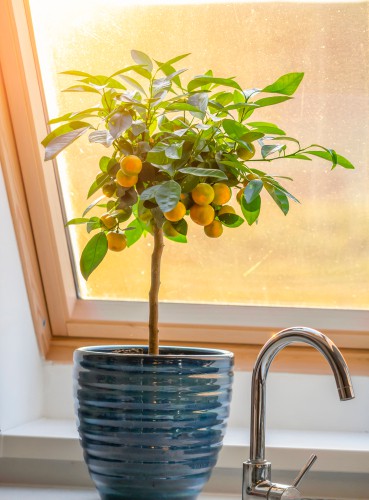 Avoid overwatering
Citrus trees are particularly susceptible to damage from overwatering; they can become waterlogged, which will cause root rot. It is for this reason that you want to check the soil before you water so that you can adjust accordingly. When growing in a container, you need not water for more than 30 seconds at a time, especially if the plant is indoors. In fact, when you bring your plant indoors for the Winter, you might consider misting it gently to avoid over-watering during the colder months. As a guide, you might water daily in summer but as little as once or twice a month in winter, sometimes even longer between watering.
Always check the container itself for adequate drainage and maybe when you transplant your citrus tree, add some gravel to the bottom of the container to help with proper drainage.
Right after you plant your citrus tree and anytime you transplant to a larger container, you should water thoroughly to help the tree settle into its new home.
Following these steps will help you to ensure the long lifespan of your citrus tree so that you can pluck fresh fruit every year.
Last update on 2021-12-03 / Affiliate links / Images from Amazon Product Advertising API