Our site is reader supported, this means we may earn a small commission from Amazon and other affiliates when you buy through links on our site.
Last updated on April 23rd, 2020
Agapanthus is very versatile plants especially in the summer and you can plant them in large numbers to create stunning borders or in containers. They require very little maintenance and they actually enjoy being a little crowded. If left to their own devices they will happily multiply into natural clumps of individual plants but they do benefit from being divided around every 4-6 years to keep them prolifically flowering.
Why you need to divide agapanthus
If you noticed that the clumps you have in your garden have started to get too large, they might dominate the area and prevent other plants from getting nutrients they need while also producing fewer flowers which are most peoples concerns when it comes to growing agapanthus. What should you do?

Divide and conquer. Or more specifically divide and split up the plants. The bonus here is that when you divide your plants you get additional plants you can put somewhere else or there's always a friend who will happily take them from you if you don't have room.
When to divide agapanthus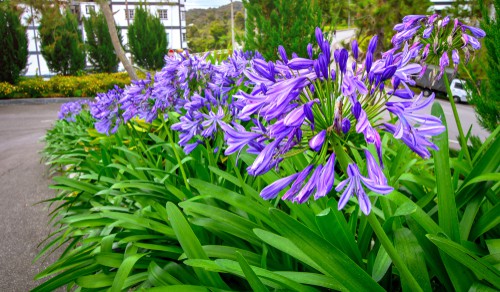 Evergreen varieties
The best time to divide your agapanthus is in the spring or early summer as soon as you notice the new shoots emerging or in the Autumn. We would recommend the middle of September / October once your plants have finished flowering.
While you're making your decision as to when you choose to divide your agapanthus remember that if you divided in the springtime you are probably going to receive fewer flowers that year as you have disturbed the roots but they will benefit from it and produce much better shows the following year.
You should divide your agapanthus plants every 4 to 6 years or every time they start to get too big and under produce in terms of flowers. If you are growing them in pots they are more likely to stop flowering so as soon as you see this happening its time to divide and replant in well-drained quality compost.
Dividing deciduous varieties
The best time to divide your deciduous agapanthus is in the spring or early summer as soon as the new growth starts to emerge or at the end of autumn when the leaves have died back. You should only really divide deciduous varieties every 7 years, but again, look for the signs for overcrowding and few flowers and split when the plants are ready.
How to divide agapanthus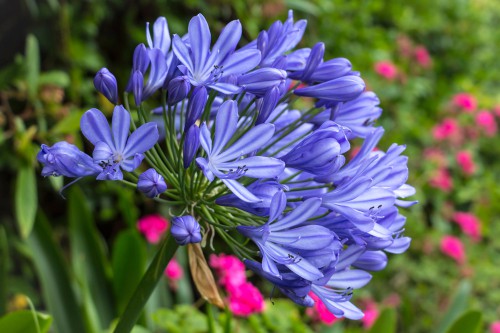 In order to divide your agapanthus you will need the following:
two large garden forks to pull apart the large crumps
a large spade that is very sharp to split the plants
a large knife or saw to split them into sections
When you are ready to start by digging around each clump using your spade. If it is very large clumps of agapanthus and more than one clump has become intertwined which is usually the case when grown in the ground, you may need to slice directly through the roots on all sides by holding your spade vertically and cutting straight down.
Once that is done lift the clumps out of the ground using your garden fork and be as precise as possible. These roots are very strong so it will literally take a great deal of effort for you to lift them no matter how strong you are. Once they have been lifted shake them to remove as much excess soil as possible.
At this point, you can split the clumps in half using your hands if you are able but this is often a little difficult. If the roots are too far intertwined and you're unable to do it by hand, then a good tip is you can place your two garden forks in the centre back to back and use one as a lever to force them apart, this makes the job much easier.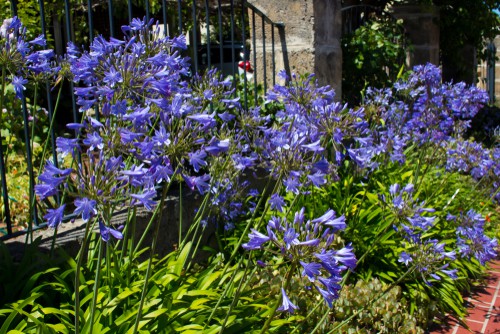 At this point, you should separate each clump into a smaller clump each still with a healthy root system. You want to tease out the roots with your fingers or with the sharpened saw that you brought. You can split your clumps in half, break them down into thirds, quarters, or even cut them into individual parts, agapanthus are very tough and will cope with this very well. The only thing to remember is that the smaller the cut sections of agapanthus, the longer it will take for each plant to produce flowers once it has been replanted so we recommend keeping them as good sized divisions and no two small.
Now you want to trim the leaves back by approximately 1/2 or 2/3 the original size and trim away any damaged or long roots so that the plants concentrating on producing new roots and getting established once planted again.
Before you replant them add rich well-drained compost to the soil to help the plants recover. Space each clump approximately 30 to 50cm apart if you are using larger clumps but if you are using individual plants space them approximately 10 to 15cm apart. When you put them in the ground spread the roots out and plant them at the same depth as they were planted originally and planting too deep can rot the crowns.
Fill in the soil around the area and pat it down. Water it well so that any air pockets are alleviated and make sure the plant remains moist for the next few weeks after it has been planted so that it has an opportunity to establish itself successfully.
We recommend that you split and plant straight away to minimise stress on the plants, however, if you are unable to transplant immediately for whatever reason, put the plants someplace cool and cover them with a damp newspaper until such a time as they can be transplanted.
---
Where to buy agapanthus
Bestseller No. 1
Thompson & Morgan Bare Root Hardy Garden Plants Agapanthus, Ideal for Borders & Patios, Easy to Grow, 6 or 12 x Agapanthus Blue & White Collection Bare Root Plants (6 Bare Root Plants)
Agapanthus Blue & White Collection are hardy bare root plant, ideal for growing in garden borders and patio pots. Easy to grow, flowering in summer
A perfectly balanced blue and white-flowered collection of two Agapanthus varieties, including 'Queen of the Ocean' and 'Polar Ice'. Producing rounded flower heads on upright stems, they're ideal for use as cut flowers
Easy to grow in containers or borders, drought-tolerant Agapanthus are ideal for a hot, sunny border, bringing colour to the garden in mid-summer
Bare root plants; Supplied as 6 or 12 x Agapanthus 'Blue & White' Collection bare root plants.Supplied with T&M's very own cultural instructions on how to care for your plants.
Your satisfaction guaranteed; we want you to be 100% satisfied with any product you buy from us. If you're not 100% happy then neither are we, so let us know and we'll replace your product or give you your money back
Bestseller No. 2
Bestseller No. 3
Last update on 2021-03-29 / Affiliate links / Images from Amazon Product Advertising API