Our site is reader supported, this means we may earn a small commission from Amazon and other affiliates when you buy through links on our site.
There are many ways to make the outside of your home a stunning display and one such way is by using topiary plants to bring your front door to life. Topiaries are plants, often evergreens which can be formally clipped in such a way as to add symmetry, shape, or structure. Topiaries can be crafted like a hairstyle, cut and trimmed the way you want whenever the mood strikes. But what plants work well in a topiary, particularly one you put right outside your front door?
You can buy topiary plants already trimmed into elegant spirals, cones and balls with the two most common types being Bay trees also known as Lauralis noblis and Buxus commonly known as box plants.
Below is our list of the best plants for front door topiary displays starts with the very popular and easy to care for Bay tree!
Lauralis noblis (Bay tree)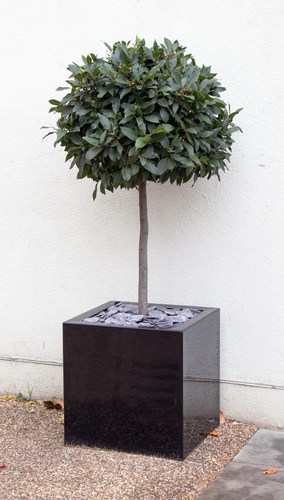 One of the most commonly used plants is this one. It is commonly known as Bay and is the same bay you might find in your kitchen. From this topiary come the bay leaves you toss in your dishes for delicious tastes. Infused in the leaves are rich scents which will welcome your guests as they arrive at your front door.
They can be shaped and pruned into spheres, pyramids, cones, or lollipops. If you opt for this, make sure the place you decide upon for its home is not an exposed area as the cold wind can damage the evergreen foliage.
It's worth noting that although they are handy in very cold winters it well worth bringing them indoors into either a greenhouse or conservatory. If you cannot bring them indoors then make sure you invest in some fleece to cover the plants in very cold weather.
Buxus (Box plant)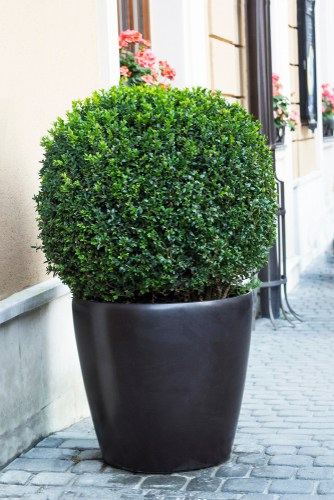 If you prefer the quintessential rounded, box shape, this is the plant for you but they can also be purchased in cones, spirals and nearly any shape you can think off. More suited to formal gardens or topiaries, these can be neatly cut into a formal structure. This plant is susceptible to blight, but you can counter this by ensuring good airflow where you place it.
You will have a lot of fun with the shapes, neat and tightly cut, and your guests will enjoy the wafting scent as they near your home. Buxus is a little hardier compared to Bay trees and doesn't need to be protected the same in cold weather. The shelter of being next to your home is usually enough but don't forget to water them when needed.
YouGarden Buxus Topiary Plants Pyramids (Pair)
A garden classic, ideal for decorating doorways, gates, pathways or adding evergreen structure
These ideally shaped box topiary (Buxus) pyramids are easy to maintain, trim twice a year
Ideal in recent pots and containers, zincs, ceramics, or just classic real terracotta
Or plant straight into garden soil, where they are more tolerant of full sun than in pots
Supplied as a pair of trimmed buxus topiary pyramids 45/50 cm over pot (70 cm overall pot)
Prunus lusitanica (Portuguese Laurel)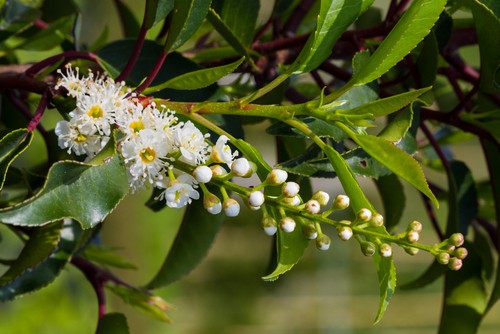 This is commonly known as the Portuguese laural and it is known for its fast growth rates and is part of the laurel family but has smaller leaves similar to that of Bay trees but it's very hardy even in harsh winters.
You can have a lot of fun with this one if you are not sure how you want your topiary to be shaped, or if you want it shaped in different ways when the mood strikes. It will grow so fast that you can cut it all the time, train it around other objects, and so on.
Really, it needs major pruning twice per year which is double most topiaries, and you can encourage faster growth with extra fertiliser in the Spring. The leaves are a rich, green colour with a rich gloss to them.
Photinia 'Red Robin'
This is a fast-growing plant with large leaves, bright red when young before maturing to green with white flowers and is commonly sold as a shrub to use as a focal point and even as hedging. However, it also makes an excellent topiary plant.
It is a very relaxed choice, more suited to informal gardens. You can, of course remove the flowers and keep it trimmed to just the leaves if you so choose. If you do use it as a topiary plant you usually never see the flowers as they get trimmed off before they even appear but you get a fantastic show of bright red foliage.
YouGarden Photinia 'Little Red Robin' Standard Tree 1M tall
An ideal (well ever-red really) for year round colour and impact on a classic shape
Photopia is a very tough and hardy shrub and this selection little red robin an ideal as a standard
Spring shoots grow brightest red for a truly magical appearance, fading to burgundy red and green
Ideal in large pots on the patio or as feature plants in a border
Supplied 1 m tall ink pot in a 3 Litre pot, ready to plant out all year
You can't go wrong with any of the topiary plants mentioned above but Buxus and Bay trees are our personal favourite, so find the plants you like best and start trimming until the display is perfect.
Ilex Topiary
There are a few other plants that can be used as topiary which include Ilex which is commonly known as holly, varieties such as Gold King are popular with there golden variegated leaves.
Standard Holly Tree for Gardens & Patios, Attractive Evergreen Producing Red Berries in Winter, 2 x Holly Green Alaska (Ilex) 2 Years Old Standard Plant by Thompson & Morgan
Holly 'Green Alaska' (Ilex) standard shaped tree ideal for patios and gardens, with glossy evergreen foliage and bright red winter berries.
This easy-to-grow and low-maintenance standard tree is resilient and hardy, thriving in most conditions. A great choice for small gardens and patio containers.
This evergreen variety adds year-round interest the garden with its dense green foliage. It looks great at Christmas when it will be covered in traditional red holly berries.
Potted garden plant; Supplied as 2 x Holly 'Green Alaska' (Ilex) Standard Tree, 2 years old and up to 1m tall (From bottom of pot to top of stem).
Your satisfaction guaranteed; we want you to be 100% satisfied with any product you buy from us. If you're not 100% happy then neither are we, so let us know and we'll replace your product or give you your money back.
Also, consider standard Salix Flamingo which are used standards with a ball on top but they need plenty of water and will dry out and shrivel up fast without enough water.
YouGarden Salix Hakuru Nishiki Standard Plants
Striking spring tree with pink-leaves erupting into colour every year, fountains of colour
The leaves are an combination of green cream and powder pink, hence its common name flamingo willow
They are in a standard lollipop form, a clear stem with a ball of colour on top, skilfully grafted on
Totally hardy, this low maintenance plant is an ideal to add height to gardens or in pairs in large pots for a more formal look
Supplied about 1 m tall pots, they are dormant between October and March, so have no leaves
Last update on 2021-03-29 / Affiliate links / Images from Amazon Product Advertising API