Our site is reader supported, this means we may earn a small commission from Amazon and other affiliates when you buy through links on our site.
While it can be stunning to collect specimen plants and flowers full of colours rich, there are plenty of spaces in a large garden where ground cover is particularly effective at filling in the gaps which help suppress weeds and retain moisture better. There are ample evergreen plants for ground cover that effectively fill in the spaces in your garden regardless of soil conditions or climate.
Below are the 10 of our favourite evergreen plants suitable for ground cover to add to your garden:
Hebe pinguifolia 'Pagei'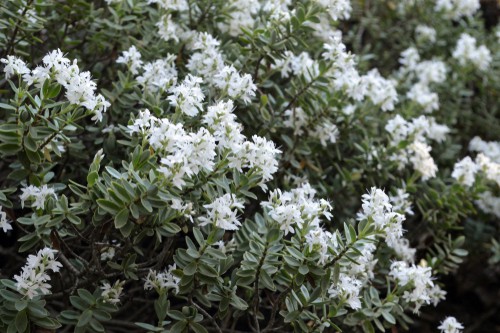 This evergreen shrub produces simple leaves and spikes that lead to flowers come Summer and Autumn. This is actually a very low growing dwarf evergreen so it's perfect for regions where you want an evergreen ground cover option that doesn't reach to high especially if planted around other shrubs.
It will reach upwards of 30cm in height and spread to create a dense mat of 90cm in width. The leaves take on a silver grey, blue toned display all year round offset by the white flowers in spring and summer.
It does quite well with full sun or partial shade. Like many of the evergreen ground cover plants on this list, it will grow effectively in all manner of soil including chalk, clay, sand, and loam soil so long as it's moist and well-drained. It also tolerates a range of alkalinity and neutral soils.
---
Pachysandra terminalis (Japanese spurge)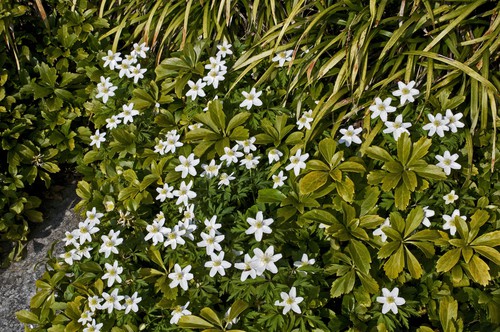 This plant is best grown in rich, well-drained soil. It prefers partial shade to full sun so will grow well whether other plants may struggle due to lack of light. If it is exposed to too much sun the otherwise green foliage will start to get bleached so it does best in terms of the beautiful display if it gets dappled shade which is why many people planted underneath big trees.
You can use it effectively as ground cover and it will spread to form large colonies. Within these colonies, you can enjoy the evergreen leaves throughout the winter and the showy flowers that bloom white in April. These tiny white flowers appear on spikes and they're not particularly mind-boggling but they nonetheless draw the eye and create a wonderful backdrop for your garden.
This plant is extremely popular when used for ground cover in shady locations. It's perfect on banks or slopes, under trees, along pathways, or around other shrubs in your garden.
---
Vinca Minor (periwinkle)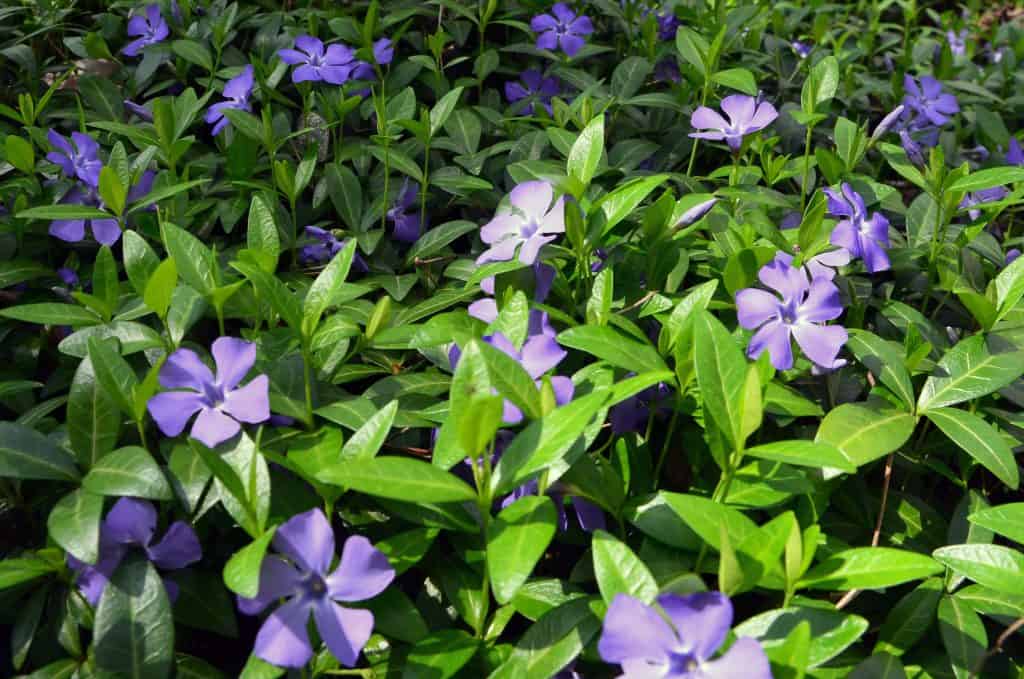 If you need a tough, low maintenance ground cover option this is it. It's known for it's creeping gross and will very quickly overtake an area and is a great alternative to Pachysandra for those looking for a matt forming ground cover shrub.
Also known as the common Periwinkle or the creeping Myrtle at its maturity it will reach no more than 15cm tall and spread upwards of 45cm long. It will do well in partial shade or full shade so it's fairly flexible.
It's quite tolerant of all soil types including normal soil, sand soil, clay soil, neutral soil, alkaline soil, or acidic soil. The only real requirement for soil is proper drainage. When you plant them you can space them about 30 centimetres apart in order to get them to fill in an area quickly. Once they reach maturity they are rather a drought tolerant plant. Because of their ability to spread quickly, they are very effective in holding your soil in place which can be a critical component if you have a sloped garden combating issues of soil erosion.
One of the most attractive features of this plant are the flowers which are produced between May and June. Depending on the variety you can enjoy delightful blue, lavender, or purple, even white flowers some of which are rich in their shading on the exterior and white in the centre near the stamen.
---
Stachys byzantina (Lambs ears)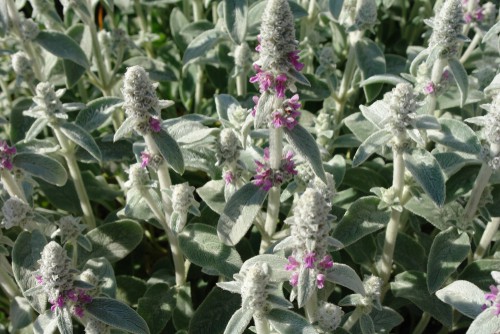 Lamb's Ear is a colourful form of ground cover that offers soft, greyish green leaves. It's known for its thick, velvety leaves in particular. In warmer climates the leaves are evergreen and they will spread rapidly to create a mat of leaves approximately 15cm off the ground.
That makes it effective for low to the ground covering. It is quite tolerant of rabbits and deer, air pollution, rocky soil, dry soil, even drought so it really is a robust plant. Once it's planted there is very little maintenance required of you. The only issue to which they are susceptible is leaf spot when there is too much moisture so you need to be cognizant of over-watering and that the soil is free-draining.
There are flowers which appear between May and July but they are small, purple in colour and some gardeners class them as insignificant. In fact, many gardeners remove the flowering stems so that the beautiful sea of grey-green leaves are not interrupted.
---
Ajuga reptans (Common bugle)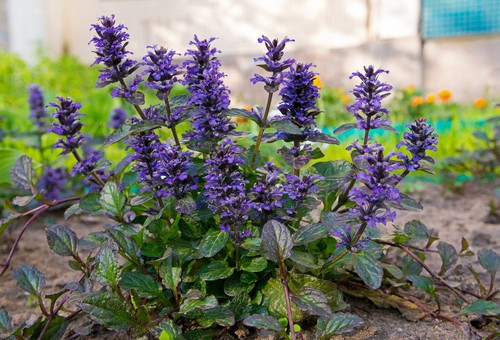 Known as the common bugle, this plant is easily grown in well-drained soil that gets full sun or partial shade exposure and is a firm favourite for rockeries.
It tolerates moderately dry soils but does prefer moist soil. That said providing optimum conditions will increase the flower production you receive and the colours therein. While the plants will grow well in any other conditions you might not receive the same brightness. This plant needs good air circulation and can easily be divided if it becomes overcrowded.
When it starts growing it will create a mat-like ground cover thats perfect for helping suppress weeds. After it produces the flowers which are a rich blue tone between May and June, you can cut back the plant all the way to the ground to rejuvenate it. It will form a dense mat very quickly with whorls of blue-violet flowers that stand above the dark green leaves on spikes. It brings with it the striking visual display and is so dense that it chokes out other weeds effectively.
---
Euphorbia amygdaloides Purpurea (Wood spurge)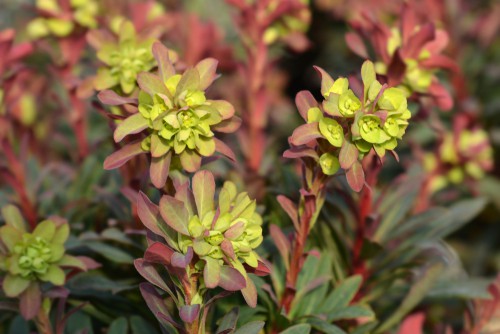 While most plants in your garden take on some shade of green, this plant gets its name because of the incredibly unique burgundy-purple foliage it has. On top of the rich burgundy foliage will grow clusters of bright yellow and bright green flowers that are very impressive.
It's well-known for the green and yellow flower appearance that blooms between early spring and late spring. The foliage will remain a purple black and red shade becoming darker in the cooler months. Very little pruning is necessary and once the plant is established you can benefit from its deer tolerance, rabbit resistant, and ability to attract butterflies.
It's perfect as a fast-growing form of ground cover with a maximum height of 45cm and maximum spreads of 45cm. Once planted it will do well in full sun or partial shade. It's tolerant of neutral, alkaline, or acidic soil and will even grow effectively in sandy or clay soil.
---
Galium odoratum (Sweet-scented bedstraw)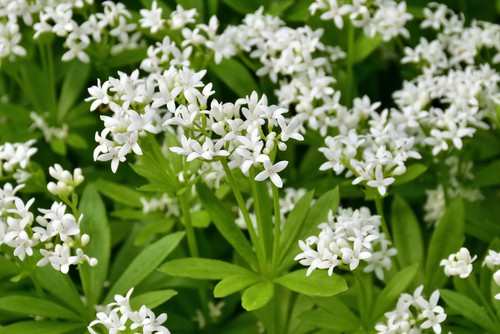 Galium odoratum is commonly called the sweet-scented bedstraw. This perennial is quite tolerant of heavy shade which makes it the perfect evergreen ground cover for more shaded regions in your garden. At its full maturity, it will reach a height no more than one-quarter of a meter and a spread no more than one half of meter which makes it a very low growing option for your garden. This plant is a perennial so in colder areas, it may die back but in many areas of the UK is often grows all year round and never dies back which is why we recommended it on this list.
It will grow effectively in well-drained soil with full shade or partial shade. It is a slow grower that uses creeping roots and self-seeding to expand. If you provide it with optimum growing conditions that will expand rather quickly and you might have to restrain it depending on your garden. It gets its name because of the fragrant, dark green leaves that grow. Many plants can boast having fragrant flowers but this one boasts fragrant flowers and leaves alike. The leaves can actually be dried and used in potpourri or spread about your house because of the strong scent. Leaves are also used to make special white wine punch called May wine.
That said the flowers which Bloom are tiny and white, and will appear between April and May also offering a delightful fragrance and drawing the eye. This particular plant is perfect as ground cover especially in a herb garden or a rock garden, and once you plant it you won't have to worry about serious diseases or insects as its generally problem free.
---
Phlox subulata (Creeping phlox)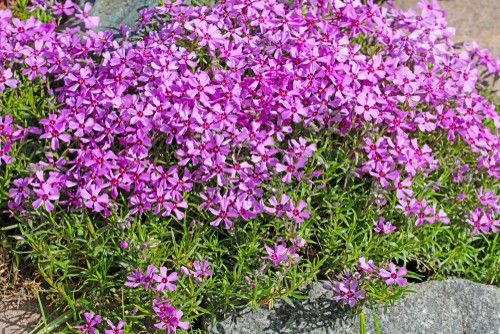 This is a spring blooming plant that will grow very well in rock garden regions, over a stone wall, and we'll creep effectively creating a blanket of ground cover. It is perhaps best known for the flowers it produces because there are so many in a densely packed area that you can't even see the green foliage underneath during the blooming season. This is a wonderful choice for any butterfly gardens as it will bring many a butterfly to your garden but is also a deer resistant form of ground cover perfect for any regions that might have trouble with deer.
It is sometimes called moss pink because of the pink-purple flowers it produces. In fact, there are many a flower variety out there although the signature is pink. You can find lavender, purple, rose, white, red, or blue depending on the variety. No matter the variety they will all bloom in the spring.
At full maturity, it will reach a height of only 15cm and spread out 3/4 of a meter creating a form of a mat which makes it perfect for using as very low growing groundcover. It does well on slopes and grows best in full sun with moist but well-drained soil. This particular plant will do quite well in rich soil full of compost but can survive effectively in clay soil if that is what you have as long as you mix in plenty of grit and organic matter to improve the drainage. It spreads very easily it stays quite short as well which is perfect for forming a ground cover that's flat with the ground but still offers a dazzling Springtime display of colour. Moreover, it helps to prevent erosion especially when it blankets a slope in your garden.
---
Euonymus emerald n gold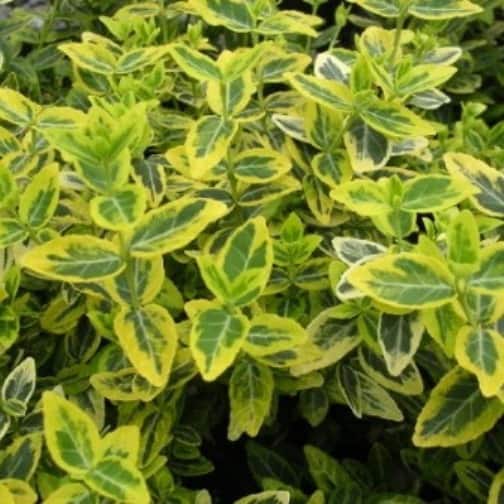 This plant gets its name from the luminous foliage. Sometimes called the wintercreeper, this evergreen shrub is very low growing and will spread effectively as ground cover. As it spreads it creates a dense mat of glossy leaves that start out as dark green with a light gold edging and in the fall and winter take on a sweet pink edging. In fact, at some points, you might see more yellow and gold when you do green which gives it that delightful mixture of emerald and gold for which it is named. At the beginning of Summer, you will find small, greenish flowers produced.
This plant is extremely versatile and will grow on slopes effectively as a way to control erosion. You can also use it as a trailing ground cover. The same plant can be used at one end as trailing ground cover and at the other with support as a climbing plant that grows up a wall if properly trained.
It is quite tolerant of average moisture and medium moisture, it will grow very well in full sun or full shade. Moreover it's taller end of a wide range of soils so if you have very wet soil oh, this is a wonderful option for you to integrate. It will reach up to 60cm tall and 120cm wide.
---
Ceanothus thyrsiflorus var. repens (California lilac)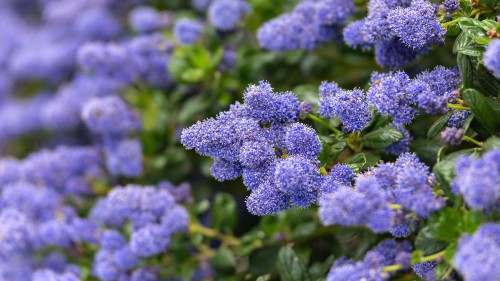 Sometimes referred to as the low blue blossom or California lilac, this evergreen plant offers clusters of sky blue flowers. It is perfect as an evergreen ground cover if you live near the coast as it is quite tolerant of full sunlight or partial shade, even full shade.
If you have sandy or clay soil it will grow just as effectively in those, it has shiny green foliage that remains present all year round. You can grow this plants in compact, clay slopes, under larger trees, and it will tolerate drought or an onslaught of water. It is incredibly popular throughout many coastal regions because of its tolerance for sand and it's easy maintenance
---
Image credits – Shutterstock.com