Last updated on January 22nd, 2022
Our site is reader supported, this means we may earn a small commission from Amazon and other affiliates when you buy through links on our site.
There is nothing more exciting than when the magic of Christmas comes around and we all look to find the most beautiful Christmas tree to decorate or perhaps you like the pre-lit and decorated out-the-box types of Christmas tree.
There is nothing more inspiring and magical than a beautiful white Christmas tree so we have decided to find gorgeous white Christmas trees to compare and review, and to find only the very best.
Whether you're looking for a cute miniature tabletop Christmas tree, the latest slim fibreoptic pre-lit Christmas tree, a large elegant 7ft beautifully decorated white Christmas tree or an impressive pop-up tree then we have found one that will have you excited and make your Christmas magical.
We scoured the Internet to find the best white trees at the best prices so read on to see which ones have made it onto our list.
---
Time to be inspired! – Traditional Christmas trees
1. 7ft White Christmas Tree
**OUR TOP RATED UK WHITE CHRISTMAS TREE 2017**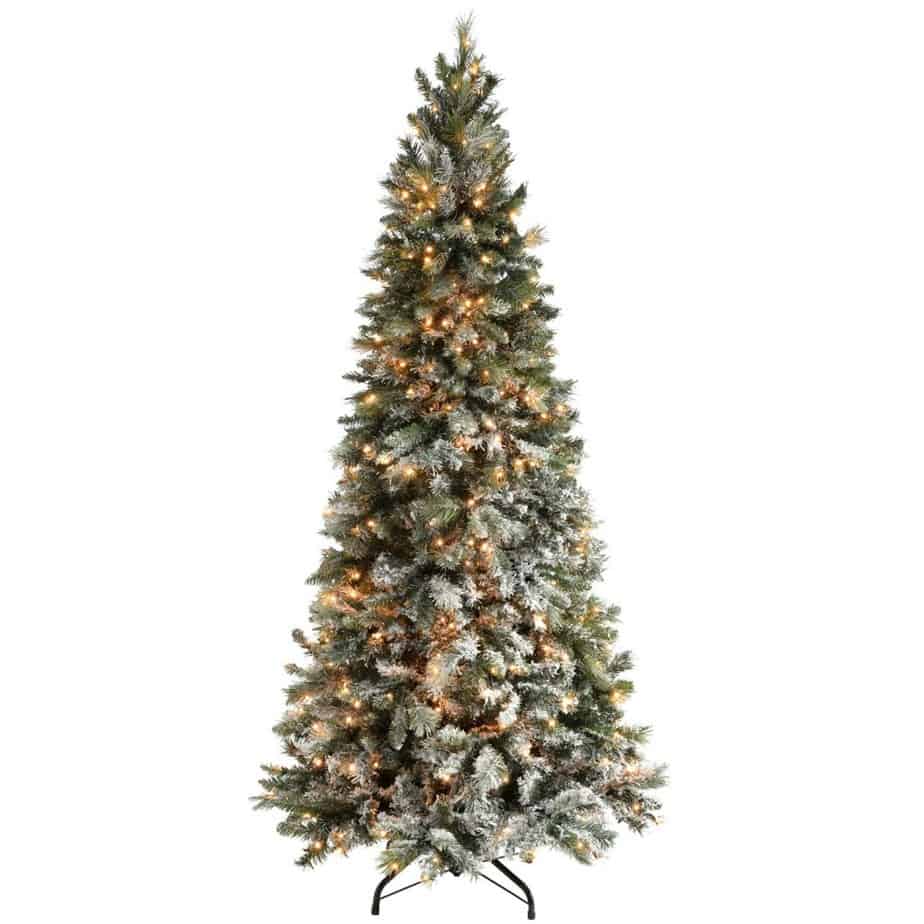 The WeRChristmas 7ft slim snow flocked pre-lit spruce Christmas tree is a true work of art and is one of the best trees we have seen. It has hinged branches to make putting up your tree a pleasure and has a mouthwatering 400 warm white lights so you won't need to add any lights of your own. The lights have a variety of functions including flash, twinkle, chasing, fade, static or on/off. The finish gives it that lovely snow-covered look that will bring in that Christmas vibe.
---
2. 6ft White fern Christmas tree with stand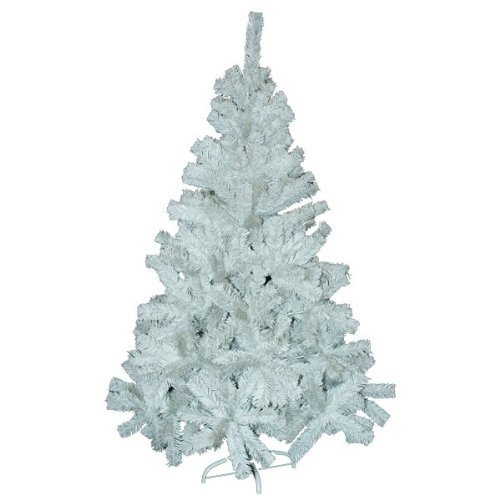 The 6ft white fern Christmas tree is a genuine Kingfisher product so you know you are getting a quality product for an affordable price. There are now many fake Chinese imports about so take care when purchasing similar looking trees.
At 6ft (180cm) tall, it is tall enough to make an impact but small enough to fit in most houses comfortably and measures 38 inches at the base. It has an impressive 480 branch tips, meaning it looks full and will have enough branches to decorate your trees with a large array of decorations.
---
3. 6ft Snow White Artificial Christmas Tree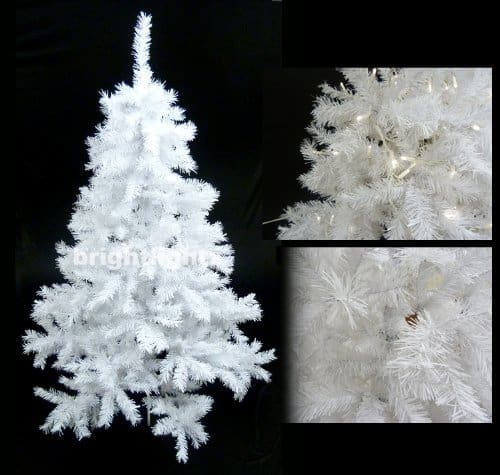 The snow white artificial Christmas tree is another excellent quality 6ft tree. It is more expensive than the Kingfisher white Christmas tree, however, it also has an extra 200 branches, which means this tree has a total of 680 tips. The hinged branches mean it is easy to put together quickly as well as dismantle. A very high-quality item that is very impressive.
---
4. 125cm White Twig LED pre-lit Birch Christmas tree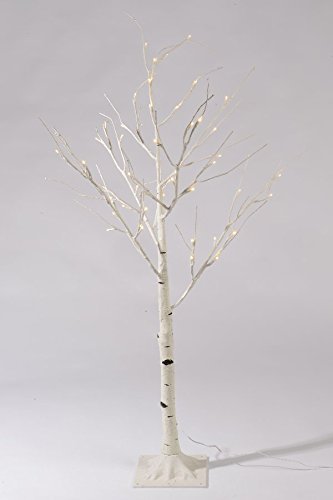 This white pre-lit twig Christmas tree by 'Olore Home' is designed to resemble a beautiful birch tree. It does come with 48 LED warm lights that are eco-friendly and last for around 50,000 hours but hey, who's counting?! These types of realistic trees have become popular over recent years and are perfect for someone wanting something a little bit different from a usual festive Christmas tree. It comes with a long 8-meter cable, giving you plenty of length to play with if your tree is not quite next to the plug. Suitable for both indoor and outdoor use, making it ideal for many situations and stands at 125cm, which is just over 4ft tall.
---
5. Mini White Christmas Tree – The Christmas Workshop LED Tree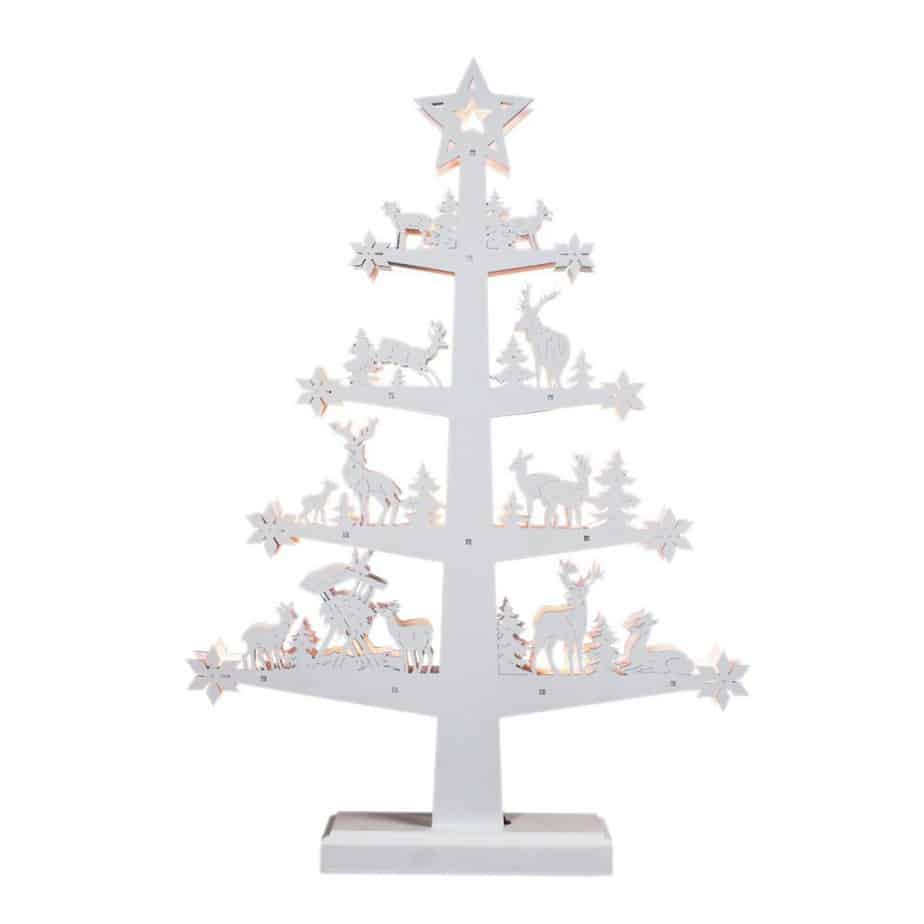 This miniature white pre-lit Christmas tree by the Benross Group is a beautifully designed Christmas tree that stands just short of 48cm tall and incorporates 11 white LED lights. The scene is magical with reindeer, Christmas trees and stars along its branches. Makes a beautiful Christmas decoration for your table.
---
6. White Pop-Up Christmas Tree With 100 LED Lights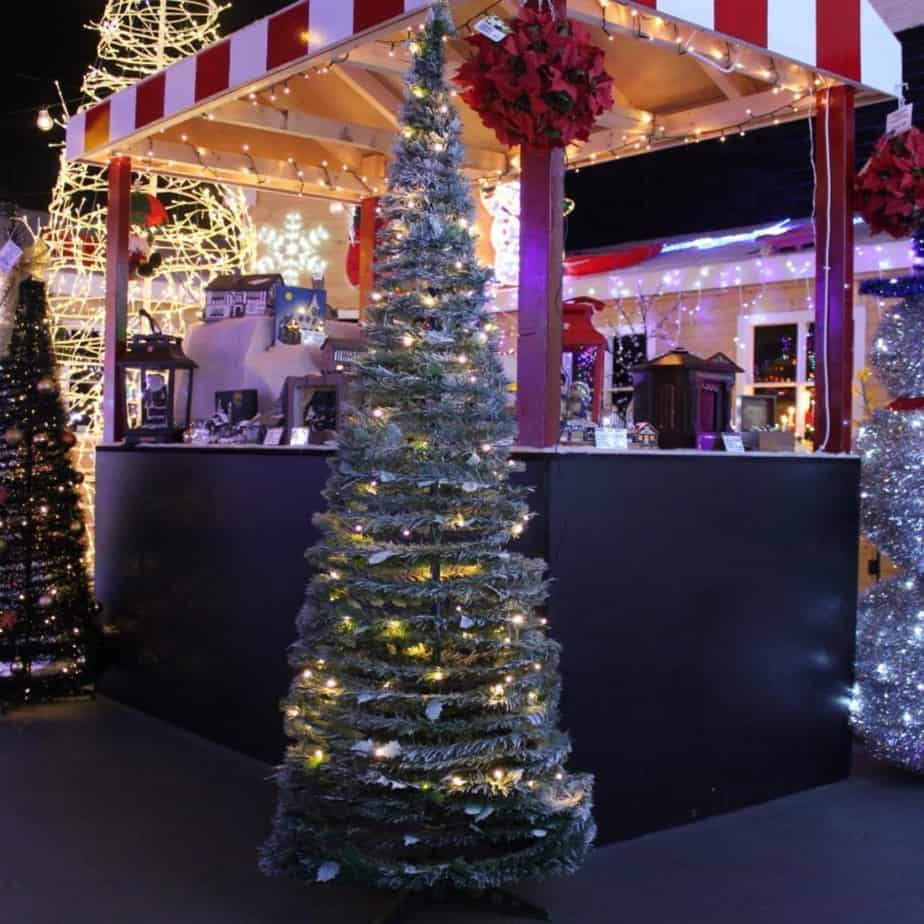 This unique slim white pop-up Christmas tree stands at 6ft tall, assembles in seconds and has a snow-flocked finish. Decorated with 100 warm LED lights to give it a gentle white appearance. Quite simply a beautiful tree!
---
7. 3ft White Christmas Tree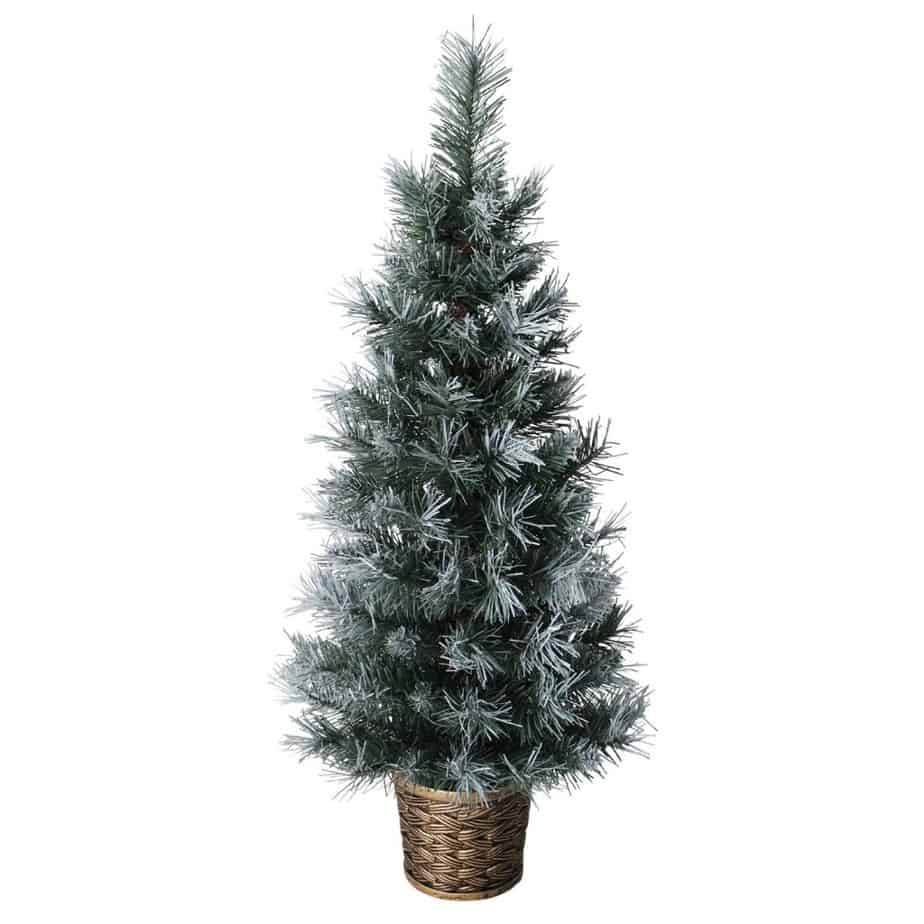 This gorgeous little Christmas tree stands at 3ft tall and is perfect for those smaller spaces whether it be on the floor in the corner of a room or as a tabletop tree. It has 96 tips giving it a nice fuller feeling with plenty of branches to hang those decorations on.
---