Types of  Christmas trees
Its long been English tradition for the whole family to wrap up warm with your scarf and gloves and make the yearly trip to your local garden centre or nursery to pick your perfect Christmas tree. If your lucky enough you might live near an actual Christmas tree farm where you can choose your tree before its even been cut, now you can't get much freshly cut than that!.
Why a real Christmas tree
There are many advantages to buying a real tree rather than an artificial tree with the main reason being that fragrance which simply reminds you that Christmas is coming. Their nothing better than the fragrant smell of a fresh Christmas tree!
Most Christmas trees sold in the UK are grown in England, Wales and Scotland so you know you are buying a locally grown product.
The difference between potted, pot grown and cut Christmas trees
When buying a real Christmas tree its important to understand how they come as some come and roots and some don't. This means that if you buy one with roots it can be planted out into a large pot or into the ground after Christmas.
Potted Christmas trees
Potted Christmas trees are trees that have been dug up and planted straight into large pots ready for sale. These trees can be planted out after Christmas but the roots are likely to be loose in the pot. The important thing to remember with these trees is that because they have been dug up and may have limited roots, they don't all ways survive after Christmas if planted.
Pot Grown Christmas trees
Pot grown trees are just that "pot grown". This means that they have either been grown from very young plants in their pots or dug up from fields, very early in the season. This means that they will have a very established root system in the pot and will nearly all ways survive if planted after Christmas.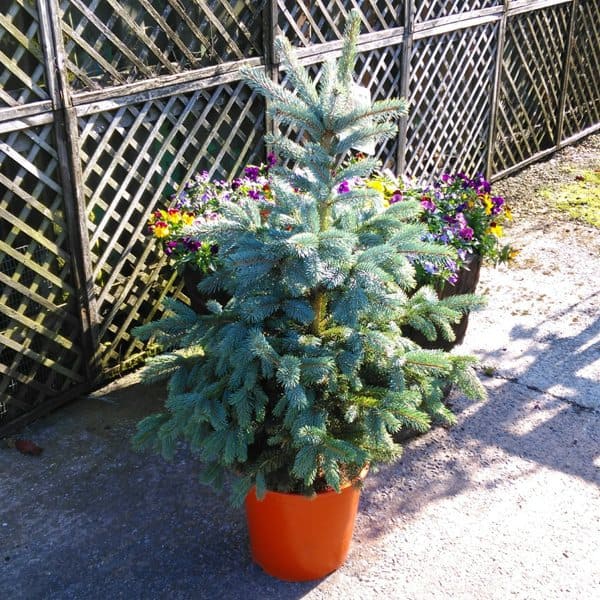 Cut Christmas Tree
Cut Christmas trees are the most popular type of Christmas trees sold for the festive season. They are simply cut and need to be placed in a Christmas tree stand. These cannot be planted out after Christmas as they have no roots. Local councils usually have areas where you can drop your tree off after Christmas and they recycle them by shredding them, making them into bark and mulch for local parks.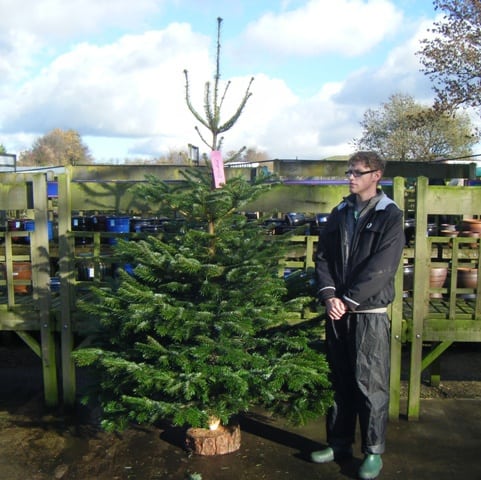 Which should you buy?
If you want to put a Christmas tree up for a couple of weeks for Christmas then you probably want to buy a cut Christmas tree. If you want your Christmas tree to be up for a little longer and maybe in a warm area in the house then a potted tree may be best as it will retain its moisture better and not drop its needles as quickly in a warm environment
If you want a Christmas tree to plant up ether potting on into a large tub or planting in the ground then we would advise buying a pot grown tree as they have good root systems essential for planting after Christmas.
Christmas trees Types
Now that we have decided whether to buy a potted, pot grown or cut Christmas tree its time to decide which type you want.
In the uk, there are 6 types of Christmas trees which are often available. Please see below:
Blue Spruce – These trees have good needle retention unlike the traditional Spruce and have a nice fragrance and conical shape. These trees, however, are hard to find as cut trees and are usually sold at potted or pot grown Christmas trees.
Fraser Fir – This newer variety has become very popular over the last few years and has a nice fragrance and good needle retention. It has dark green/blue and flattish foliage, these trees are not quite as perfectly shaped as some other types but they are generally more narrow at the base making them easier to fit into smaller spaces. If you find a nice shaped tree they can make a perfect tree for a small narrow area where a wider tree would not fit.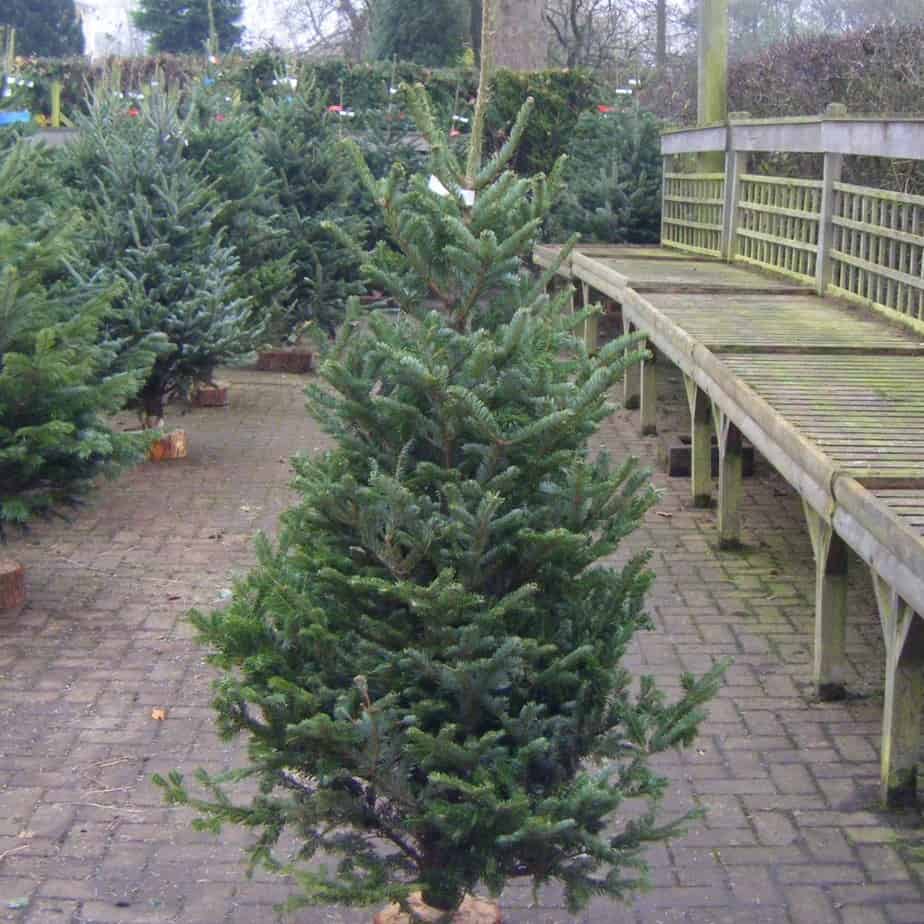 Nordman Fir – These are probably the most popular variety and for good reason. They have the perfect traditional cone shape and have deep green foliage with a striking blue underneath. They have good needle-retention so you won't have hundreds of needles to clean up. The only downside is they can be quite wide and so can be too big for some smaller spaces.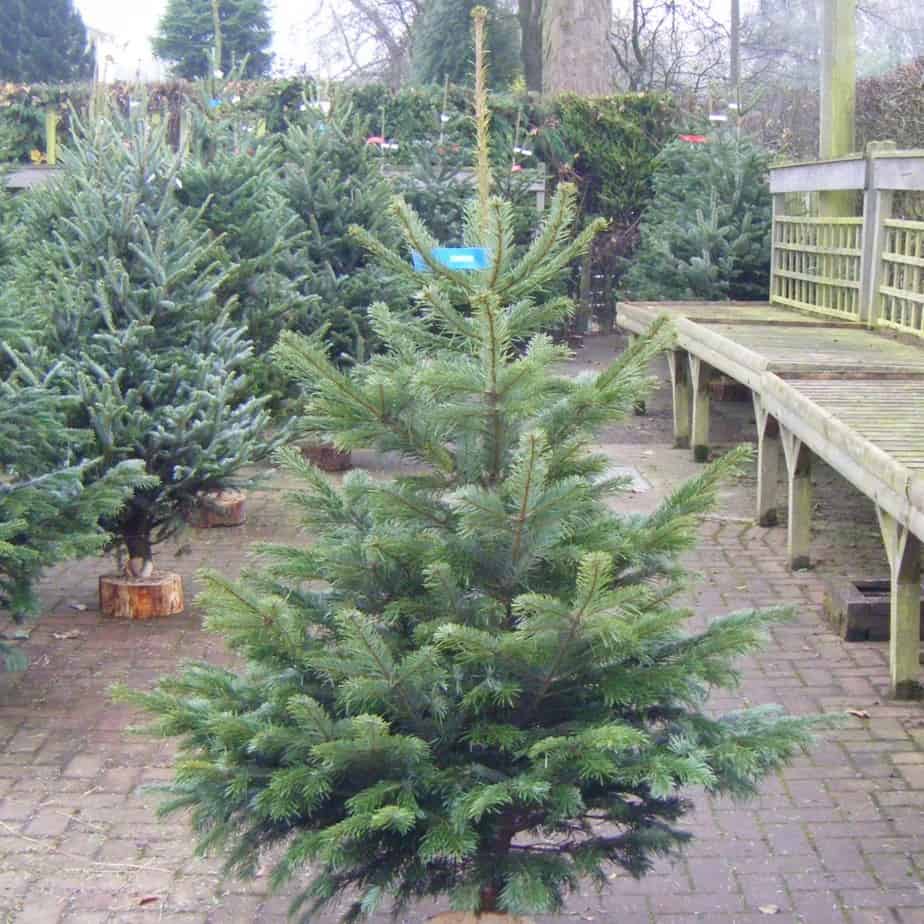 Spruce (NOT low drop, but ok outside) – These trees are still very popular today and are the original Christmas tree. They have a perfect shape, nice fragrance and are usually cheap compared to other types. The downside is they don't have very good needle retention in modern heated homes. That being said if you want a tree for outside they won't loose there needles and are ideal. If your very traditional and only have your tree up for a few days they will be fine in the home.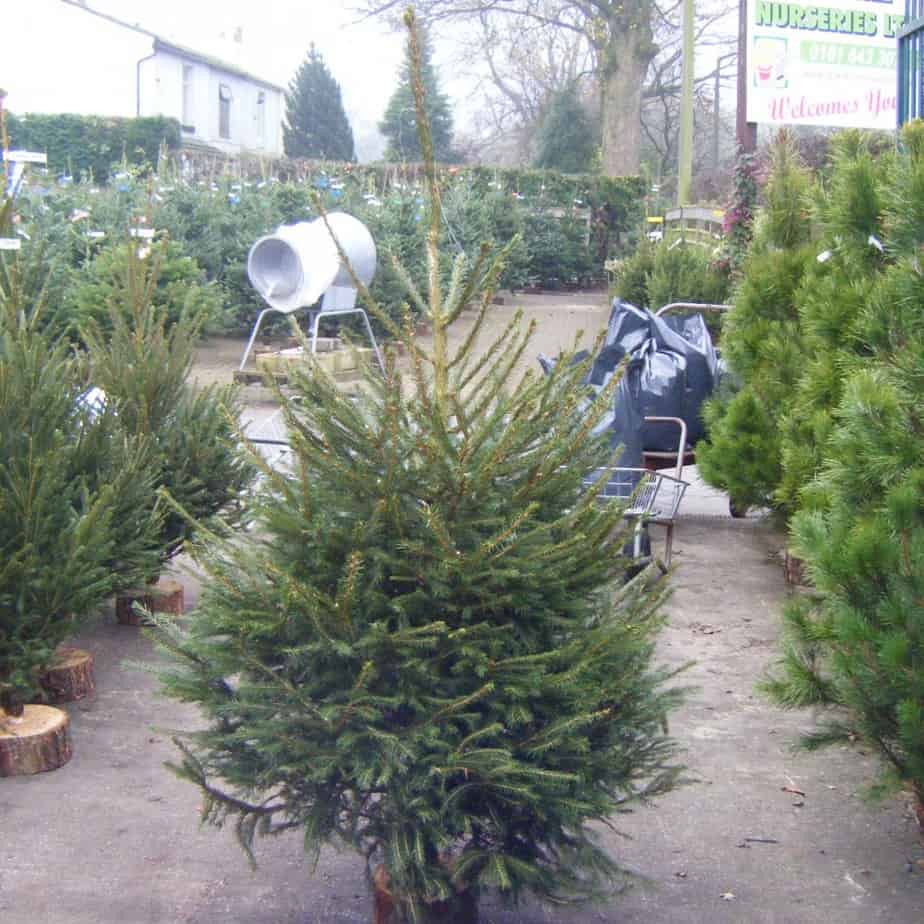 Scotch Pine – The Scotch Pine one of the cheaper varieties available because they grow very quickly and can be purchased at very large sizes such as 7-8ft for the price of what a Nordman Fir might be for a 6ft tree. They have very good needle-retention and are usually very large trees but are not all ways very symmetrical all the way around. You need a large space for a Scotch Pine, they gave very large soft needles and very branches.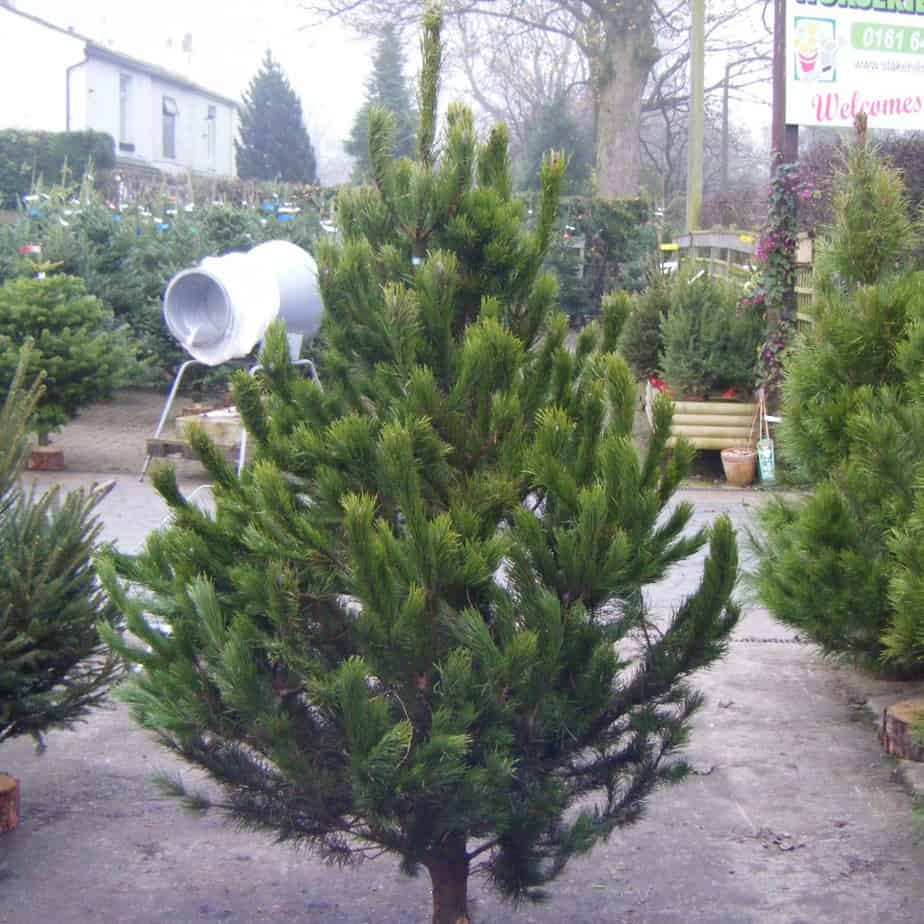 Lodgepole Pine – Another tree with good needle-retention, these trees are usually very straight with large gaps between each row of branches. They have not got quite as strong fragrance as other Christmas trees and there needles are not as soft. Quick Fact, these were used in Native Americans to make the lodges which is where they get there name from 'Lodgepole Pine'.
Tips for keeping your tree fresher for longer
All ways use a stand that holds water, we recommend the 'Krinner Christmas tree stand'. Before putting your tree into the stand, cut 1-2 inches of the base of the tree. This will ensure the tree can take up water in the same way cut flowers do and will last longer. Keep an eye on the water in the stand and top up when low.
Try to place your tree in a cool room, we know this is not all ways possible if you have your tree in a living area but try to place away from any radiators and fireplaces. No matter what you do, if your tree is against a radiator it will dry out very quickly and start to its drop needles.
Recommended Christmas tree stands to keep your tree looking fresh
| | | |
| --- | --- | --- |
| Krinner Vario - Our Top Pick | Ideal for trees up to 8ft and has a water capacity 3 litres to keep your tree fresh. Unique foot ratchet clamp means, its up in minutes and hassle free. | |
| | Ideal for trees up to 8ft. Hold 3.75 litres or more, of water with integrated spill guard. Inner spike and plastic bolts clamp holds tree securely. | |
| 15'' Classic Wooden Stand | Handmade in the UK, ideal for both real and artificial trees up to 6ft tall. Large 5" water reservoir and sliding tree support with spike to hold tree firmly in place. Available in red and green. | |
Last updated on January 22nd, 2020
Our site is reader supported, this means we may earn a small commission from Amazon and other affiliates when you buy through links on our site.