Last updated on November 10th, 2021
Our site is reader supported, this means we may earn a small commission from Amazon and other affiliates when you buy through links on our site.
The Krinner Christmas tree stand is a superb example of German innovation and engineering excellence. The designer Klaus Krinner has done a superb job of designing what is probably the best Christmas tree stand available. This is not an overstatement, many companies have tried to design a better stand but nobody seems to have been able to design and build a better stand.
My rating
Krinner Premium Christmas Tree Stand, Teal, Large, 36.00 x 36.00 x 10.50 cm
Equipped with the original single cable operation
The clever clamping device guarantees equal claw pressure around the trunk
The tree stands absolutely firm and straight whether the trunk is thick, thin or crooked
Patented safety belt with its step by step ratchet mechanism provides additional safety
Ideal for tree up to 270 cm high
What makes it so good?!
Its heavy-duty mild steel design and ratchet foot pedal make putting up the family Christmas tree a breeze and it will only take you a couple of minutes to erect. You can easily fix the tree into the stand with just one person too and this is not something you can often say about the other alternatives that are available.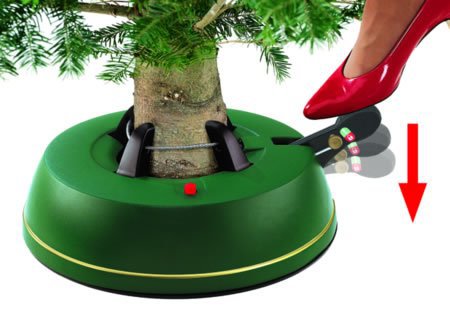 Heavy-duty design
The heavy-duty strong design ensures your tree stays securely fixed when decorated and will not become loose. So you can rest assured that you won't come home to a Christmas tree on its side, with your expensive Christmas decorations scattered across the floor. Let's be real, some of these decorations now cost nearly as much as the stand. I'm looking at you Disney!
The built-in reservoir makes your tree last longer
It has a built-in reservoir that holds 3-litres of water that keeps your tree looking fresh over the festive Christmas period. Not only that, but it also has a built-in water level indicator so you know when it needs topping up.
Don't forget to cut half an inch off the bottom of the tree before placing it in the stand. This ensures the tree can take up the water, if this is not done it might as well not be in the water as the tree will not be able to take up the water.
You can learn more about how to make your Christmas tree last longer here (opens in a new window).
Placing the tree into the Krinner Christmas tree stand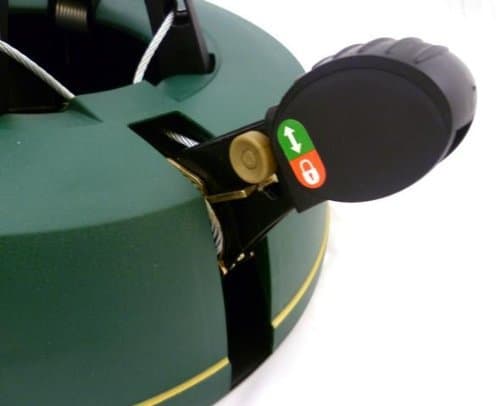 Simply place the tree into the stand and pump the foot peddle until the tree is fixed into place. This can be easily done with one person, but if you have got a spare pair of hands then it can be a little easier and they can check the tree is straight before tightening the clamps fully. Finally, add water and start decorating!
When taking your tree down after Christmas, the clamping mechanism opens in stages, so that the tree cannot instantly fall out if the clamping system is opened accidentally. Another simple but very useful feature.
---
Final thoughts!
I think this is probably the best Christmas tree stand available, it has been well designed and maybe a little more expensive in comparison to other stands.
However, you will never need another stand again, once you have used it yourself you will understand why the reviews all over the internet for the Krinner Christmas tree stand are so good. A simply faultless and innovative marvel.
Where to buy Krinner Christmas tree stand?
Due to its very popular demand, there are many online sellers and garden centres that now sell Krinner stands.
The best place online to purchase one is probably Amazon.co.uk and they seem to offer the best prices and the biggest range.
---
Last update on 2022-03-17 / Affiliate links / Images from Amazon Product Advertising API