Our site is reader supported, this means we may earn a small commission from Amazon and other affiliates when you buy through links on our site.
Last updated on January 21st, 2020
Need prune a conifer unless you really need to and only lightly trim into new foliage
Pruning your conifers incorrectly can not only damage the appearance of the plant but the health of the tree. To that end, you need to understand how to properly prune and when to properly prune. That said conifers fall into one of two categories, the first of which is called Whorl-Branched and the second is called Non-Whorled or Random Branched. This may seem a little more complicated so first, we will keep it simple with the everyday gardener in mind.
The first thing to be aware of is that conifers really should be pruned unless you have a really good reason, we strongly advise against pruning conifers with the exception of hedging conifers unless you really needed to such as removing diseased growth or damaged branches.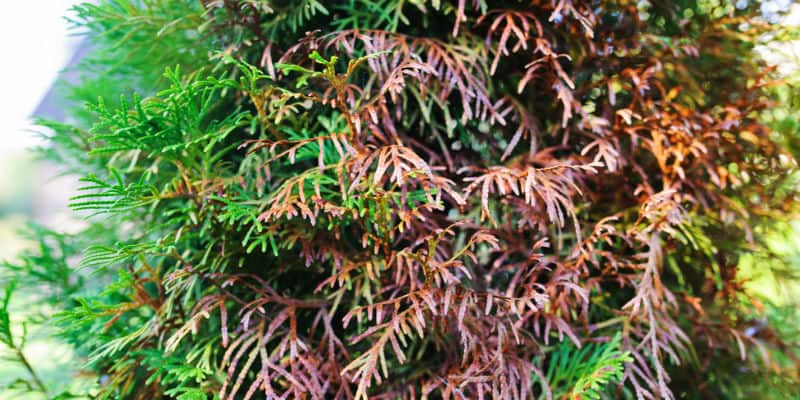 Incorrect trimming of conifers or trimming at the wrong time of year can cause brown areas on your conifer or hedge as pictured above.
The problem with most conifer is that they do not grow from old wood, this means, if you cut into old wood it will likely not regrow leaving you with bare brown patches which most people are familiar with. The only exception is Thuja plicata and Yew trees which will regrow if pruned hard. This is why we now recommend planting Thuja plicata is planting a new conifer hedge.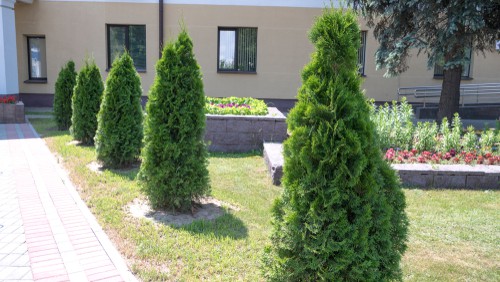 Conifers should only be trimmed lightly into new growth 2 or 3 times a year and never cut into old wood as previously mentioned. The next point to be aware of is to only trim conifers between April and early August. Avoid pruning during hot weather or periods of drought.
Advanced pruning
When to trim conifers
Whorl Branched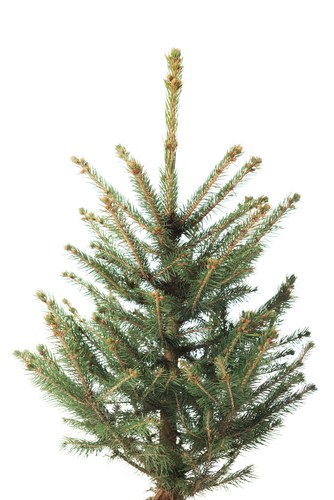 These conifers branch once a year with new growth during the springtime. That means that the growth of the branches takes place at the tip and new growth will be produced from the tip of the branches with buds along with that new growth in particular. If you have an evergreen that falls into this group you don't want to cut it back beyond where that new, green growth is otherwise you won't get any regrowth. Examples of these include the Fir, Cedar, Larch, Spruce, and Pine.
Non-Whorl Branched
With these new growth emanates from the buds at the tips of branches and randomly throughout the stems which is why it's also referred to as random branching. With this type of evergreen, there are dormant buds and foliage hidden much farther back on the stem compared to the other category. This means that you can cut this particular variety back harder and it won't damage the new growth as much but you still should be cognizant of where green growth is so that you don't cut it back as well. Some examples of this include the Cypress, Hemlock, and Juniper.
How to trim conifers
Whorl Branched
These Evergreens bring with them a natural shape so pruning requirements are limited. Make sure that you have selected a species that will not outgrow the space in which it is planted. To that and you can control the amount of growth by pruning once you it initially. If you wait until the tree has already outgrown the existing space it will be difficult to shorten the growth.
The new tips that you see on these branches are referred to as candles so you can control the growth by pruning these candles. If you want to slow down the growth but you still want your Conifer to get larger you can cut about 1/2 of the candle in the middle of spring or early summer. If you prefer that your Conifer remain the same size you can remove the entire candle once it reaches approximately 3cm.
You can selectively prune in the early spring as necessary so that the cut has time to heal. If you prune too late in the season your buds will remain dormant.
Non-Whorl Branched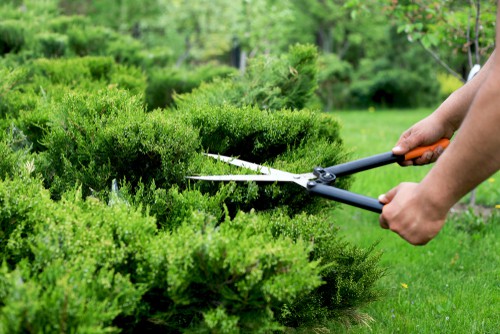 With these, you can prune a bit more heavily and the conifer will do just fine. You can prune anywhere along the stem but be cognizant of avoiding the bare wood. If you are trying to maintain the shape of your Conifer it is best to do this pruning at the beginning of Spring so as to maintain a natural shape. If you see wayward branches jutting out in all directions you should also remove those come springtime.
If you are trying to maintain the same size that you have, you can cut your Conifer in the summer once, after the new growth has stopped. It will be more effective for you to trim regularly and prune individual branches and it will be to try and give the entire plant a massive haircut.
You want to remove any dead or diseased branches as soon as you notice them no matter the time of year. And if you are removing something that is diseased or dead, make sure to sanitize your clippers in between each cut so that you don't accidentally transfer a disease from one part of the plant to the other.