Our site is reader supported, this means we may earn a small commission from Amazon and other affiliates when you buy through links on our site.
Weeds are the bane of many gardeners existence. It can seem almost impossible to get rid of some weeds that keep cropping up when and where you don't want them. The key is a multi-faceted approach that includes killing the current we do have in preventing weeds in future.
How to kill weeds permanently
How to kill weeds permanently really depends on where the weeds are proving most problematic. There are ways to kill weeds that are cropping up in cracks along the driveway and there are ways to kill weeds that are growing around your vegetable garden.
Removing weeds manually but you need to remove the roots too
Obviously the first method is to pull weeds out by hand. This is something that will only be a permanent killer if you are thorough enough and remove the root as well which is easier said than done. When you pull weeds up by hand you have to make sure that you get the roots with them otherwise the remaining roots will simply regrow. You have a large area to cover this might not be the most effective method and if you are unsure of your ability to very carefully pull out every weed you might want to consider doing something else alongside this method. However, it is very effective if you have few weeds growing up in between plants you are purposefully cultivating. Regularly removing them as soon as you see them can help control the weeds before they deprive your plants of nutrients.
Fiskars Xact Weed Puller, Length: 1 m, Stainless Steel Handle/Plastic Handle, Black/Orange, 1020126
Weed puller for weed control with a diameter of max. 4 cm, For a sustainable and environmentally friendly weed control, Ideal for the extraction of dandelions, thistles, nettles and other root crops in loose soils, vegetable garden or garden
Traps the roots of the weeds between the claws of the weed puller (up to 10 cm underground), Extracts the plant along with its roots thanks to a patented mechanism of claws, With a little pressure on the handle the claws open and the weeds are released straight into a waiting wheelbarrow and off the lawn
Work in an upright position: No strain on the muscles and shoulders thanks to the long handle, Practical non-slip handle for a better hold
Handy foot pedal to push down the weed puller, Long life thanks to stainless steel claws and sturdy plastic handle (fiberglass), Easy to clean with water, Finnish design
Contents: 1x Fiskars Xact Weed Puller, Length: 1 m, Diameter: 3 cm, Weight: 950 g, Material: Stainless Steel/Plastic, Colour: Black/Orange, 1020126
Try using bleach to control weeds in cracks
If you have a problem with weeds growing along your path or driveway, your patio, you can get rid of these problems by pouring bleach. Pour diluted bleach into the cracks and crevices, and after a day or two, any of the weeds that you have will be dead and easily pulled out. Rest assured the bleach will prevent them from coming back. This is not something you want to do a long walkway that has grass or border flowers because it will kill those too so only use it on otherwise hardscaped surfaces.
Boiling watering is a good environmentally friendly option to bleach
If you don't want to use bleach outside and would prefer something more natural, boiling water in your kettle and pouring it over the weeds is also said to kill them so you can pull them out after they have cooled. This method will only work for killing the weeds not for preventing weeds in future as it does not always kill the roots but it's worth a try and budget-friendly.
Trying mixing salt with boiling water
Likewise, you can pour salt mixtures, with one cup of salt in two cups of boiling water directly onto weeds. This will work very well along cracks in your driveway or patio bricks, areas where you don't have other plants you have to worry about accidentally killing.
Vinegar acidic qualities make it an excellent weed killer
If you don't have any salt lying around, vinegar will do the trick. Pour vinegar directly into the cracks along your sidewalk or walkway or driveway and watch as the existing weeds die. Once they are dead pull them out and enjoy your weed-free landscape. It's worth noting that vinegar can be purchased in larger quantities and very affordable prices and is often sold as a cleaning product.
Good old herbicide weed killers
For a more toxic and reliable method, you can use a herbicide to kill the weeds in your garden immediately. Isolate the weeds you want to kill and spray them according to the directions on the bottle. You should always wear protective gloves and goggles if you are spraying chemicals in your garden and again be careful not to spray on plants that you want to survive. Choose a weedkiller that actually kills the roots too and not just the foliage.
Gallup Home & Garden Glyphosate Weedkiller 2L + Free GardenersDream Cup & Gloves
FOR HOME USE - Can be used in your garden without the need of a spraying certificate, contains the same amount of glyphosate as professional grade weedkillers.
STRONG WEEDKILLER - Effectively controls annual and deep-rooted perennial weeds, kills most weeds within a single application.
COMPATIBLE WITH PERSONAL SPRAYERS - Perfect for use with a knapsack sprayer, simply dilute 30ml of weedkiller per litre of water
USE RESPONSIBLY - Do not spray in rainy or windy conditions, do not walk on treated area until dry.
How to prevent weeds
Brush baking soda into paths and patio crevices and cracks
If you want to prevent weeds from cropping up in your paths or driveway, try sprinkling a handful of baking soda across your concrete and then sweeping the baking soda directly into any cracks you have. The baking soda will make whatever small amounts of dirt or nutrients and water might exist in those cracks inhospitable preventing any weeds from growing.
No products found.
Sprinkle borax or dissolve in warm water
If you are in a new home and you don't want weeds around the perimeter of your home or in the cracks in your new block paved patio or drive, you can mix borax with warm water and apply into all the crevices where you don't want weeds cropping up or spray onto weeds as a weedkiller. Borax can also be applied around the foundation of your home to keep away spiders and ants. Again, this is something you have to apply only to areas where you don't grow flowers or vegetables because it is toxic to plants as well.
Some of the methods described for killing weeds permanently will also go a long way toward preventing them.
Covering the area with cardboard or newspaper and then a black plastic sheet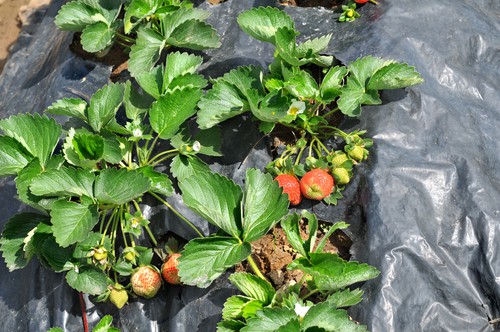 If you have a new space or you are in the middle of crop rotation you can suffocate any of the weeds that you have grown up by placing a layer of cardboard or newspaper over the area followed by a layer of tarp or black plastic bags. The cardboard will eventually break down and simply mulch itself into the ground. But in the meantime, this prevents water and sunlight from reaching areas you don't want it to reach. If you have a particularly hard time with grasses or nettle growing up across a large area in your garden you can pull the weeds out by hand and then use this to make sure you suffocate any remaining roots, simply adding soil on top in which you plant whatever flowers or food you want thereafter.
Use carpet covered in mulch
Place any carpet scraps, upside down, and cover them with bark mulch. Using smaller scraps around a vegetable garden will help you prevent weeds from spreading into that vegetable garden and will serve the same purpose as the mixture of cardboard and plastic bags in that blocks sun and water from the weeds so they are not able to germinate.
Just remember that some of these products will work more effectively than others depending on the area you are targeting. Also be cognizant of which mixtures should be applied carefully, specifically to the weeds, and not to any nearby plants.

Last update on 2021-12-03 / Affiliate links / Images from Amazon Product Advertising API