Our site is reader supported, this means we may earn a small commission from Amazon and other affiliates when you buy through links on our site.
Penstemons are grown for multiple reasons the most common being their ability to attract bees and butterflies into your garden and the long flowering season they have with some flowering in early summer and flowering well to autumn.
If you want to add a great deal of colour to your border gardens especially later in the summer when many perennials have finished flowering, these are a wonderful solution especially if you plant them in groups of 3 or 5. They will continue to flower all the way until your first frost which is usually around October.
Where to plant penstemons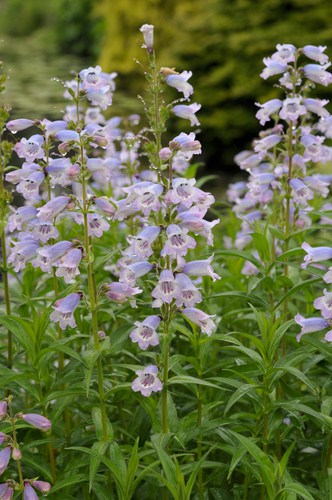 Penstemons need to be planted in an area that has fertile, well-draining soil and ideally in an area that has full sun or light shade. These grow best in mixed border gardens.
Growing penstemons
Plant in well-drained soil in full sun and mulch around the base of plants in spring
Penstemons need to be grown in well-drained soil in a position with ideally full sun but they will tolerate a little partial shade too. You should give them mulch every year in spring to help conserve moisture.
Feed every two weeks in throughout the summer
In summertime feed them around once every two weeks with a balanced fertiliser. The exception to this is if you have some alpine varieties shrubby varieties that naturally grow in poor soils.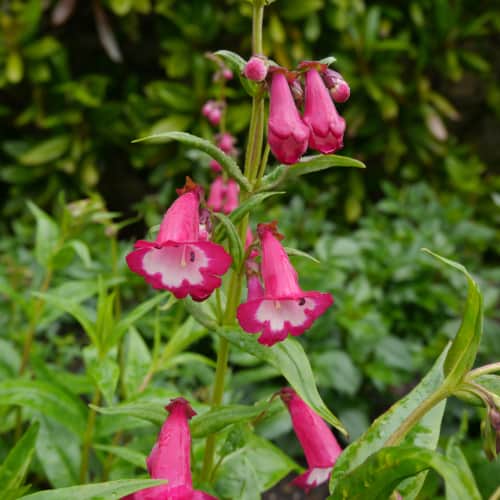 Prune plants back in spring to new growth shoots
Given the climate of the UK, even though they are fairly hardy, penstemons can suffer if we have a harsh winter but you should still avoid cutting back your plants until the springtime and only cut back to new growth towards the base. This will promote new strong growth and help to stop them becoming tall and leggy which they will if not pruned in spring. This is also a great time you take cuttings too.
Plant new plants in spring to give them time to establish before winter
They should be planted in springtime so that the new plants have a chance to establish themselves before winter. You shouldn't need supports or stakes unless you plant them in an exposed area with a lot of wind.
Propagating penstemons by taking cuttings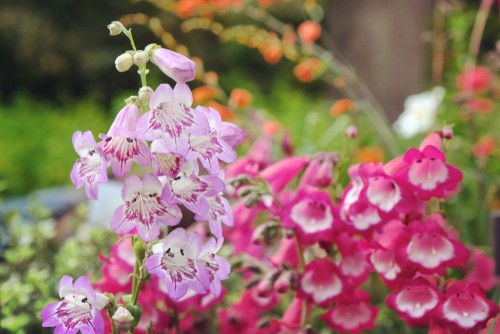 Propagating penstemons is best done with cuttings. For this, you want to take cuttings between the end of summer and the beginning of autumn. Cutting taking at end of summer or beginning of autumn need to be kept frost free position in a cool place until planting out in spring once they have enough root and the risk of frost has passed.
You can also take softwood cutting at any time during the growing season including i spring. Cutting taken early usually need a little bottom heat but they can usually be planted out in summer.
How to take cuttings
Each cutting should be cut back to just below the nearest leaf joint, with all lower leaves stripped away. For the best results, having more cuttings than you plan to transplant is best as they don't always all take. Think of it as an insurance policy in case some fail. That said, you can plant multiple cuttings in the same pot or container, 9cm to 1-litre pots are ideal as long as you prevent their leaves from touching.
The pots should be filled with potting compost or multi-purpose compost mixed with 50% perlite to improve drainage and the cuttings placed inside and kept in a sheltered space either in a cold frame or in your garden but frost free. By the following, May they should be ready to go outside in their final positions.
It's important to get the hang of this process early because penstemons have a short, though beautiful, lifespan and if you want to make sure the plants are there to appease you regularly, you will need to cultivate cuttings every few years.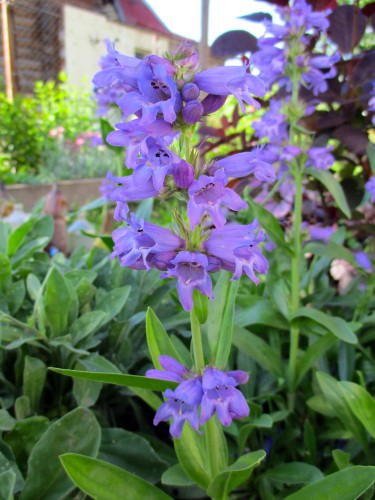 Regular Care
Penstemons should be regularly given a strong dose of all-purpose fertilizer in Spring. They should be watered thoroughly when first planted, and at the start of Summer to help them during dry weather.
In Autumn you want to cut back any faded flowers back to good strong growth to help them during winter, and then after winter, once the last frost is upon you, you can cut back the remaining plant hard to new growth.