Last updated on April 27th, 2020
Our site is reader supported, this means we may earn a small commission from Amazon and other affiliates when you buy through links on our site.
Hollyhock is a fantasic plant especially for cottage gardens but unfortunately, it often has to combat hollyhock rust and they can quickly become overwhelmed with it.
It can also be very hard to prevent often needing to be sprayed 2 times a week when they are actively growing to try and prevent it.
What is hollyhock rust?
Hollyhock rust is a type of fungal disease and it spreads via airborne spores which is what makes it so difficult to control as it can travel such along distance from other plants.
The disease will develop on an untreated hollyhock in some cases but it does get worse during wet, humid summer weather which we often get in the Uk. It will attack all the outer parts of the flower, the stems, even the leaves and eventually reduce the plant growth and in very serous cases, the plant can die.
What are the symptoms of hollyhock rust?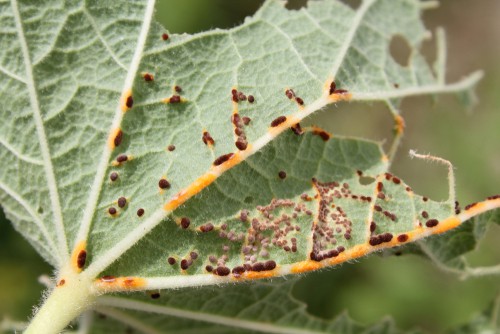 Rust is very easy to spot on Hollyhocks, you will start to notice bright yellow or orange spots on the upper part of your leaves and these are often lumpy pustules that contain spores. They will eventually turn an ash-grey colour when the air is humid and that's when the airborne spores are generated and spread. The disease tends to start on the lower section of your hollyhock and spread up the plant and it can start when the plants are shooting in spring before they have even had a chance to get going.
How can I treat it?
There are two ways you can treat hollyhock rust and these include non-chemical treatment which is probably more or a preventative measure but is often not fully successful and the second is to use a chemical treatment and spray with a fungicide of which there a few choices.
Non-chemical treatment to try and help prevent hollyhock rust
You should regularly check your plant for any signs of infection and dispose of any leaves that show symptoms. You can reduce the risk of hollyhock rust by treating your plant as a biennial and discarding it after flowering even though, technically, your hollyhock can survive for several years. The older it is, the more likely it is to be attacked. This method is more successful when combined with spraying with a fungicide.
Spraying Hollyhocks with a fungicide 2 times per week during the growing season
Fungicides are the best way to treat the problem and control it. Regular applications will be required whether you use something with tebuconazole or try to conazole, you will likely have to spray it twice a week while your plant is actively growing especially if the weather is bad as it thrives in damp conditions.
Recommended fungicides
Regardless of which option you use, understand that controlling hollyhock rust is not easy because the spores can travel a very long distance and even reach surrounding plants. It is for this reason that you need to be cognizant of the issue and control it sooner rather than later.
How can I prevent hollyhock rust?
It's important to understand how rust fungi grows and spreads. They grow within the living tissues of your plant and they get nutrients from the cells. They don't kill the tissue quickly but a heavy attack can cause the tissues to collapse and eventually die prematurely.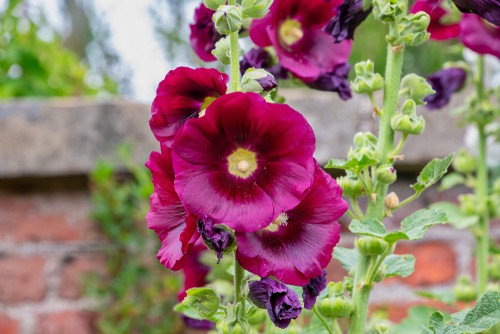 If you look at the reddish-orange pustules on your hollyhock leaves, those each contain numerous spores that can remain embedded in your leaf. Humid conditions can cause the spores to germinate and produce a second type of spores that get released in the air and land on other leaves, which makes it a lot easier to increase the infection.
This type of infection happens most during wet or humid conditions so you might see problems with hollyhock rust most predominantly during wet summers. If the issue isn't treated the fungus can remain to overwinter on a few of the leaves, maybe even survive within the crown of the plant and then come the following spring, the infection bursts forward all over again.
This means that you have to work very hard to maintain optimum environmental conditions while growing your hollyhock to prevent hollyhock rust. The best preventative measure is to make sure the plant has proper air circulation at all times, to water it frequently but not overwater it. When you water, be sure to do so at the base so that you don't accidentally drop water from the top down and splash the spores from one leaf to another.
Last update on 2022-01-28 / Affiliate links / Images from Amazon Product Advertising API