Last updated on March 22nd, 2022
Our site is reader supported, this means we may earn a small commission from Amazon and other affiliates when you buy through links on our site.
If you are looking for oversized blooms and flamboyant yet stunning flowers, there are few plants out there that are more exciting than the Peony.  Peonies thrive in rich, well-drained areas, with full sun exposure. They grow well in the ground and can be grown in containers if necessary. There are different varieties that fit any garden size but the most popular are herbaceous Peonies that die back in autumn and tree Peonies which are deciduous and require very little pruning or care. 
Types of Peonies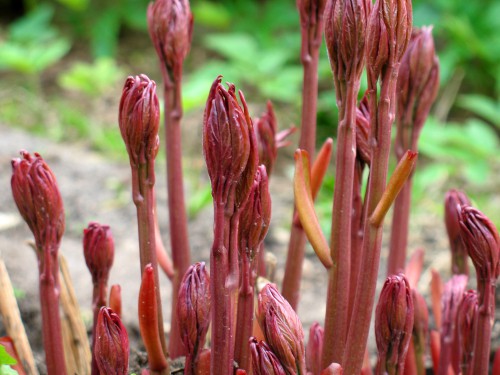 There are actually three types of Peonies from which to choose.
The first are herbaceous Peonies that die back every winter to ground level and of course, come back again. These are the most popular and require very little maintenance.
The second are tree Peonies which are taller than the herbaceous varieties and maintain their frame all winter long, more like a shrub. Note that even though these are called Tree Peonies they are actually shrubs and not fully grown trees. They require next to no pruning with the exception of a little deadheading and the cutting back of longer stems when needed.
The third are intersectional hybrid Peonies that are a cross between the first two and somewhat more challenging to come by because they are more specialised.
---
Where to plant Peonies
Plant in full sun in well-drained fertile soil
You should plant your Peonies in an area that enjoys full sun with well-drained fertile soil with some well-rotted farm manure dug in when planting. If you plant them in a shaded area with improperly draining soil it will result in waterlogging so this is best avoided, no matter how tempting.
If you are growing herbaceous Peonies it is best to have neutral or slightly alkaline soil which makes them perfect for most gardens. If you are growing Tree Peonies, they seem to do better in slightly more acidic soil, as long as the Peonies have a sheltered location, for example, against a wall or fence. 
Planting Peonies as bare root plants or containerised plants
When planting a bare root Peony, you need to do it as soon as it arrives because most bare root plants are ordered via mail order. To that end, be sure to time the arrival of your bare root Peonies with the weather and the appropriate season. Most Peonies do best when planted in autumn or spring. Potted Peonies can be planted at any time of year with the best time still being autumn or spring if possible.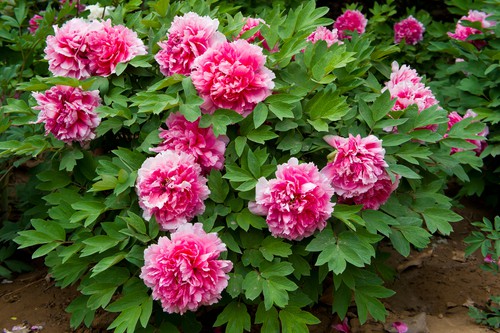 Don't plant Peonies too deep, this prevents flowering and can cause problems
Before you plant the Peonies, add organic matter such as well-rotted farm manure to the soil and mix it well. Always plant your Peonies to the same depth as they were in their original containers or if you buy bare root plants, plant them just underneath the surface of the soil. If you plant them too deeply they won't be as floriferous. Fill in the remaining area with your soil mixture and apply a balanced fertiliser if planting in spring, such as fish blood and bone. If you are planting them in autumn, add the fertiliser the following spring because you don't want to encourage fresh growth too soon that can be damaged by the frost. 
---
Watering
Water it sparingly when first planted. Overwatering new Peonies can cause them to fail or rot, which is a fairly common problem and one that can be avoided. Water more frequently once established.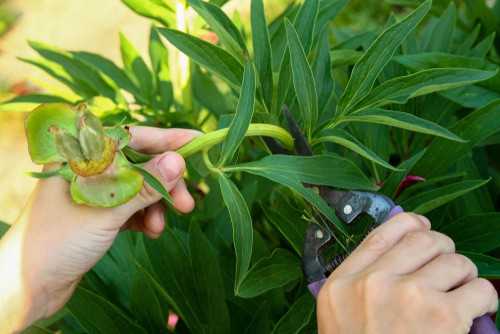 ---
Peony Care
Provide extra support to the flower stems and foliage
If you are growing herbaceous Peonies, the flowers can be quite substantial and therefore require extra plant support to keep them upright. You can purchase plenty of support structures that are nestled around the base of the peony and give it support as the plant grows outwards and upwards. You can also make supports using canes and twine too.
Check out my article where I talk about how I support the peonies in my garden using peony supports.
Once we get into autumn and the leaves start to die back for winter, always allow the foliage to fall off naturally, and then remove it from the ground. 
---
Pruning Peonies
Regular care of herbaceous Peonies requires a hard pruning effort in the autumn, once the foliage has died back. It's a simple process where you simply cut back the Peonies to ground level. You can simply remove spent flowers over summer as they die, cutting just under the flower to a new bud.
Tree Peonies need very little pruning although you should remove the spent seed heads in autumn and remove the dead flowers as they appear. Tree Peonies can also be pruned to remove water shoots (which are long shoots) or to control the size of established plants.
Learn more about pruning Tree Peonies in our guide here
---
Propagating Peonies by Division
Propagating herbaceous Peonies can be done via division in autumn, usually every 4-5 years when they get overcrowded. When ready, cut any faded foliage away and then using a garden fork, lift the plant out of the ground. Carefully remove as much of the garden soil from around the plant before cutting off the different sections at the crown.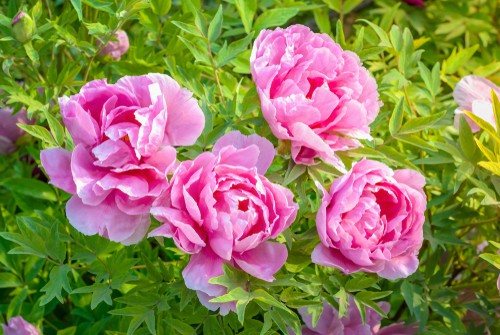 You should cut your Peonies so that each new section has at least 3 or 4 buds and ample roots for the best chance of getting them to take successfully. When ready, replant the new pieces immediately in your chosen positions.
If you have Tree Peonies, you can try layering using a pliable stem, but you certainly don't want to divide it. Layering is a process where you tie down a long stem to the soil to cause it to root from the stem. This stem can later then be cut to form its own plant using the roots it has created where it was tied down to the soil.
---
Peony Problems
Peony Wilt
The biggest problem you will face with Peonies is that of Peony wilt. This is a fungus that will cause your stems to rot. You can circumvent this problem by spacing out your Peonies adequately to allow better airflow. If you plant more than one, and they are too close together, or too close to other plants, it will reduce air circulation and encourage an environment for fungus. 
If you see the fungal spots (dark spots on the leaves) you should remove them immediately and throw them away but do not compost them (you can learn more about what you can compost here). By removing them when you see them, you can help prevent the spread.
If you are cutting back your infected herbaceous peonies in autumn, remove any foliage from the ground to avoid another infection come spring. Don't leave the debris to mulch under the plant. 
Dealing with ants
If you notice ants crawling all over your Peonies, rest assured this is normal. Ants are drawn to Peonies and while they might crawl all over them, they won't actually cause any damage.  
Resistance to deers and rabbits
The good news is most Peonies are resistant to deer and rabbits because they don't seem to have a taste for them, so you won't have to worry about them making their way into your garden.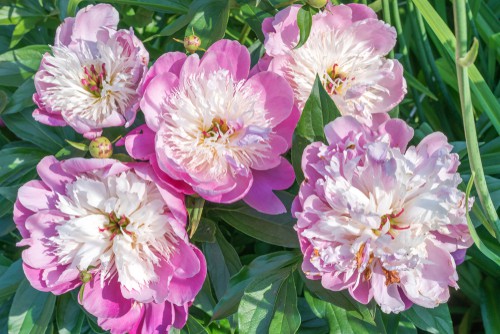 ---
Recommended Peonies to try
There are many varieties of Peonies from which to choose. 
Paeonia lactiflora 'Angel Cheeks' – This is a herbaceous variety that has pink flowers prominent in May and June. At full maturity, it will reach a height of 70cm and makes a spectacular show.
Paeonia 'Bowl of Beauty' – This is one of the more popular herbaceous types known for its lemon petaloids and vibrant pink petals. The flowers make their way in May and June like most other varieties, and at full maturity, it will reach a height of a very impressive 90cm (3ft) tall.
Paeonia 'Sarah Bernhardt' – If you want a herbaceous Peony you can use for cutting and displaying indoors, and one with heavy aromas, this is it. Known for its pale pink, double flowers, it blooms in May and reaches heights of 90cm and is a very popular variety available in most garden centres. 
Paeonia 'Mrs William Kelway' – If you prefer a Tree Peony this one has semi-double white flowers that show up in May or June. At full maturity, it reaches 120cm (4ft) making it a stunning shrub for filling in spaces and a great choice for containers.
Paeonia 'Souvenir de Maxine Cornu' – Another Tree Peony, this one boasts double yellow and orange flowers that appear in May or June. Unlike other varieties, the flowers on this one hang down and truly draw the eye. At full maturity, it reaches 120cm (4ft) and puts on an amazing show.
Overall, Peonies make excellent floral displays, and you can find different shapes and sizes for the flowers you cultivate based on your garden theme, preference, and colour scheme.