Last updated on May 3rd, 2022
Our site is reader supported, this means we may earn a small commission from Amazon and other affiliates when you buy through links on our site.
Astilbes are valuable plants that bring with them a lot of texture and colour to shady areas of your garden where other plants don't necessarily grow. They are very well known for their lace-like ferny green foliage as well as the plumes of feathery flowers that are produced from the end of spring through the summer.
You can find a variety of sizes, including smaller dwarf varieties that reach around 20cm in height for the front of your border and pots, as well as taller varieties that can grow up to two metres and these, are perfect for planting at the back of your vertical design borders. They are the perfect plant for a woodland style garden and work well with other shade-tolerant plants like Hostas.
Astilbe Japonica 'Europa' 15cm Pot Size
Hardy
Perennial
Grown with care by the Amazon Plant Specialist
Please unpack as soon as possible after delivery
Plant size varies according to the time of year. We always dispatch the largest plant available on the nursery.
You can learn more about growing Astilbes in containers by reading our article here
Plant Astilbes in dappled or shady positions
These plants need dappled or shady positions in order to thrive. They can handle full shade but you won't get the same level of colour in the flowers, although they cannot tolerate full sun. If you are planting them in any area that has poor drainage and experiences waterlogging always add plenty of organic material and grit to the soil.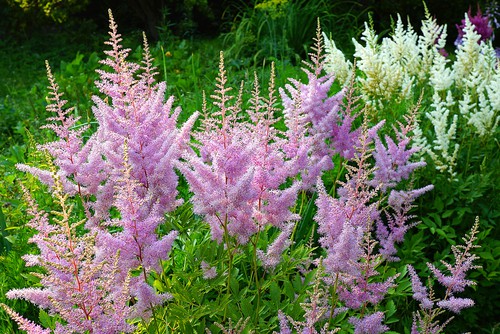 ---
How to plant Astilbes
Once you have found the best position in your garden, you can plant them fairly easily. While it is possible to propagate Astilbes from seed, it's difficult to get them to germinate successfully so most people opt for buying established plants from their local nursery or garden centre, often in 2 or 3 litre pots. You can also purchase them in 9cm pots if you are ordering online and this can offer excellent value for money.
You want to dig a generously-sized hole that's bigger than the container in which your plant is already growing in and work some compost or manure into the soil.
---
Watering
You should keep your newly planted Astilbes very well watered once you have planted them in your garden until they have established themselves. The same is true of any divisions that you transplant from existing Astilbes too. Astilbes will quickly shrivel up if they do not get enough water and they don't always recover.
---
Feeding
Once they are planted you can give them fertiliser every year, however, if you're growing them in containers you can feed them fertiliser every two weeks during the growing season. Aside from that, you don't have to deadhead them but you can cut the plants back after flowering (annually) and divide them once every three or four years.
---
How to propagate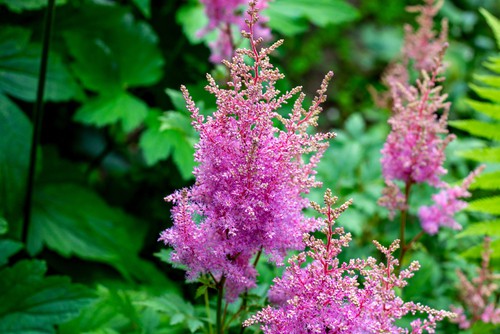 These are the type of plants that every few years need to be divided to keep them looking good. As a reliable perennial, they do best if they are divided every 3 or 4 years. This division will regenerate the mother plant and of course, give you lots of new plants that you can put somewhere else in your garden or give to friends.
It is recommended that you propagate by division. To do this, you simply uplift the parent plant from the ground and divide the rhizomes into sections that have 3-5 eyes on them, the eyes being the parts with roots coming out. You can do this in the spring, right after flowering, and then transplant them immediately. If you divide your Astilbe in the autumn you can save them over winter and transplant them in spring. Ideally, we recommend dividing your plant at the very beginning of spring and transplanting them immediately.
---
Problems
Astilbes are relatively trouble-free plants but they are prone to powdery mildew if they are grown in the wrong conditions. It's best that you make sure you have optimum drainage, whether you are growing them in containers or directly in the ground in order to alleviate this issue.
If you do get powdery mildew we recommend spraying the plants with a fungicide at the first indication and removing any affected leaves.
Bayer Garden Fungus Fighter Plus, 800 ml
Controls all major leaf diseases of roses and ornamental plants
Controls blackspot, mildew, rust, leaf spot, including box blight and white rust
Two effective active ingredients give contact and systemic action - fast acting and long lasting
Protects for up to 3 weeks
Use on houseplants, ornamental garden plants and selected edibles
Top varieties:
Astilbe 'Deutschland' – A shorter variety that flowers earlier in the spring with shiny foliage and white flowers.
Astilbe 'Rheinland' – A compact variety that has light pink flowers with dark green and bronze leaves.
Astilbe 'Heart and Soul' – Another compact variety. It produces light purple flowers that have a slight scent and bloom in the middle of summer.
Astilbe 'Younique Carmine' – A compact variety with dark green leaves and dark green flowers.
Astilbe 'Federsee' – Another compact variety with rosy pink flowers.
Last update on 2022-03-17 / Affiliate links / Images from Amazon Product Advertising API