Last updated on April 24th, 2020
Our site is reader supported, this means we may earn a small commission from Amazon and other affiliates when you buy through links on our site.
Ferns for dry shade
Ferns are known for their resilience and ability to grow in shade, but there are some varieties of fern that will grow very well in shaded areas where the ground is often dry. This is often caused by very little moisture being retained in the soil as other surrounding trees and shrubs take up any moisture there is.
Many of the most suitable ferns are native species to the UK and can be found across woodlands throughout the country. Ferns come in many sizes, from low growing varieties that only grow to around 15cm (6 inches) to much larger varieties that can grow in excess of 1 metre (100cm) tall. Some ferns are evergreen and will provide all year round colour whilst others are deciduous and die back in winter before emerging again in the spring.
Ferns are a great way to brighten up and add a back drop of colour to a shady dry area where nothing else seems to grow. Deciduous ferns can look beautiful planted among spring flowering bluebells and snowdrops as the ferns will often shoot just as the spring flowering bulbs are finishing.
What is classified as dry shade?
We describe 'dry shade' as shaded, dry areas that are often under deciduous or evergreen trees or shrubs where there is a canopy underneath the trees. Planting any plants (including ferns) under a hedge such as leylandii where the soil is very dusty and the foliage goes down to ground level is very unlikely to be successful. Your best option for these areas is often going to be spring bulbs.
Ferns suitable for dry shady areas
Athyrium otophorum Okanum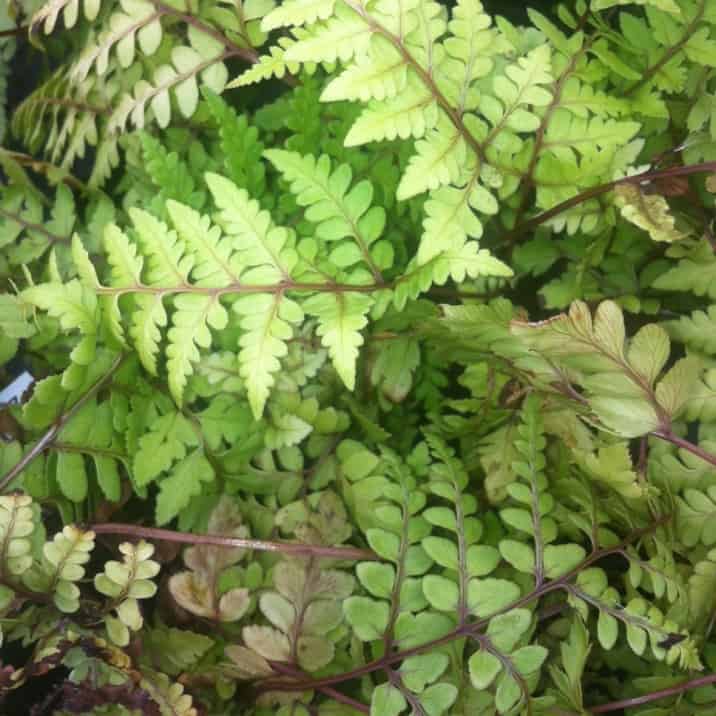 Athyrium otophorum Okanum
Also known as the 'Eared Lady Fern', this deciduous fern has light green to yellowish green leaves that have distinctive red ribbed veins down the centre of the leaves. It grows to approximately 80cm tall and is ideal for even the most shadiest of positions. It is also known for it's tolerance to dry soils. It does die back in the winter before re-emerging again in spring. It has been awarded an RHS Award of Garden Merit.
Asplenium scolopendrium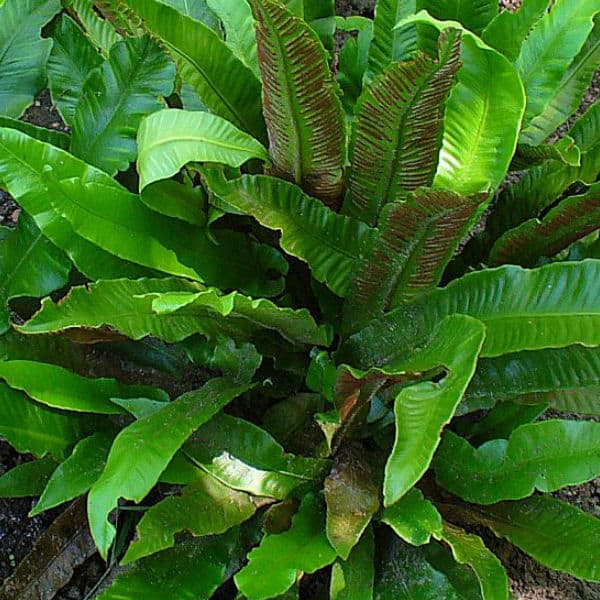 Horse Tongue fern – Image credit: wikimedia.org
Also commonly known as a 'Hart's Tongue Fern' and a 'Horse Tongue Fern', this beautiful evergreen fern grows to around 60cm (2ft) and has tongue-like fronds that form in clumps and look amazing in a shady border. It is ideal for planting under trees and shrubs as it becomes tolerant to dry soils once established, it is advised that you water it for the first summer until they establish themselves, especially during dry spells in summer. It has been awarded an RHS Award of Garden Merit.
---
Dryopteris atrata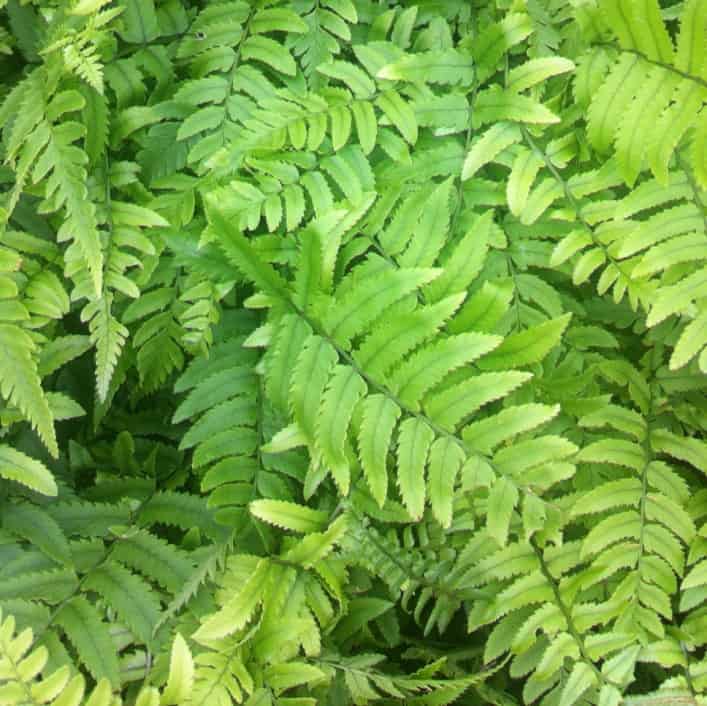 Dryopteris atrata
This beautiful evergreen fern has dark green leaves when mature and grows to around 90cm (3ft) x 90cm making it ideal for providing some vertical screening under cover. Also commonly known as the 'Shaggy Field Fern' it does grow well in moist soils but has also been grown successfully in dry soils. It is best suited for partial shade so for more densely shaded areas it may not be suitable.
---
Dryopteris filix-mas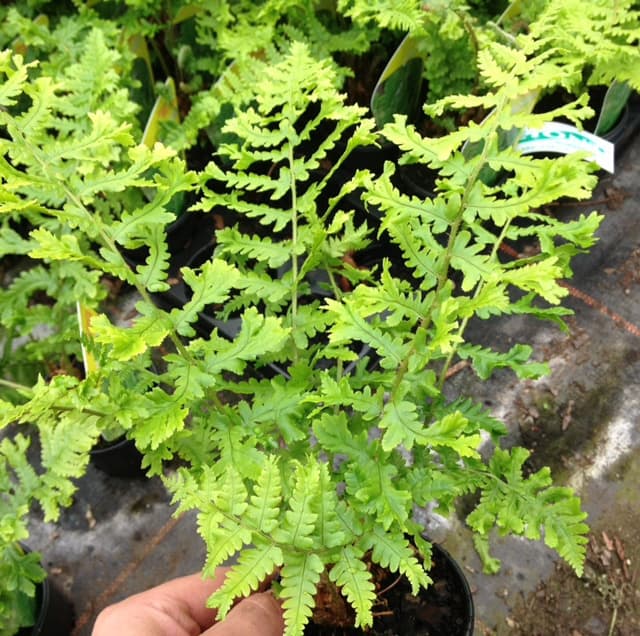 Dryopteris filix-mas – Male Fern
This 'Male Fern' is ideal for providing groundcover under trees and grows to around 70cm tall with a spread of around 100cm. This deciduous fern has mid-green shuttlecock-like rosettes of lance-shaped leaves that curl at the ends. It has been awarded an RHS Award of Garden Merit.
---
Polystichum setiferum 'Herrenhausen'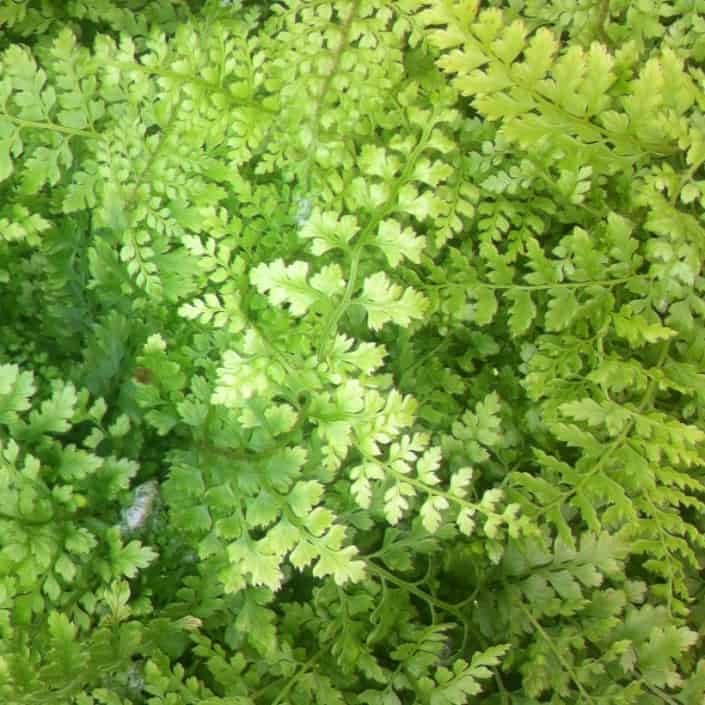 Polystichum setiferum 'Herrenhausen'
Also known as the 'Soft Shield Fern', the Herrenhausen is native to the UK and is perfect for shady areas of the garden, being suitable for both partial and dense shade in dry but well-drained soils. The dark green, filigree-fine fronds are soft to touch and form a shuttlecock-type shape. They grow to approximately 50cm tall with a spread of around 90cm (3ft) making them ideal for all year round groundcover.
---
Polystichum tsus-simense
Native to East Asia, this small evergreen fern is also known as the 'Korean Rock Fern' it only grows to around 45cm tall and produces narrow lance-shaped fronds. It grows well in dense shade and although it usually grows in damp areas it has shown to grow successfully in dry soils once established. It has been awarded an RHS Award of Garden Merit.
Polypodium vulgare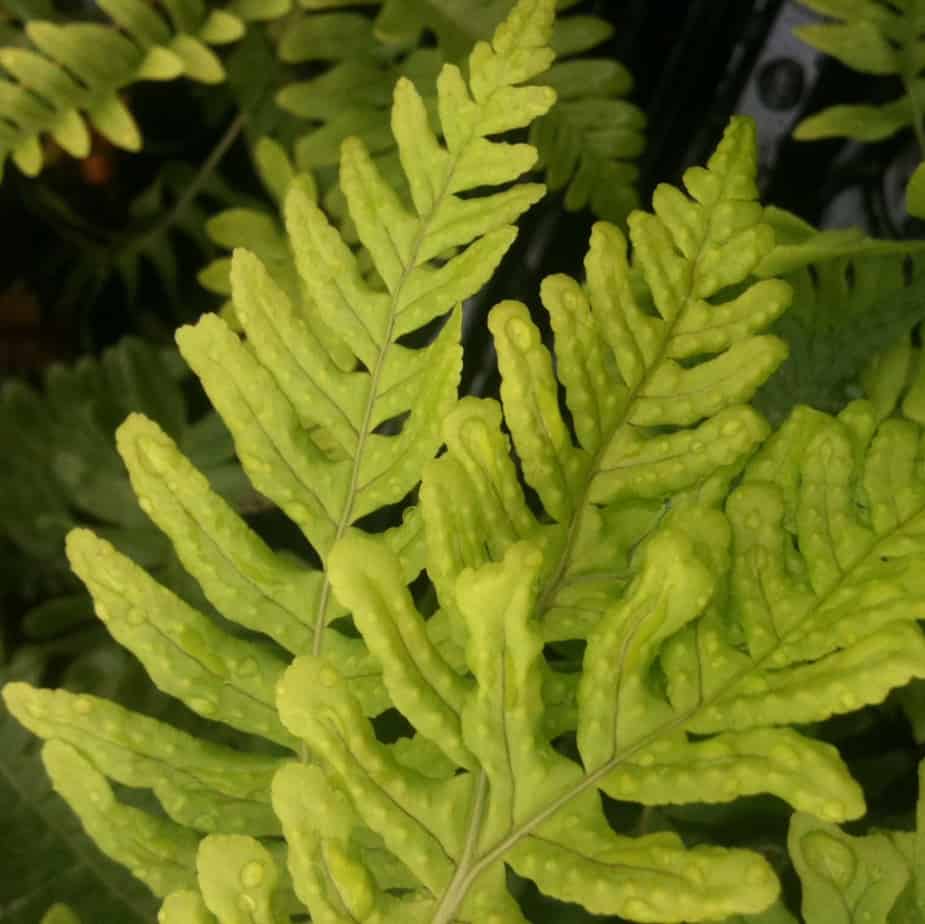 Polypodium vulgare
This small beautiful fern produces alternating triangular-shaped fronds and is also known as a 'Polypody Fern'. Spreading to over 1 metre with a height of only 30cm (1ft) the dark green leathery fronds have a slight shine, it is native to Britain and as such is very suited for our climate and is a great groundcover fern. It is evergreen, providing all year round interest.
Providing a little care on planting goes a long way to long-term success
The ferns above, are just some of the ferns that are suited for growing in a shady, dry area of the garden where other plants might fail. The trick is to ideally plant in Autumn whilst the ground is still warm and they still have time to put out a little root before winter. Once planted it is important to water for the first season especially during drier periods during the summer. Although a lot of ferns will grow in dry conditions, they often need to be established to cope which such harsh conditions so watering during the first season will go a long way to making this happen.
Last update on 2021-10-16 / Affiliate links / Images from Amazon Product Advertising API