Our site is reader supported, this means we may earn a small commission from Amazon and other affiliates when you buy through links on our site.
Last updated on March 19th, 2021
If you want to grow ornamental grasses in your garden but you simply don't have space or the soil necessary you can always grow evergreen grasses for containers. By growing popular evergreen grasses in a container you are able to control the proliferation and potential invasiveness of certain varieties while enjoying everything that ornamental grasses have to offer. If you have a small patio, balcony or just fancy planting some grasses in containers in a shady spot then below are our top 8 evergreen ornamental grasses for pots starting with one our top favourites, Carex Evergold.
---
1. Carex oshimensis Evergold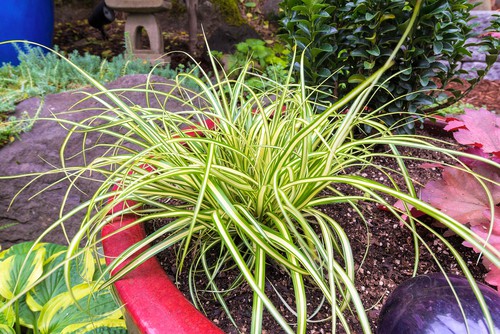 This variety of Carex gets its name from the ever golden centres the leaves provide. The natural colours of the plant bring a golden yellow line up the centre of leave leaf edged in green. This variegated grass is known for growth in shadier areas where it will produce arching, ornamental foliage. Leaves are long and narrow and the plant itself grows in mounds that get as tall as they do wide. This is a brilliant choice for growing in container and pots as it only gets to around 30cm tall and provides the all-year-round colour.
---
---
2. Ficinia truncata 'Ice Crystal'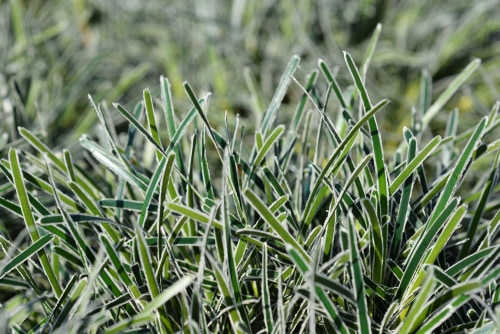 This frosty sedge as it is also known gets its name from the forested perimeter of each leaf. An evergreen, it is quite small and perfect for the smaller gardens, reaching no more than 30cm in height and spread. It does well with full sun or partial shade and is tolerant of sea winds, making it great for coastal gardens. This new variety is a little tender so is best kept inside a greenhouse overwinter in the coldest areas of the UK, this is where growing it in pots gives you a huge advantage but if you live in the milder areas of the UK then it should be find grown outdoors all year round.
---
3. Festuca glauca Intense Blue (Blue fescue)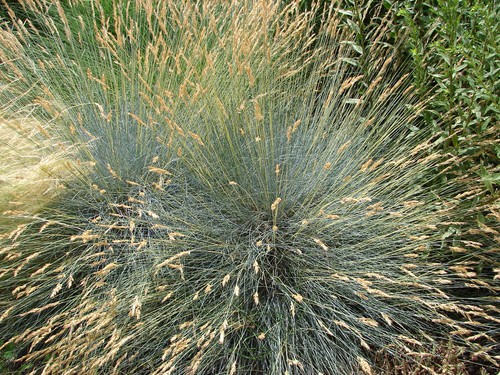 Festuca 'Intense blue' gets its name from the intense blue colour the leaves take on. An ornamental grass that produces silver-blue foliage, it is quite a drought tolerant once it gets established making it low maintenance and a low water plant for your home which makes it easier to grow in pots. It is deer resistant which may be useful for some and, like most grasses, has no issues with pests or diseases. A great choice for growing in pots for all year round colour.
---
---
4. Cortaderia selloana 'Pumila' (Dwarf pampas grass)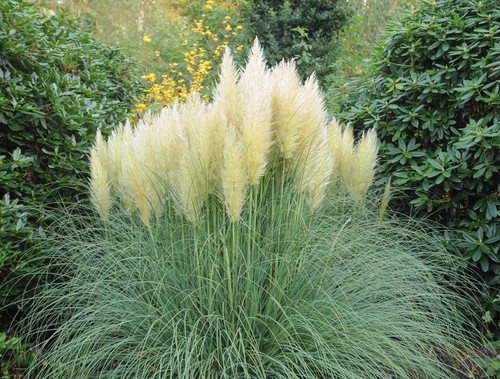 Nearly everyone has heard of pampas grass and most varieties grow far too large for containers but this dwarf pampas grass is a must-have for any container or pot. It is compact, but still gives off the magnificent arching leaves topped with the stunning cream white plumes of soft tips. Once established it requires next to no maintenance. It is a showy plant which reaches between 120-180cm in height and between 90-120cm in spread but you can contain that if you are growing in pots. It prefers full sun or light shade and well-drained compost.
---
5. Ophiopogon planiscapus 'Nigrescens' (Black mondo grass)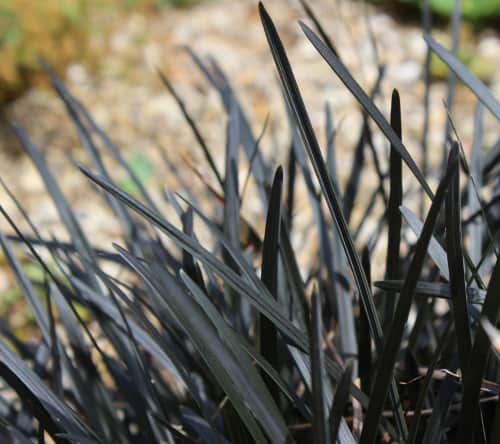 Commonly known as black mondo grass, this grass-like perennial is actually part of the lily family and will grow in spreading clumps at a somewhat slower rate. At maturity, it will span 20-30cms in height and spread. The stemless plant grows deep green basal leaves that look black in the summertime. The arch and produce bell-shaped flowers that start off white and get tinted with pink or lilac in summer. These flowers get dark purple berries, so there is something to admire all season long. Being one of the smaller grasses it makes a great choice for growing in pots and containers.
---
6. Stipa tenuissima Pony Tails (Mexican feather grass)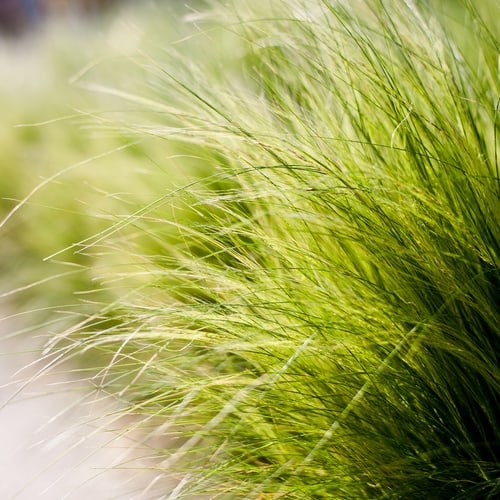 Another wonderful ornamental grass perfect for growing in containers, the Pony Tails variety of Mexican Feather Grass will grow in dense clumps that reach between 30cm and 60cm in spread and height. They love full sunlight and when grown, will provide a translucent appearance which moves gracefully in the wind. The plant produces thread-thin leaves that are silver and green with summertime feather tipped panicles begging to be touched. Like all ornamental grasses, these are pest and disease-free.
---
7. Carex oshimensis 'Everlite'
The Everlite sedge gets its name from the seemingly nonstop light that appears to bounce right off the leaves. In reality, the centre of each long, arching leaf is filled with a bright white, cream colour juxtaposed by the green perimeter. Stunning, this ornamental grass gives vibrancy, colour all year round and only growing to around 30cm making it the perfect companion plant for pots or containers filled with other plants. That's being said it also looks stunning planted on its own too.
---
8. Carex buchananii (Leatherleaf sedge)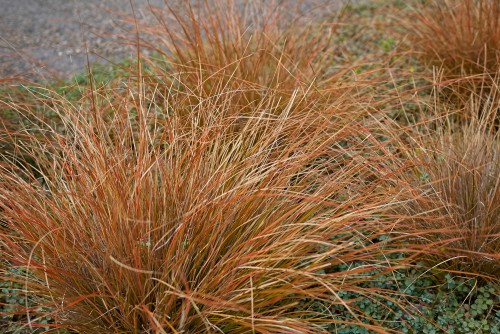 A native to New Zealand, this leatherleaf sedge gets its name from the leathery like quality and colour of the leaves. Rather than growing nothing but green, you can grow a copper/bronze collection of ornamental grasses by integrating this beauty into your garden. It does well in containers, but can be used in coastal gardens or as borders. It grows in clumps and reaches 75cm maximum in height and spread so also looks amazing in taller pots. Best planted in full sun or partial shade in a sheltered position.
---
No matter the variety you pick, any of these eight ornamental evergreen grasses for containers will be easy to grow and maintain, require very little care from you, and give you all of the aesthetic appeal that ornamental grasses have to offer.

Last update on 2021-03-29 / Affiliate links / Images from Amazon Product Advertising API