Last updated on January 21st, 2020
Our site is reader supported, this means we may earn a small commission from Amazon and other affiliates when you buy through links on our site.
Ornamental grasses are a wonderful addition to any garden but there are plenty of situations where you simply can't afford to add them directly in your garden area. You might, for example, already have an overwhelming display in your garden and be unable to accommodate the grasses. You might instead not have a garden in which to grow anything and be left with nothing but a porch, patio or balcony. Rest assured you can grow plenty of delightful ornamental grasses in pots so no matter your reason behind it, below you will find ten of the best grasses to grow in containers starting with the stunning Miscanthus 'Zebrinus' which is one of my favourites.
---
Miscanthus sinensis 'Zebrinus' (zebra-striped grass)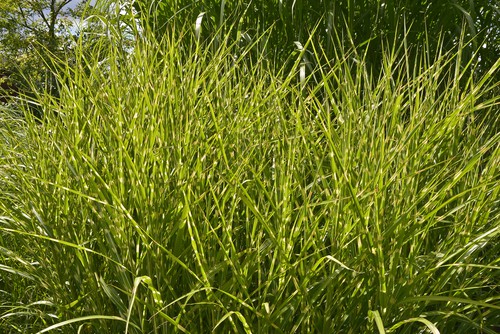 Getting its name from the unique pattern of horizontal, yellow rings that climb the leaves, the zebra type plant has attractive foliage that remains a mixture of green and yellow from the spring until autumn. In summer you can enjoy copper plumes that are sure to catch your eye. It grows in clumps and grows quite large, between 100-150 cm in height and 50-100cm in spread. Its prefers moist but well-drained soil and does not like the winter wet so some care should be taken such as ensuring the soil is free-draining by adding plenty of grit to the colour to improve drainage if needed. Plant in full sun to get the most out of this stunning ornamental grass.
Need more information on growing ornamental grasses, check out our guide on growing ornamental grass and general care
---
Stipa gigantea (Golden oats)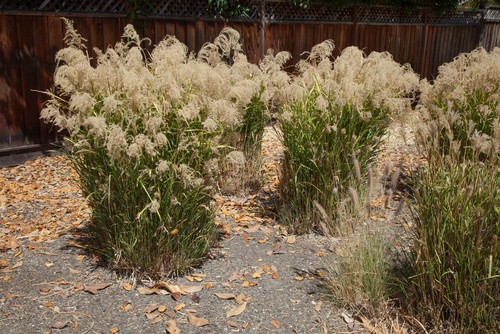 This particular plant thrives in heat and will do excellently in any poor soil you have so long as it is well-draining. It needs full sun, being a native of Spain, and will grow large up to 1.5 to 2.5 meters with graceful long-awned purplish flowers which ripen to gold atop green foliage clumps. To ensure it continues to thrive we recommend dividing every 3-5 years to main vigour.
---
Festuca glauca (Blue fescue)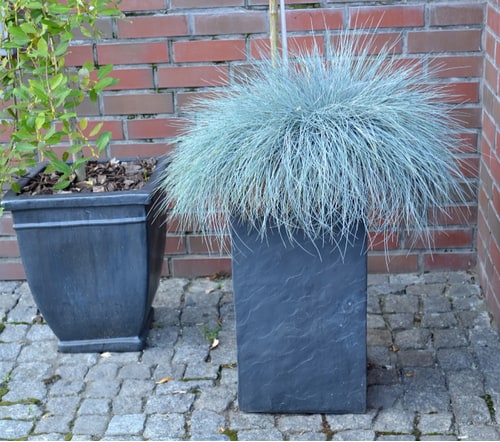 This group of ornamental grasses is great for containers as it grows somewhat smaller than most ornamental grasses and comes in a range of colours from lush green but we think the blue varieties such as 'Blaufuchs' have the most appeal making them an excellent ornamental grass for containers. You can control the height and intersperse it with other flowering bulbs or perennials. Once established it will require very little of you, and can withstand drought, deer, pests and other diseases. It really is a low maintenance grass.
---
Hakonechloa macra (Japanese forest grass)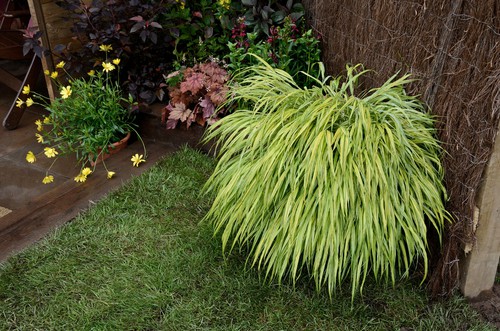 This Japanese forest grass takes on bright colours, rich in greens and highlighter yellows, sometimes even lime green tones. If you have moist, shaded areas in your garden, this is the ornamental grass for you. An adaptable plant, it can be combined with other plants in containers, used as a groundcover, or shown off as an accent piece. It will spread via rhizomes and grow in dense mounds. As mentioned it grows everything from full sun to dense shade in exposed or sheltered sites. One of our favourite varieties is Hakonechloa 'Aureola' which is stunning golden foliage as pictured above.
---
Cortaderia selloana 'Pumila' (Pampas grass)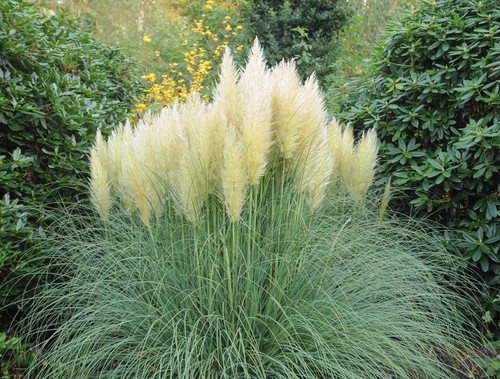 Otherwise known as pampas grass, this delightful ornamental grass is perfect for mid-sized gardens but it does need plenty of space and makes an eye-catching focal point in the garden. A showy plant, it has the most magnificent tussocks of leaves that arch in a narrow form. From the end of summer to the middle of winter the leaves are topped with cream coloured plumes that are large, fluffy, and just demand to be touched. It typically grows between 120 and 180cm in height and 90cm and 120cm in width which is why you need to choose a larger pot. It does well planted as a screen, in groups, or as a specimen plant. Like most ornamental grasses, it is easy to care for, requires next to no pruning, and has no disease or insect problems. It's worth noting you can also get varieties that produce stunning pink flowers too.
---
Ficinia truncata 'Ice Crystal'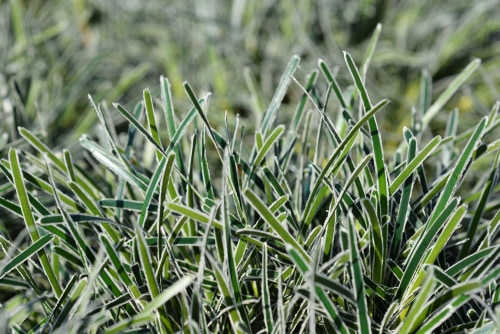 This smaller ornamental grass stays small, and at full maturity spans no more than 30cm in height and spread, making it easily contained in pots of any kind. It is an evergreen perennial that produces recurved hunter green leaves lined with white margins responsible for the frosty look for which it is named. It produces small, brown flowers in spring but will remain most appealing with its leaves. This variety is best brought into a greenhouse over winter as its a little tender if grown in colder regions although it should be ok further south in the Uk where is usually milder in winter.
---
Ophiopogon planiscapus 'Nigrescens' (Black mondo grass)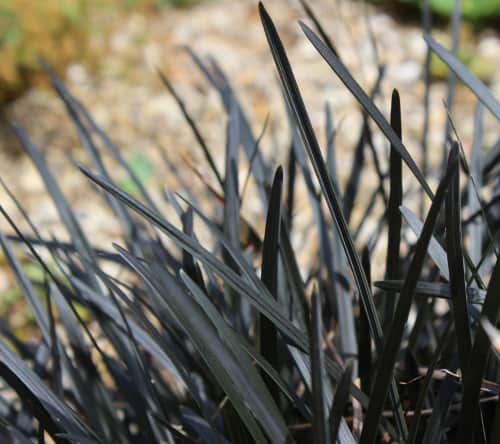 Give your garden something different with mondo grass, a black perennial grass with foliage that will stand apart against a backdrop of otherwise green/yellow colours in your garden. When grown in sunny locations it will produce rich, black foliage and light pink flowers in summer which are a feature in themselves. It is excellent as a ground cover but can do well contained in pots. When grown in containers, be sure to water it regularly and keep the soil well-drained. It does not do well in winter, so you will need to protect it or bring it inside a cold greenhouse. If grown outdoors try wrapping the pot and plant in fleece and it's usually enough for it to thrive year after year.
---
Carex buchananii (Leatherleaf sedge)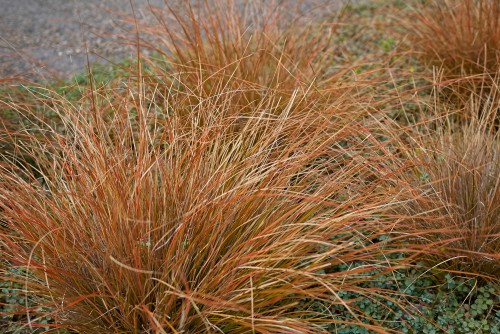 The leatherleaf sedge as it is also known, this stunning ornamental grass has narrow evergreen foliage that offers a unique copper colour. It will stand erect when planted, eventually arching over time. It is wonderful for sunny spots and great for mixing in with other perennials or shrubs. Prefers moist well-drained soil and does not like soil that is very dry or very wet but it will thrive in full sun or partial shade. The good news is all this can be controlled easily when grown in pots.
---
Carex oshimensis 'Evergold' (Japanese sedge)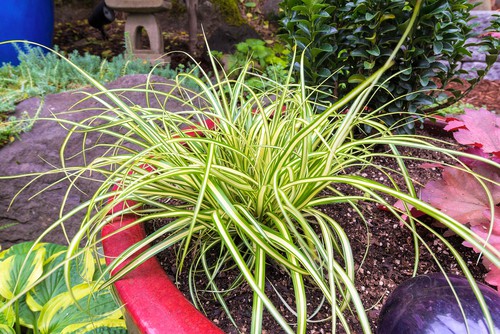 The Evergold Japanese Sedge gets its name from the colourful golden strip that fills the centre of each blade of grass, bordered by rich green. This grass requires partial shade or full sun and is best suited for rain garden designs. It is quite tolerant of deer and is otherwise low maintenance. Growings in mounds it can get as tall as it is wide to around 30cm. Can be grown in exposed and sheltered sites making it a very versatile plant. 
---
Stipa tenuissima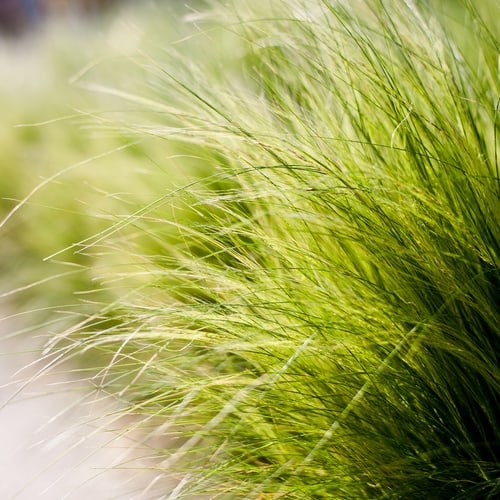 Mexican feather grass, as it's commonly known, grows in graceful tufts of thread-like leaves. These leaves are often seen dancing in the wind, moving about with even the slightest of provocation. Throughout summer the top of the silvery green leaves brings feathery panicles that are often dried and used in floral arrangements. Grows well in full sun in both sheltered and exposed sites.
No matter which of these you choose, even if you mix and match, you are sure to have a stunning display in your garden that is soothing aesthetically and low maintenance.